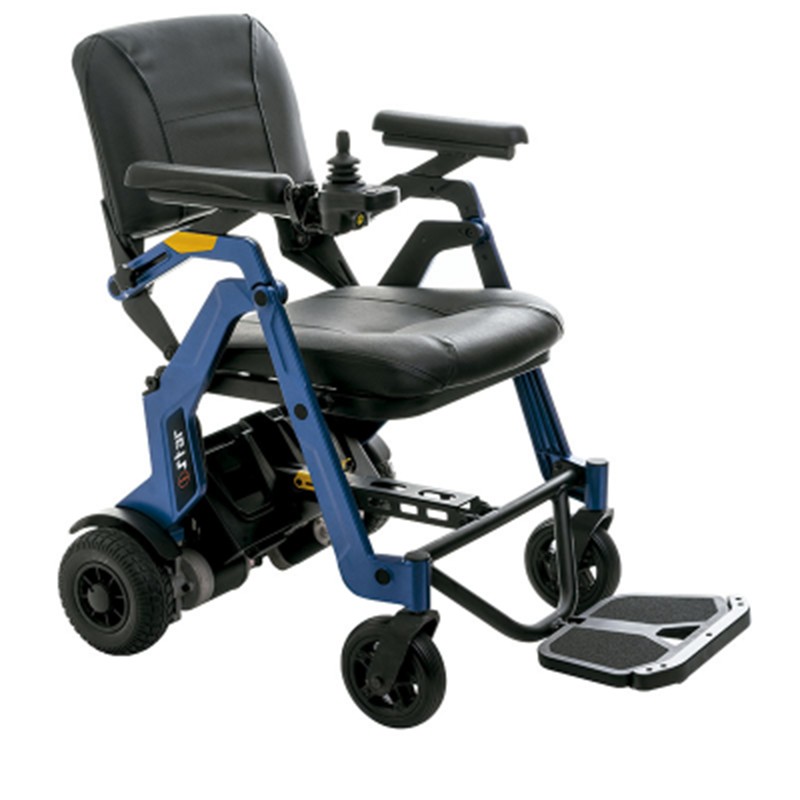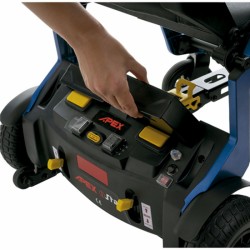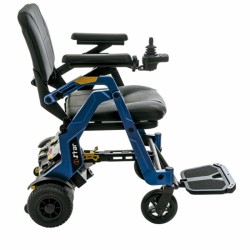 Apex i-Star
Apex i-Star is the most compact automatic folding power chair on the market. The Apex i-Star is ideal for use in confined spaces since it has small dimensions (length x width x height) 96 x 64 x 87 cm and a turning circle of only 71 cm (rotating on its same axis).
Features - Apex i-Star
+ Folding: It folds and unfolds electrically with its remote control.
+ Compact: Its small dimensions, deployed only 96 cm long, allow you to access small spaces. In addition, its turning radius of 71 cm makes it easy for the user to maneuver with it.
+ Comfortable: Its folding footrest allows the user to access the chair in a frontal way.
+ 100% Brand new and High quality
+ Easy to clean
+ Humanized intelligence control
+ Intelligent electromagnetic brake system
+ Powerful motor
+ The built-in safe charging interface prevents children from accidentally touching the charging line.
+ Close the protective cover after charging to prevent foreign matter and dust from entering.
+ Multiple protection, safer and more convenient to use.
+ Apex i-Star foldable power wheelchair uses non-toxic tasteless PU leather,
+ Is an excellent short-distance travel tools, it"s safe, easy to carry, reliable and suitable for people of all ages
+ Access to shopping malls, supermarkets, bus, subway, high-speed train, airplane, elevators and other places.
+ No need tools can be quickly folded.
+ The folding electric wheelchair is driven by the left and right motors, with one hand operating forward, backward, left and right, dizzy can be prevent due to the driving motor is behind.
+ Three easy folding modes for you.
+ The electric folding wheelchair is lightweight.
+ Easy to handle after folding
+ This motorized wheelchair is in compact size and can be moved in reverse direction.
+ The folding characteristics of the electric folding wheelchair.
+ Electric folding is one button folding, which can be folded by holding by holding the remote control key or the hand control key.
+ Manual quick folding by two steps to fold the electric car.
Specifications
+ Dimensions (length x width x height) 96 x 64 x 87 cm
+ Maximum weight supported 115 kg
+ Weight with batteries 26.9 kg
+ Weight without batteries 25.6 kg
+ Maximum speed 4-6 km/h
+10º maximum slope
+ Turning radius 71 cm
+ Motor type 24V- 150W x 2 uni
+ 6" front wheels. Solid
+ 7,5" rear wheels. Solid
+ Lithium batteries 24V 7.5 Ah x 2 uni
+ 2A charger
If the user press the remote control button or the hand control key, he/she can fold the Apex i-Star including the pedal. Manual folding is an action that can fold up the electric wheelchair in a second. It is compact and portable after folded; it is easy to handle. The weight is only 24.9 Kg.
Learn more about the Apex i-Star watching the following VIDEO
3.520,00€
(10% VAT included)
REMEMBER: If you have a disability certificate greater than 33% degree, you are entitled to a VAT reduction on this product.
Free Shipping in Spain (peninsula).
Our physical store is located at Calle Cavanilles 7, 28007 Madrid.
Secure SSL Purchase (+info)
Returns: 15 days.
Need any assistance? Contact us +34 915701682
Financing:

Cetelem
From 3 to 60 months
Calculate your fee
Batteries: 2 X 24V X 7,5 Ah Lithium
Dimensions (length x width x height): 96 x 64 x 87 cm
Dimensions Folded (length x width x height): 65cm x 40cm x 89cm
Weight: 26.9 kg (with batteries)
Weight: 25.6 kg (without batteries)
Maximum speed: 6 km/h
Turning radius: 71cm
Max Slope: 10º
Motor Specs: 24V- 150W x 2 units
6" front wheels. Solid
7,5" rear wheels. Solid
2A charger
*Data provided by the manufacturer
Warranty: 2 years and 6 months on the battery
10% VAT and transportation included
Free shipping for orders shipped to Peninsular Spain. Please contact us for orders shipped to the Spanish islands and to other countries.
Reduced VAT rate (4%) will be applied to customer provided 33% disability certificate 33% (or higher degree)