20Ah lithium battery for Libercar Gala, Siena, Aura y Alma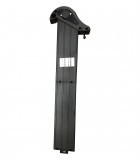 20Ah lithium battery for Libercar Gala, Siena, Aura y Alma
470,00€
(21% VAT included)
REMEMBER: If you have a disability certificate greater than 33% degree, you are entitled to a VAT reduction on this product.
20Ah lithium battery for Libercar Gala, Siena, Aura y Alma
* Data provided by the manufacturer.
Warranty: 6 month on the batteries
21% VAT and transportation included
Free shipping for orders shipped to Peninsular Spain. Please contact us for orders shipped to the Spanish islands and to other countries.