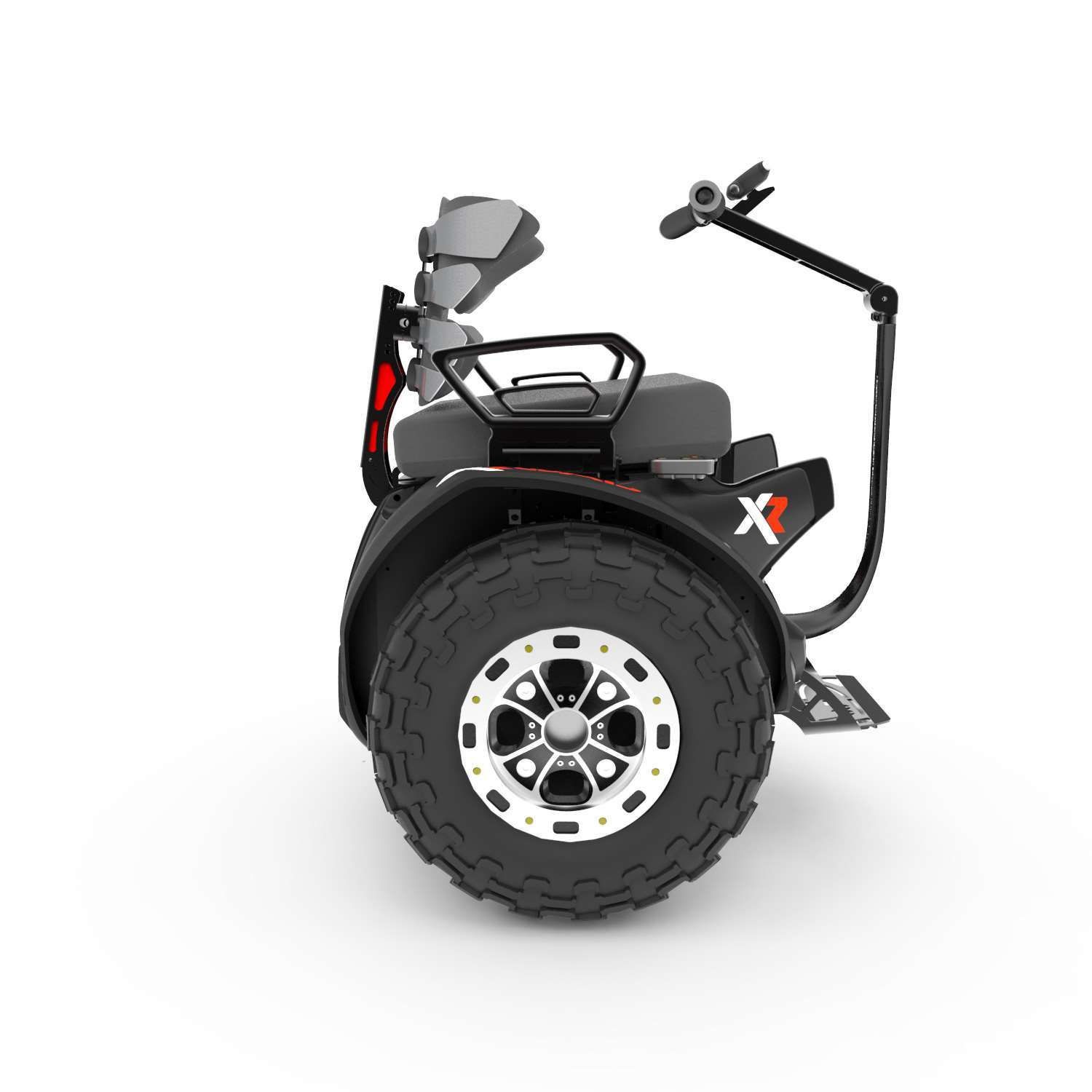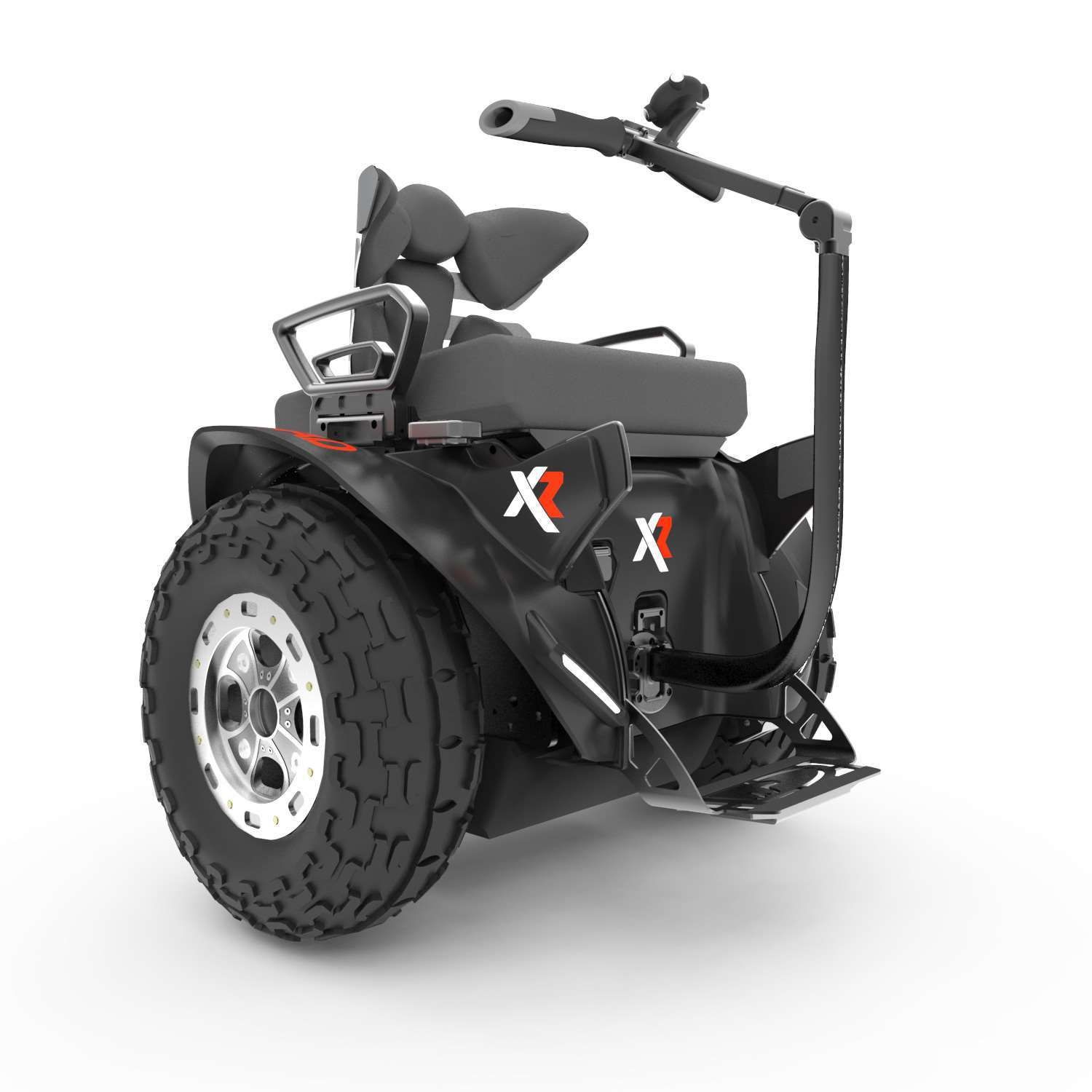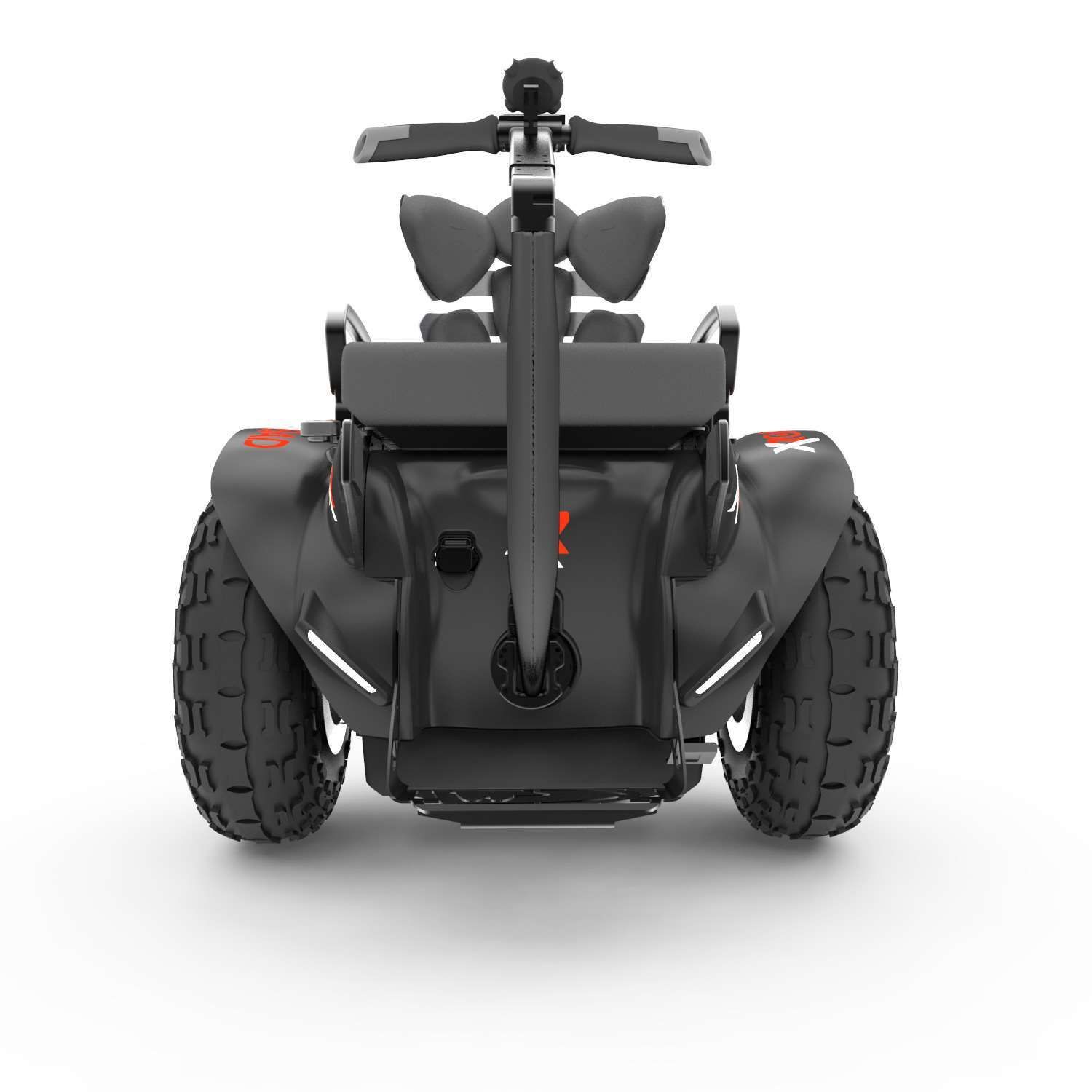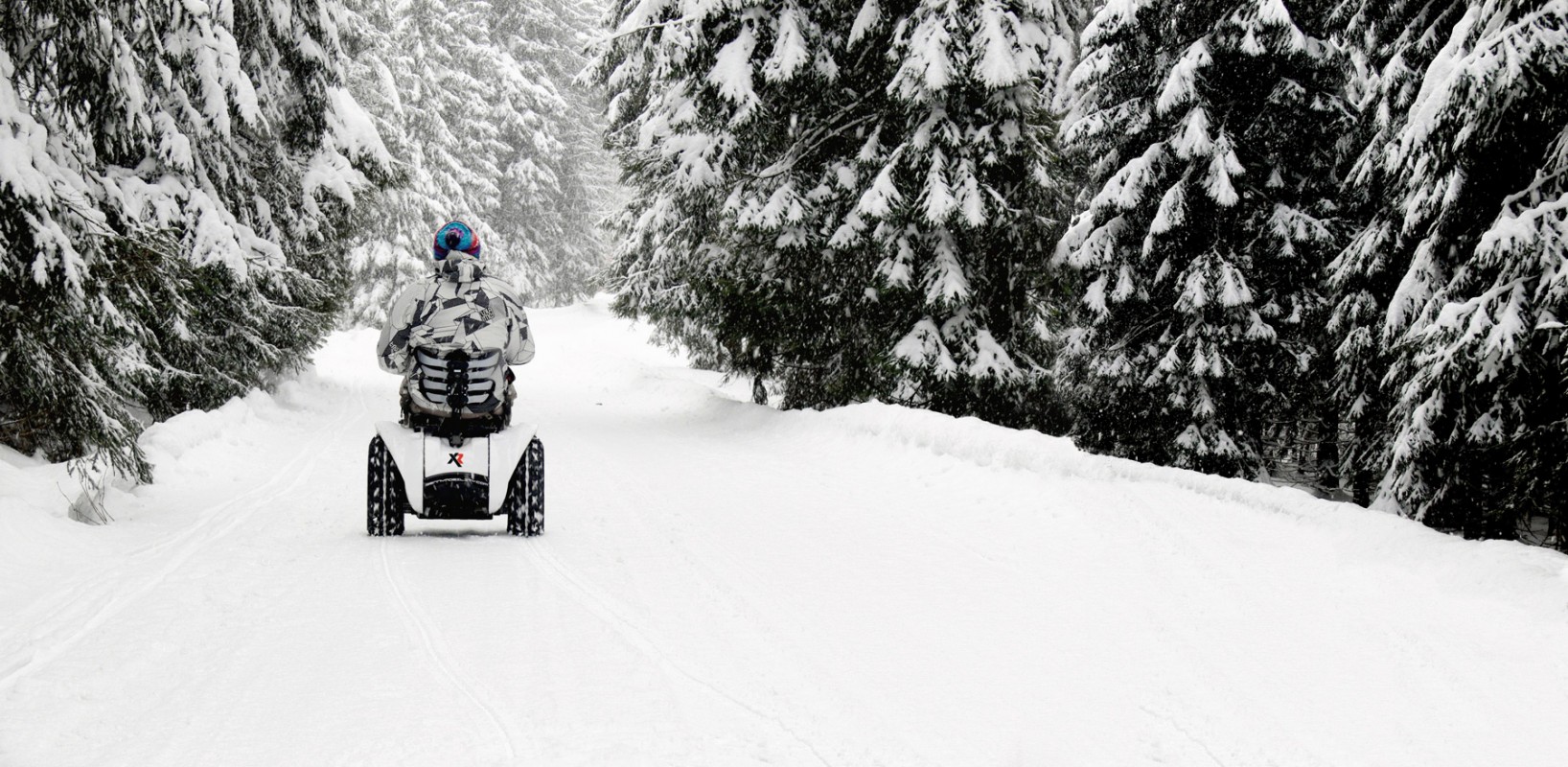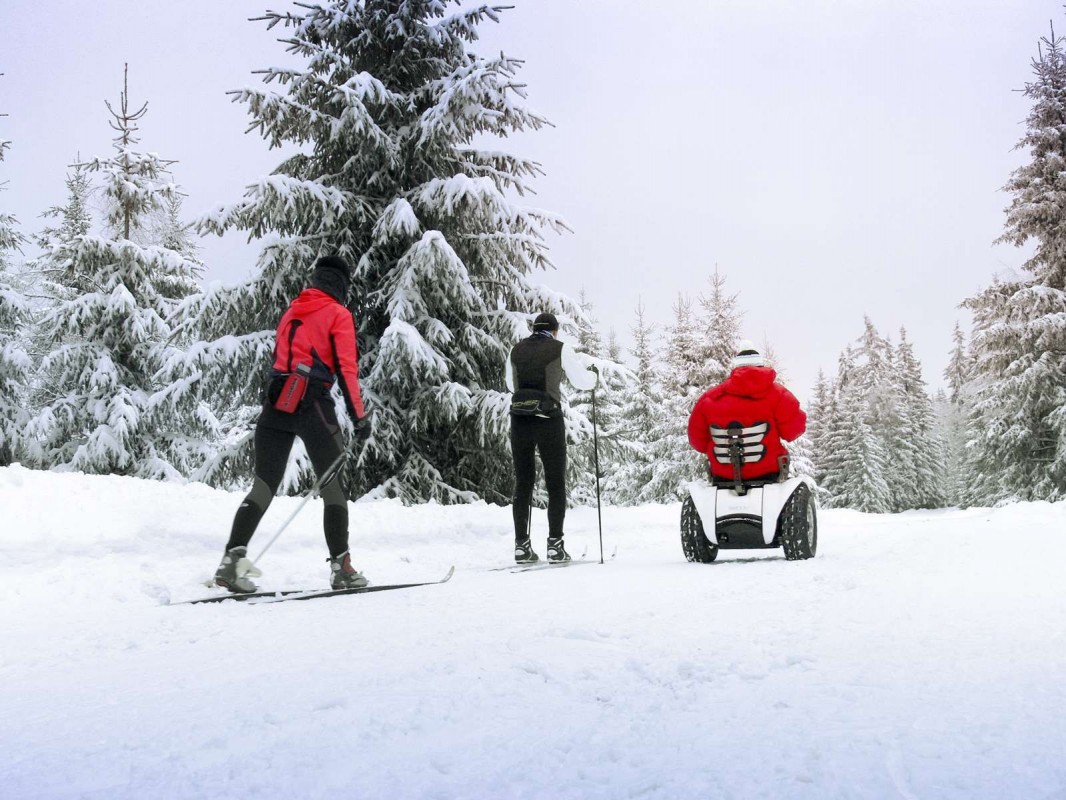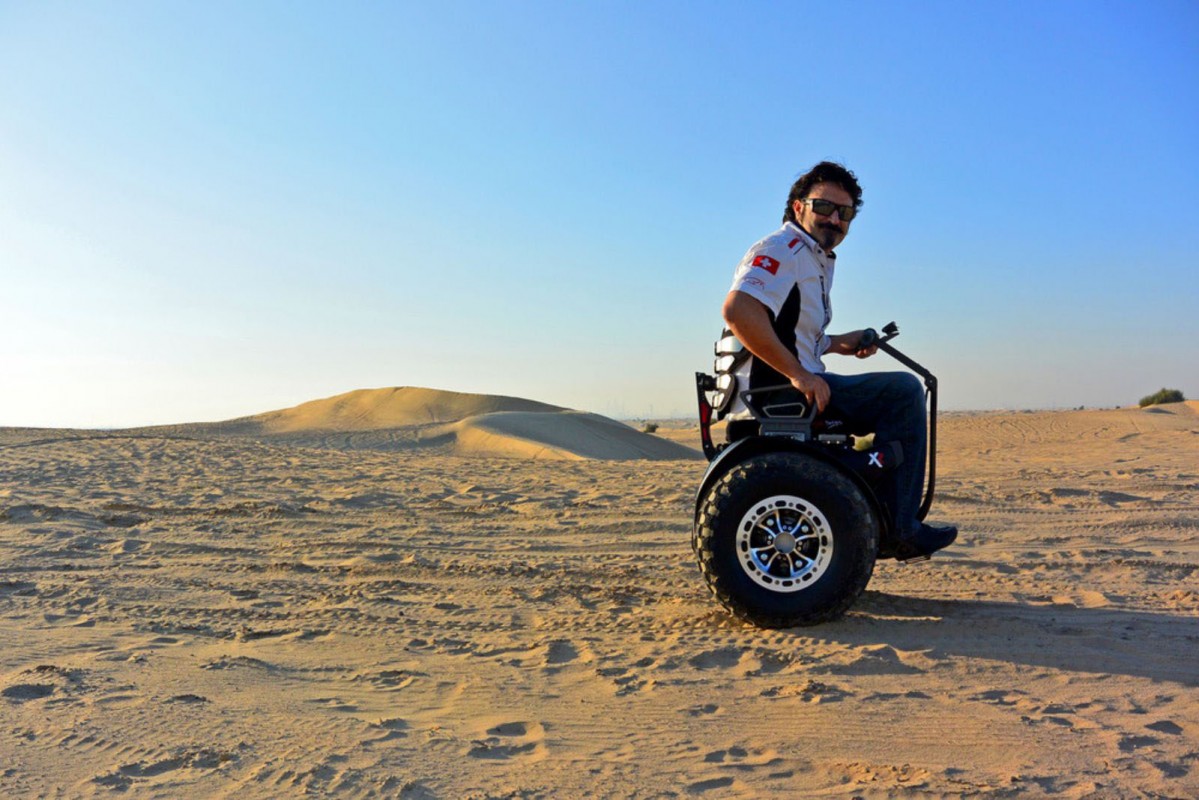 Genny X Road
Genny X Road utilises an adapted to the case's needs expressly modified Segway self- balancing base, ensuring immediate spins on the same axis and to go ahead without operating any control lever, like throttle or brake. Genny X Road is able to go up 18% Maximum incline and slope 3hp Power.
The two parallel wheels and many electronic sensors (such as 5 gyroscopes) allow Genny to move only shifting part of the bust forward to advance, backward to slow down and brake. Simple handlebars permit the means spinning without a compulsory specific use of the hands, leaving them totally free.
Great innovation, reduced dimensions
Genny X Road is designed even for inner space. The reclining seatback and the easily extractable handlebars, removable using only one hand, reduce Genny X Road o a "cube" (83 cm wide) and make it extremely compact and fit for transportation. Height 76 cm, Width 83 cm, Depth 76cm.
Versatile
With the special XR Kit, convenience and comfort will be at your service. In about an hour you can convert your Genny Urban to Genny Off Road and back. Versatility at any time.
No limits:
Built to expand your horizons. The new Off Road Kit will allow you to easily explore all kinds of terrain: going from snow over sand, and gravel to mud. You will no longer know limits: imagine a place, take Genny and get there!
Nothing is left to chance
Safety
Parking: two small feet permit to stabilize your Genny X Road in a simple and safe way. The presence detector placed under the seat makes Genny's functioning possible only if the driver is on board, avoiding machine accidental activations and ensuring its turning off when getting out. To ensure the safety in case of failure, Genny X Road takes from the world of aeronautics the redundancy technique. This procedure provides for the doubling of the electronic or mechanical circuits in order to avoid unpleasant consequences in case of failure of one of them. X2 Batteries + X2 Electronic boards + X4 Total engines
A unique backrest
Ergonomics is the science of the interaction between users and technologies. Genny X Road adopts a solution that is unique in the world in the field of ergonomics: Tarta®, a seatback conceived by the namesake firm which dedicates its work to posturology with a mix of aesthetic and well-advanced materials. GM Design Team has redrawn and realized a custom-made Tarta® for Genny?. Modular, with few simple strong parts, Tarta® seatback answers to many needs, from those aesthetic, for trending seats, to those serious problems of disabled people. Everyone can benefit from this innovative solution.
Control panel
The push-button panel enables/disables the parking control and the lights (optional).
1. LED bar indicator: it signals the parking feet battery charge
2. Lights activation button
3-4. Genny, by pushing button 3 and 4 in sequence, starts functioning stabilizing the load. The same operation is done to lower the parking feet again once stopped.
InfoKey
The InfoKey wireless controller is the mean to enable, check and communicate Genny's functioning. It is equipped with four buttons along the external perimeter and with a central display. The buttons allow to choose the various functions and to review all the information on the display.
Advantages
Being able to hold one's own boyfriend/girlfriend's hand while strolling is a common action for those who walk but often impossible for those who use a wheelchair. Genny allows us, thanks to its incredible mobility features, to stroll looking at the landscape with no worries about the road surface and so, being able to eat an ice- cream or bringing one's own "puppy" for a walk becomes a reality today. Fantasy is, at present, the only limit to Genny´s potentialities: nothing will be precluded to our mobility imagination anymore. Sport, free time, work will never be the same again.
Who uses traditional wheelchairs knows well the problems regarding their daily use
Moving always looking down to avoid the little anterior wheels sinking in the dips and always having the hands full (often getting dirty) can be reason of daily frustration.
Never least the problem of the rain, which compels the user to get wet because of the impossibility of holding a simple umbrella, or making him face risks when dealing with slippery grounds, little steps or little slopes. Genny "immediately" solves all these issues.
Genny X Road is suitable for any moment of your daily life: at work, travelling, leisure, sport, etc. It will help you to move from one place to another with a new energy. Genny X Road is ideal for use both indoors and outdoors. Indoors, you can easily rotate on the axis, easing the process to get in an out of an elevator, or maneuvering in narrow spaces such as in a room. Outdoors, Genny X Road, is known for its versatility in all kind of terrains. Genny X Road has everything you need: personal transport with autobalance, and modern and smart vehicle. Get ready to have fun!
History
Genny was born from the intuition of Paolo Badano,businessman who, due to a banal road accident, has been living for over twenty years with his wheelchair. Following the accident, over the years, Paolo looked for a way to improve his daily mobility, but without finding anything able to make him break away from the usual schemes. The four-wheelel wheelchair not only seemed constraining and often aesthetically arguable, but had a clearly obsolete technology as well.
Only in 2009 Segway pt, a self-balancing ride equipped with only two wheels conceived by Dean Kamen and produced by Segway inc., drew his attention. Being Segway a device which imposes on his user the standing position, Paolo´s idea was to make this technology available to the "seated people" (definition often used by Paolo to define motor disability). So Genny was born, his first ambitious project, having as primary obligation to ensure the safety of his user. For over two years Paolo has been working on this new technology, dealing with the problems that came up every day. His decision to use Segway´s technology and the experience of world-renowned designers in the field of robotic made the difference, leading the project to an undisputed success and succeeding in creating the world first two wheel self-balancing chair. Today Genny, thanks to the official partnership with Segway inc., has become reality. Thanks to hers advanced technology Genny breaks forever the mould, bringing every hindrance down, whether architectural or psychological.
Genny is functional as well as beautiful to see. One of the objectives that Paolo set from the beginning of his "adventure" was to carry on, with this idea, a completely new and ambitious concept: connect the word "design" to the word "disability". Genny´s design wants to shift the interlocutor´s focus from the problem of the reduced mobility to the charm linked to the means used. Together with the autonomy, this new interpretation can be fundamental to the complicated path toward disability integration.
We invite you to see more features about the Genny X Road watching the following video about the Genny X Road
21.439,00€
(10% VAT included)
REMEMBER: If you have a disability certificate greater than 33% degree, you are entitled to a VAT reduction on this product.
Free Shipping in Spain (peninsula).
Our physical store is located at Calle Cavanilles 7, 28007 Madrid.
Secure SSL Purchase (+info)
Returns: 15 days.
Need any assistance? Contact us +34 915701682
Financing:

Cetelem
From 3 to 60 months
Calculate your fee
Width: 83 cm
Total depth: 76 cm
Seat height: 76cm
Speed 6-12 Km/h
Electronic regulation of steering sensitivity
Load capacity 95 Kg
Autonomy at full charge 15-25 km (depending on terrain and riding style)
Gradeability: 18%
Motors power: 3Kw
Batteries: 2 sets of Saphion lithium-ion batteries
Tire track: 15 cm
Useful distance from the ground: 12 cm
Adjustable and ergonomic reclining backrest
Adjustable seat in height, width and inclination
Height adjustable footrest
Includes: Lights Kit (rear and front) + Aluminum rims + Carbon handlebar
Colors: White, Gray and Matte Black
* Data provided by the manufacturer.
Warranty: 2 years and 6 month on the battery
10% VAT and transportation included
Free shipping for orders shipped to Peninsular Spain. Please contact us for orders shipped to the Spanish islands and to other countries.
Reduced VAT rate (4%) will be applied to customer provided 33% disability certificate % (or higher degree)
Related Products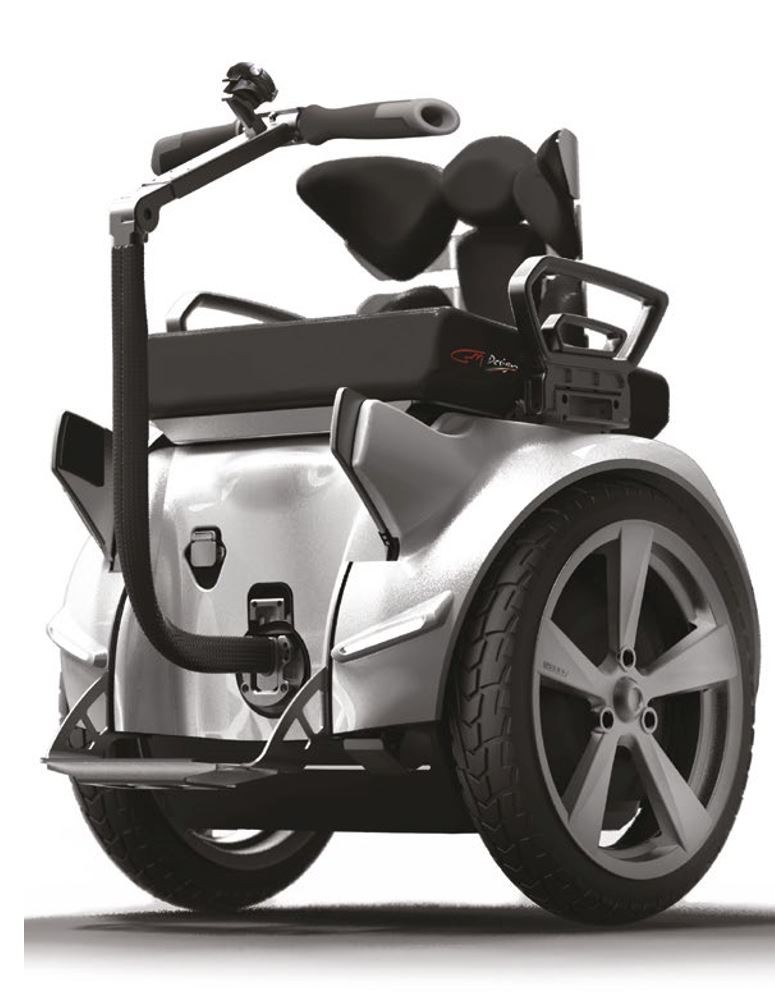 Based on Segway platform - no need of specific use of the hands.
VAT included - Free Shipping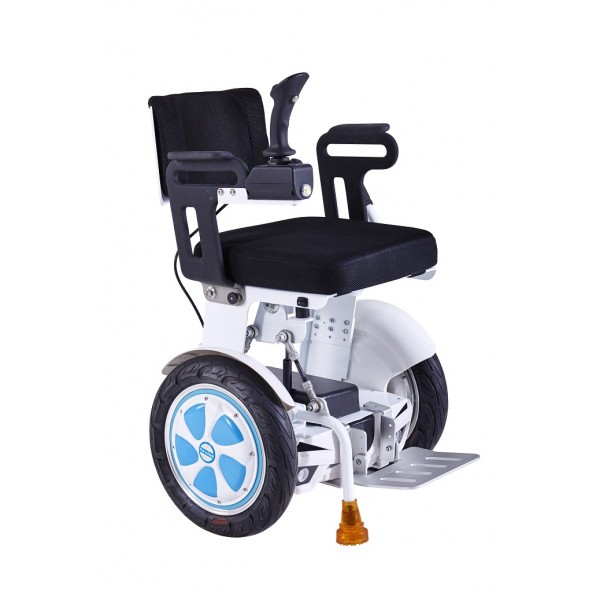 Airwheel A6.Self-balance personal mobility device
VAT included - Free Shipping