Afiscooter S4W Two-Seater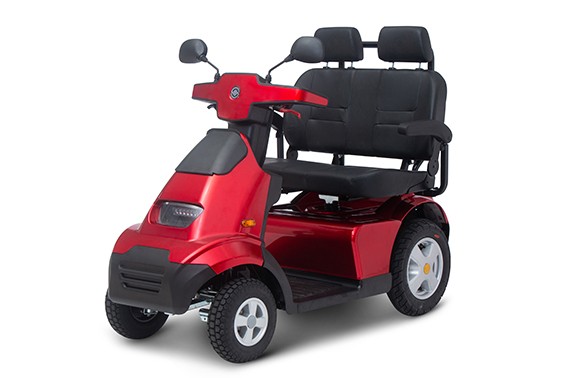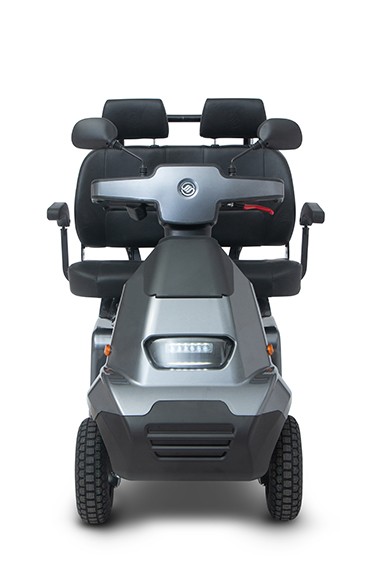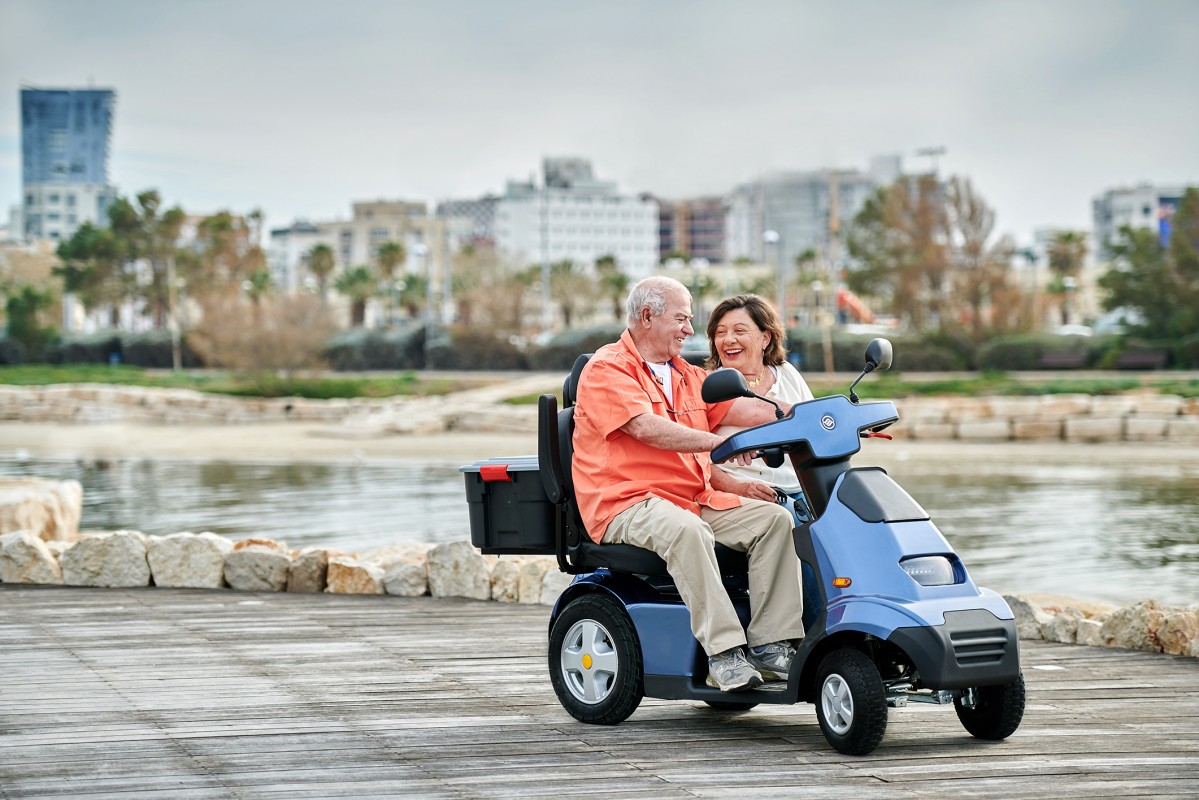 Afiscooter S4W Two-Seater
The spacious & luxurious Afiscooter S4W Two-Seater has been designed to carry to passengers. With its Red Dot Award winning design made to maximize the protection and safety of the driver, its brilliant ergonomics and excellent comfort of driving is one of the leading Mobility Scooters in its category.
If you are looking for a scooter with two seats that can handle traversable terrain with exceptional stability and uncompromising comfort, the Afiscooter S4W Two-Seater is your choice of preference. If an extremely small turning radius with maximum maneuverability is what you need, you should Consider the three-wheel Version. Either model you choose will deliver an outstanding user experience.
Superb safety and comfort for pure riding pleasure
The Afiscooter S4W Two-Seater combines the highest technology with a spectacular design. It offers a superb ride as well as excellent maneuverability. In addition, the model has an ergonomic design to make the trip more comfortable, programmable electronic control, LCD screen, and energy-efficient LED headlights.
Extra Comfort, a luxurious seat that offers maximum comfort while driving and makes transferring easy.
Additional amenities, a lockable front compartment, integrated cup holders and an energy efficient LED headlight.
Extra safety, a sturdy frame, protective plastic covers and a shock-absorbing rubber (PU) front bumper
The ultimate outdoor heavy duty mobility scooter with a maximum load weight of 250kg! The Afiscooter S4W Two-Seater Heavy Duty has an impressive travel range and a powerful 1400 watt motor. Ergonomic design makes travel even more comfortable. It has a programmable electronic control with an LCD display and is equipped with powerful and durable LED lights. The seat is also comfortable and there is plenty of leg room too. The Afiscooter S4W Two-Seater Heavy Duty has a shock absorbing steel frame and is equipped with shock absorbers.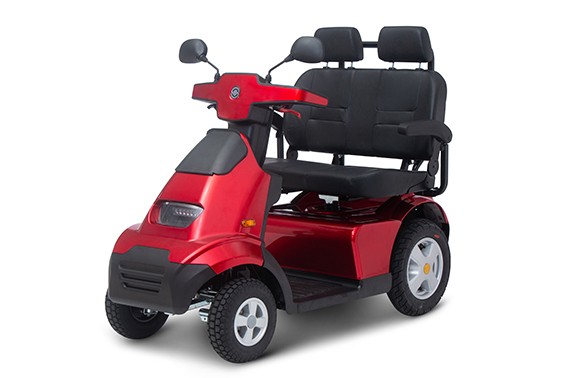 Highlights
Maximum user weight of 250 kg
Impressive range
Powerful and sustainable LED lighting
Nice design
Bright, easy-to-read display
Maximum presence on the road
Optional with Comfort hood
Afiscooter S4W
Two-Seater

Features

The Afiscooter S4 Two-Seater incorporates an advanced automatic control system that constantly monitors performance and alerts you to possible maintenance tasks. The batteries provide a great autonomy between charges. For greater comfort and ease of use, the Afiscooter S4W Two-Seater has adjustment of the driver's distance and seat height.




Optionally it has an integral hood ideal to protect itself from the sun and rain. To ensure comfortable and safe handling, the Afiscooter S4W Two-Seater has a comfortable suspension, an intelligent braking system and an anti-impact steel frame. Available in metallic silver color. The Afiscooter S4W Two-Seater has all the comforts and safety systems of the S range, combined with excellent maneuverability and ease of use. It offers perfect handling on uneven roads as well as narrow trails.



Find the accessories you need
With a wide range of accessories, the Afiscooter S4W Two-Seater can travel comfortably and safely on various types of terrain, including rough off-road terrain, in various types of weather conditions, including extreme conditions, and serves more functional and recreational than most other scooters in its category.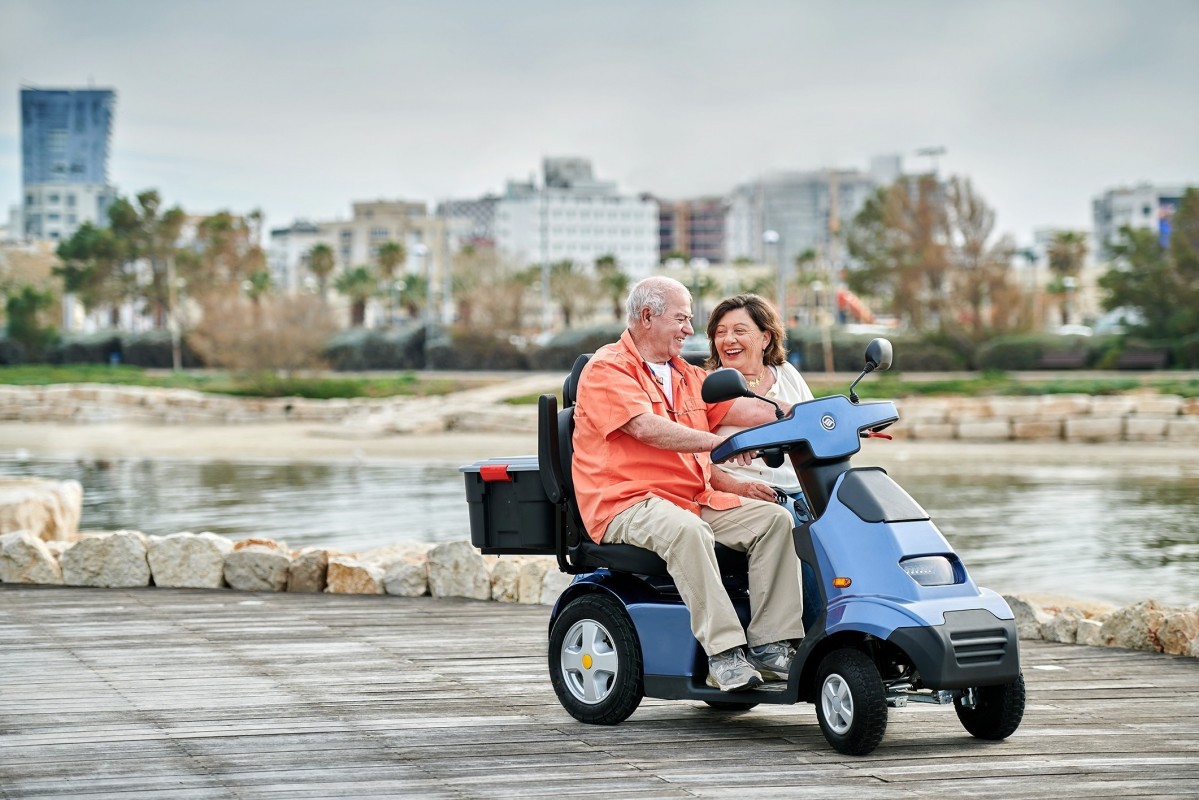 Why Afikim?
+ Because nobody knows mobility scooters like Afikim!
+ Tens of thousands of our mobility scooters are used daily around the world and with a long-lasting proven track record, the "Afiscooter" brand has become synonymous with Safety, Comfort, Reliability.
+ We are proud to know that Afikim Electric Vehicles has a positive impact on the independence, tranquility and overall quality of life of our customers.
7.787,56€
(21% VAT included)
Free Shipping in Spain (peninsula).
Our physical store is located at Calle Cavanilles 7, 28007 Madrid.
Secure SSL Purchase (+info)
Returns: 15 days.
Need any assistance? Contact us +34 915701682
Financing:

Cetelem
From 3 to 60 months
Calculate your fee
Technical specifications - S4W version with double seat:
Total length: 165cm (65")
Overall width (standard wheels): 96cm (37")
Overall height (without canopy): 125cm (49")
Overall height (with hood): 164cm (65")
Distance from ground to base: 12.5cm (5")
Weight with batteries: 165kg (364lbs)
Weight without batteries: 118kg (260lbs)
Maximum weight supported: 200kg (450 pounds)
Autonomy: 45-50km
Maximum speed: 10-15km / h
Maximum gradient: 8º (15%) 15Kph, 11º (20%) 12Kph
Turning radius: 228cm (90")
Seat width: 85cm (33")
Rim type: Pneumatic (1.7 bar)
Front tire size: 4.10 / 3.50-6"
Rear tire size: 3.50-10"
Battery type x2: 12V 75Ah, max.
Rear-wheel drive power unit: 24 V DC motor | 1,400W
Controller Type: SD 140A
Charger type: 8 amps
* Data provided by the manufacturer.
Warranty: 2 years and 6 month on the batteries
21% VAT and transportation included
Free shipping for orders shipped to Peninsular Spain. Please contact us for orders shipped to the Spanish islands and to other countries.
Reduced VAT rate (4%) will be applied to customer provided 33% disability certificate (or higher degree)