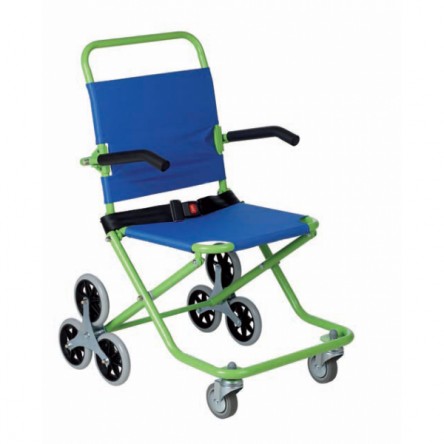 Roll-Over
The Roll-Over evacuation chair is a lightweight wheelchair to evacuate people in case of emergency or when there is a need to transfer them in narrow places or difficult to access, such as: floors without an elevator. To facilitate the transfers and especially when there are curbs or steps, the chair comes equipped with triple and rotating rear wheels. For security it must be attended at all times by two people. The arms fold simultaneously. Supplied with belt. Chair weight: 13.5 Kg. Seat Width: 44cm. Maximum weight of the user: 100 kg.
Accessible Madrid offers folding manual evacuation chair rental service in Madrid for people with limited mobility or disability. Accessible Madrid offers this evacuation chair rental service in Madrid provided directly either at our store (in the city center) or with home delivery service in the city center. The wheelchair rental service in Madrid is very useful for when traveling to Spain, vacation, post-operative recovery processes, convalescence, etc.
Wheelchair Features

This is your Wheelchair if
- Weight: 13,5 Kg.
- Max user Weight: 100 kg.
- Wide seat 44cm.
- Seat bottom 43 cm.
- High seat-floor 47.5 cm.
- High back 33.5 cm.
- Overall width 58 cm.
- Total depth 77 cm.
- Total height 96.5 cm.
- If you need to move a person through narrow areas and with steps.
- If there is no elevator and you have to go up/down the stairs.
- If there is an elevator too small for a conventional wheelchair.
- If you need to evacuate a person in an emergency.
- If you are looking for a lightweight and easy-to-use manual wheelchair stairclimber system.
- The Roll-over chair folds easily and takes up virtually no space when storing it.
- VERY IMPORTANT: it must be attended by two people, one in front and one behind the chair.