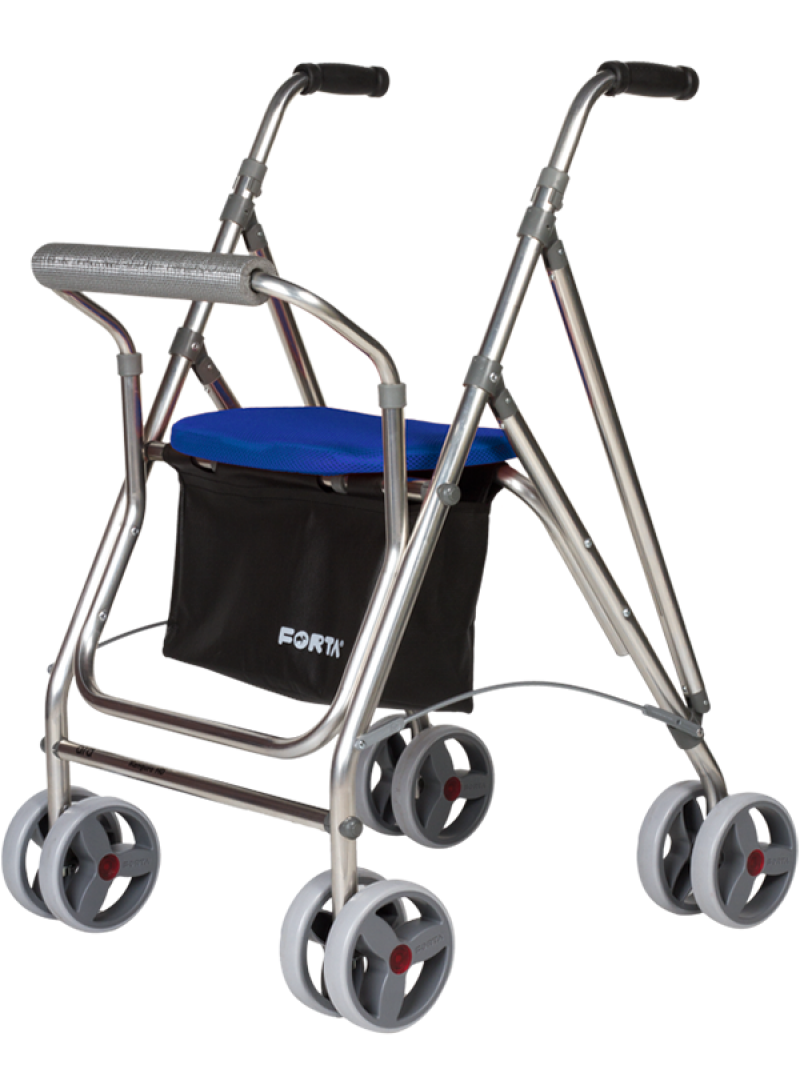 Kanguro HD
The 4-wheel Forta Kanguro HD rollator is made up of 8 wheels (4 double), both at the rear and at the front.
The brakes of this 4-wheel walker are activated by exerting pressure on the handles, so it is safer for people with hand problems, who cannot activate the brakes in one by levers. Swivel front wheels allow easier maneuvering in tight spaces.
With a total width of 57cm, it fits through any bathroom door, as long as it measures 60cm (the standard measurement). Height-adjustable rubber grips from 85 to 96cm, to adapt to the size of any user.
Padded backrest for user comfort. It folds up easily so it can be transported or stored anywhere.
Available with orange, pistachio, blue or gray seat covers.
- Available with orange, pistachio, blue or gray seat covers.
- Height adjustable rubber grips.
- Eight 150 mm wheels.
- Double swivel front wheels.
- Rear wheel with pressure brake.
- Padded backrest.
- Foldable.
- Basket for objects
-Aluminum Made
130,00€
(10% VAT included)
Free Shipping in Spain (peninsula).
Our physical store is located at Calle Cavanilles 7, 28007 Madrid.
Secure SSL Purchase (+info)
Returns: 15 days.
Need any assistance? Contact us +34 915701682
Financing:

Cetelem
From 3 to 60 months
Calculate your fee
HEIGHT: 85 to 96 cm
LENGTH: 64.5 cm
WIDTH: 57 cm
FOLDED LENGTH: 30 cm
INSIDE WIDTH: 42.5 cm
SEAT MEASURES: 40 x 26 cm
SEAT HEIGHT: 55 cm
WHEEL DIAMETER: 8x15 cm
WEIGHT: 4,720 kg
RESISTANCE: 130 kg
* Data provided by the manufacturer.
Warranty: 2 years
10% VAT and transportation included
Free shipping for orders shipped to Peninsular Spain. Please contact us for orders shipped to the Spanish islands and to other countries.