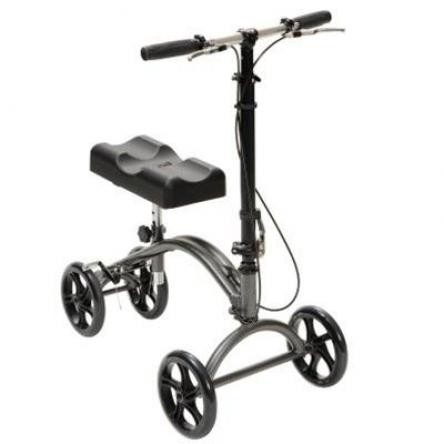 VIDEO
Drive Medical 790
The Steerable Drive Medical 790 knee walker provides a comfortable pain free alternative to crutches and is ideal for individuals who are recovering from foot surgery, breaks, sprains, amputations and ulcers of the foot. This innovative and stylish crutch substitute can be easily adjusted without tools to meet your needs allowing for increased maneuverability. The 790 is equipped with large 8" casters and dual frame design providing maximum control when used indoors or outdoors. This knee walker comes standard with tool free height adjustable dual hand brakes ensuring optimal safety and security when in use. The extra thick leg pad can be height adjusted and is channeled to provide increased stability allowing for a pain free comfortable experience. One of the greatest features of the 790 knee walker is how easily the unit folds without tools making travel, storage or just getting around easy. Ideal for individuals recovering from foot surgery, breaks, sprains, amputation and ulcers of the foot. Deluxe dual-braking system. Sturdy dual frame adds stability and durability. Leg pad with "channel" provides added stability and comfort. Rental for people with reduced mobility or disability. Accessible Madrid offers this service provided directly either at our store (in the city center) or with home delivery service in the city center. The service is very useful for when traveling to Spain, vacation, post-operative recovery processes, convalescence, etc.
Support Product Features

This is your Support Product if
- Handle Height: 33 inches - 37.5 inches.
- Unit Dimensions: 17 inches (Width) x 32 inches (Depth).
- Knee Pad Height: 17.5 inches -21.5 inches.
- Pad Dimensions: 7.25 inches (Width) x 14.25 inches (Depth).
- Product Weight: 19 lbs.
- Weight Limit: 300 lbs.
- If you're experiencing pain or discomfort following foot surgery, lower leg breaks, sprains or foot ulcers.
- If you weight less than 300 lbs.
- If you need to take all weight off of your injured foot or ankle. A knee walker allows you to rest your knee on a comfortable pad, which supports your body's weight.
- If you're suffering from a broken ankle or foot and you need to get around easier.
- If you need free up your hands and make it easier to get around with your good leg.
- If you want to minimize the chances that you'll re-injury your foot or ankle. Just try getting that kind of promise from those awkward and -weirdly balanced crutches.
- If you need to move quick around in your house and office without worrying about carpets, rugs and objects on the floor. Because knee -walkers are so stable, you don't have to worry about slipping and falling due to improper rug placement.
- If you need make it easier to get in and out of the shower, as you're already in a standing position.
- If you wish more confort than crutches (after all, who wants to use something that causes armpit blisters?).