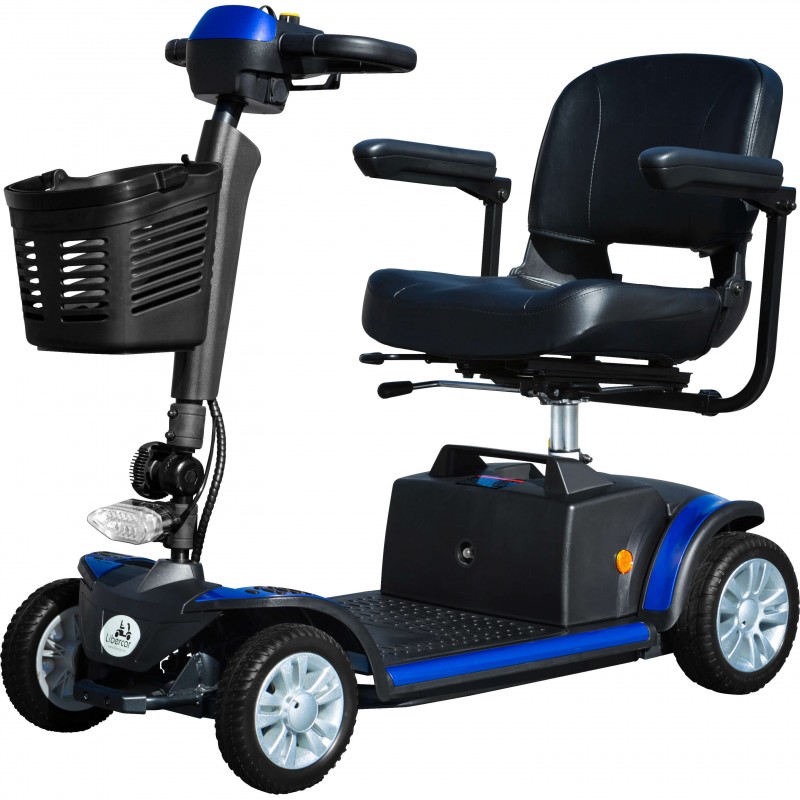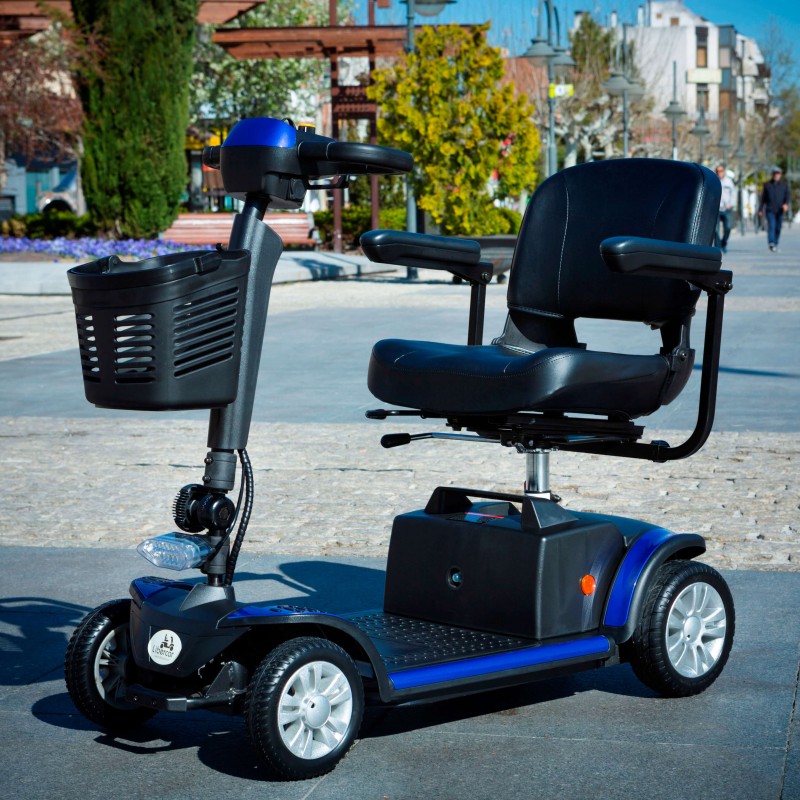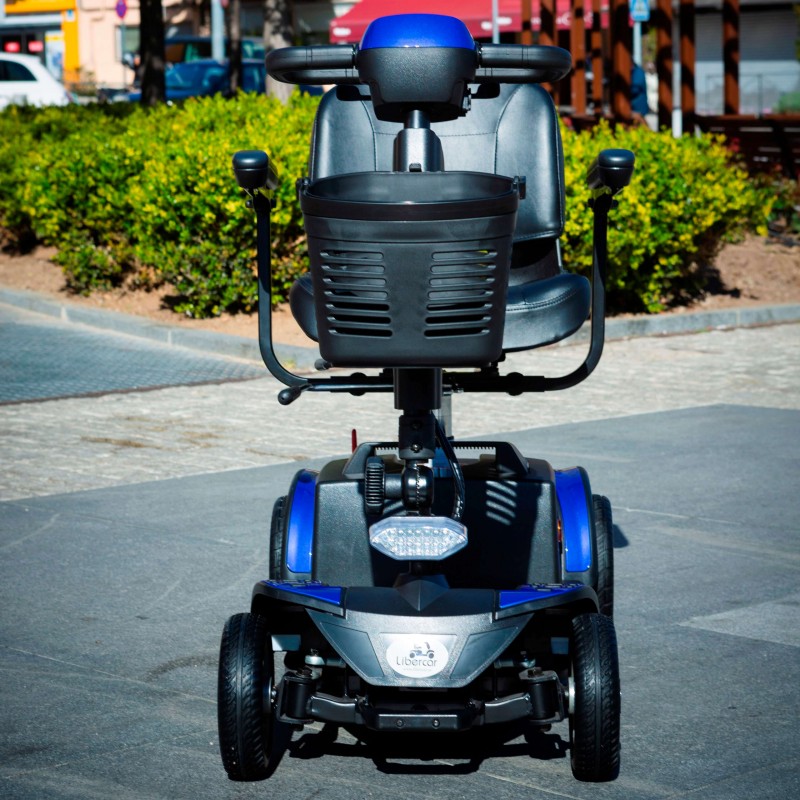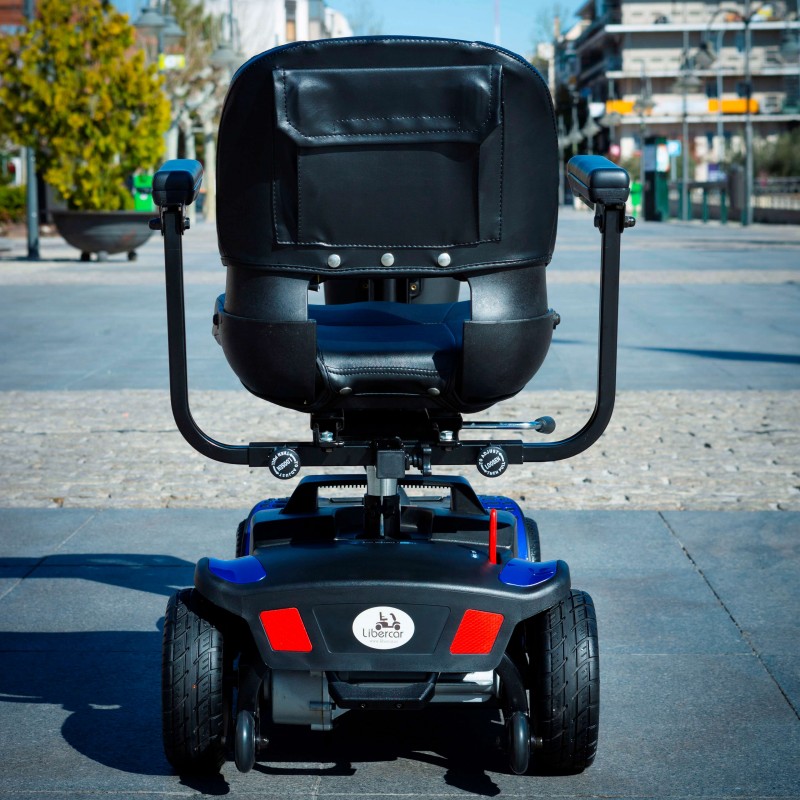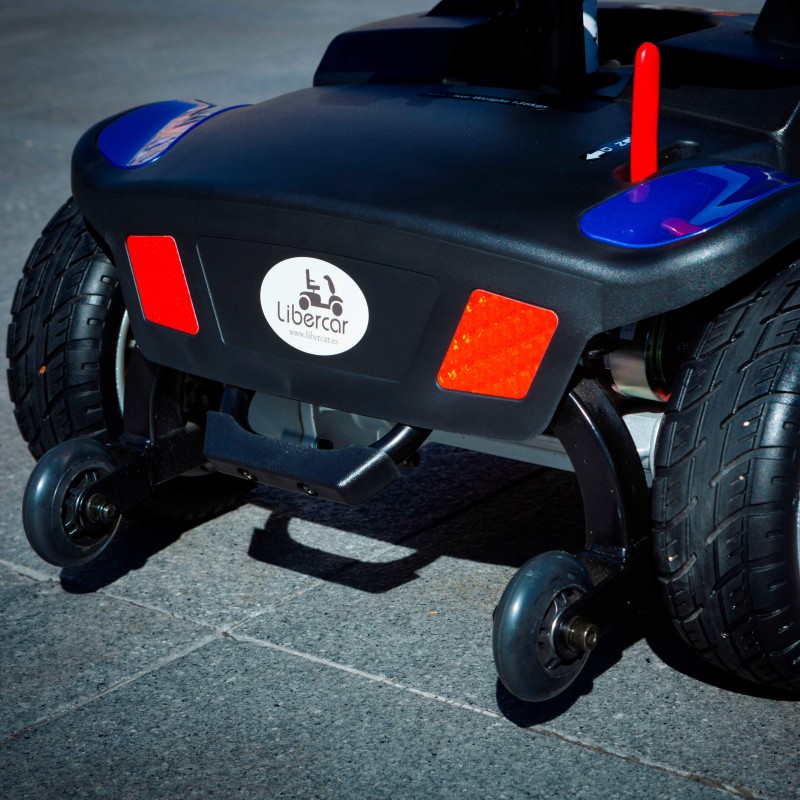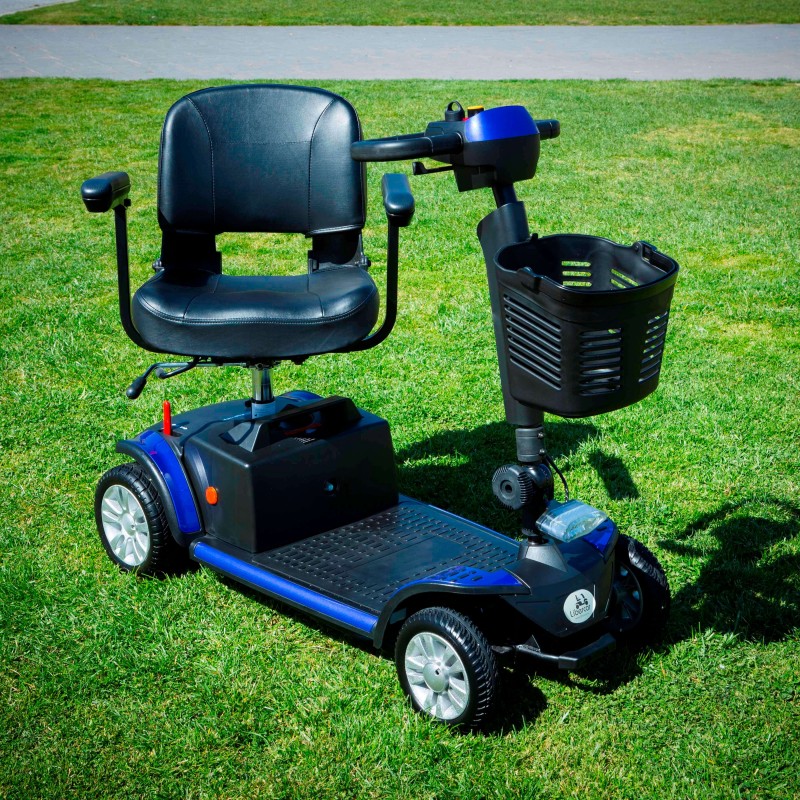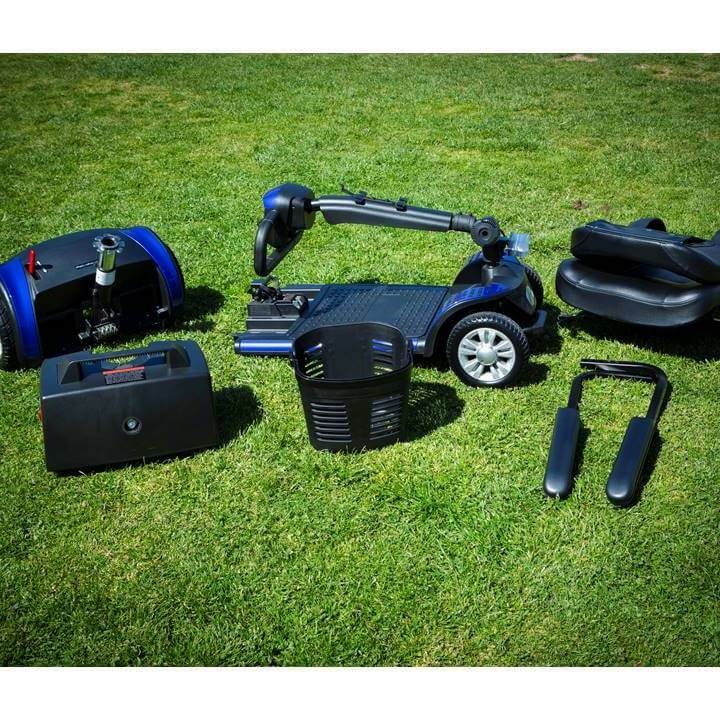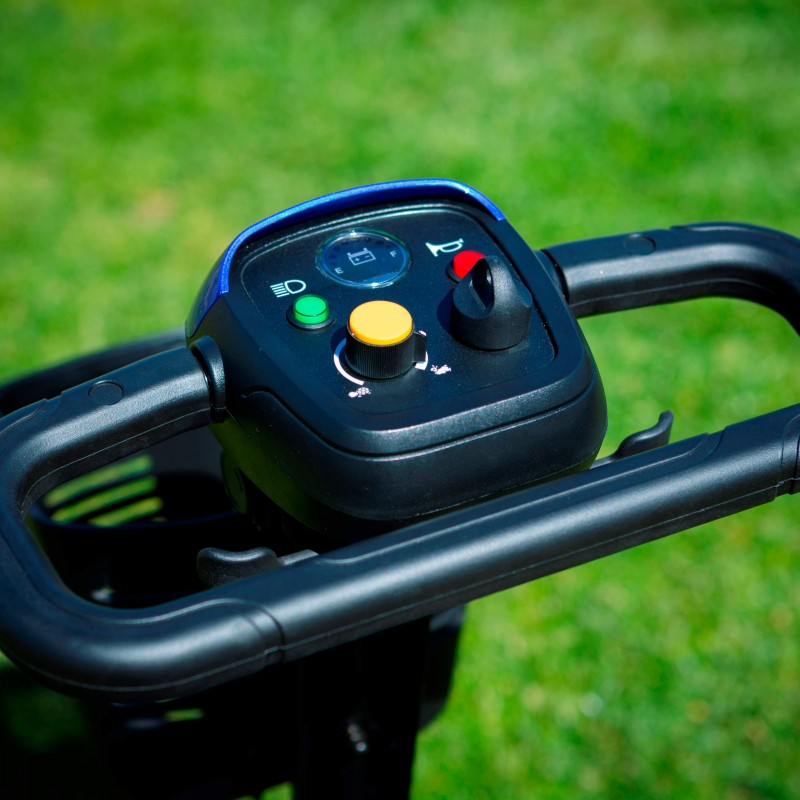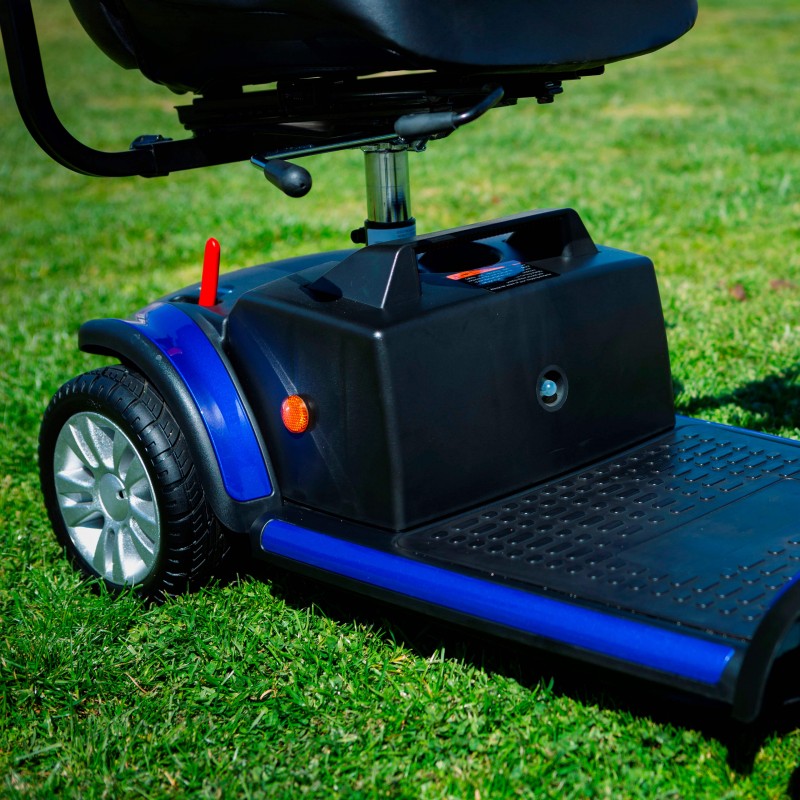 Libercar Vento
The Libercar Vento has been designed especially for those who prefer the maneuverability of a compact scooter but without sacrificing the highest performance.
Its 300Wmotor and 20Ah lead-acid batteries offer a speed up to 8 km/h and a travel range up to 25 km.
The Libercar Vento comes with LED front Lights. They help night driving and access to garages or dark areas. They are also helpful to be seen.
A compact mobility scooter like the Libercar Vento should be exactly that. Portable and easy to disassemble in 5 parts. Simply life off the easy remove seat and pull away the main section with fold down front tiller from the one touch release back section. Even users or carers with limited strength can be confident in managing this power scooter.
Innovative technology is a real highlight on this clever disability scooter, from the easy turning circle for navigating tight spaces to the energy efficient LED lights which operate on minimal power usage. The Libercar Vento makes for a wonderfully comfortable and stable ride.
Portable Scooter:
+ High performance: Motor 300W- Speed. max 8 km/h Batteries 2x20 Ah - Autonomy max 25km Ergonomic handlebar - LED lights
+ Compact dimensions: Serial length 107cm - Customizable on request 90-106cm
+ Maximum robustness: maximum recommended weight 136kg
+ Removable and transportable:
+ Easy charging: two shots - three options
Intelligent Break System:
Regenerative Electromagnetic The scooter brakes only when the acceleration lever is released. Very safe for the elderly or with mobility problems
Portable scooter:
+ Easy to disassemble in 5 parts. In 1 MINUTE. No tools.
+ Removable and transportable battery box. Ergonomic box with grip area for easy handling.
+ Two shots and three loading options. Individual socket on batteries (independent charging or on scooter). Take it under the handlebar so you do not have to bend over.
Comfortable scooter:
+ Ergonomic handlebar: Facilitates the turn and relaxes the driving position. Especially useful for people with mobility problems in arms or shoulders.
+ Complete Seat: Adjustable in height, width and depth Swivel 360º Folding armrests Adjustable armrest angle Folding backrest Backrest pocket
+ Solid wheels/large wheels: Free of punctures, absorb impacts better and adhere more to the ground, making driving in any type of terrain more pleasant and safe.
+ Cushioning
See more features of the Libercar Vento mobility scooter in the following VIDEO.
971,49€
(21% VAT included)
REMEMBER: If you have a disability certificate greater than 33% degree, you are entitled to a VAT reduction on this product.
Free Shipping in Spain (peninsula).
Our physical store is located at Calle Cavanilles 7, 28007 Madrid.
Secure SSL Purchase (+info)
Returns: 15 days.
Need any assistance? Contact us +34 915701682
Financing:

Cetelem
From 3 to 60 months
Calculate your fee
WHEELS: 4
LENGTH & WIDTH: 107X50 cm
BATTERIES: 2X20 AH
MOTOR: 300W
MAXIMUM SPEED: 8 km/h
TRAVEL RANGE: 25 km
SCOOTER WEIGHT: 55 kg
WEIGHT MAX. SUPPORTED: 136 kg
WHEEL TYPE: Solid
GROUND CLEARANCE: 80mm
SHOCK ABSORVERS: SI
LED LIGHTS: YES
REMOVABLE PARTS: 5
Color: Blue
* Data provided by the manufacturer.
Warranty: 2 years and 6 month on the batteries
21% VAT and transportation included
Free shipping for orders shipped to Peninsular Spain. Please contact us for orders shipped to the Spanish islands and to other countries.
Reduced VAT rate (4%) will be applied to customer provided 33% disability certificate (or higher degree)