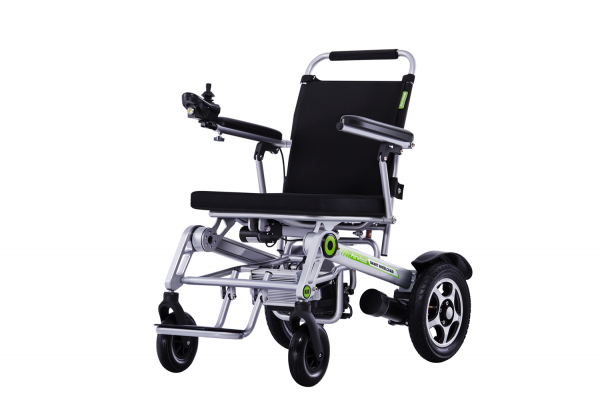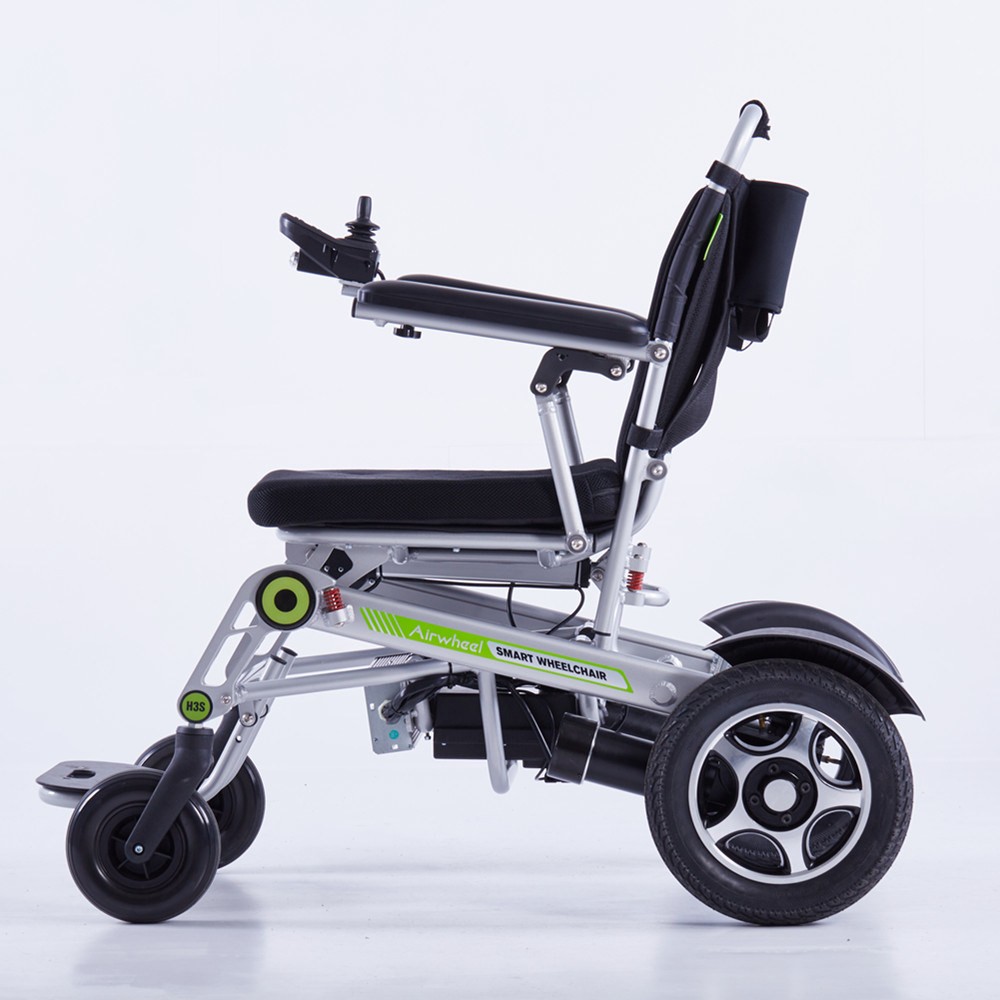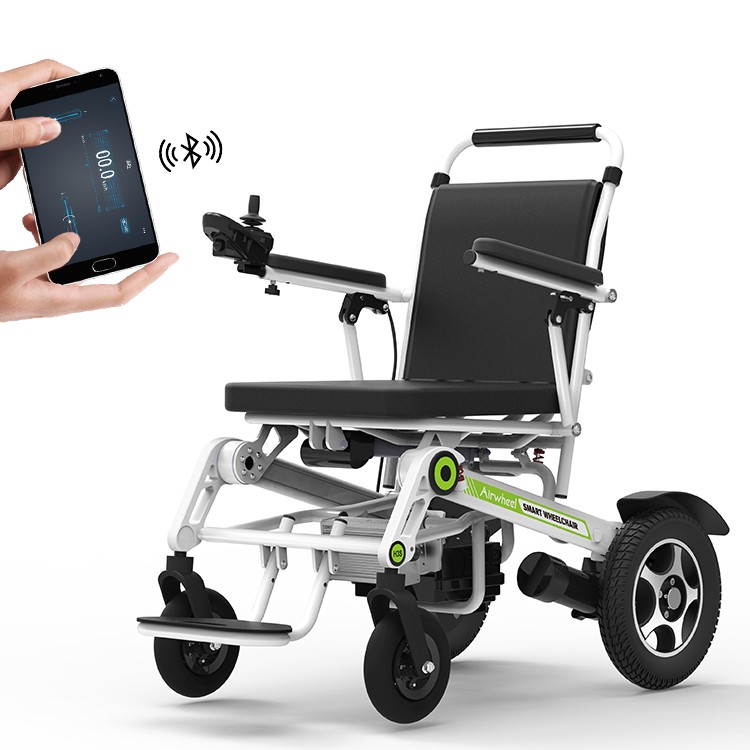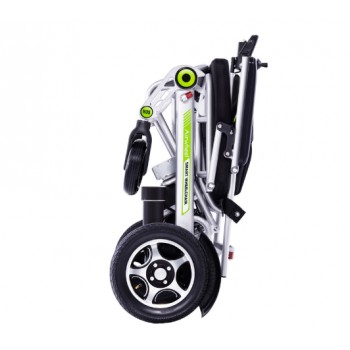 Airwheel H3S
Airwheel H3S is a Full Automatic Folding Smart Wheelchair. It weighs just 57 lbs with battery - Opens & folds in 2 seconds.
Airwheel H3S is the lightest model in this "Heavy duty portable power chair category". If you love our famous Airwheel Smart wheelchair but have concerns due to body size, weight capacity, travel weight and you want a faster speed, it is would be a better choice.
Airwheel H3S Folds and opens in just 2 seconds, and it is compact enough to fit into a small car trunk. Speed up to 5 miles/hr. Ample of room with 18" seat cushion as the sides are open concept (19" between armrests). Weight capacity up to 330 lbs. (Actually it can carry more weight, but problem is whether the user can sit comfortably or not. So please don"t be fooled when anyone says their wheelchair can hold up to 400 lbs with a similar seat.)
Airwheel H3S has more powerful and quiet brushless motors with solid rubberised rear tires (10"), which is just right without feeling bulky. Not only our tires are made with the best texture for comfort, PW-1000XL also comes with 4 spring suspensions. We use Easy-to-detach connector on our Version 3 joystick controller, so it can be easily detached without taking off the whole cable; travelling by air would be much easier and safe.
Standard delivery comes with an original package, anti-tilt support wheels, 1 certified high quality worldwide usable charger, 1 battery pack that can operate up to 9.3 miles with full charge. is able to hold up to 3 batteries to triple the travel distance.)
Airwheel is the original designer and producer of the best portable power wheelchairs.
Remote Wheelchair-App with more features
Newly developed intelligent control system. Remote power on/off; fold/unfold with one button; Change the vehicle to your smart toy
Electric wheelchair will come to you by remote control
Three remote controls available. Bluetooth technology
Power Wheelchair-User-friendly design
Interchangeable left and right joystick controller To adapt to different riders"habits
Adjustable and antiskid pedals
Full automatic folding electric wheelchair. The pedals are comfortable and antiskid, with three adjustable heights to meet the needs of different users.
Easy operation&multiple functions
Operable double armrests design. Accord with human body engineering. The retractable armrests make dinning and getting on/off easy and safe.
Considerate design with smart wheelchair
Washable thickened soft cushion. High-grade breathable fabric is easy to clean;the thickened soft cushion is designed for the sedentary to ease fatigue. Equipped with seat belt to safeguard each trip.
Strong and solid -tech wheelchair
Compared with the general selection, such frame is lighter and stronger, load up to 130kg.
Dual ride modes, more choices
Electric mode and manual mode. The electric mode gives riders an effortless ride and allows riders to stop and chat freely. Riders can enjoy the company of friends and families in the manual mode.
High quality accessories are carefully selected
High-capacity storage bag/high-end mini table. Riders can put the daily necessities into the back storage bag. It?s convenient for riders to have a meal, read book or play mobile phones, etc. on the mini table.
Learn more about the Airwheel H3S watching the following VIDEO
2.800,00€
(10% VAT included)
REMEMBER: If you have a disability certificate greater than 33% degree, you are entitled to a VAT reduction on this product.
Free Shipping in Spain (peninsula).
Our physical store is located at Calle Cavanilles 7, 28007 Madrid.
Secure SSL Purchase (+info)
Returns: 15 days.
Need any assistance? Contact us +34 915701682
Financing:

Cetelem
From 3 to 60 months
Calculate your fee
Net Weight with 1 battery pack 57 lbs
Max Speed 5 miles/hr
Maximum Seat Capacity 330 lbs
Seat Depth 18"
Seat Cushion Width 18?
Armrest width 19"
Seat Height From Ground (Front) 18.5"
Folded Size (L X H X W) 14.2" X 26.4" X 23.6"
Opened Size (L X H X W) 36.2" X 35" X 23.6"
Packing Size (L X H X W) 15.7" X 30" X 28.4"
Turning Radius 31.5"
Max Distance / Full Charge 8 miles with standard one battery (Tested with 220 lbs user)
~16 miles with Optional 2nd battery
~24 miles with Optional 3rd battery
Charge Time (for 1 battery) 4 hours
Slope Capability (with anti-tilt support) 13?
Battery Type Polymer Lithium Ion Battery: 20.8Ah, 524WH (Possibility of 9.6Ah and 40Ah)
Motor Type Latest Brushless Motor (50% more powerful than normal motor)
Motor Power 250W x 2 units
Front Wheel 7"
Rear Wheel 10"
Frame Material Aircraft Quality Aluminium Alloy
Front + Rear Tire Type Rigid PU tyre * Armrest Raisable
Foot Rest Foldable
Backrest Push Handler Height
Adjustable Storage Bag Weather Proof
* Data provided by the manufacturer.
 Warranty: 2 years and 6 month on the battery
10% VAT and transportation included
Free shipping for orders shipped to Peninsular Spain. Please contact us for orders shipped to the Spanish islands and to other countries.
Reduced VAT rate (4%) will be applied to customer provided 33% disability certificate 33% (or higher degree)