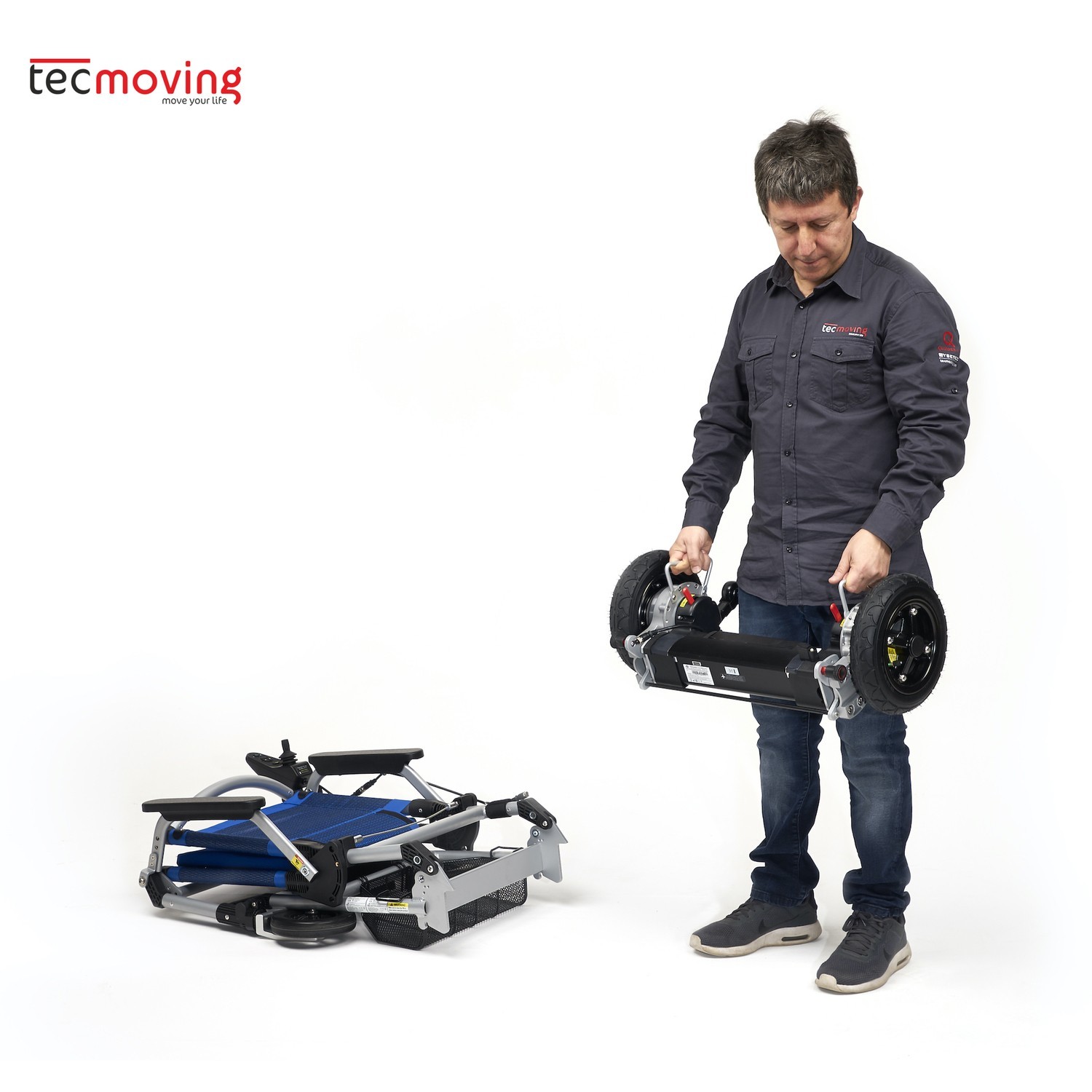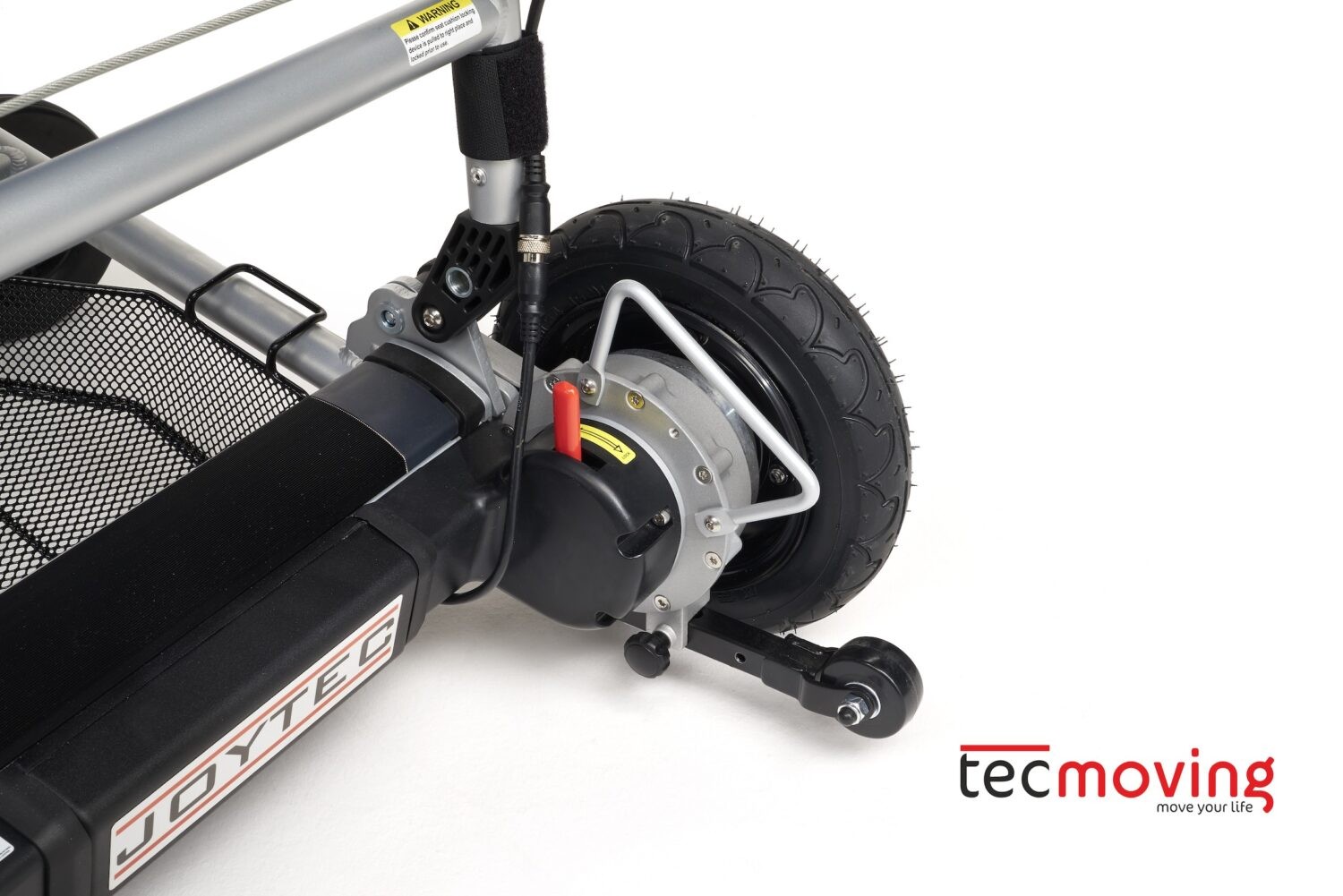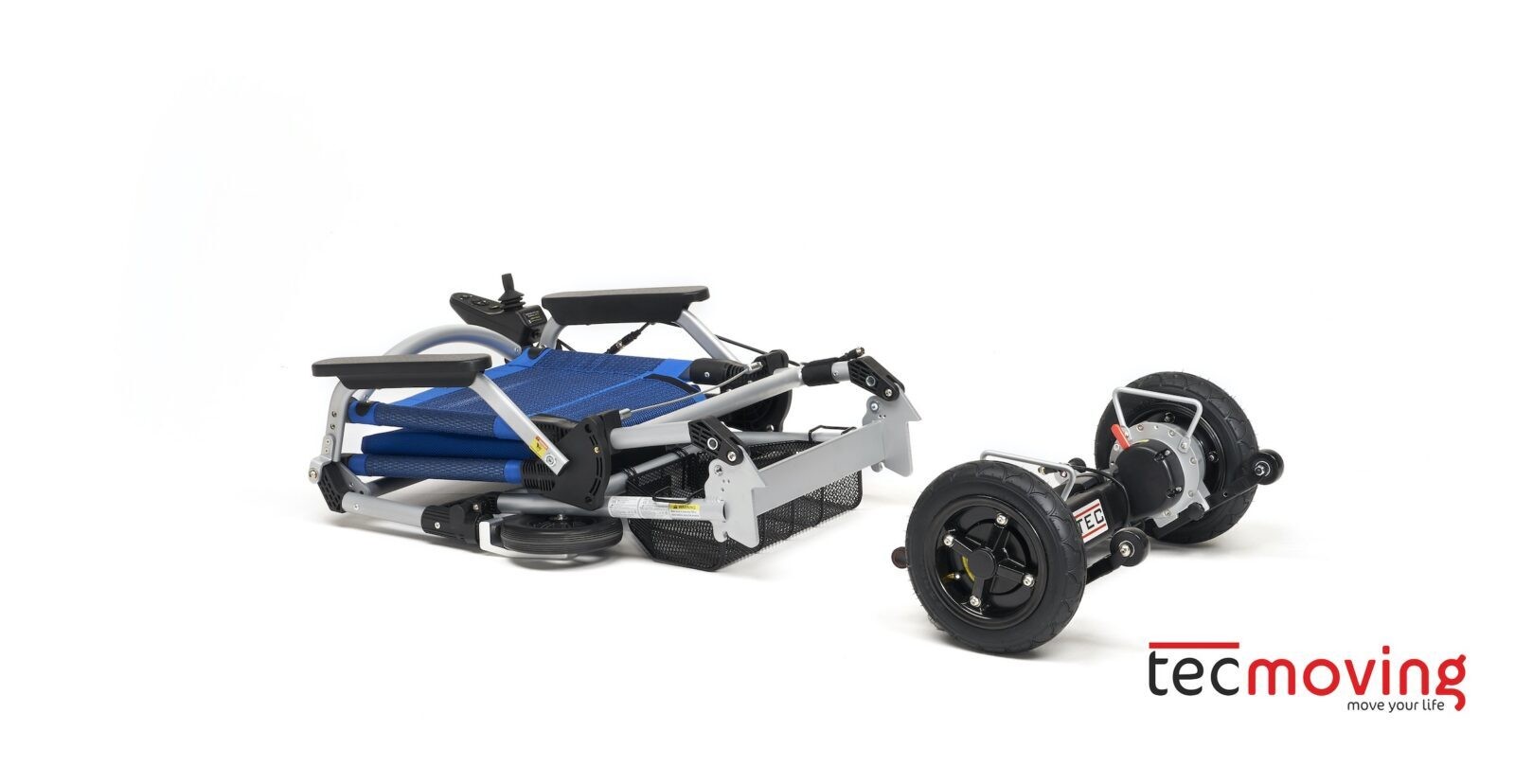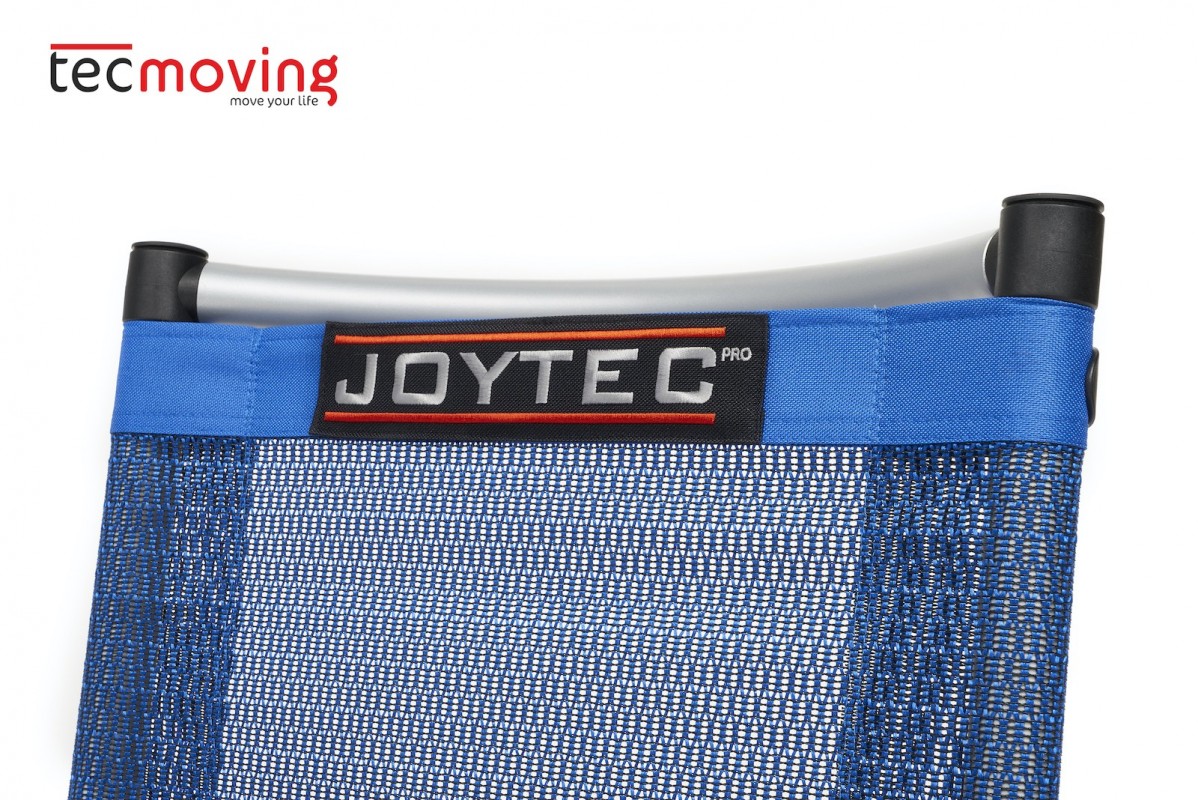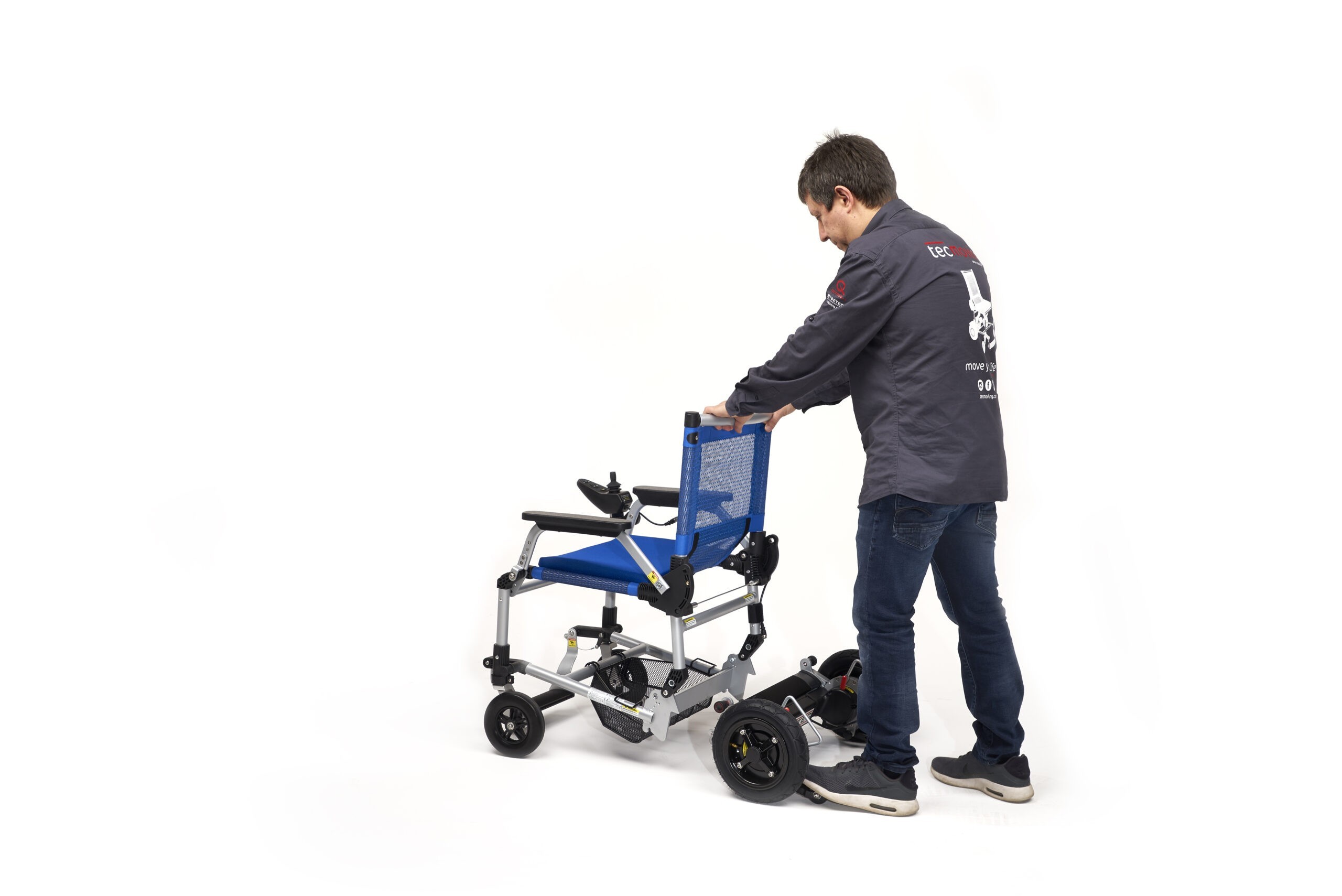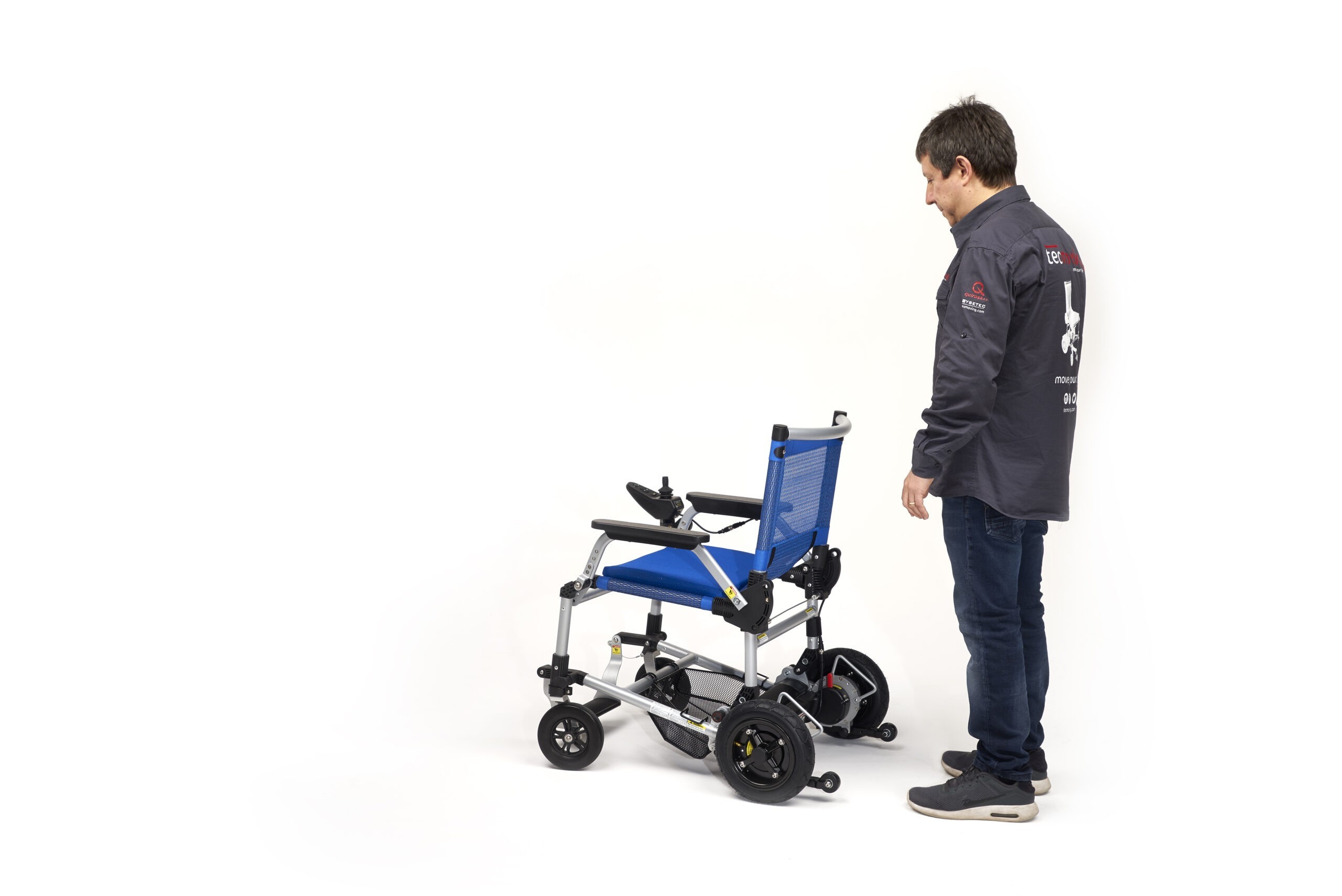 Joytec Pro
The new Joytec Pro is an ultralightweight folding power chair that changes everything.
The Joytec Pro, is a folding power wheelchair that can be lifted and fits in any car. Thanks to its unique system, the Joytec Pro can be separated into two parts and thus split its weight, so that anyone can easily lift it and you can put it in the trunk of any car, no matter how small.
The Joytec Pro has 7" solid front wheels and rear soft rubber pneumatic wheels of 10". And if you don"t feel like taking it apart, simply fold it up, as it shares the innovative ultra-light design and instant folding system of the Joytec powerchair, adding joystick driving and the safety of electromagnetic braking.
Joytec's battery is easily removed and is approved for air travel, as it complies with IATA regulations.
Finally, this ultra-light folding power wheelchair has practical accessories to customize it to your needs, including:
- Rear drive kit to carry the person from the back.
- Crutch/cane kit.
- Automatic inflator.
- External charge adapter, to charge directly the battery without the chair.
- Relaxing memory foam backrest.
Joytec Pro - Main features
+ Very light and easy to carry: you can fold it or split it in two parts.
+ Very easy to drive with joystick.
+ Very safe with electromagnetic brakes, anti-tip wheels, ultra-light aluminium body and health product certificate.
+ Power for climbing slopes and ramps.
intuitive Joystick control
Inspired by the successful electric wheelchair Zinger, shares with her his innovative ultra-lightweight design and its instantaneous folding, adding the driving by means of joystick. Designed for stability without
also has a brake that can be used to electromagnetic. If the joystick is released, the chair is automatically braked, now either on a climb or on a descent. Finally, the Joytec battery can be removed very easily and is approved to go in plane, by complying with IATA regulations.
The joystick can be easily placed behind for carry someone else, or left if you are left-handed.
Joytec Pro - includes
+ Free shipping to the Iberian Peninsula
+ Assembled chair
+ Armrests
+ 7" solid front wheels and rear soft rubber pneumatic wheels of 10"
+ Electromagnetic brakes
+ Lithium battery 10,5ah.
+ Joystick
+ Quick release system
+ Rear bag for carrying objects
+ Basket to carry objects
+ Instruction book
+ Available in three different colors: Blue, Green and Black
+ 2 years guarantee on the wheelchair (6 months on the battery)
Please find more features about the Joytec Pro power wheelchair watching the following VIDEO
3.500,00€
(10% VAT included)
REMEMBER: If you have a disability certificate greater than 33% degree, you are entitled to a VAT reduction on this product.
Free Shipping in Spain (peninsula).
Our physical store is located at Calle Cavanilles 7, 28007 Madrid.
Secure SSL Purchase (+info)
Returns: 15 days.
Need any assistance? Contact us +34 915701682
Financing:

Cetelem
From 3 to 60 months
Calculate your fee
Total net weight: 21.6kg (with battery) and 19.5kg (without battery).
Dimensions: open 825 x 638 x 910mm (L x W x H)
Folded dimensions: 1125 x 638 x 314mm (L x W x H)
Seat height: 485mm
Seat dimensions: 330 x 420 MM (L x W x H)
Maximum user weight: 120 KGS
Autonomy: 13 km approx.
Speed: 0-6km/h
Maximum ramp inclination: 12°.
Turning radius: 740mm
Brushless DC motor 24V ,200W x 2
Braking system Electromagnetic brake
Joystick steering system
Battery: DC24V, 10.5 AH LITHIUM ION
24V2A charger
Charging time: 4h approx.
Front wheels 8 inches solid PU
Rear wheels: 10 inches. Tire 30~35PSI
Colors: Black / Green / Blue
Standard armrest with PU pad, fixed
*Data provided by the manufacturer
Warranty: 2 years and 6 months on the batteries
10% VAT and transportation included
Free shipping for orders shipped to Peninsular Spain. Please contact us for orders shipped to the Spanish islands and to other countries.
Reduced VAT rate (4%) will be applied to customer provided 33% disability certificate 33% (or higher degree)