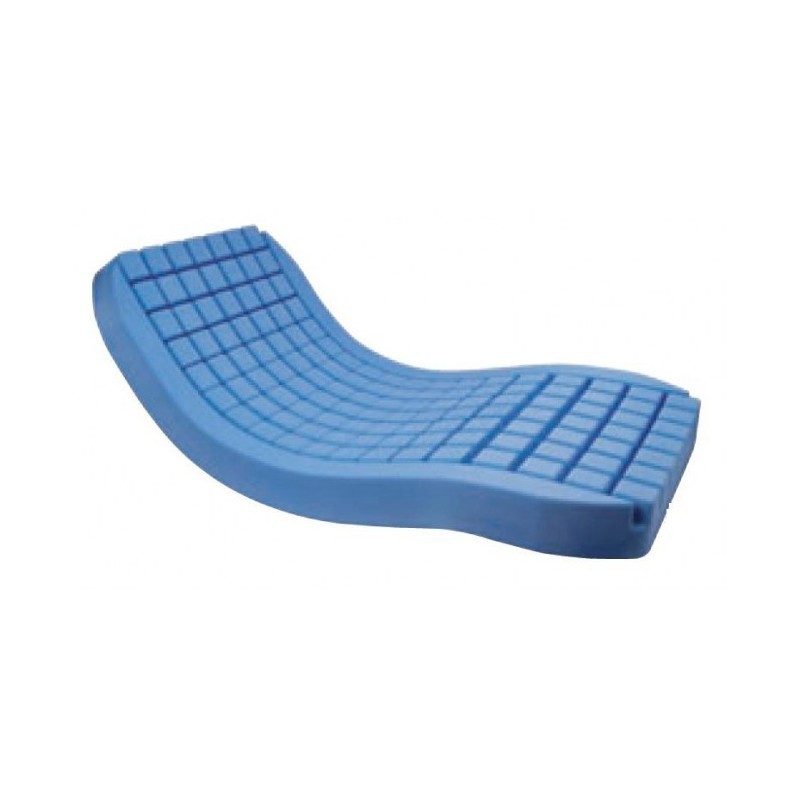 Polyplot Mattress
Polyplot Mattress is a moulded waffle mattress made of high resilency foam with high density.
Polyplot Mattress prevents the appearance of pressure ulcers. It has a molded in 40 Kg/m3 High Resistance polyurethane foam that allows ventilation between the independent blocks, helping to keep the skin dry and facilitating its oxygenation.
Features - Polyplot Mattress
+ Mattress moulded in one section : guarantee for a perfect holding in the cover and compatible with standard and multi-sections bed bases
+ Independence & mobility of the blocks : have been carefully researched to offer a significant reduction in the shear forces
+ Aeration channels between blocks : help to reduce the effects of maceration through improved mattress ventilation
+ Large surface of plots : allowing to maximise the contact surface between the patient and the support thus to decrease the Max. pressures on area at risk
+ The Syst'am® high resiliency foam is moulded and of high density (40 kg/m3, medical grade) offering great comfort and very large flexibility
+ Its physical features (elasticity, weight bearing capacity) ensure great resistance against sagging and avoiding therewith the bottoming effects
+ Height of 14 cm with rounded corners for easier installation of supports in bed frame.
The foam blocks accompany the movements of the body, minimizing skin maceration and friction. Supplied with waterproof and breathable, polyurethane hypoallergenic, anti-bacteria and anti-fungal integral cover. Rounded Corners - Facilitates the installation of trapezoids or railings.
Viscoelastic is known as memory foam because the foam forms around your body and remembers it. It has slow moving properties, so after you press down on it and release the pressure, it will remain in that shape for a few seconds before springing back up.
As the memory foam pushes down and fits around your body, it can ease pressure points and aching joints.
Memory foam mattresses are popular for many reasons.
People buy them because
They´re likely to reduce tossing and turning at night, which is the leading cause of poor sleep. They distribute body weight evenly, which supports your body properly and doesn´t cause painful pressure. Memory foam mattresses can help injuries heal faster, since the foam doesn't put pressure on painful points in the body. These mattresses are made with substances that are resistant to allergens, in contrast to other mattresses that can contain up to 10 million dust mites inside after a few years of use.
Soft and highly adaptable, memory foam mattress technology began with NASA using viscoelastic foam for airplane seats. Manufacturers also used this technology in helmets and shoes before finding the perfect commercial application: mattresses. A memory foam bed provides support and comfort, as well as lower motion transfer than innerspring mattresses because there are no coils shifting when your partner moves during sleep. Check out the memory foam mattress selection available, including many memory foam bed options on sale.
Many people like the way that memory foam mattress moulds itself to your body. Soft and resilient, foam mattresses spread your body weight evenly to promote restful sleep and better blood circulation. Simply choose the firmness, material and price level that suits from our wide range.
195,00€
(21% VAT included)
Free Shipping in Spain (peninsula).
Our physical store is located at Calle Cavanilles 7, 28007 Madrid.
Secure SSL Purchase (+info)
Returns: 15 days.
Need any assistance? Contact us +34 915701682
Financing:

Cetelem
From 3 to 60 months
Calculate your fee
Available sizes:
90 cm (Width); Length: 190 cm; Height: 14 cm
90 cm (Width); Length: 200cm; Height: 14 cm
* Data provided by the manufacturer.
Warranty: 2 years
21% VAT and transportation included
Free shipping for orders shipped to Peninsular Spain. Please contact us for orders shipped to the Spanish islands and to other countries.