Ecovisco Sanitary Mattress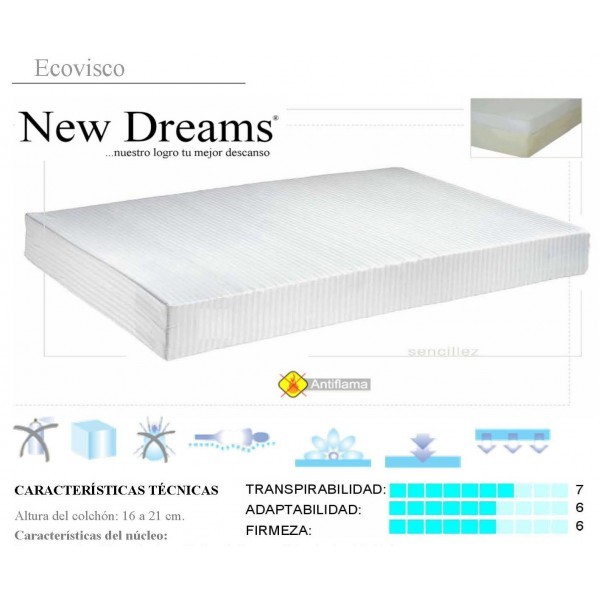 Ecovisco Sanitary Mattress
The Ecovisto sanitary mattress is made of viscoelastic material with anti-decubitus properties. It has all the advantages of visco-elastic foam, offering a better pressure distribution with greater comfort. Provides effective prevention against pressure ulcers (bedsores). Includes cover.
The Ecovisco Sanitary mattress is made of memory foam, a material that adapts perfectly to the shape of the body, distributes its weight and relieves pressure. The memory foam provides a high anti-decubitus effect, so it is perfect for the elderly, disabled or with a disease that spends a lot of time in bed.
With medium adaptability and firmness, the Ecovisco is a very breathable mattress that prevents skin maceration and promotes healthy skin. It is available in various widths and lengths.
Two bases ensure maximum comfort
-The upper base is a viscoelastic plate 3 cm thick and 60 kg density / m3, which is manufactured in an ecological way.
-The lower base: it is an Orthopedic Eliocel core of 12 cm and 28 kg of density / m3.
The finishes are specially cared for: so the user knows that he is going to acquire a quality product. Includes fully removable cover with hidden zip.
The cover protects the general condition of the mattress. It has a smooth fabric and is fully washable.
Characteristics
Mattress height: 16 cm.
Upper base: Viscoelastic plate of 3 cm and 60 kg density / m³.
The memory foam provides a high anti-decubitus effect, it is manufactured ecologically without
CFC, complies with the Oko-tex Standard 100 Class 1 certificate, regarding substances
harmful substances and the German HYG-LEN certificate on the toxicity of medical products
following the DIN standard in Iso 10993-5 / SOP 09-001.
Lower base: Eliocel core of 12 cm and 28 kg density / m³.
Cuts at the base for perfect adaptability to articulated beds.
Product completion:
Double removable full cover with hidden zipper number 5.
Inner cover: Mesh fabric for greater breathability and core protection.
Outer cover: Washable and fully replaceable striped cuti fabric.
142,00€
(21% VAT included)
Free Shipping in Spain (peninsula).
Our physical store is located at Calle Cavanilles 7, 28007 Madrid.
Secure SSL Purchase (+info)
Returns: 15 days.
Need any assistance? Contact us +34 915701682
Financing:

Cetelem
From 3 to 60 months
Calculate your fee
Dimensions: Width: 80, 90, 105.
Dimensions: Length: 190, 200.
Height: 16 cm.
Upper base: 3 cm Viscoelastic plate. and 60 kg density / m3.
Lower base: 12 cm Eliocel orthopedic core and 28 kg density / m3.
*Data provided by the manufacturer.
Warranty: 2 years
21% VAT and transport included
Free shipping for orders sent to mainland Spain. Contact us for orders shipped to the Spanish islands and other countries.