Atlantic tilting shower chair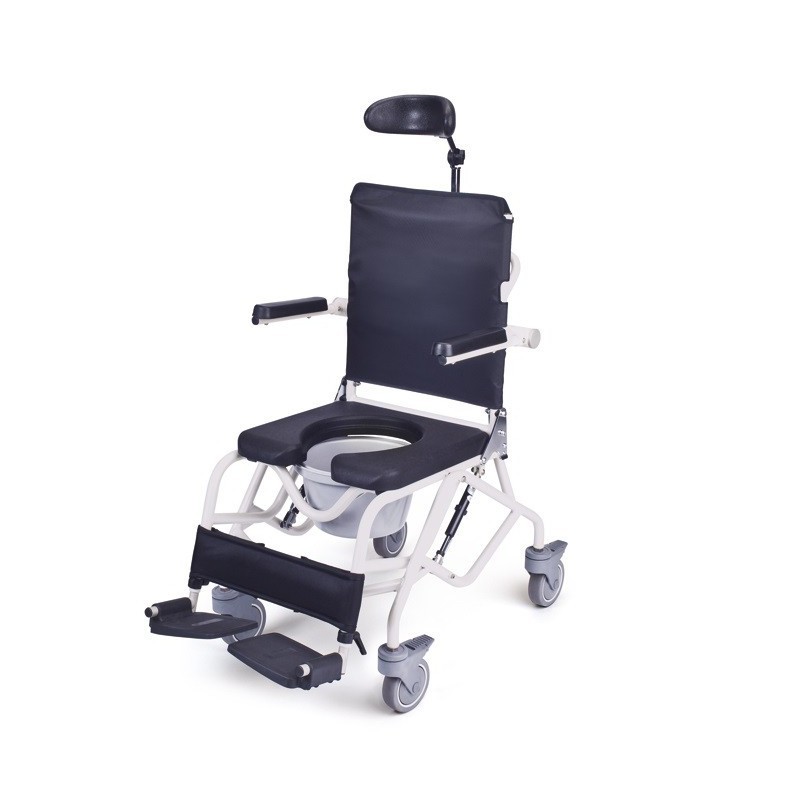 Atlantic tilting shower chair
Atlantic tilting shower chair. Stainless and easy to maneuver. It offers multiple advantages such as recline using air pistons from 6º to 25º. TheAtlantic tilting shower chair has folding and depth adjustable footrests. Includes adjustable headrest.
The tilting chairs are the new concept prevailing in the European institutions for a more comfortable, dignified hygiene and in the best conditions for both the user and the caregiver. This tilting chair is made of aluminum and stainless steel, making it a durable and stainless chair. It reclines thanks to two air pistons. Very maneuverable. When we place the chair, for example, on a toilet, the brakes on the front wheels are very practical and can be easily actuated when the rear wheels are difficult to access.
Features
Reclining from 6º to 25º
Super narrow: only 54 cm
Four-wheel brakes
The Atlantic tilting shower chair is designed for use in residence area. It is used to help people with physical disabilities to increase your independence in using the toilet or shower. The maximum load is 120 kg.
The sophisticated design with tilting seat allows optimal daily care. Folding armrests, height-adjustable footrests and Adjustable headrests allow the helper to operate comfortably.The Atlantic tilting toilet shower chair is equipped with 5 wheels inches and should always be used with an assistant.
Indications - Atlantic tilting shower chair
Inability to walk or disability due to:
+ Paralysis
+ Loss of limbs
+ Defect or deformation of the limb
+ Stiffness or joint damage (not in both arms)
+ Other conditions
In addition, the use of the Atlantic chair is recommended for disabled people who do not they can use the shower or bathtub even using a shower stool. Even when the use of the bathroom is not possible due to disability, the chair Atlantic can be used comfortably as a toilet thanks to the seat, the padded backrest, armrests and headrest.
ContraIndications - Atlantic tilting shower chair
The use of the wheelchair is inappropriate in case of:
+ Inability to remain seated
+ Perception disorders
+ Severe coordination disorders
Maintenance cleaning - Atlantic tilting shower chair
Clean the toilet shower chair after each use. You should disinfect the chair every time it is used as a toilet.
+ The parts of the structure of the toilet shower chair can be cleaned with a damp cloth. For more embedded dirt you can use a mild cleaning product.
+ The wheels can be cleaned with a damp brush with plastic (do not use brushes with metal spikes) o disinfect, use a surface disinfectant available on the market Do not use high pressure hoses or steam cleaners!
495,00€
(21% VAT included)
Free Shipping in Spain (peninsula).
Our physical store is located at Calle Cavanilles 7, 28007 Madrid.
Secure SSL Purchase (+info)
Returns: 15 days.
Need any assistance? Contact us +34 915701682
Financing:

Cetelem
From 3 to 60 months
Calculate your fee
Maximum weight it supports: 120 kg.
Chair weight 20 Kg.
Seat width 45 cm.
Seat bottom 42 cm.
Total width 57 cm.
Total length 100cm.
Inclination of the seat from 6º to 25º
*Data provided by the manufacturer.
Warranty: 2 years
10% VAT and transportation included
Free shipping for orders shipped to Peninsular Spain. Please contact us for orders shipped to the Spanish islands and to other countries.