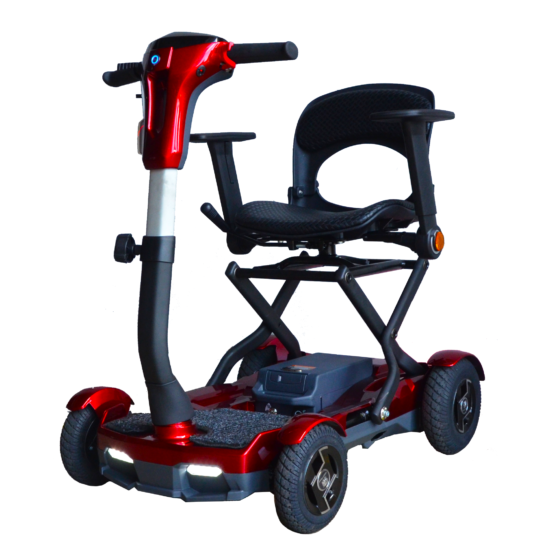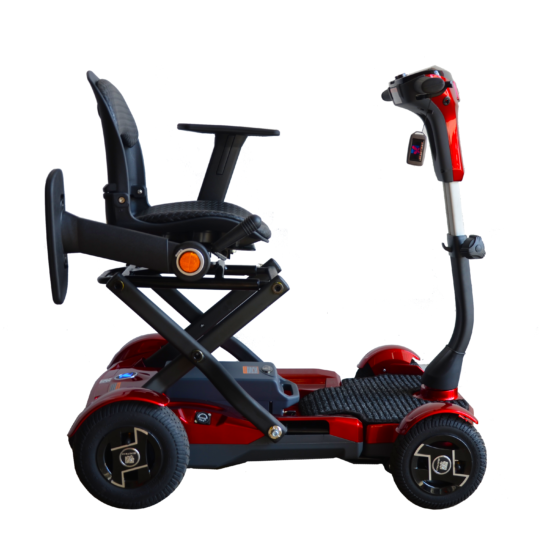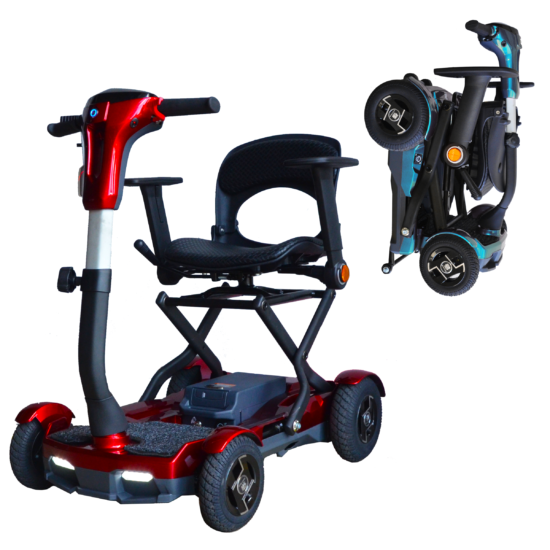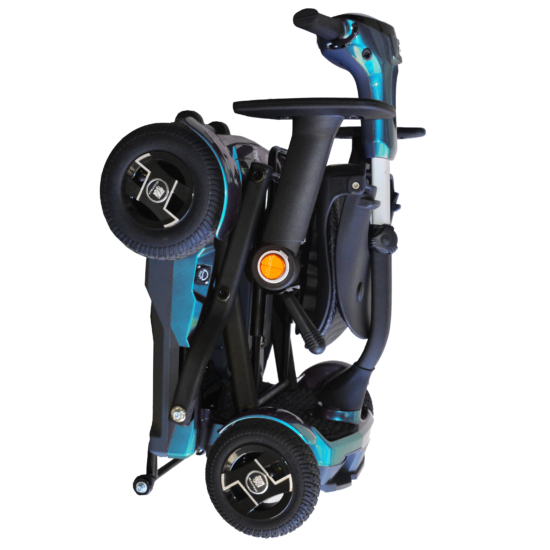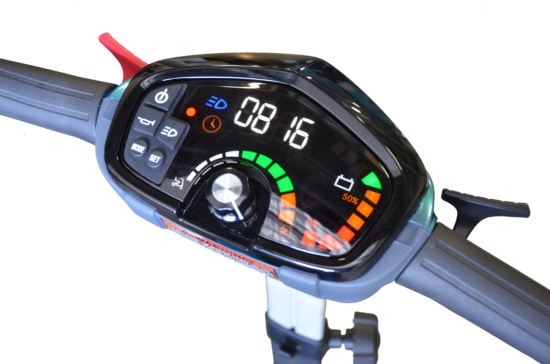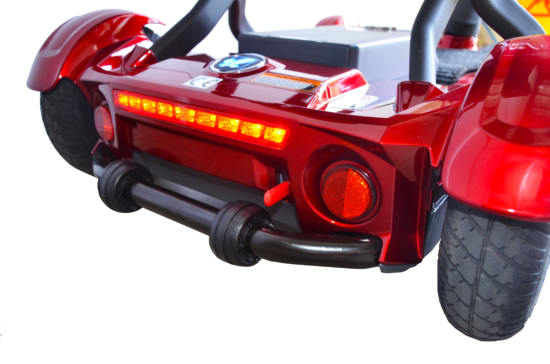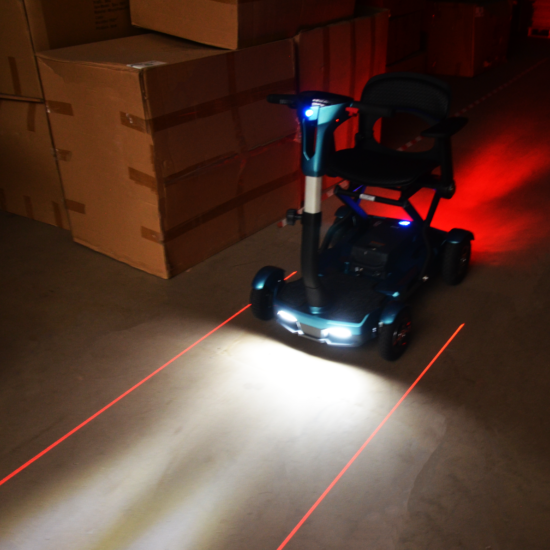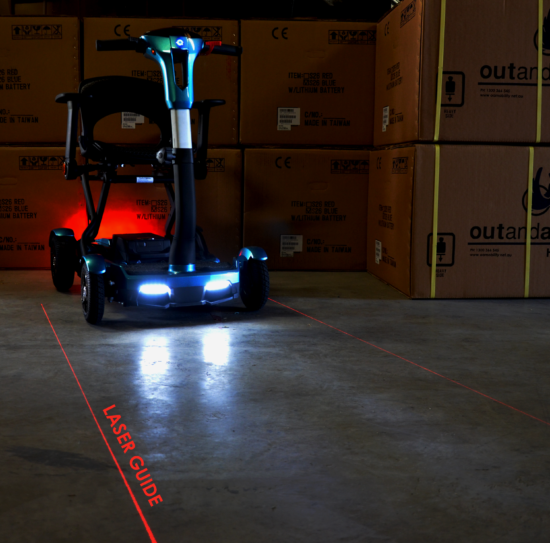 Apex i-Laser
The Apex i-Laser folding mobility scooter is taking the market by storm in 2019. This scooter is a powerhouse - the first ever portable travel-friendly scooter that is also HEAVY-DUTY, featuring a wider wheelbase, 115 kg weight carrying capacity, and robust build! The Apex i-Laser features a handy auto-fold function, folding the scooter compactly with the push of a button. This means it is the perfect scooter to help you get out and about, taking you to places you could have only imagined.
The Apex i-Laser Portable Mobility Scooter is the FIRST EVER heavy-duty portable travel-friendly scooter on the market due to it´s wider wheelbase, 115 kg weight carrying capacity, and robust build! It is the absolute latest Apex model on the market.
The Apex i-Laser features a versatile build designed to push the boundaries on travel scooters to take you to places you´ve never been able to tackle before on a portable mobility scooter. Most portable scooters are designed to be shopping scooters and can only be driven on flat surfaces, but the Apex i-Laser is one of the only portable scooters designed to be able to tackle rougher terrains. Its robust design includes a wider wheel base for extra stability, pneumatic tyres for the most comfortable ride, as well as a narrow front wheel base for a tight turning circle and easier navigation.
The Apex i-Laser also features a simple auto-fold function simply push the button on the front of the scooter and the machine will fold itself up compactly in just seconds! The Apex i-Laser is a heavy duty portable travel scooter that will take you to more places than you´ve ever dreamt of. It´s excellent for outdoor use thanks to its versatile design and short but wide frame. This is a travel-friendly portable scooter that´s taking the market by storm in 2019.
Airline Approved
The Apex i-Laser comes with Material Safety Data Sheet (MSDS). Confirm with airline as regulations may change.
Specs
Weight Capacity: 115 kg
Max Speed: 6 km/h
Folding: Automatic folding
Motor: 21:1 270W 4400RPM
Controller: DYNAMIC Rseries 50A
Battery: 24V 14.5Ah Li-Ion Polymer
24V 14.5Ah Li-Ion Polymer
Charger: 2Amp Charger
Suspension: Indigo Suspension
Travel Distance: Up to 18 km
Colours: Red
Start: Press button with FOB key technology (no key turn needed)
Lights: Full front and back lighting system with additional laser guide lights
Armrests: Button release height adjustable armrests, fixed to frame for strength. Swing away technology for ease of getting on and off the scooter.
Learn more about the Apex i-Laser watching the following VIDEO .
4.114,00€
(21% VAT included)
REMEMBER: If you have a disability certificate greater than 33% degree, you are entitled to a VAT reduction on this product.
Free Shipping in Spain (peninsula).
Our physical store is located at Calle Cavanilles 7, 28007 Madrid.
Secure SSL Purchase (+info)
Returns: 15 days.
Need any assistance? Contact us +34 915701682
Financing:

Cetelem
From 3 to 60 months
Calculate your fee
4 wheels
Length/Width/Height: 91 cm x 60 cm x 80-90 cm
Dimension Folded: 48 cm x 60 x 80 cm
Front Tires: 20 x 5 pneumatic
RearTires: 22.8 x 6.5 cm pneumatic
Maximum speed: 6km (3.7mph)
Safe gradient/maximum: <100kg up to 6º - < 100 kg up to 3º
Range: up to 18 km
Turning circle: 127 cm
Weight: 35 kg (with batteries)
Weight: 31 kg (without batteries)
Brake: inteligent, regenerative, electromagnetic
Maximum weight capacity: 115 kg
Battery: 24V 11.5Ah Li-Ion Polymer
Battery charger: 2.5 Ah
Motor: 270W 4400RPM
Lights: Yes
Controller: DYNAMIC Rseries 50A
Suspension: Indigo Suspension
Colours: Red
* Data provided by the manufacturer.
Warranty: 2 years and 6 month on the battery
21% VAT and transportation included
Free shipping for orders shipped to Peninsular Spain. Please contact us for orders shipped to the Spanish islands and to other countries.
Reduced VAT rate (4%) will be applied to customer provided 33% disability certificate (or higher degree)