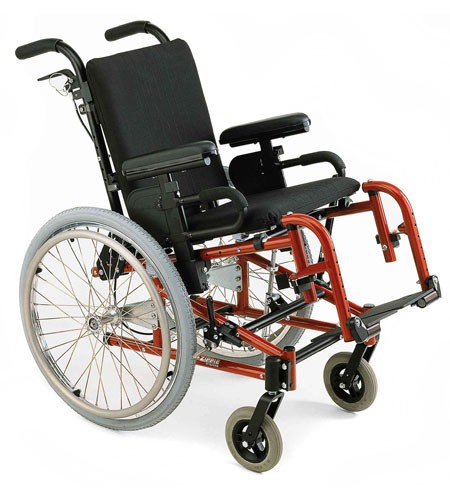 Zippie TS
The Zippie® TS is the original premier pediatric tilt-in-space chair that is available in either a folding or rigid style frame. The Zippie® TS has built-in frame growth with the widest variety of options and is able to accept many seating and positioning solutions.
45° Traditional Tilt Technology
The original, premier paediatric tilt-in-space wheelchair, the TS features 45° of traditional tilt technology, meaning the tilt action occurs at a fixed pivot point. The Foot Release Tilt Actuator is easy to operate and eliminates tangles caused by exposed cables.
Folding and Rigid Frame Options
Because no two families are alike, the TS offers both folding and rigid frame options to accommodate a span of lifestyles and priorities. For families needing to store the chair in a vehicle or in tight spaces at home, the Folding TS compresses into a small package. The rigid frame involves fewer moving parts and offers a lower overall weight.
Growth Capabilities
The TS was designed to accommodate the changes your child may experience throughout the life of the chair. Up to 2" of seat width and up to 5" of seat depth adjustments allow the TS to grow, while adjustable components keep your child comfortable and properly positioned during development.
Contact us for price information
Free Shipping in Spain (peninsula).
Our physical store is located at Calle Cavanilles 7, 28007 Madrid.
Secure SSL Purchase (+info)
Returns: 15 days.
Need any assistance? Contact us +34 915701682
Financing:

Cetelem
From 3 to 60 months
Calculate your fee
Seat Width: 25 - 40 cm
Seat Depth: 25 - 40 cm (in 2.5 cm increments)
Front seat height: 44 cm
Rear seat height: 42 cm
Back height: 27.5 - 40 cm (in 2.5 cm increments)
Overall Width: 56 cm (depending on configuration)
Overall Length: 86 cm
Lower leg length: 12 - 27 cm
Frame: Tilting / Rigid
Frame Version: n/a
Back Angle: 95° - 124°
Frame Angle: 70°/ 80°/ 90° SA
Additional Growth Depth: 10 cm
Additional Growth In Width: -
Manual Seat Tilt: 45º
User Weight: 68 kg
Product Weight: 13.2 kg
Colours: 13 colours (see order form or bochure)
* Data provided by the manufacturer.
Warranty: 2 years
10% VAT and transportation included
Free shipping for orders shipped to Peninsular Spain. Please contact us for orders shipped to the Spanish islands and to other countries.
Reduced VAT rate (4%) will be applied to customer provided 33% disability certificate 33% (or higher degree)