Nules Plus Adjustable Bed with trolley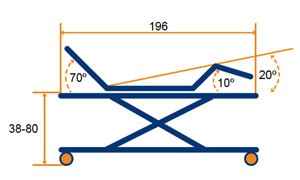 Nules Plus Adjustable Bed with trolley 
Nules Plus Adjustable Bed with trolley is an electric adjustable bed with a lift and a four-plane bed base. Includes wheels, folding rails, headboard and footboard.
Nules plus is an electric bed with a lift whose measurements are 90cm wide and 196cm long. The 4 planes are bent in 3 joints thanks to two motors. In the event of a power outage, the bed has batteries to lower all planes to their horizontal position.
Its bed base has beech slats. Wood has optimal flexibility for greater comfort. To keep the mattress in place once we articulate the bed, the bed base has arches on the feet and on the sides.
Safety: a distance of 30mm between the joints prevents the body from being trapped between them and the frame.
Wheels with independent brakes on each one.
Maximum user weight supported: 135kg.
User and caregiver comfort
This adjustable bed has a lift trolley. It is intended for the comfort of the user and the caregiver. The bed lowers to 38cm to be able to enter it more easily; especially useful for people who have mobility problems, low height or Alzheimer's. The trolley also raises the bed (up to 80cm) to an optimal height for the caregiver, avoiding having to bend down to attend to the bedridden person. In this way, the back does not suffer.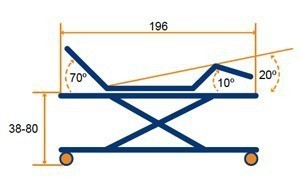 Features
+ Fixed polyethylene slat clamping blocks.
+ Exterior frame structure in curved steel tube of 50x20mm, interior of 25x25mm.
+ Coating: epoxy-polyester paint
+ 30mm anti-entrapment safety distance between joints and outer frame.
+ Supports for incorporator and dripper holder.
+ Elevation from 38 to 80 cm
+ Wheels: 4 Ø125mm wheels with independent brake.
+16 cm space under trolley, allows the use of a crane.
+ Electric drive with 2 motors, compact 4,000 + 4000N motor and 6000N linear motor.
+ It has a battery to return all positions to 0 in the event of a power cut.
+ Control with cable, activates all movements.
+ Maximum user support 135kg
+ Mattress holder: metal arch on the feet and 4 plastic pieces (2 on each side).
+ External dimensions of the bed: S / frame.
+ Headboard and footboard: Optional (see accessories).
+ Handrails: Optional (see accessories. No Mod. Irati)
+ Zipper on feet: Optional (see accessories)
1.150,00€
(21% VAT included)
Free Shipping in Spain (peninsula).
Our physical store is located at Calle Cavanilles 7, 28007 Madrid.
Secure SSL Purchase (+info)
Returns: 15 days.
Need any assistance? Contact us +34 915701682
Financing:

Cetelem
From 3 to 60 months
Calculate your fee
*Data provided by the manufacturer. 
Warranty: 2 years
21% VAT and transportation included
Free shipping for orders shipped to Peninsular Spain. Please contact us for orders shipped to the Spanish islands and to other countries.