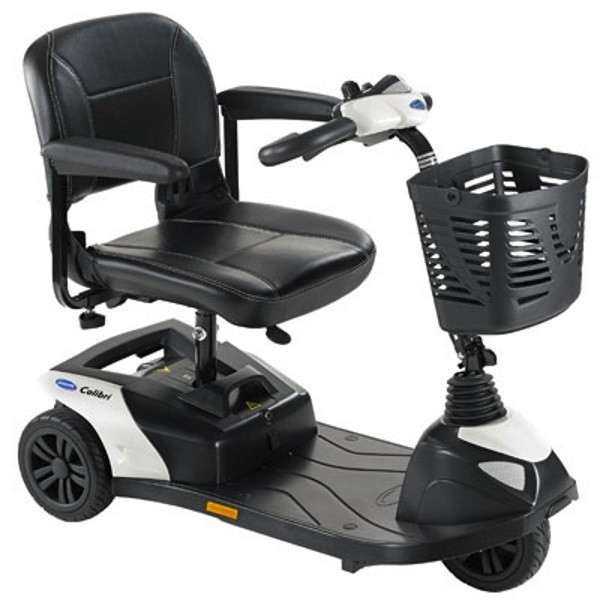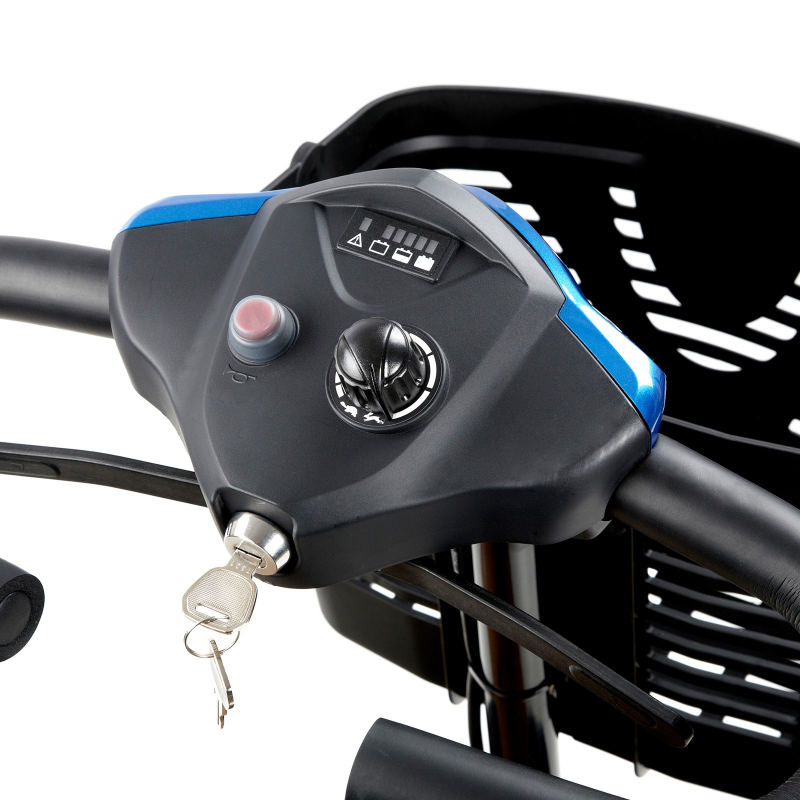 Invacare Colibri 18Ah 3W
The Invacare Colibri 18Ah 3W is a 3 wheeled scooter, now available to compliment the Colibri 4 wheeled.
The Invacare Colibri 18Ah 3W scooter is a great option if you"re looking for a portable scooter at a great price! Not only does the mobility scooter provide users with comfort and convenience, but it also comes packed with innovative design elements that fit your personality-- like its bold, new colour sets.
The Invacare Colibri 18Ah 3W, is one of the most compact scooters in the market. With its new patented system LitelockTM it can be easily dissambled into 5 elements, in a few seconds and effortlessly. The micro scooter Colibri will provide comfort, autonomy and performance. It is ideal for everyday activities such as shopping or move around the city. Thanks to its small size and its patented mechanism disassembly Litelock *, it is very easy to carry and fits perfectly in the trunk of the car.
The Invacare Colibri 18Ah 3W is an attractive, simple and exceptionally lightweight boot scooter that is perfectly suited for users who are looking for an independent lifestyle. This is partly due to the innovative LiteLock system that means the Colibri can be disassembled with little effort, with no tools required, meaning that ease of transport is ensured. Another striking feature of the scooter is its remarkably small footprint, ensuring that it is ideal for use in tight and cramped spaces due to the enhanced manoeuvrability afforded by the compact base.
As well as functionality, style is also a prominent aspect of the Colibri with the aesthetically pleasing body and stylish, yet extremely comfortable seat, gives the scooter a modern look.
Features and Benefits
Can be quickly assembled and disassembled for travel with patented LiteLock technology
Built in safety features: front and rear mounted reflectors, brake disengagement lever and rear anti-tippers
Seat: Vinyl padded driver sear with chic accent stitching and arms that can be adjusted for width and angle
Reliable, double-spoke, mark free black tires require minimal maintenance
Convenient front port charging with dual battery pack option
Can be programmed for speed, acceleration, alarms, braking and reverse pot through the charger port
Features:
Speed - 8km
Lite-lock one handed, take apart for easy transportation
5 vibrant colours to choose from - Red, Blue, White, Green and Silver
Stylish swivel seat with adjustable arms
Adjustable seat height
Delta handlebar with tiller adjustment
210x 65mm solid black tyres
Front basket in black
2 X 18Ah batteries
2 Year Warranty (6 months on batteries)
1.950,00€
(21% VAT included)
REMEMBER: If you have a disability certificate greater than 33% degree, you are entitled to a VAT reduction on this product.
Free Shipping in Spain (peninsula).
Our physical store is located at Calle Cavanilles 7, 28007 Madrid.
Secure SSL Purchase (+info)
Returns: 15 days.
Need any assistance? Contact us +34 915701682
Financing:

Cetelem
From 3 to 60 months
Calculate your fee
LENGTH: 101 cm.
WEIGHT: 49 Kg. with batteries of 18 Ah
MAX. LOADING CAPACITY: 136 Kg.
SEAT WIDTH: 46.5 cm.
SEAT DEPTH: 40 cm.
SEAT FLOOR HEIGHT: 37-42 cm
BACK HEIGHT: 38.5 cm
OVERALL WIDTH: 52cm
BATTERIES: 2x18 Ah. 200 W
TURNING RADIUS: 1.940mm
TRAVEL RANGE: 16 km
SPEED: 8 km/h
Colors: red, sapphire blue, white marble, orange, green jade
* Data provided by the manufacturer.
Warranty: 2 years and 6 month on the batteries
21% VAT and transportation included
Free shipping for orders shipped to Peninsular Spain. Please contact us for orders shipped to the Spanish islands and to other countries.
Reduced VAT rate (4%) will be applied to customer provided 33% disability certificate (or higher degree)