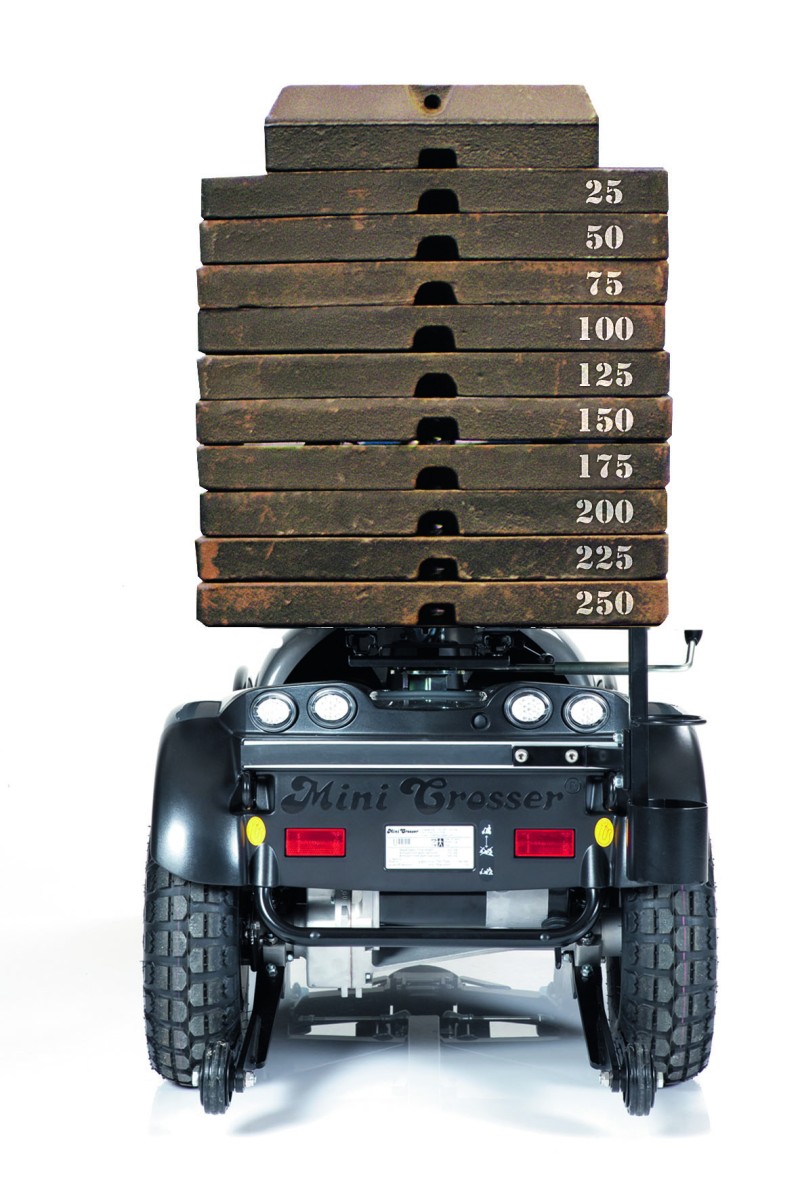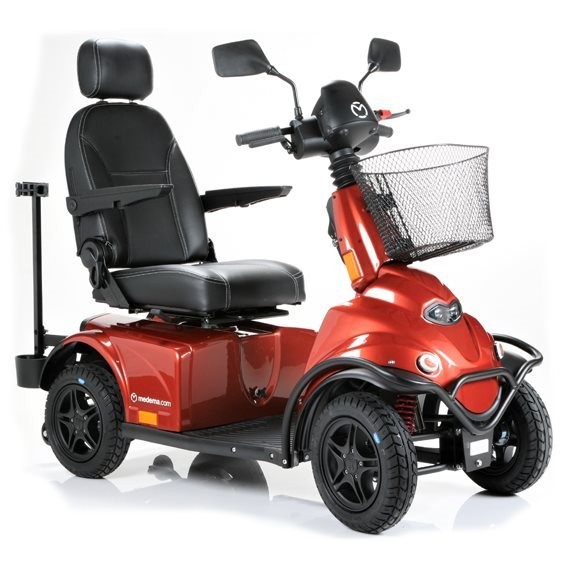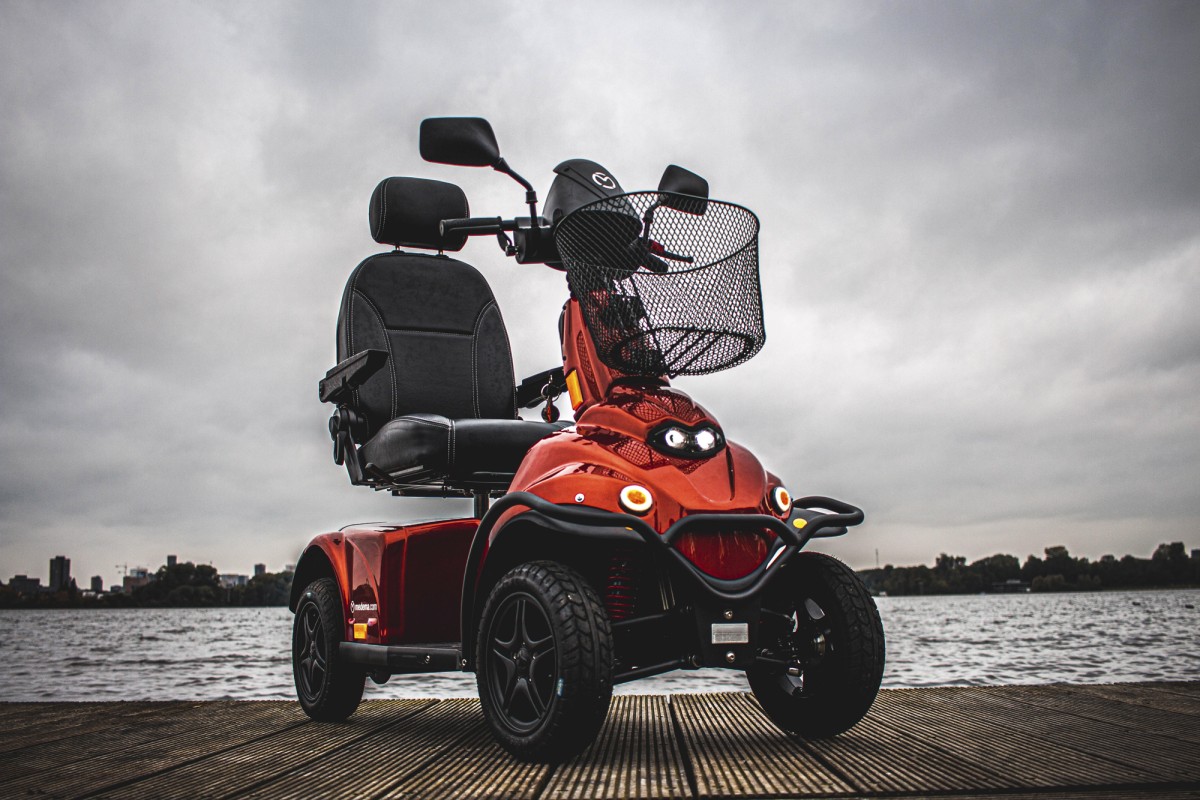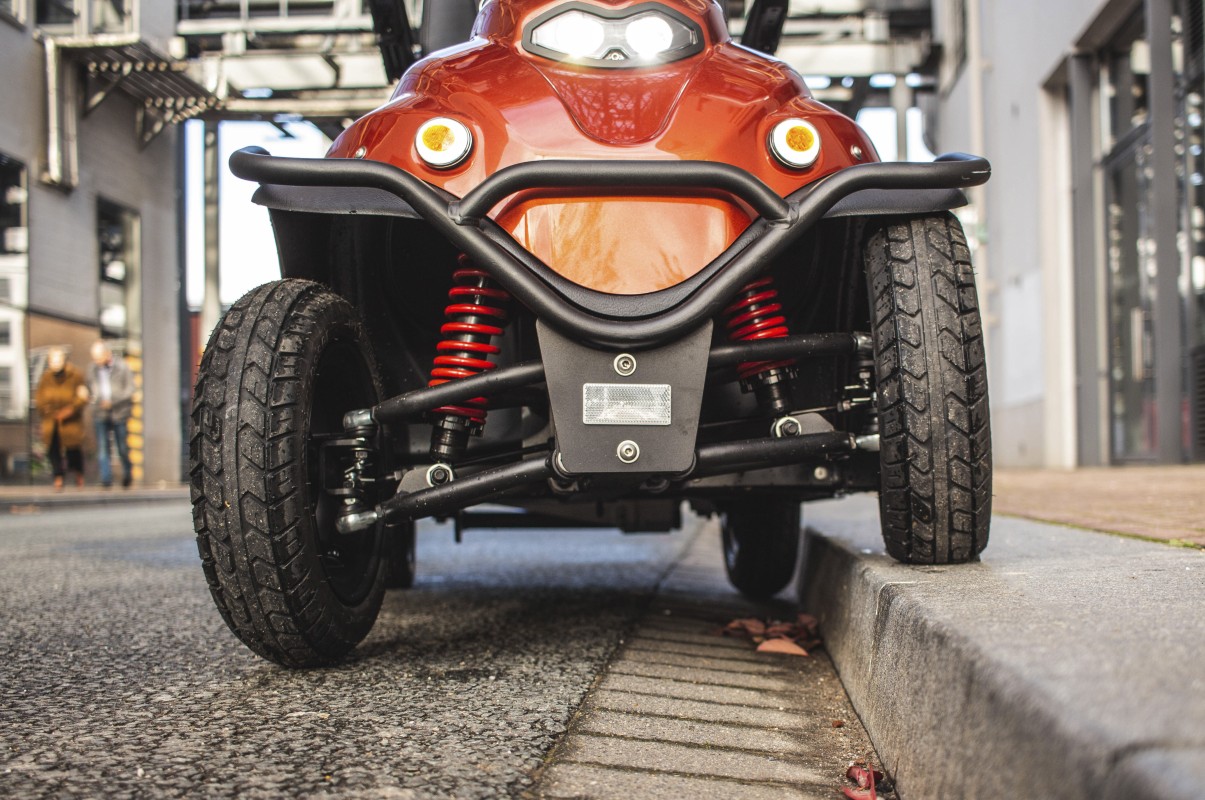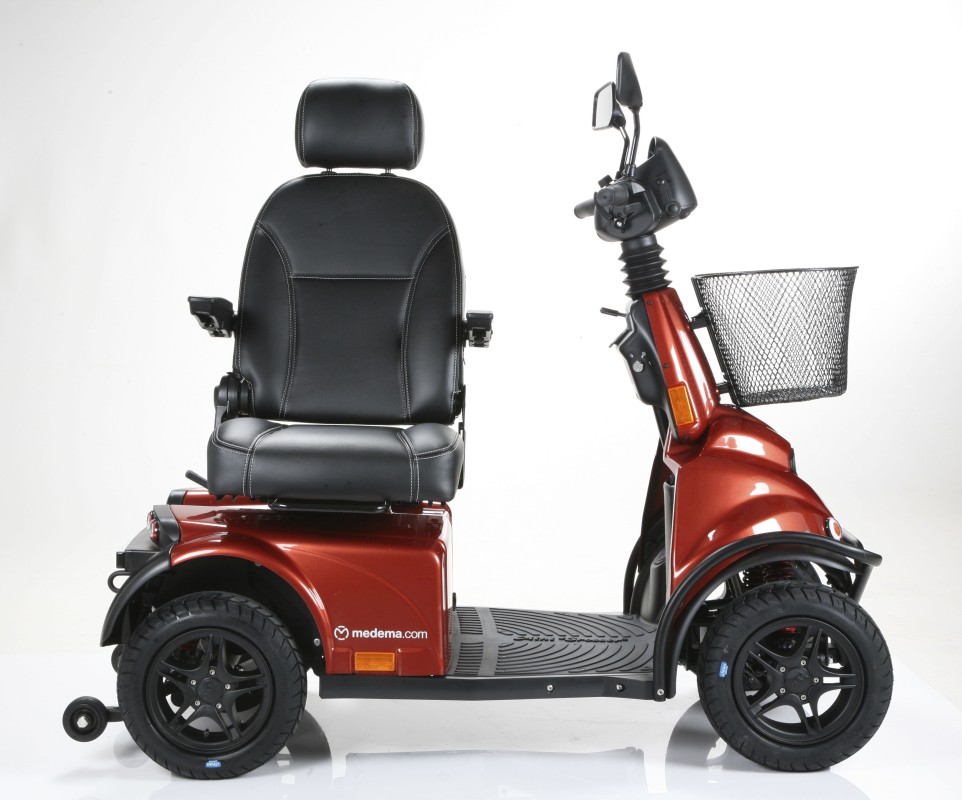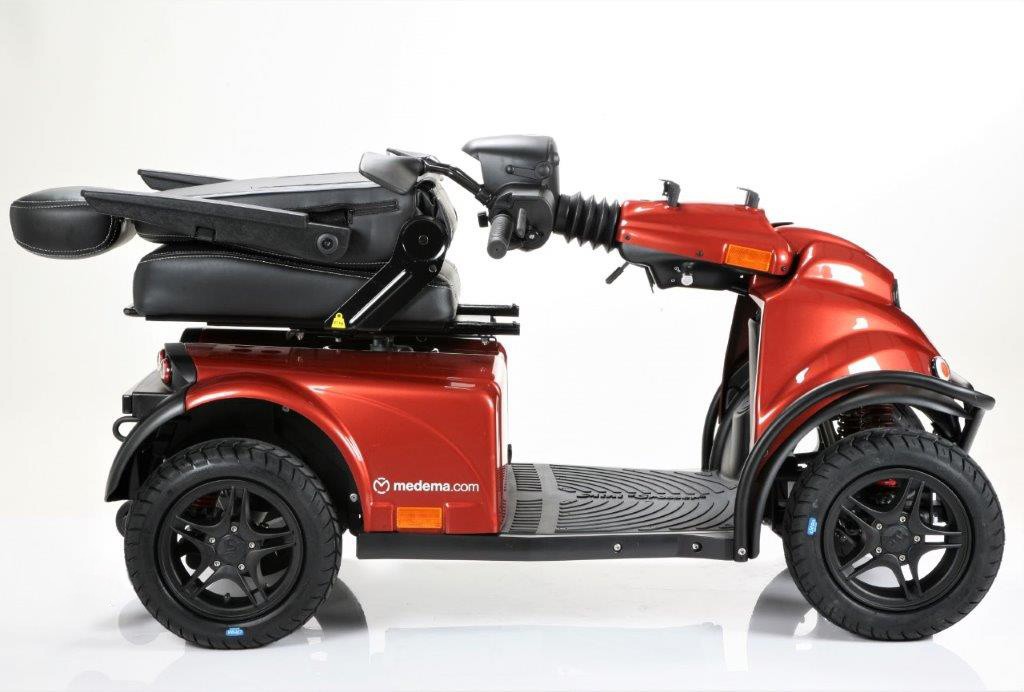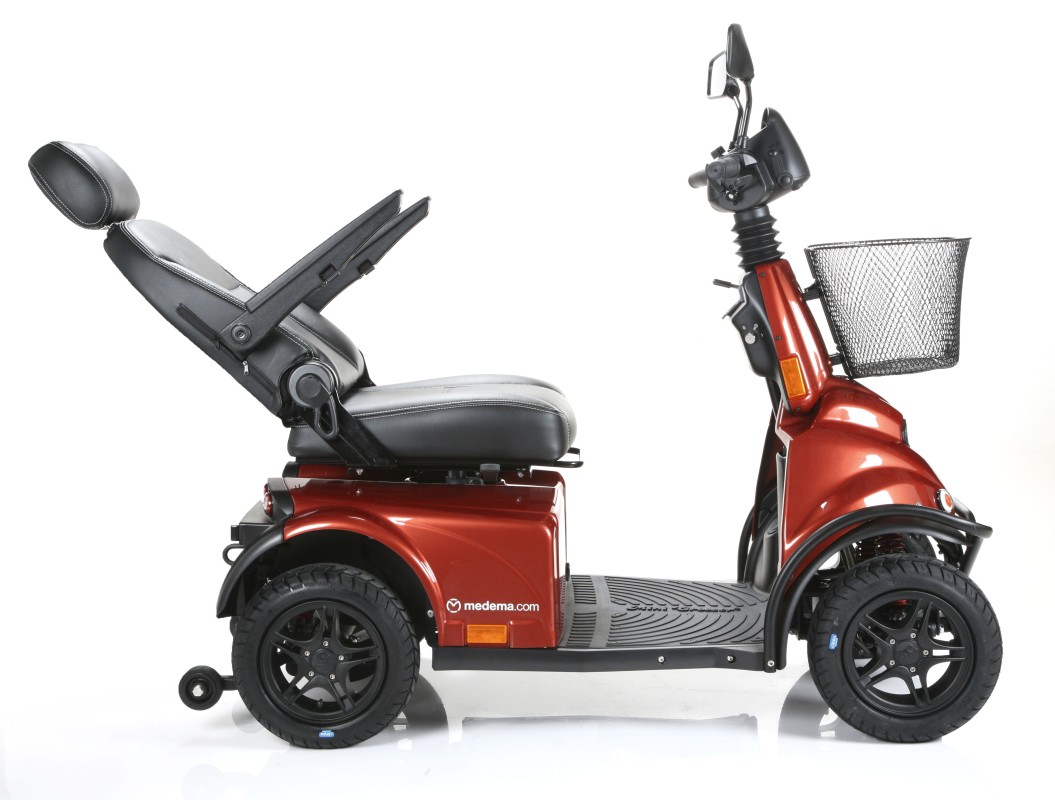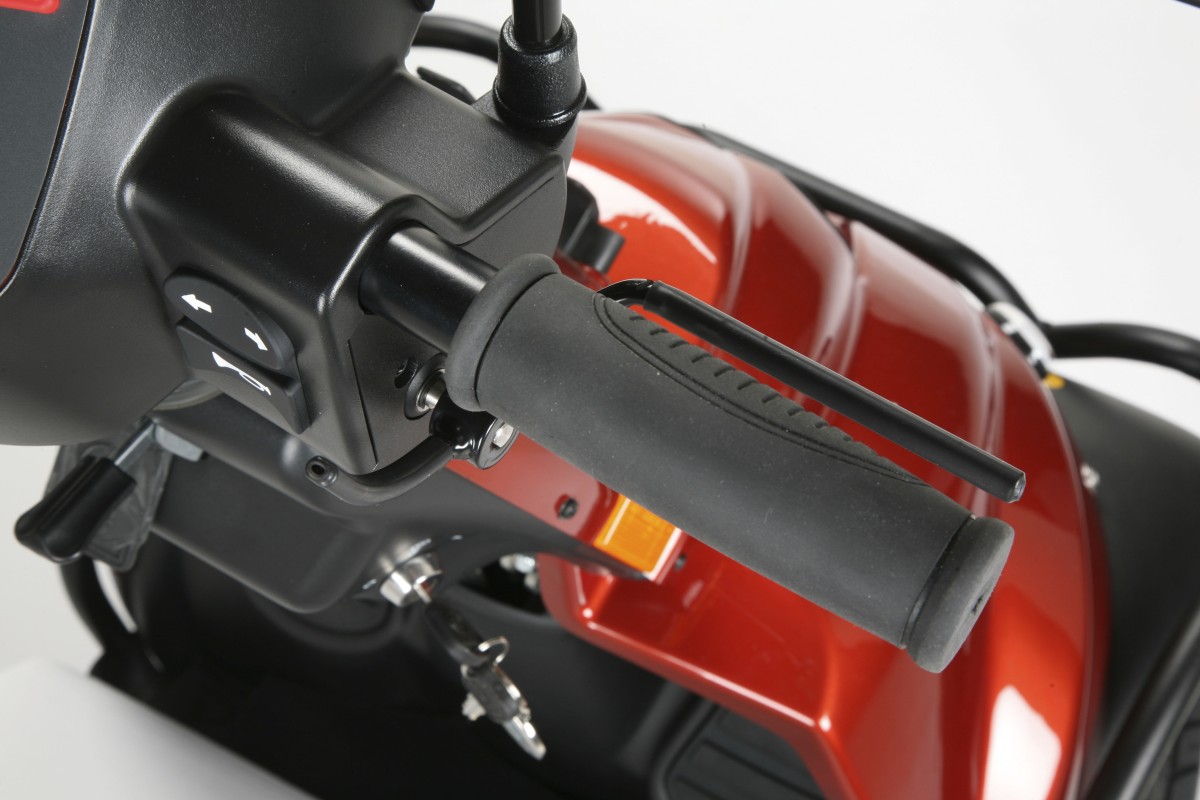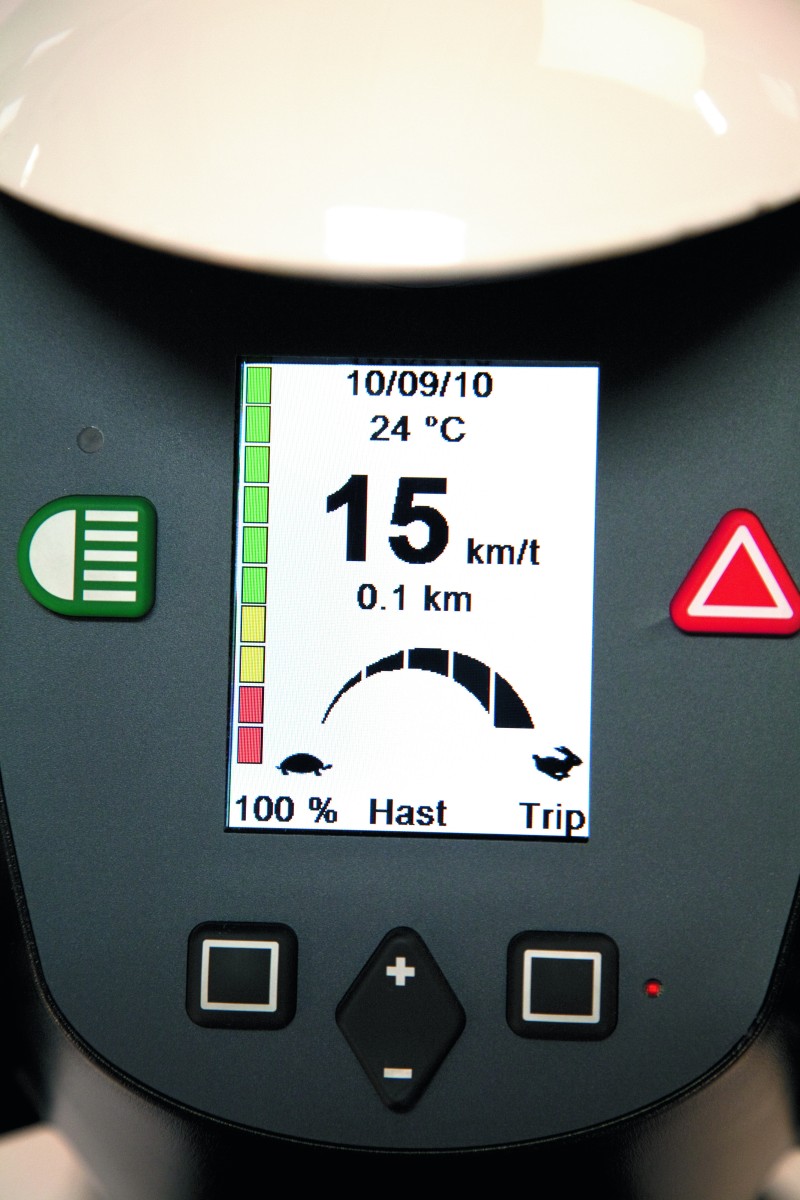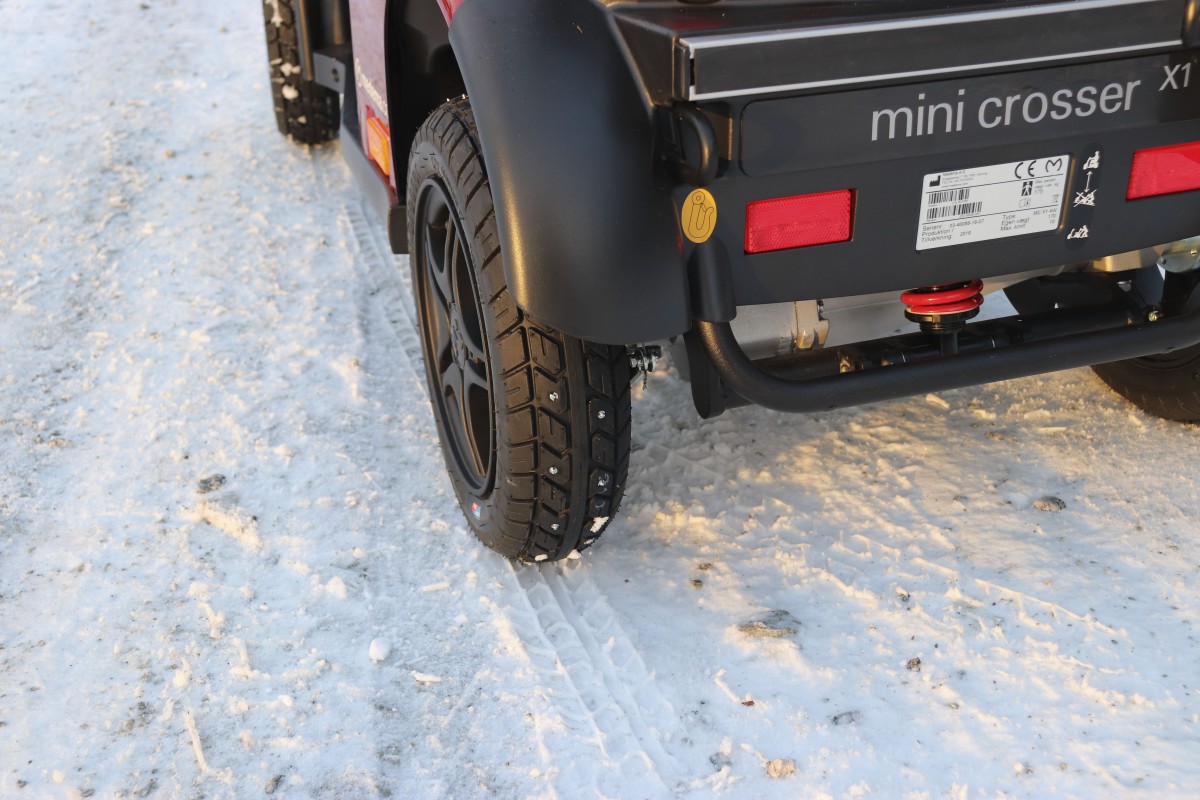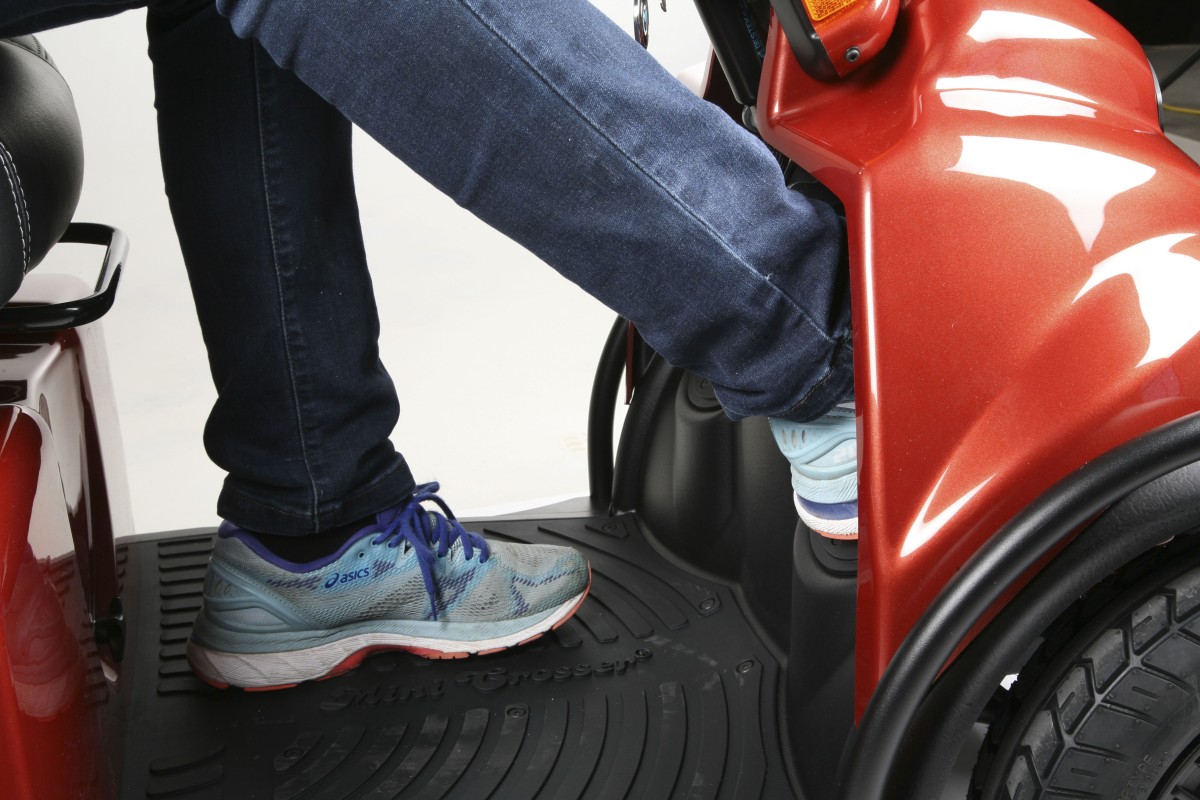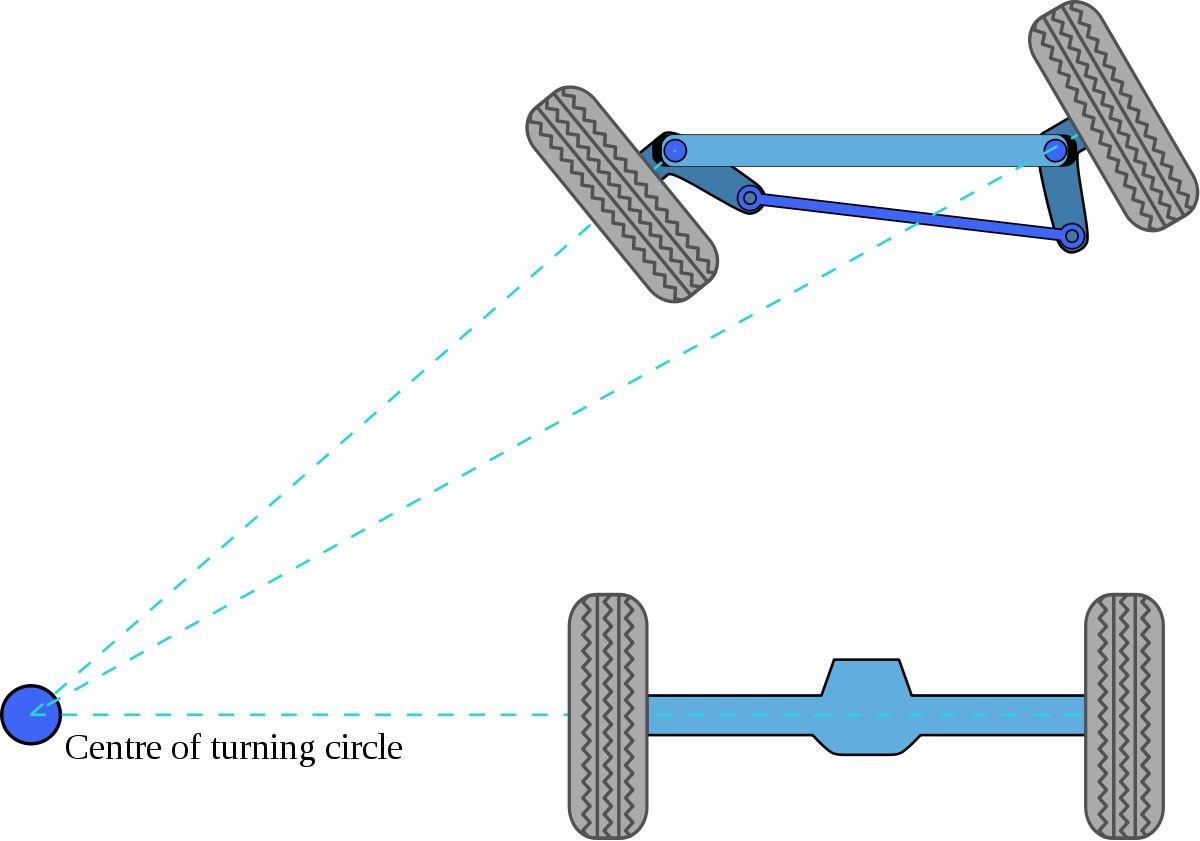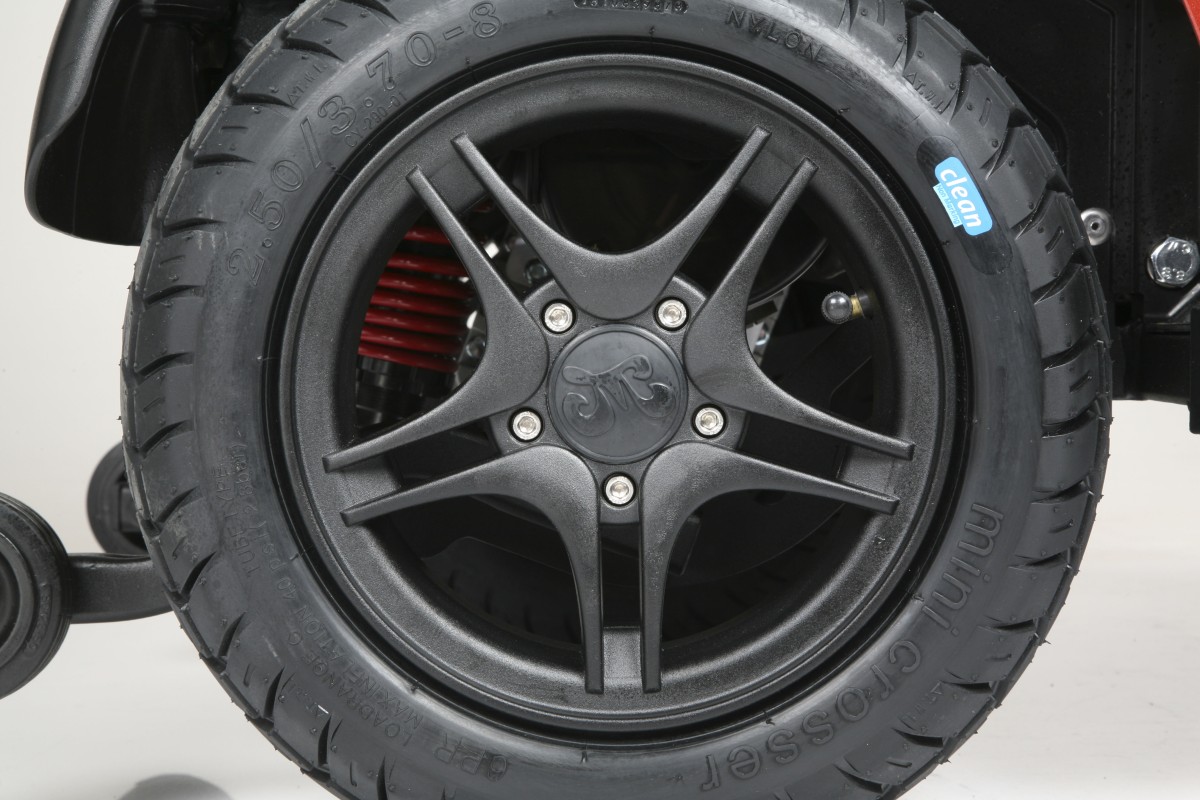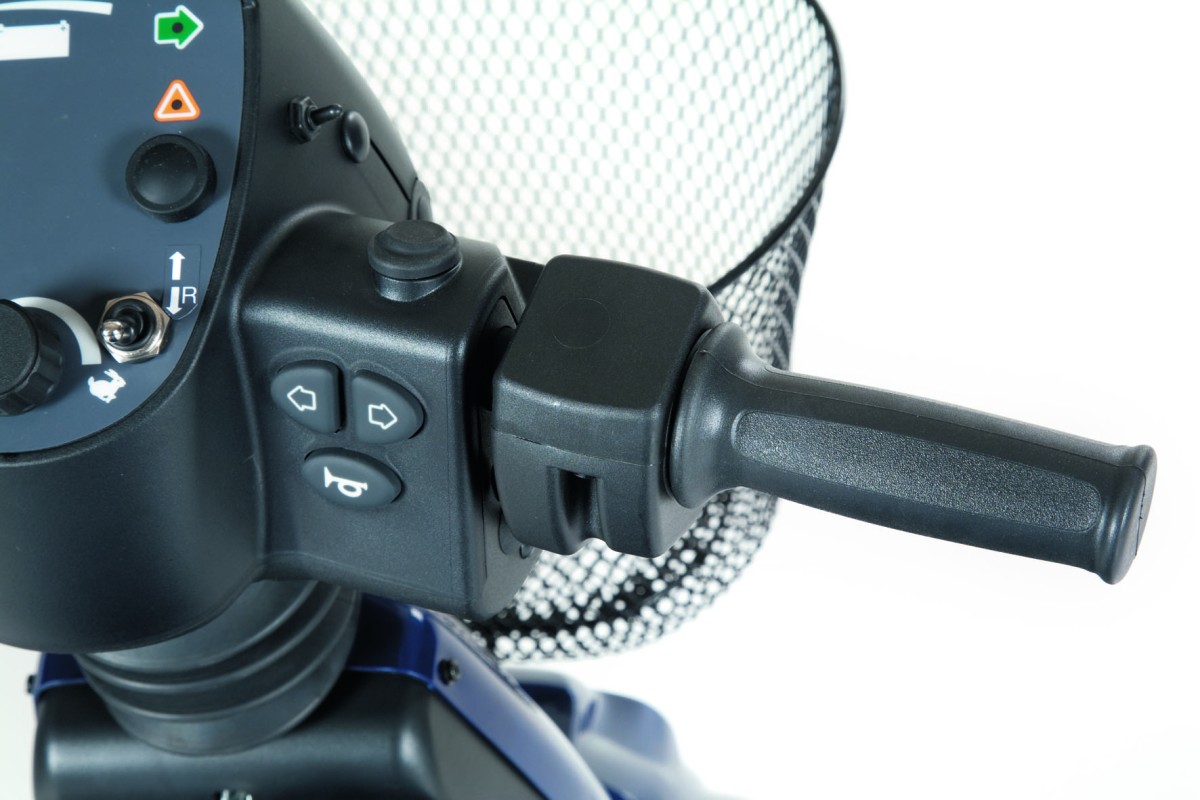 Mini Crosser X1/X2 4W HD
Mini Crosser X1/X2 4W HD all terrain mobility scooter for heavy users. This is, without comparison, the strongest and most comfortable electric scooter on the market: here you get serious engine power, the possibility of higher mileage and a unique adjustable suspension wrapped in an exceptionally pleasing design. The best-selling scooter in the Nordic region is specially designed for the Nordic climate and geography, which means it is suitable for use all year round, on rough roads, in snowy conditions and anywhere you want a greater stability. It is really focused on security, and without compromising usability and design. It is also supplied with a cabin.
Wheels, suspension and steering
The Mini Crosser has comfortable 4-wheel suspension, including adjustable shocks on all wheels. We have a large selection of different wheels, including studded wheels. The multi-adjustable handlebar ensures optimal comfort. It is equipped with a cardan joint and can be raised, lowered and tilted. Requires only a little arm strength when driving. The basket stays put when turning. The smallest turning radius on the market!
Deluxe seats are standard
To provide the ideal seating position, the Mini Crosser Ergo seat is adjustable in height, depth and backrest angle and comes in sizes from 35 to 70 cm and with different backrest heights. The armrests are height and depth adjustable as well as foldable and can be equipped with different armrest pads. The seat is also equipped with a sliding rail and can be rotated 90 degrees to both sides. The wide range of seats, seat and back cushions and the electric functions allow almost any desired seat adjustment – ​​possibilities that can otherwise only be found in the most advanced electric wheelchairs!
Digital control panel in the X2 version
The X2 control panel has a number of different functions such as theft alarm, slope warning, speedometer with trip meter, temperature display, date, etc. Plus, a handy service module, showing fault codes, distance traveled, driving time, battery status, voltage, charging progress, and more. This provides a much simpler and more efficient service.
It also has a light sensor so you can choose whether the lights should turn on or off automatically, more options for an audio cue when reversing, use of turn signals, etc.
Technical characteristics
• Transport height without seat - 69 cm.
• Length - 140 cm
• With anti-tilt wheels - 148 cm.
• Width, without seat and other accessories - 66 cm.
• Radius of gyration / radius 165 cm
• Weight without seat and with batteries of 144 kg.
• Maximum weight allowed 250 kg.
• Speed ​​- 10 -13 -15 km / h.
• Seats from 35 to 70 cm
Scooter Details
• Seat tube - seat height adjustable without tools.
• Taillights and indicators (LED)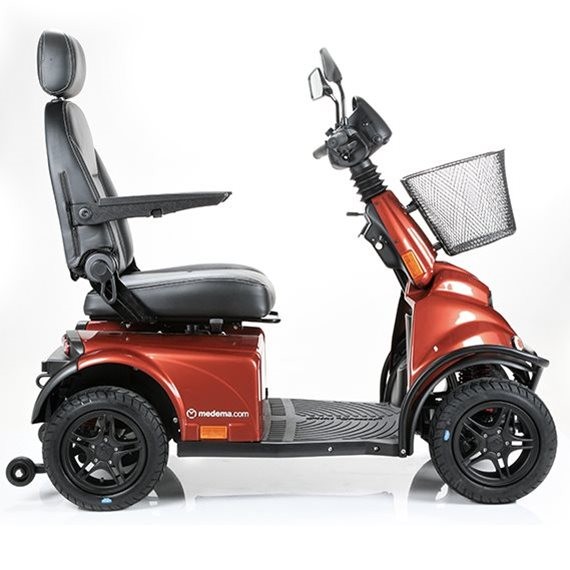 ERGO2 seat offer greater freedom - better quality of life
Seat Angle
The backrest angle can be adjusted 45° backwards and 90° forwards. This is done by pulling the handle on the right side of the seat. By flipping the backrest down, remove the headrest and lowering the tiller the height of the Mini Crosser is 75 cm. Otherwise, turn the seat; then move the seat forward, remove the headrest and lower the tiller then the height is 72 cm. Subject to the seat tube system and wheel size.
Ergo 2 series
We have expanded our range of seats, so Ergo2 is now available in the following sizes: 35,40,45,50,60 and 70 cm. The largest range on the market.
Seat Depth
Backrest adjustable in depth from 320 mm to 550 mm. Seat depth adjustment is important when it will provide the support to the thigh and back.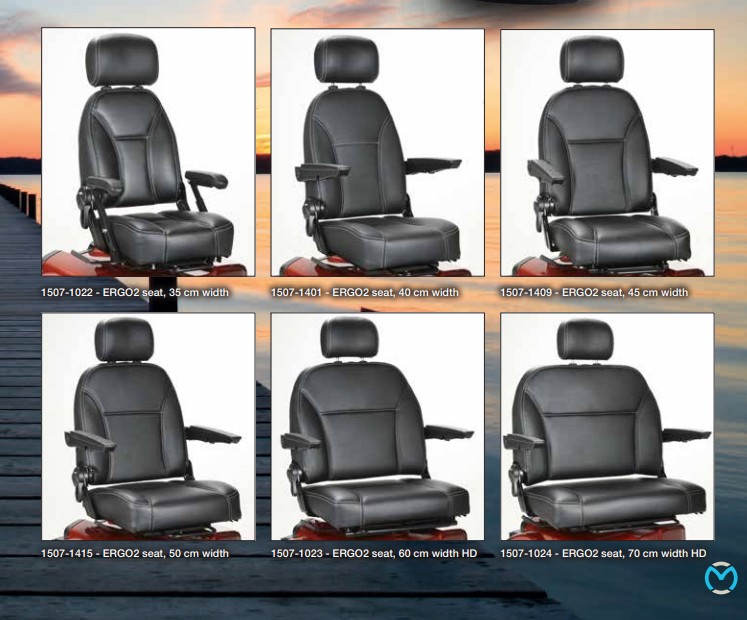 Handle for seat swivel
To turn the seat, the handle is pulled back or forward, depending on which side it is mounted. The seat can then be turned to either side, with stopping every 45°. The lever is spring loaded and the seat locks automatically when the lever is released. This lever is located, by default on the right, but can also be placed at the left side.
When the handle is in the left side, you have to push forward on it, to turn the seat, instead of pull back. The handle can also be adjusted in length so it is easier to operate, it can also easily be moved to the other side.
Lever for seat forward / back
ERGO2 seat system uses two sliding rails with roller; this make the adjustment very easy. The seat moved forward or back as desired, within a travel of 200 mm. By releasing the handle, the seat automatically locks at the nearest stop. The seat post system for the ERGO2 also provides firm and secure seating position.
Height adjustment of the armrests
The armrests can be individually adjusted in height. Up to 140 mm from lowest point to highest position. This helps to ensure the correct alignment. The armrest can be angled individually so with height adjustment gives this a comfortable support.
The Mini Crosser have 3 standard colors which you can choose from Metallic orange and metallic black.
Accessories
Mirror
Basket / bag – front and rear
Cane / crutch holder
Trailer
Gas control option
Driving cap
Footplate and leg support
Wheels
Lap belt
Electrical options
Etc.

Individual choices…
The reason
We do not believe that »one size fits all«. When making a Mini Crosser it has to be Strong, Stable and Secure. However, our aim and goal is still to make it simple and easy to use for all persons involved.
This means
All Mini Crossers are being built individually towards the end-user.
The conclusion
Over the years Mini Crosser has acquired all the knowledge and expertise to secure users the maximum pleasure and benefit from their Mini Crosser. When standard solutions - as supplemented by our wide range of accessories - are not enough, a special adaption can be developed in close consultation with technical aid centers, institutions among others. Since 1980 Mini Crosser has been producing electric scooters and wheelchairs for the elderly and the disabled.Mini Crosser's vision is to offer solutions for the walking impaired, enabling them to keep up an active, socially grounded life as far as possible without the help of other people.
Particularly the Mini Crosser is noted for its smart designs, maneuverability and powerful motors. The powerful motors have made Mini Crosser extremely popular in countries with steep slopes and hills. Even ice and snow cannot stop these all-terrain vehicles, while Mini Crosser is also available with studded tires. Over the years, Mini Crosser has acquired all the knowledge and expertise to secure users the maximum pleasure and benefit from their electric scooter or wheelchair.
When standard solutions - as supplemented by our wide range of accessories - are not enough, a special adaptation is possible and is made in close consultation with technical aid centers, institutions and the disabled organizations. The current Mini Crosser range includes some 20 models and a wide selection of accessories - including other life enhancing aids for the disabled.
The features that set the Mini Crosser apart are functionality, strength, comfort, durability, safety and overall economy. With the Mini Crossers adaptability and huge range of accessories, it is suitable for all types of user - Adults as well for children. In our experience, adaptability and flexibility are important factors for lots of users, especially those with arthritis, muscular atrophy, MS, back pain and others.
Over time, one's needs often changes, for example a different accelerator control, a larger seat, extra support, electric add-ons and other accessories. With the Mini Crosser, you have a safe and secure future.
Contact us for price information
Free Shipping in Spain (peninsula).
Our physical store is located at Calle Cavanilles 7, 28007 Madrid.
Secure SSL Purchase (+info)
Returns: 15 days.
Need any assistance? Contact us +34 915701682
Financing:

Cetelem
From 3 to 60 months
Calculate your fee
Total width: 660 mm.
Total length: 1400 mm.
Weight: 151 kg. (Weight without seat and batteries 144 kg)
Max weight user: 250 kg.
Batteries: (2) 12 v. 51 ah./ 85 ah
Power: 1000 W.
Autonomy: 35 km./ 60km
Speed: 10 -13 and 15 km/h
Lights: Yes
Controller: P/G S-200.
Suspension: There are two springs mounted at the rear. a Rosta T-block on the front
Turning circle / radius 165 cm
Colors: 2 standard colors: Metallic orange and metallic black.
* Data provided by the manufacturer.
Warranty: 3 years and 6 month on the batteries
21% VAT and transportation included
Free shipping for orders shipped to Peninsular Spain. Please contact us for orders shipped to the Spanish islands and to other countries.
Reduced VAT rate (4%) will be applied to customer provided 33% disability certificate (or higher degree)