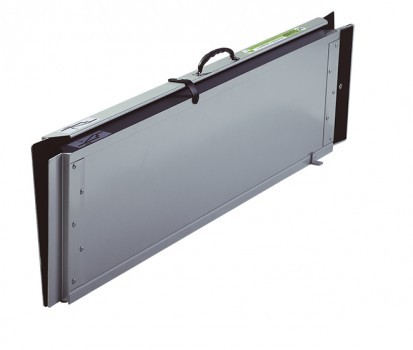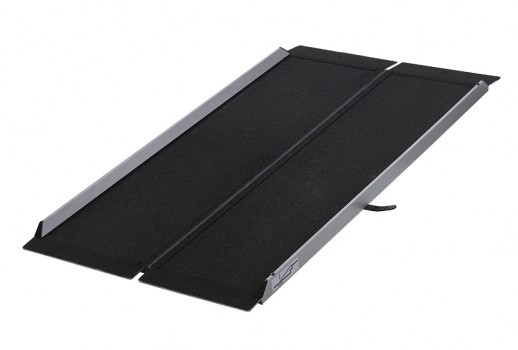 Folding Ramps RP70
Folding Ramps "Suitcase Type". Resistant, non-slip, finished with high quality materials.
The folding ramps in V are a great solution for scooters and electric chairs by their construction in a single platform. Thanks to their folding system "suitcase type", they are very easy to transport.
The Folding Ramps RP70 are best for use with 3 or 4 wheel scooters and 4 or 6 wheel electric chairs, for their ease of placement and use. Since it is a single platform, it is not necessary to place them side by side in order to calculate the track width of the chair or scooter, it is only necessary to know the total width of the chair or scooter to ensure that it fits inside the ramp. .
Only possible ramp type to use for 3 wheeler-scooters and 6-wheeler chairs.
Features
+ Provides access to cars and buildings for wheelchair and scooter users
+ Suitable for the majority of wheelchairs and scooters
+ Extremely easy to use and transport
+ Lightweight robust construction
+ This ramp system is ideal if you're seeking a durable and semi-permanent solution to make your home more senior-friendly
+ Provides the safety and strength required while remaining light and portable
Instructions - How to use
+ Multiple-Dock Ramp Unlock the safety lock on both sides of the ramp
+ Fully open it and place it on the ground. Do the same for the other party.
+ Bring the two parts closer together and press firmly towards the center to fit the joint system.
+ Make sure they are firmly attached.
+ Before folding them, you must press the red button on the joining system to be able to separate them.
+ You can then proceed to fold both parts.
NOTE: Once folded, be sure to secure the safety latch to prevent the two ramp parts from unfolding
Discover more about Folding Ramps RP700 watching the following VIDEO
174,00€
(10% VAT included)
Free Shipping in Spain (peninsula).
Our physical store is located at Calle Cavanilles 7, 28007 Madrid.
Secure SSL Purchase (+info)
Returns: 15 days.
Need any assistance? Contact us +34 915701682
Financing:

Cetelem
From 3 to 60 months
Calculate your fee
Model: RP70
Length: 70 cm
Width: 76cm
Width when folded: 38cm
Overcomes a maximum height of: 14 cm
Maximum loading capacity: 300 kg
Weight: 6,3 kg
*Data provided by the manufacturer.
Warranty: 2 years
10% VAT and transportation included
Free shipping for orders shipped to Peninsular Spain. Please contact us for orders shipped to the Spanish islands and to other countries.