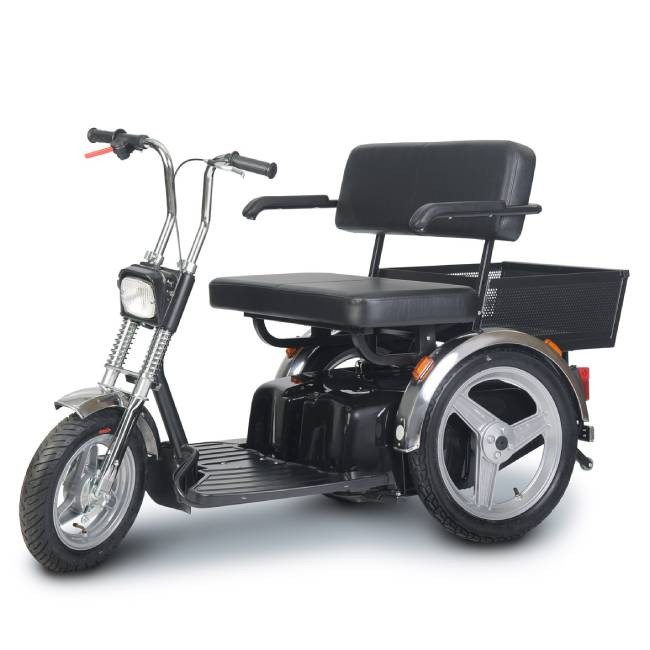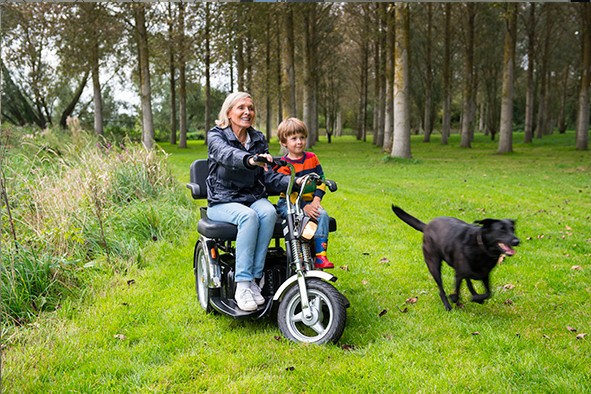 Afiscooter SE dual seat
he Afiscooter SE dual seat is an icon in the world of personal electric mobility - an experience you can trust. A balance of simplicity, reliability and classic design marks AFIKIM.
Afiscooter SE dual seat is a 3 wheel mobility scooter. The SE scooter provides a stable and safe ride in any environment and on any road. The robust steel chassis and powerful rear-wheel drive provide high strength and impressive load capacity.
Afiscooter SE dual seat is a leading electric personal mobility device for over 40 years. The strong steel frame and rear power unit combine strength with a wide driving range. Designed for stable and safe driving on any terrain. Ergonomic seats for maximum comfort and an easy-to-operate control panel.
Afiscooter SE dual seat - Details
High quality electronic control system.
Comfortable seat with adjustable armrests.
Fully electric - provides a quiet, environmentally friendly environment
Efficient maintenance vehicle.
Three-wheel model for maximum maneuverability.
Large, solid rear basket for storage.
High ground clearance with oversized tires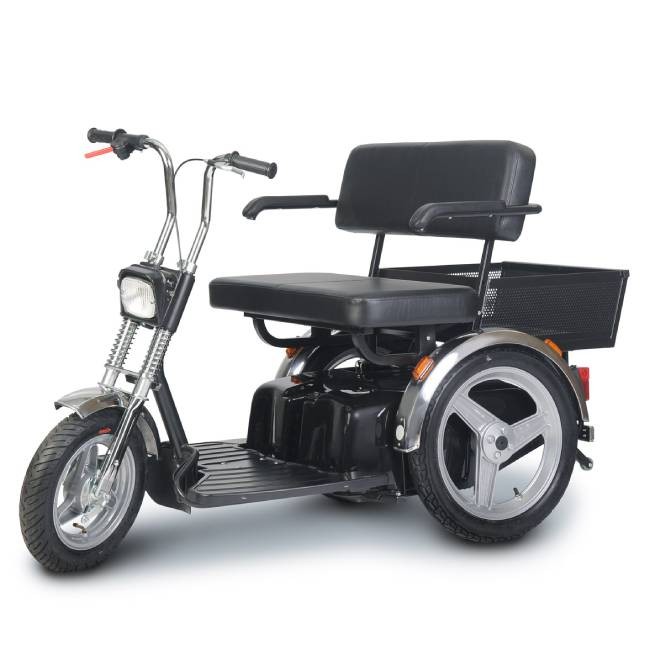 Afiscooter SE dual seat, with its retro black and chrome design, includes several typical motorcycle features. Its striking image is a statement of intent, but its uniqueness does not end here, it is also full of equipment. In addition to the style it exudes, the robust steel chassis and its powerful drive unit make this scooter extremely resistant and its history of more than 20 years of existence guarantees its great reliability.
Afiscooter SE dual seat brings the comfort and stability of a large scooter, easy controls and smooth ride, which together with a very small turning radius, allow the rider to negotiate almost any obstacle, whether on the street or off-road. field. Hit the beach or the country club, take a drive around town or go shopping…all with your Afiscooter SE.
The 3-wheeled Afiscooter SE dual seat combines simplicity, reliability and utility for decades. Provides stable and safe driving in any environment and on any road. The robust steel chassis and powerful rear-wheel drive provide ample driving and impressive carrying capacity.
Ergonomic seats for maximum comfort and easy-to-use electronic control. Chrome and black color.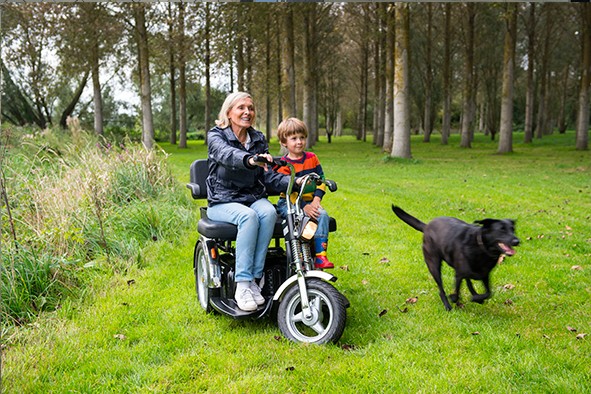 Advantages of the Afiscooter SE dual seat
The balance of simplicity, reliability and classic design has made the SE a leader in the electric vehicle world for more than 30 years.
Swivel seat for comfort and ease of access.
It has headrest and armrests. Includes a large rear basket.
Simple handling and quiet operation.
Find the accessories you need
With a wide range of accessories, the Afiscooter SE can travel comfortability and safely in various types of terrains, including rough off-road terrain, in various types of weather conditions, including extreme conditions and serve more functional and recreational purposes than most other scooters in its category.
Afikim Electric Vehicles is a leader in the development and manufacture of electric mobility scooters, since 1987. The Afiscooters product line has been designed on the premises of reliability and rider safety. Afikim Electric Vehicles' worldwide distribution network offers technical support and complies with European ISO 9001, CE and EN 12184 certifications, as well as US safety standards with FDA approval.
Contact us for price information
Free Shipping in Spain (peninsula).
Our physical store is located at Calle Cavanilles 7, 28007 Madrid.
Secure SSL Purchase (+info)
Returns: 15 days.
Need any assistance? Contact us +34 915701682
Financing:

Cetelem
From 3 to 60 months
Calculate your fee
Double Seat Model:
Overall Length: 166cm (65")
Overall width (standard wheels): 91cm (36")
Overall Height: 101cm (40")
Ground to base distance: 125cm (5")
Weight (without batteries): 116kg (256lbs)
Weight (with batteries): 163kg (359lbs)
Maximum weight supported: 200kg (550 pounds)
Autonomy: 45km
Top speed: 12km/h (7.5mph)
Maximum slope: 20%
Turning radius: 115cm (45")
Seat Width: 85cm (33")
Rim type: Pneumatic (1.7 bar)
Front tire size: 2.75 x 10"
Rear tire size: 2.75 x 12"
Battery type x2: 12V 73Ah
Rear Wheel Drive Power Unit: 24V DC Motor | 1,300W
Charger type: 8 amp
Colour: Black and chrome
* Data provided by the manufacturer .Warranty: 2 years and 6 month on the batteries
21% VAT and transportation included
Free shipping for orders shipped to Peninsular Spain. Please contact us for orders shipped to the Spanish islands and to other countries.
Reduced VAT rate (4%) will be applied to customer provided 33% disability certificate (or higher degree)
Related Products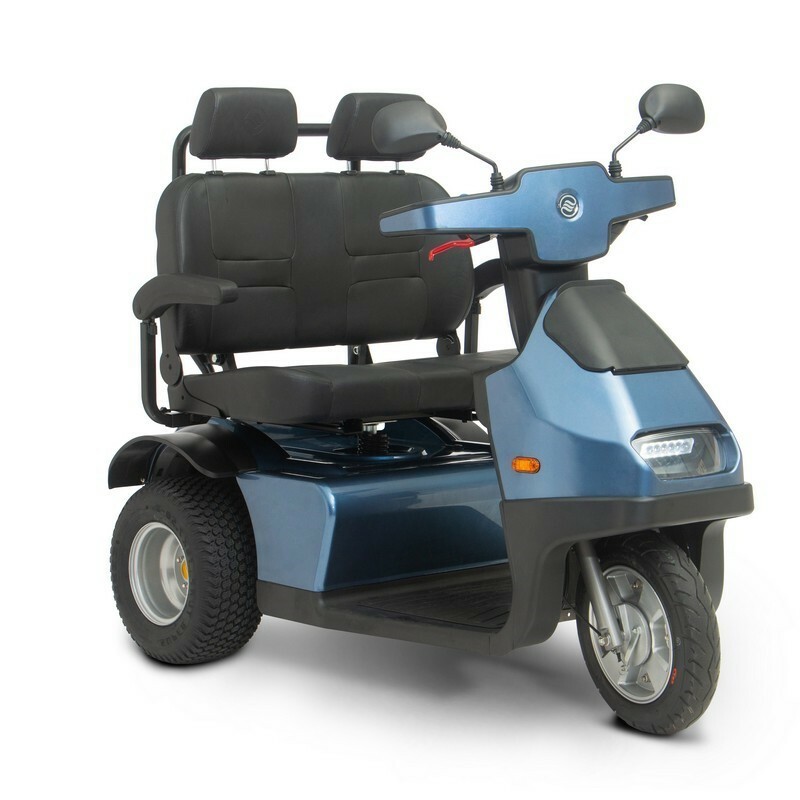 A powerful and comfortable dual seat mobility scooter with great autonomy and excellent off-road skills. Small turning radius.
VAT included - Free Shipping