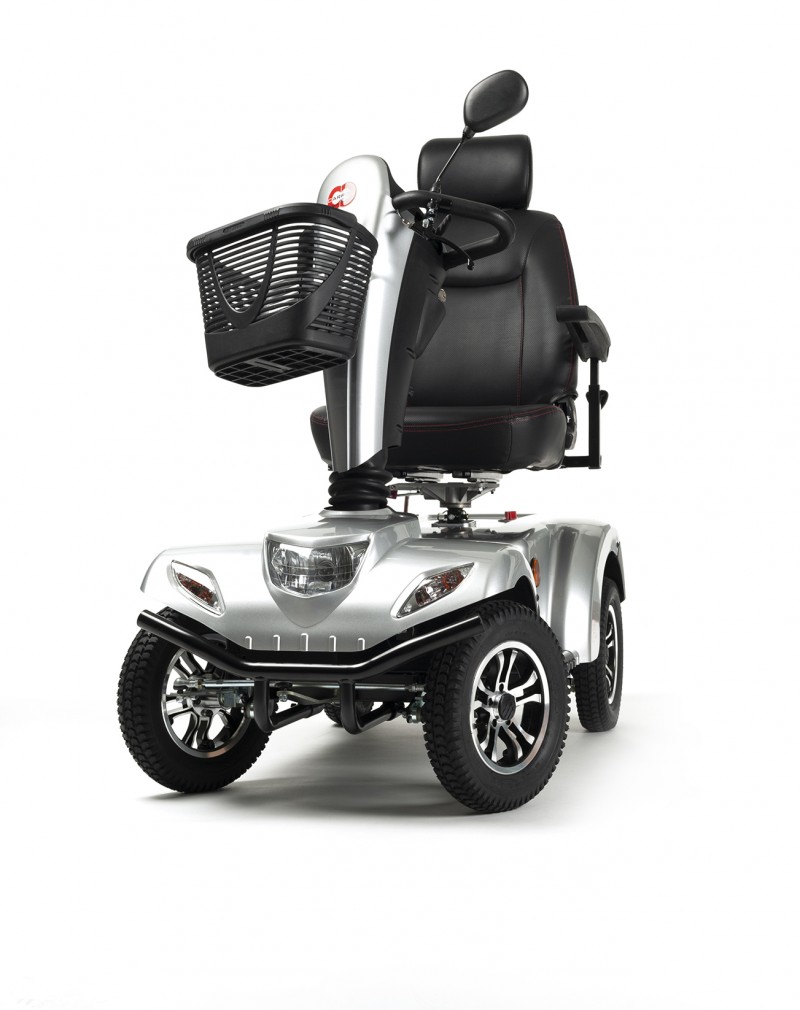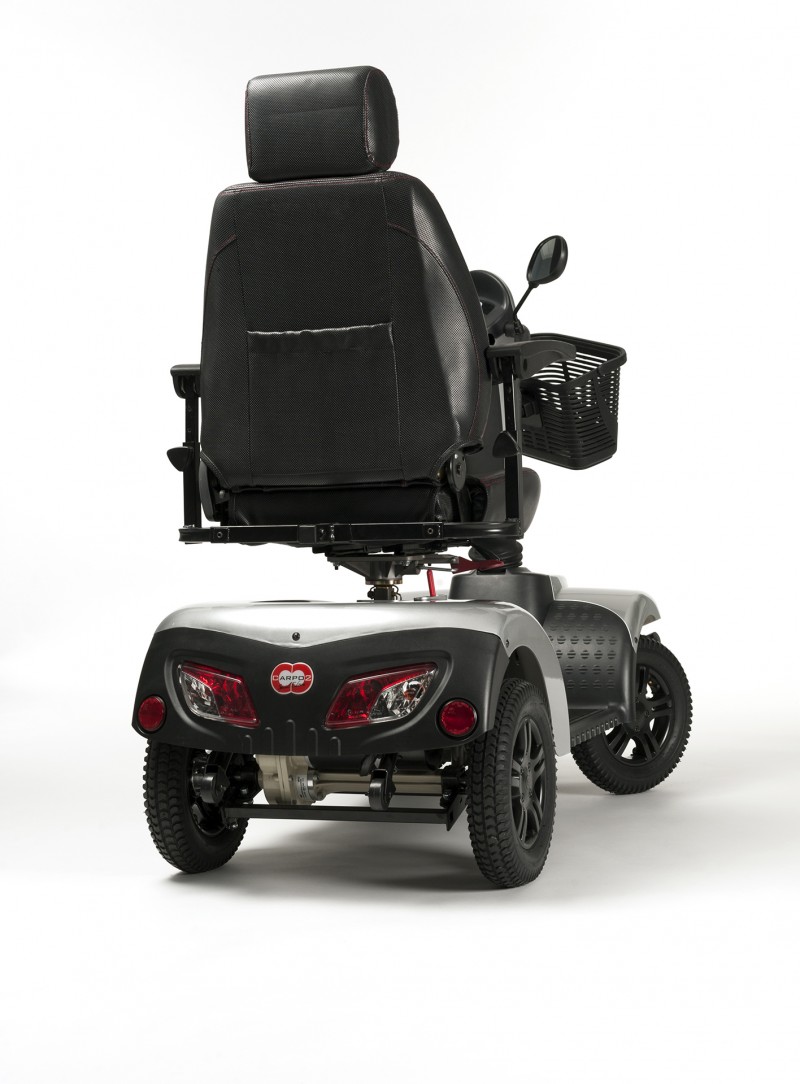 Vermeiren Carpo 2 SE
The Vermeiren Carpo 2 SE (Special Edition) is a complete renewed and freshly redesigned 4-wheelscooter for daily usage. Sporty black rims, double mirrors, adjustable headrest and a fully integrated electronic display and USB port to charge any devices you might carry along.
The Vermeiren Carpo 2 SE combines the advantages of Carpo 4 Limited Edition and Carpo 2. The special edition of Carpo 2 is 125 mm shorter. Configured with pneumatic wheels, with rims and covers in black, and a lower suspension that offer greater grip on the road. This scooter carries the same batteries, the same engine and the same control panel as the Carpo 2.
The Vermeiren Carpo 2 SE comes in silver with red accents that stand out thanks to the stitching on the seat, also in red.
Comes complete with:
Features
+ Double mirrors
+ Mobile phone holder
+ USB connection
+ Electronic display
+ Left and right indicators and lighting
+ Electronically programmable
+ Adjustable seat and headrest
+ Shopping basket
+ Inflatable tires
+ Bumper
+ Anti-skidding floor board
+ Optional spare tyre
+ Optional luggage box
3.780,68€
(21% VAT included)
REMEMBER: If you have a disability certificate greater than 33% degree, you are entitled to a VAT reduction on this product.
Free Shipping in Spain (peninsula).
Our physical store is located at Calle Cavanilles 7, 28007 Madrid.
Secure SSL Purchase (+info)
Returns: 15 days.
Need any assistance? Contact us +34 915701682
Financing:

Cetelem
From 3 to 60 months
Calculate your fee
LENGTH: 155 cm.
WIDTH: 66 cm.
HEIGHT: 139 cm.
FREE HEIGHT FROM THE GROUND: 21cm.
BATTERIES: 2x12V 90AH (AGM)
AUTONOMY: 60 km
SPEED: 16km/h*
MAXIMUM AUTHORIZED WEIGHT: 150 kg.
WEIGHT: 144 Kg.
MOTOR: 750 W.
COLOR: Silver.
LIGHTS: Standard
ROTATING SEAT
BUMPERS
REAR VIEW MIRRORS
INCLINATION OF ADJUSTABLE BACKREST
ADJUSTABLE HEADREST
* Data provided by the manufacturer.
Warranty: 2 years and 6 month on the batteries
21% VAT and transportation included
Free shipping for orders shipped to Peninsular Spain. Please contact us for orders shipped to the Spanish islands and to other countries.
Reduced VAT rate (4%) will be applied to customer provided 33% disability certificate (or higher degree)