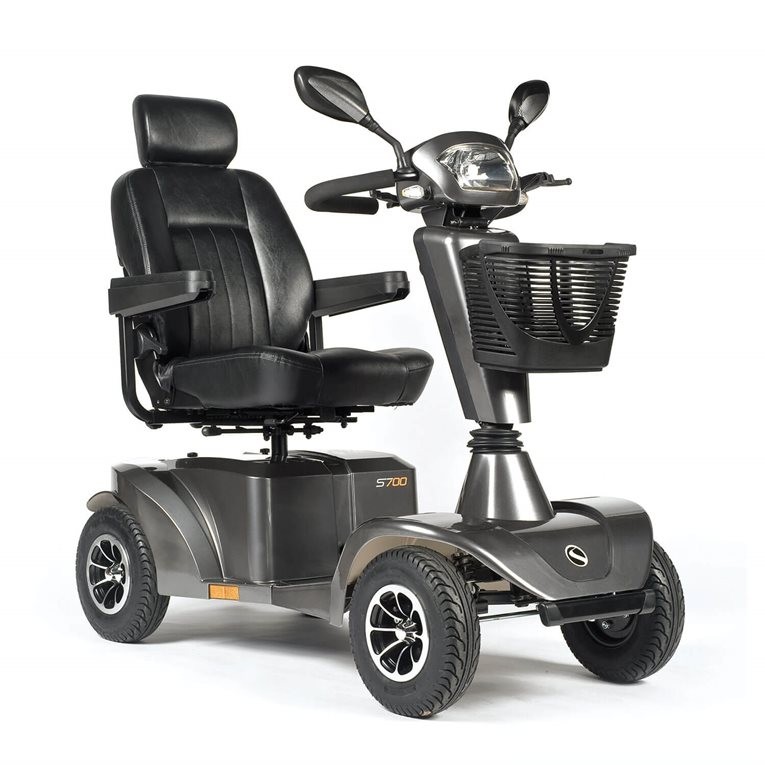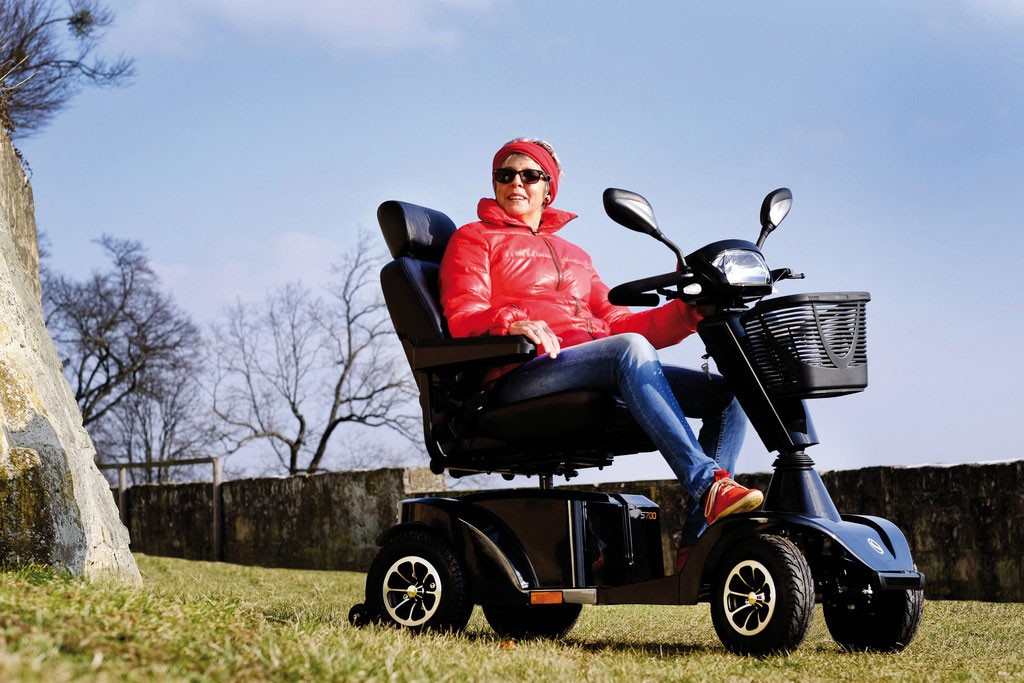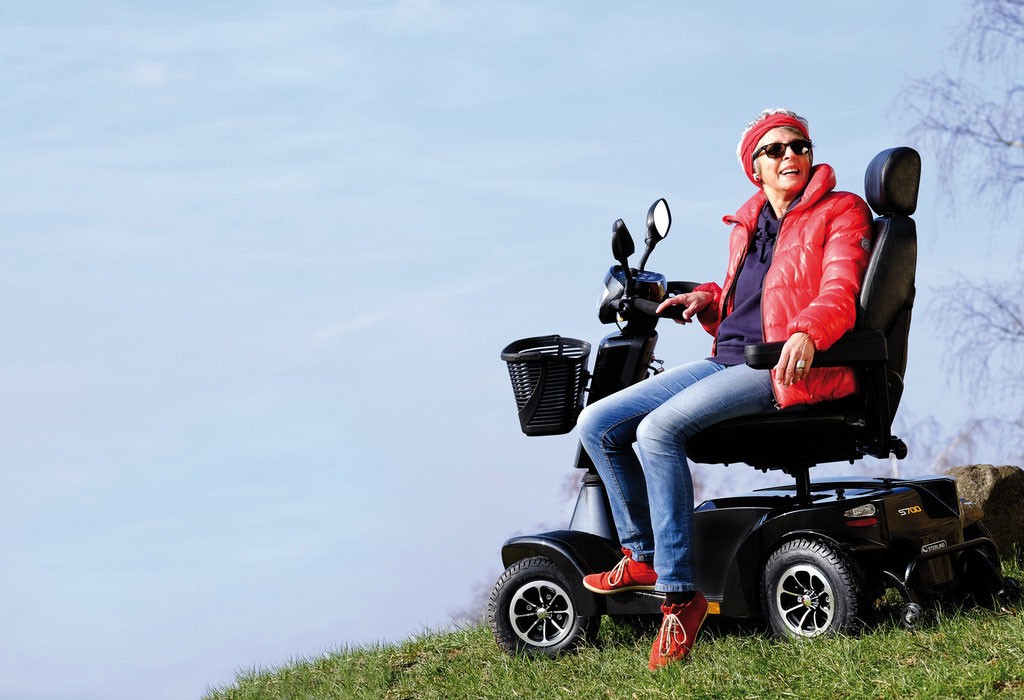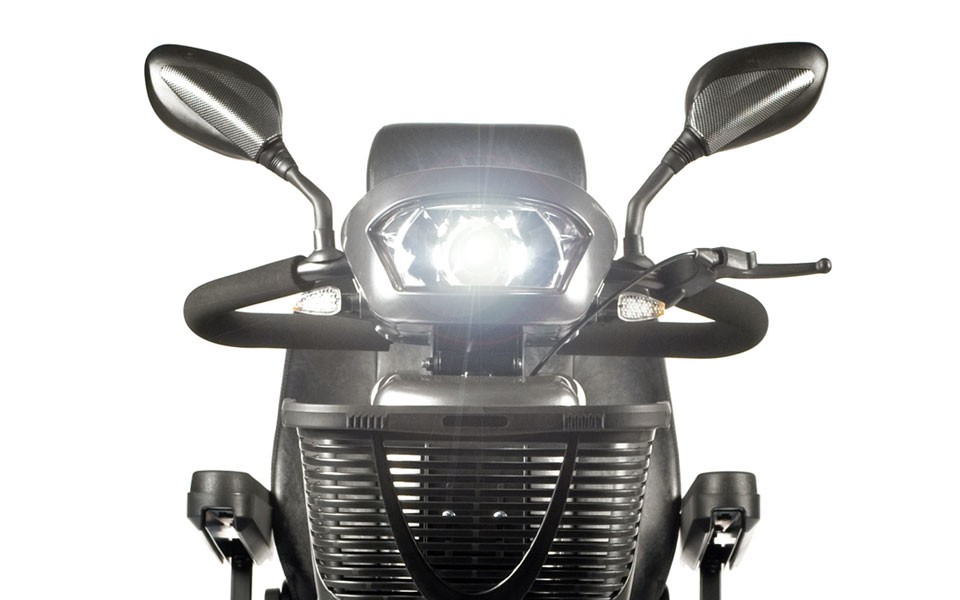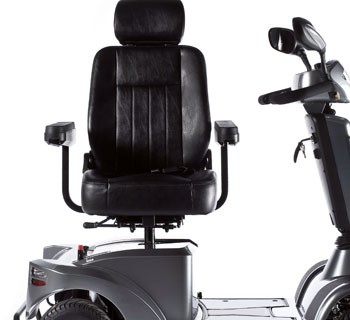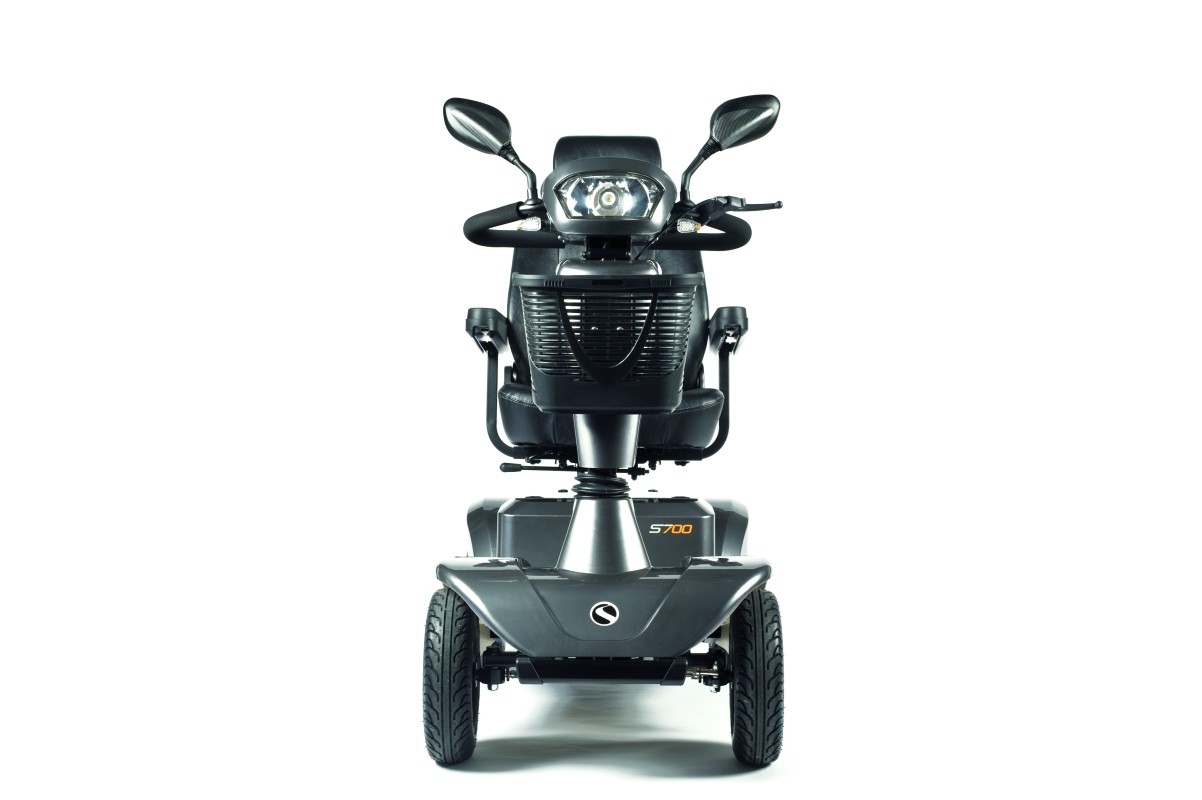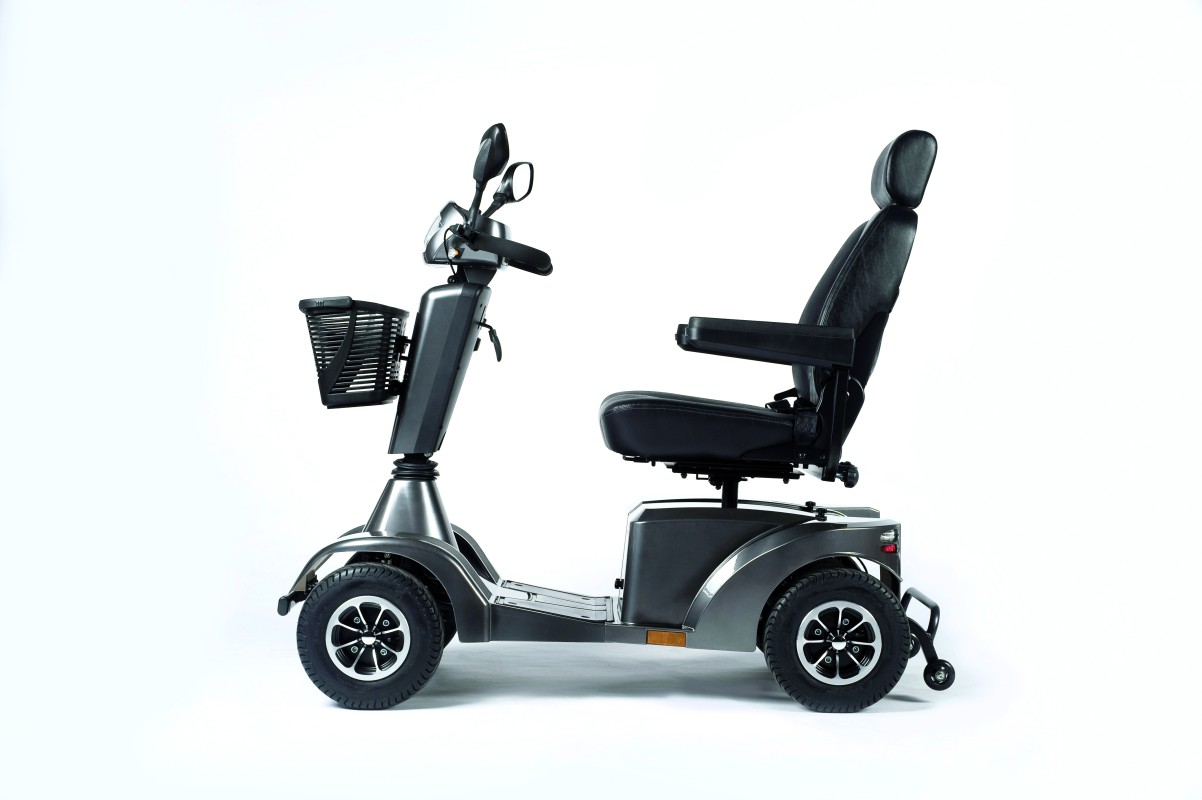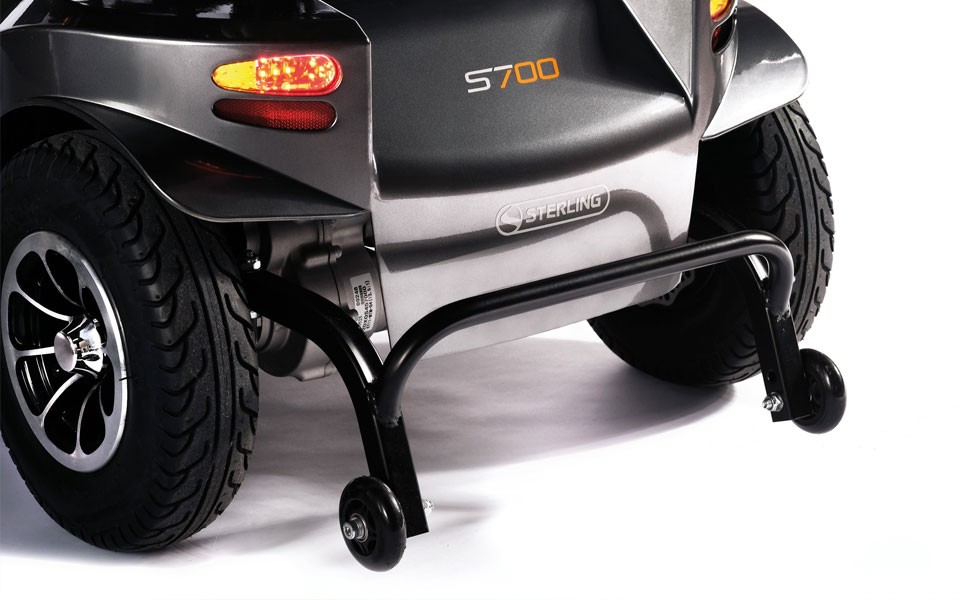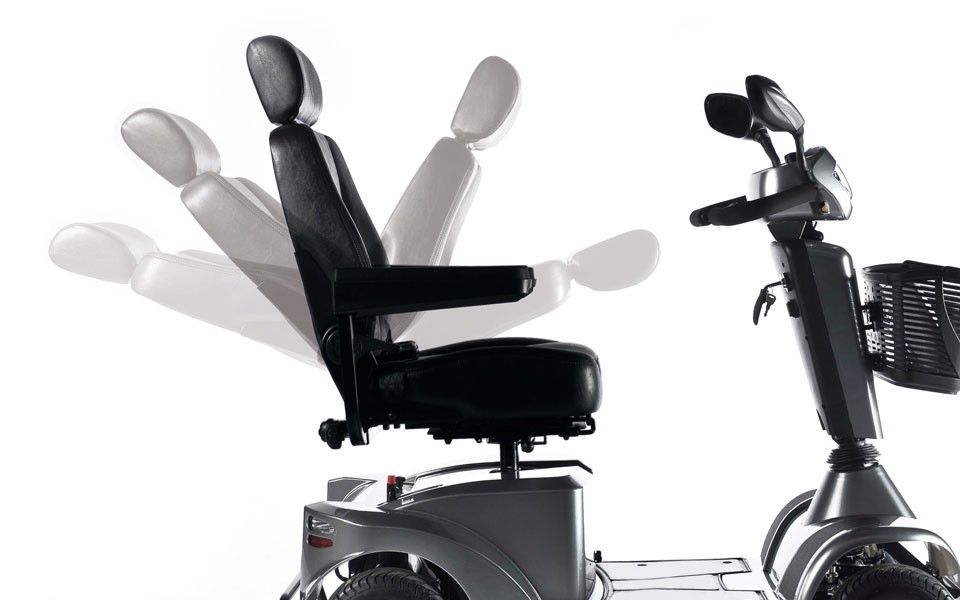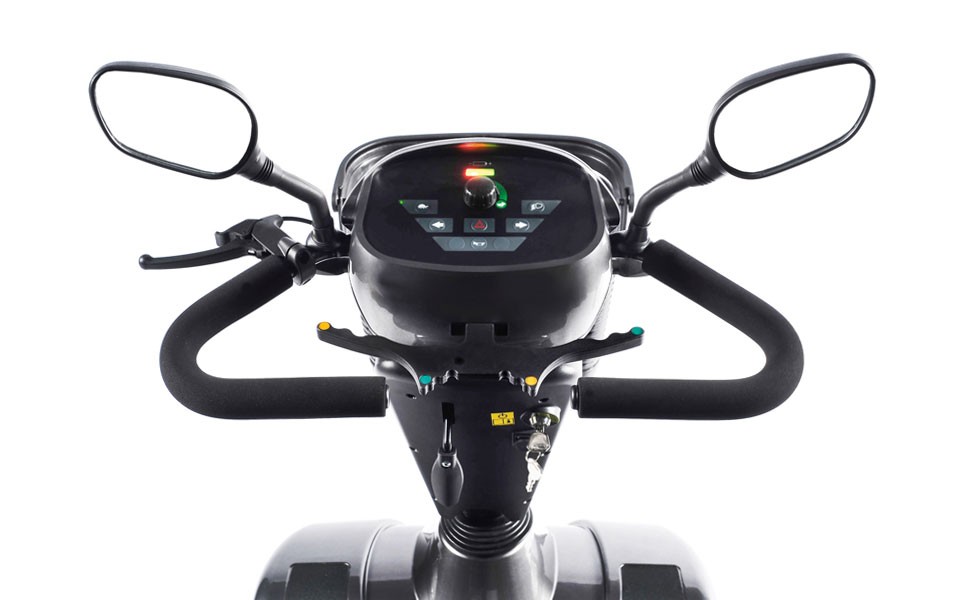 Sterling S700
The Sterling S700 is the leader of the pack with superior outdoor performance features. Tackle greater gradients of 10 degrees, higher kerbs of up to 100 mm and greater obstacles with larger 33 cm tyres ? it?s truly a mobility scooter designed for those who just can't sit still.
There's no need to worry about distance either as the large 75Ah battery size will power an extended range of up to 35 km (ISO 7164-4 standard) and a lively top speed of 12 kph (8 mph). You're also assured of a smooth, rewarding drive each and every time with the advanced 4-wheel suspension (as standard) supporting a maximum user weight of up to 160 kg. Plus with a selection of attention-grabbing silver carbon-metallic colour to choose from, the S700 will always get the attention it deserves.
Pure outdoor performance
Experience a smooth and rewarding drive each and every time with the S700's all-round advanced suspension. Every wheel has it's own independent suspension, so whether you"re cruising around town at 6 kph or travelling over more varied terrain at 15 kph. you're assured of the ultimate comfort over every bump you may encounter. Plus, with bigger 33 cm pneumatic wheels, you'll effortlessly clear any obstacles more easily too.
Powerful LED's to light your way:
With advanced LED lighting technology, the lights on the S700 mobility scooter are 400 times more energy efficient than standard bulbs, so not only are you using less battery power on every type, you also won't have to worry about changing bulbs either. Powerful and approved for road-use, it won't just be the S700"s style that attracts attention.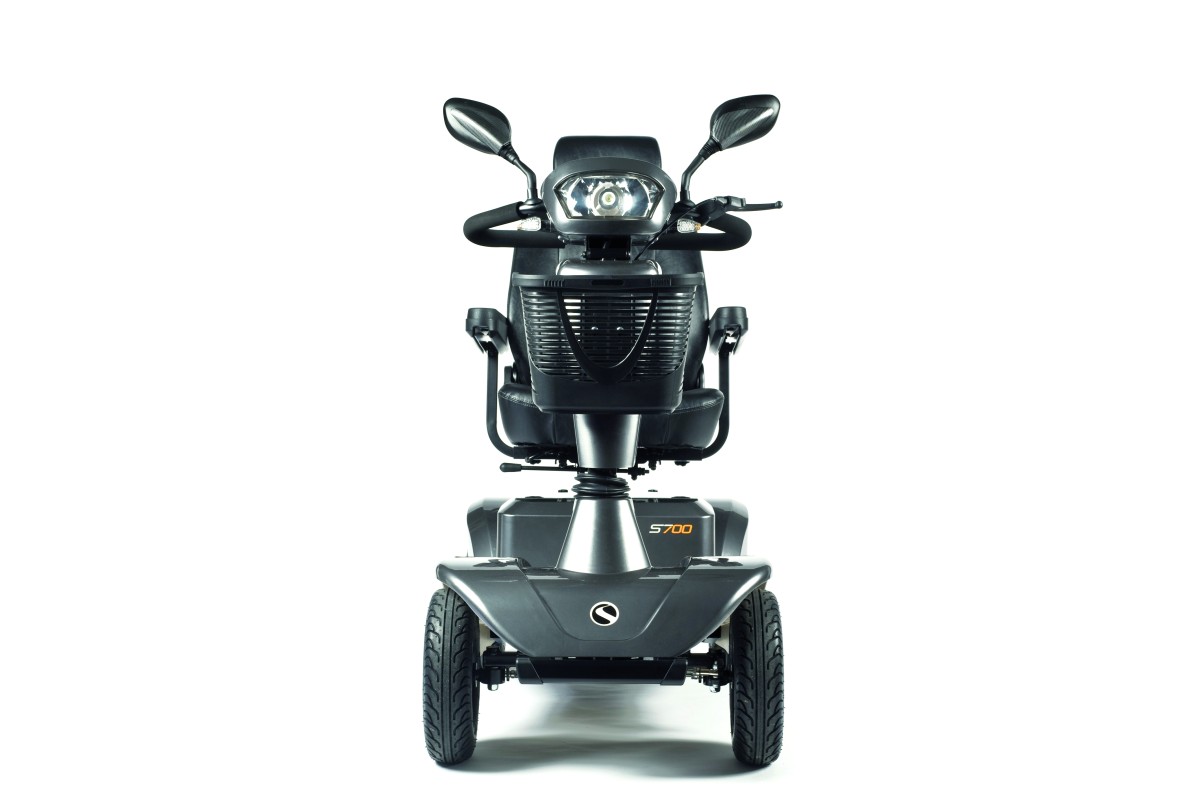 Comfort on every trip
With 75 Ah high performance batteries powering a potential range of 55 km, finding your perfect seating position for those long journey's is effortless with the easy-to-adjust luxury seating. Adjust the seat height, depth and recline to suit your own unique driving position. The flip-up comfort armrests are also width, angle and depth adjustable - and combined with the seat rotation ensures that transferring in and out of your mobility scooter is effortless.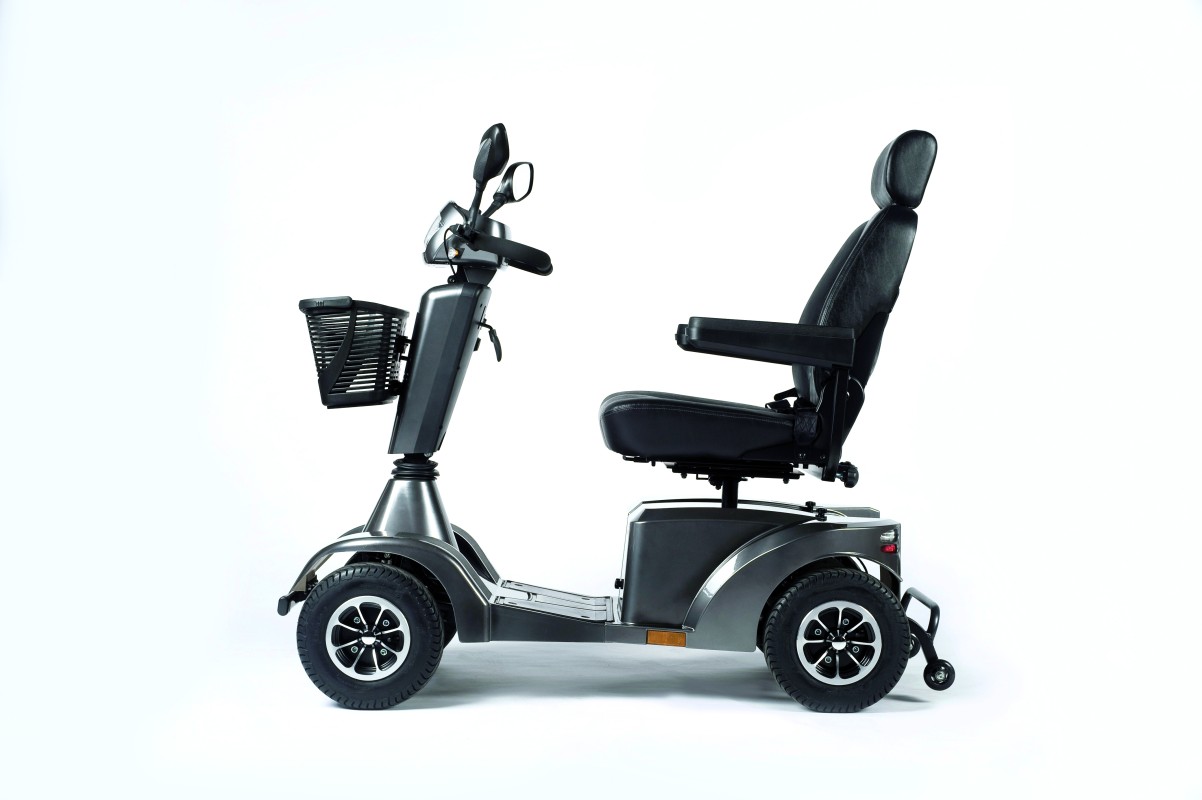 Intuitive controls
Seeing as you'll be spending a lot of time behind the controls of your S700, we've ensured the delta handle-bar is ergonomic and easily within reach thanks to the infinitely adjustable tiller (the clever design even ensures that the headlight is automatically tilted as the tiller is adjusted). The unique wig-wag control system also allows you to control your mobility scooter by using your fingers or thumb.
3.868,00€
(21% VAT included)
REMEMBER: If you have a disability certificate greater than 33% degree, you are entitled to a VAT reduction on this product.
Free Shipping in Spain (peninsula).
Our physical store is located at Calle Cavanilles 7, 28007 Madrid.
Secure SSL Purchase (+info)
Returns: 15 days.
Need any assistance? Contact us +34 915701682
Financing:

Cetelem
From 3 to 60 months
Calculate your fee
WHEELS: 4
LENGTH - WIDTH: 150x67 cm
ENGINE: N/A
BATTERIES: 2x75 Ah
MAXIMUM SPEED: 15 km/h
TRAVEL RANGE: 55 Km
SCOOTER WEIGHT: 146 Kg
MAX WEIGHT SUPPORTED: 160 Kg
MAX SLOPE: N/A
HANDLE: Ergonomic
WHEEL TYPE: Pneumatic
BUMPER: YES
LIGHTS: YES
INDICATORS: YES
MIRRORS: YES
HEADREST: YES
SAFETY BELT: NO
Color: Sselenium mettallic gray
* Data provided by the manufacturer.
Warranty: 2 years and 6 month on the batteries
21% VAT and transportation included
Free shipping for orders shipped to Peninsular Spain. Please contact us for orders shipped to the Spanish islands and to other countries.
Reduced VAT rate (4%) will be applied to customer provided 33% disability certificate (or higher degree)