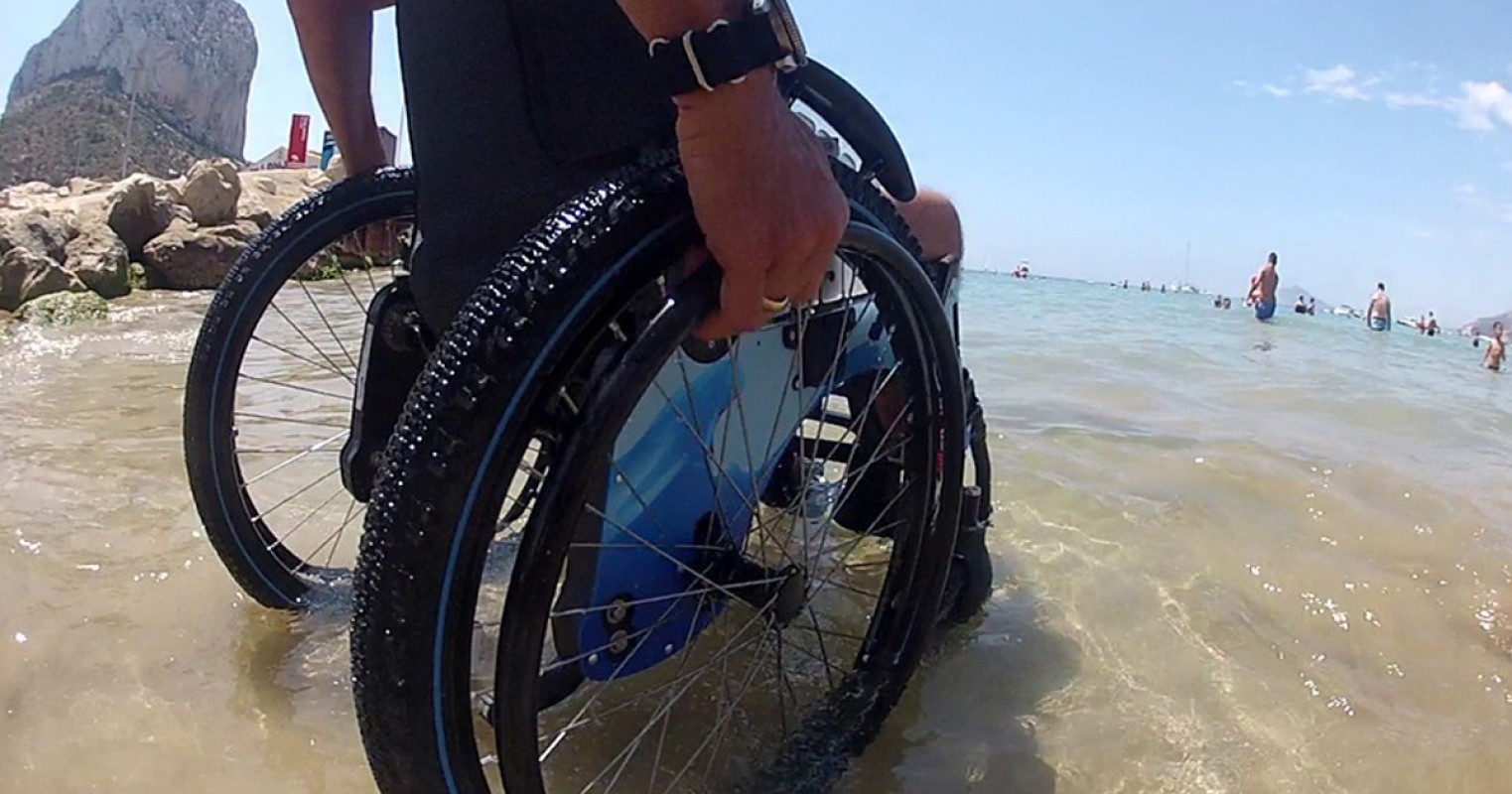 Forta Trial Beach Wheelchair
Forta Trial Beach wheelchair is designed and manufactured by Forta to, at first, be able to slide along the beach sand and enter the water. But, in addition to being able to do that, it became an all-terrain chair, capable of supporting crossings through the countryside or mountains without any problem.
Forta Trial Beach wheelchair has off-road wheels, together with its ability to absorb the bumps of the terrain (thanks to the design of its horizontal crossings and its side plates, make it a perfect wheelchair for both day to day and to perform any challenge.
To submerge, all Forta Trial Beach wheelchair metal components are stainless. Even so, it is necessary to clean the chair with fresh water once it has been introduced into swimming pools or into the sea, to remove traces of chlorine and salt. It is necessary to take care of this wheelchair if it is used intensively and, above all, if it is introduced into water, since although the metals are stainless, they end up oxidizing if they are not applied to the correct maintenance.
If you want to go to the beach, it is necessary to be accompanied, since the stretches of dry sand are very difficult to surpass for the user only and, once in the water, the companion must always go with the user as a precaution. To glide along the beach sand more easily, it is advisable to slightly deflate the rear wheels to gain adhesion surface and, once off the beach, swell them again for normal use.
Forta Trial Beach wheelchair has removable sports armrests (without tools) as well as removable, folding and height-adjustable footrests (all also without having to use any type of tool). In addition, it can be narrowed even when the user is sitting, being able to pass through narrow doors, elevators, etc. To narrow it, the user can activate the folding by folding the front or the passenger at the back (depending on the type of folding carried by the chair).
Features
- Off-road chair designed and manufactured for use on the beach, both to move through the sand and to enter the sea.
- It is also developed by the field and the mountain perfectly and can be used as a daily use.
- Made of aluminum polymer, with stainless steel screws.
- Seat and backrest made of fabric that allows instant water evacuation.
- Highly resistant and comfortable.
- Can be used as usual wheelchair.
- Absorb the irregularities of the terrain.
- Folding even with the seated user, allowing him to pass through narrow spaces.
- Fixed backrest.
- Removable and adjustable footrests in height without tools.
- Removable armrests.
- Three sizes available depending on the desired width (41, 44, 46).
- Weight: 15.5 kg.
- Loading capacity: 125 kg.
You can see more detailed information about the Forta Trial Beach wheelchair watching the following VIDEO
940,00€
(10% VAT included)
REMEMBER: If you have a disability certificate greater than 33% degree, you are entitled to a VAT reduction on this product.
Free Shipping in Spain (peninsula).
Our physical store is located at Calle Cavanilles 7, 28007 Madrid.
Secure SSL Purchase (+info)
Returns: 15 days.
Need any assistance? Contact us +34 915701682
Financing:

Cetelem
From 3 to 60 months
Calculate your fee
Height: 81 cm
Length: 100 cm
Seat hight: 52 cm
Seat depth: 43 cm
Front wheels: 200 mm
Length without footrests: 81 cm
Weight: 15,5 kg
Resistance: 125 kg
Total width: Size + 21 cm
*Data provided by the manufacturer
Warranty: 2 years
10% VAT and transportation included
Free shipping for orders shipped to Peninsular Spain. Please contact us for orders shipped to the Spanish islands and to other countries.
Reduced VAT rate (4%) will be applied to customer provided 33% disability certificate or higher degree)