Scoozy Mobility Scooter
Scoozy Mobility Scooter
Scoozy Mobility Scooter is the alternative to the mobility scooter. Why? Because it is smart, safe and fun. Conventional designs are unsafe and drivers feel stigmatized. The modern look, redesigned suspension, 2WD and many other features, makes Scoozy the most advanced mobility scooter around.
Background
In the Netherlands alone 250.000 people drive a mobility scooter because they have difficulty walking. This number is increasing due to aging worldwide. Often mobility scooter drivers feel stigmatized, handicapped and a lesser person. Next to this mobility scooters are unsafe. In 5 years time the number of accidents with mobility scooters increased with 80%! Main causes are tipping over and one-sided collisions. More importantly, 25% of mobility scooters find their own vehicle unsafe. The design of conventional mobility scooters haven't been changed for decades, which gave us the inspiration to develop Scoozy Mobility Scooter.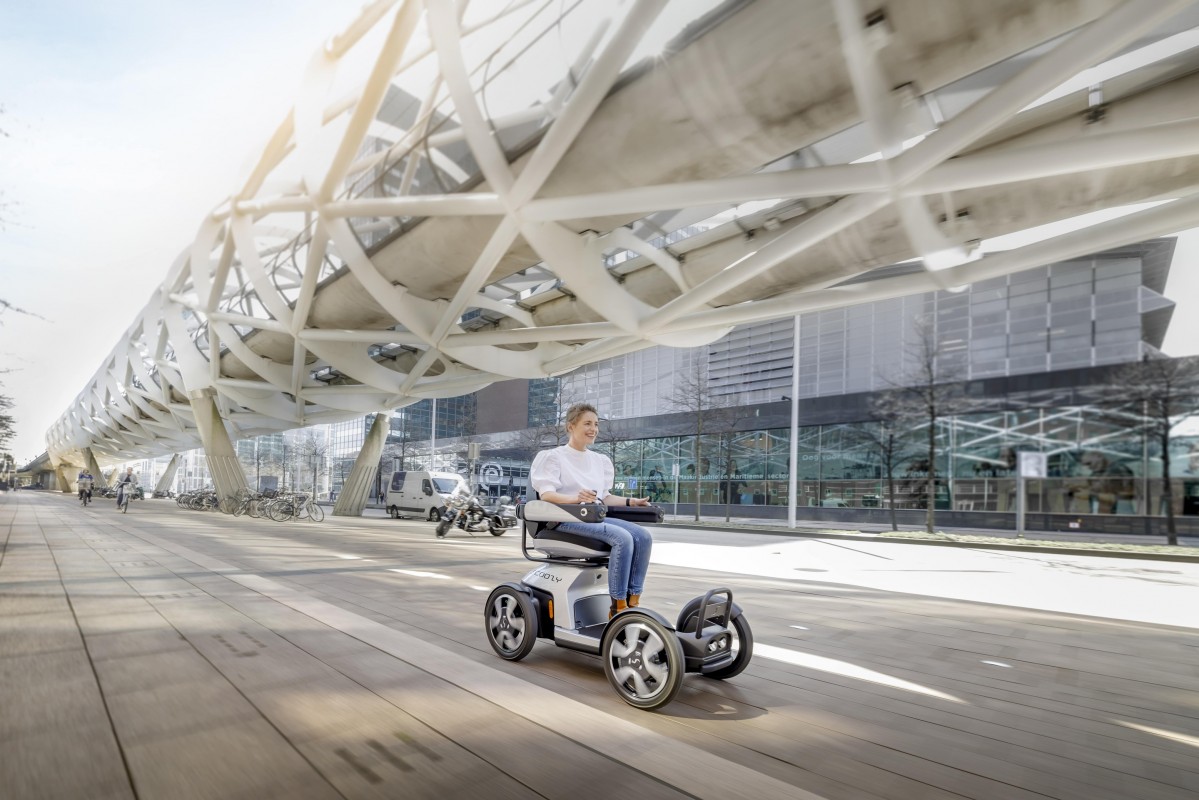 How does it work
Scoozy Mobility Scooter has benn designed to be a mobility scooter that is more attractive and easy to use compared to current alternatives. The new revolutionary layout has a lower center of gravity with increased stability. 2WD allows Scoozy to be used virtually anywhere. Whether it is for use in the city, on the golf course or for your outdoor trip, Scoozy is fully customizable for any environment and use. Sensors mounted around the vehicle will make it automatically slow down when driving onto objects. This way collisions are avoided. The intuitive joystick steer-by-wire system allows superb controllability while being safer. The steering deflection is limited at higher speed preventing roll-overs. Further, tight turning indoor is possible using the advanced 4 wheel steering system. We want to give mobility scooter drivers the same feeling of freedom without fear or feeling stigmatized.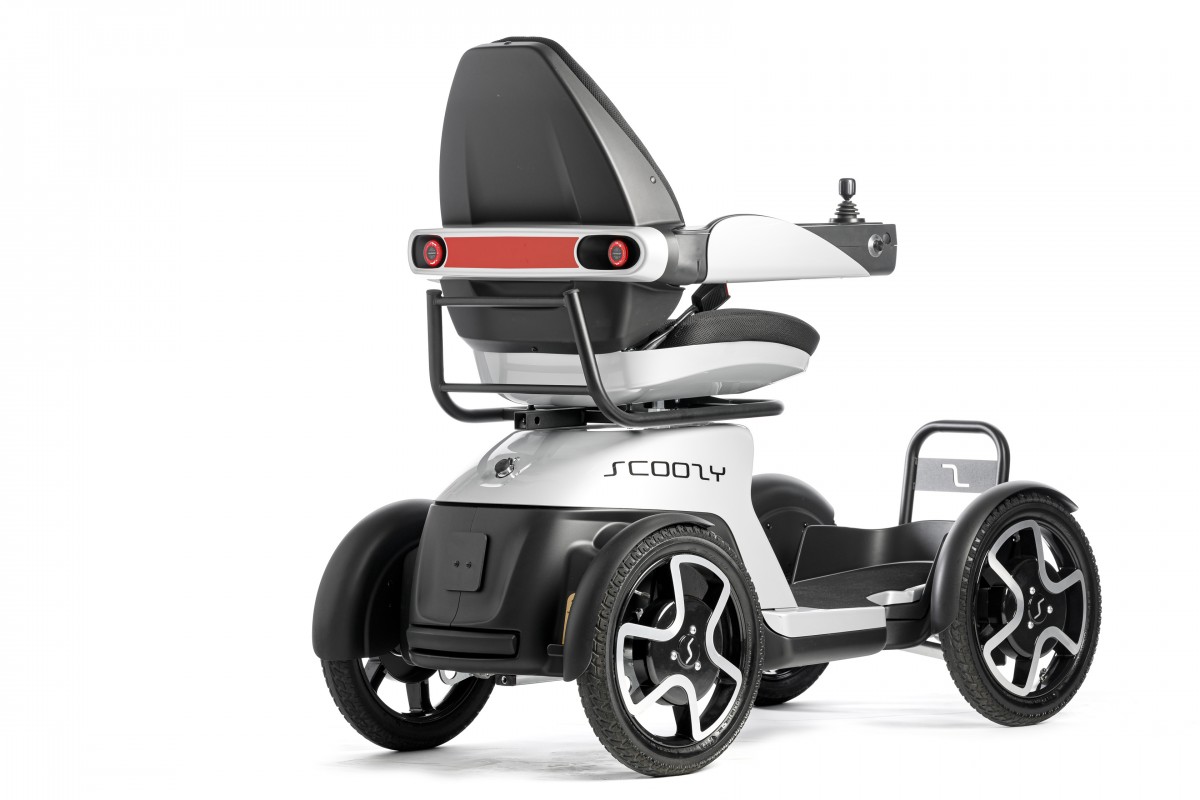 What makes the Scoozy Mobility Scooter different
The fact that there has hardly been any innovation in mobility scooters makes almost every aspect of Scoozy unique. Let's start with the steering and suspension system. The independent swing-arm suspension greatly increases the stability. Further, the 4 wheeled steering system allows for tight turning indoors (comparable to a three wheeled design), while maintaining the stable characteristics of a 4 wheeled design. Scoozy can be ordered as a 2WD drive model, allowing for extreme outdoor use, unheard of for conventional mobility scooters. Next, sensors added around the vehicle allow it to automatically slow down when driving onto objects. This way collisions are avoided. Scoozy is fully customizable for any environment and use. The exterior design makes Scoozy a pleasure to watch and a joy to ride. By choosing your own colors and accessories you are able to configure your own Scoozy.

Awards
Scoozy C has been awarded the international design award Red Dot Award 2022. The Red Dot Award is one of the largest and most prestigious design competitions in the world with previous well-known winners including Bose, Philips, Maserati and Sony.
ASML - young makers award Finalist: Let's Go - Rotterdam Mobility Lab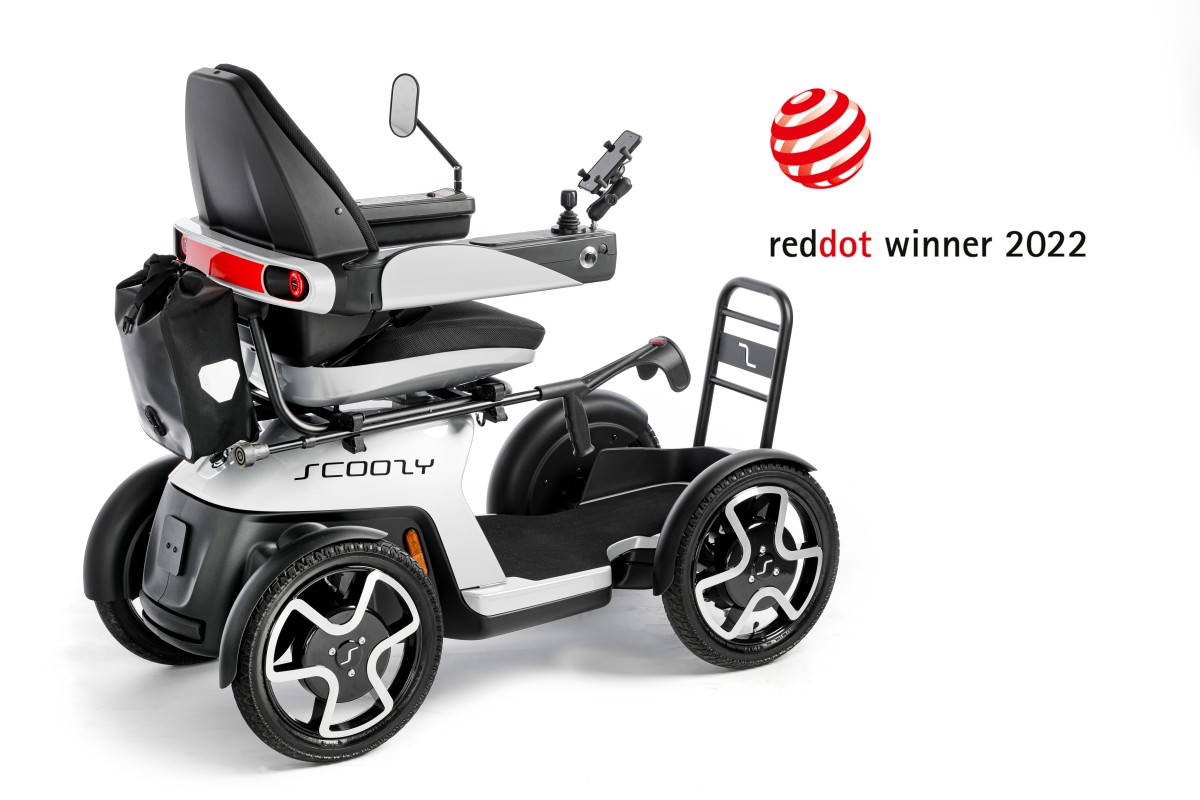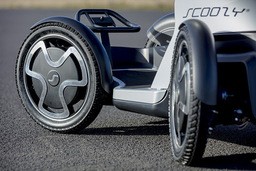 Technical details
Device type: EN12184, class C
Max. user weight: 150 kg
Max. luggage weight: 30 kg
Length x Width x Height: 1350 x 680 x 1250 mm
Weight 100 kg / 110 kg (2 batteries) / 115 kg (2 batteries + 4WD)
Battery (batteries) / Autonomy: 50/100 km
(single or dual battery pack): Battery capacity (selectable): Li-Ion, 48 V, 33.8 Ah / 67.6 Ah
Max. charging power: 10 A (charger included 5A)
Charging time: autonomy of 7 km per charging hour (RPH)
Operating temperature: -25℃ + 50 ℃ (Relative humidity 0% 98%)
Storage ambient temperature: -40 ℃ + 85 ℃ (relative humidity 0% 98%)
Max. speed (programmable): 15 km/h
Max. lean angle / dynamic stability uphill: 10°
Static Stability Up / Down / Sideways: 15°
Max. height of ascent / descent of obstacles: 100 mm
Turning radius: 1300 mm
Minimum turning radius: 2000 mm
Wheel Size: 16" X 2.5" (62-305)
Tire type: CST
Axle horizontal location: 203mm
Motor: transaxle transmission, 1400 W, gear ratio 1:21
Front motor (optional): 2x BLDC on wheel, 250W
Magnetic brake: 10 Nm, on transaxle
Min. Braking distance at maximum speed: 4.5 m
Water resistance: Scoozy is splash proof
Sound power level: 60 dB
Seat depth: 44 cm
Seat width: 45 cm
Seat height: 41/43 (standard) / 45 cm
Seat angle: 2°
Backrest angle: 15°
Backrest height: 550 mm
Seat armrest height: 220mm
Armrest distance from back to backrest: 500mm
We invite you to see more details about the Scoozy Mobility Scooter in the following VIDEO
Contact us at info@accessiblemadrid.com for further information.
More info: Official Website