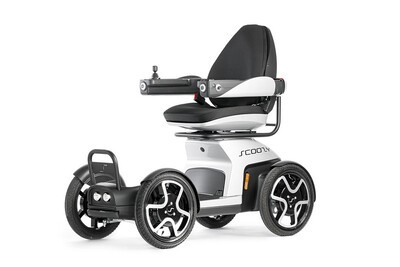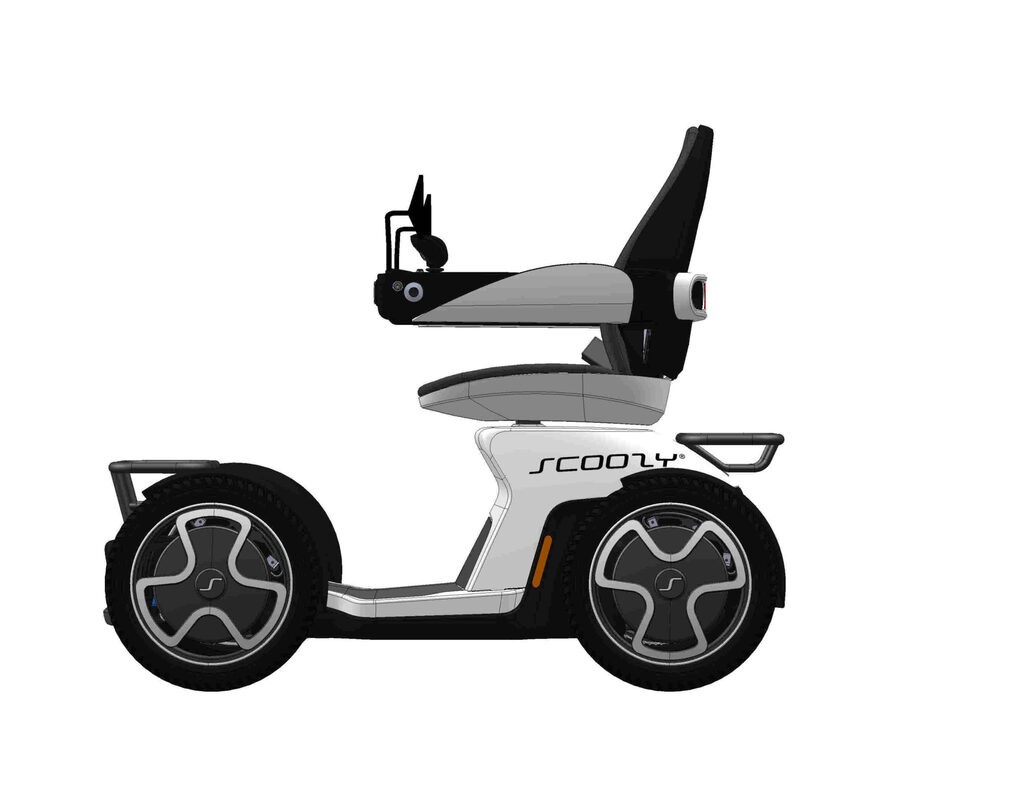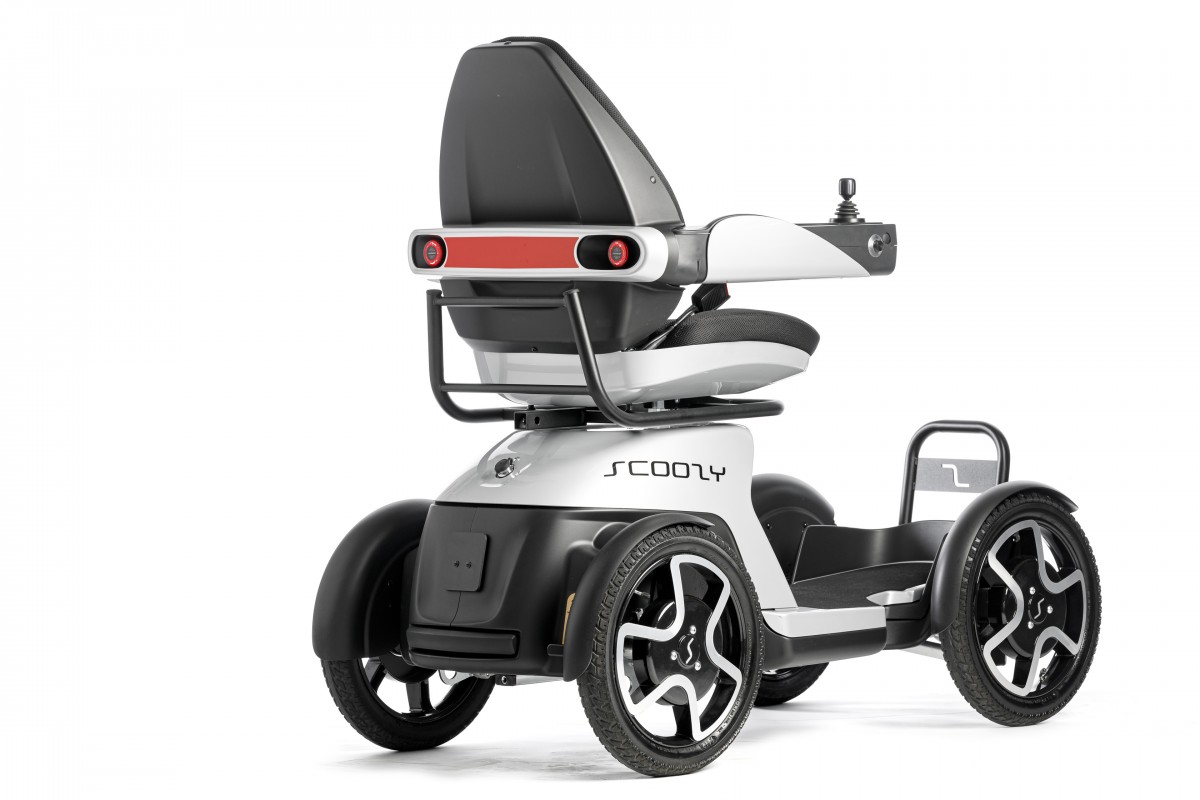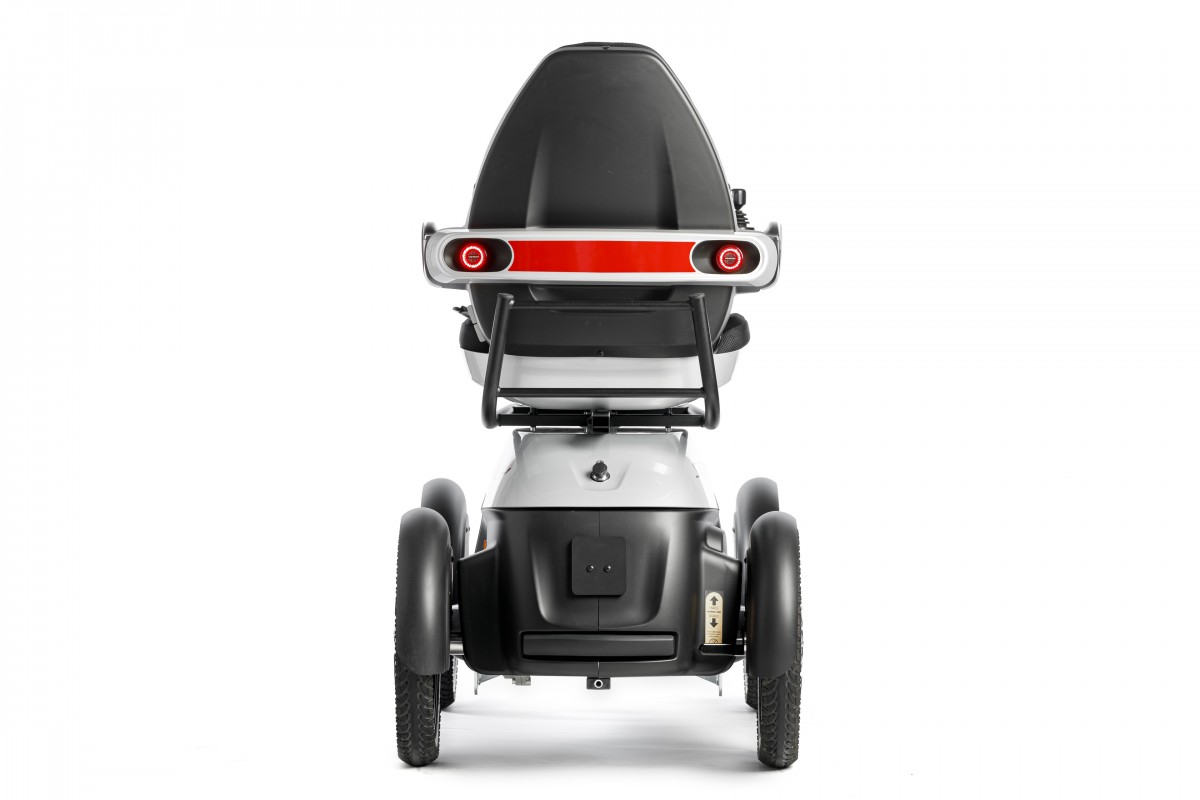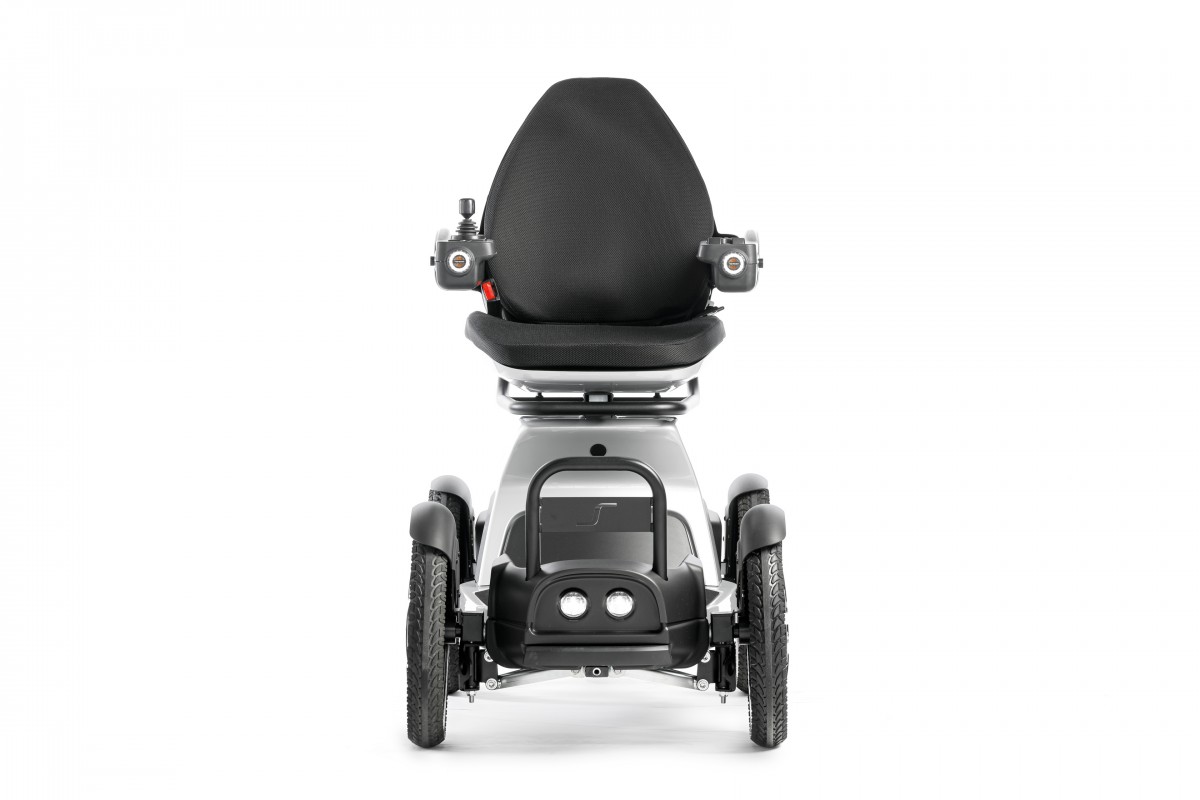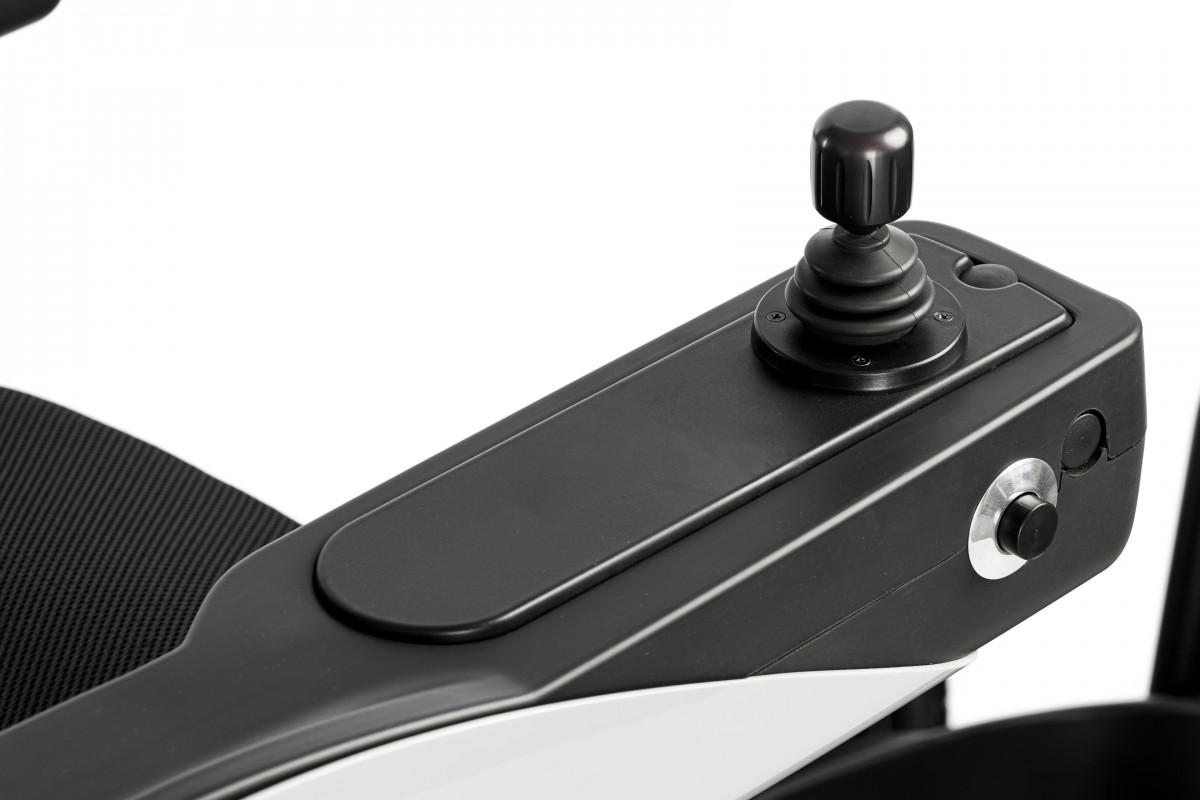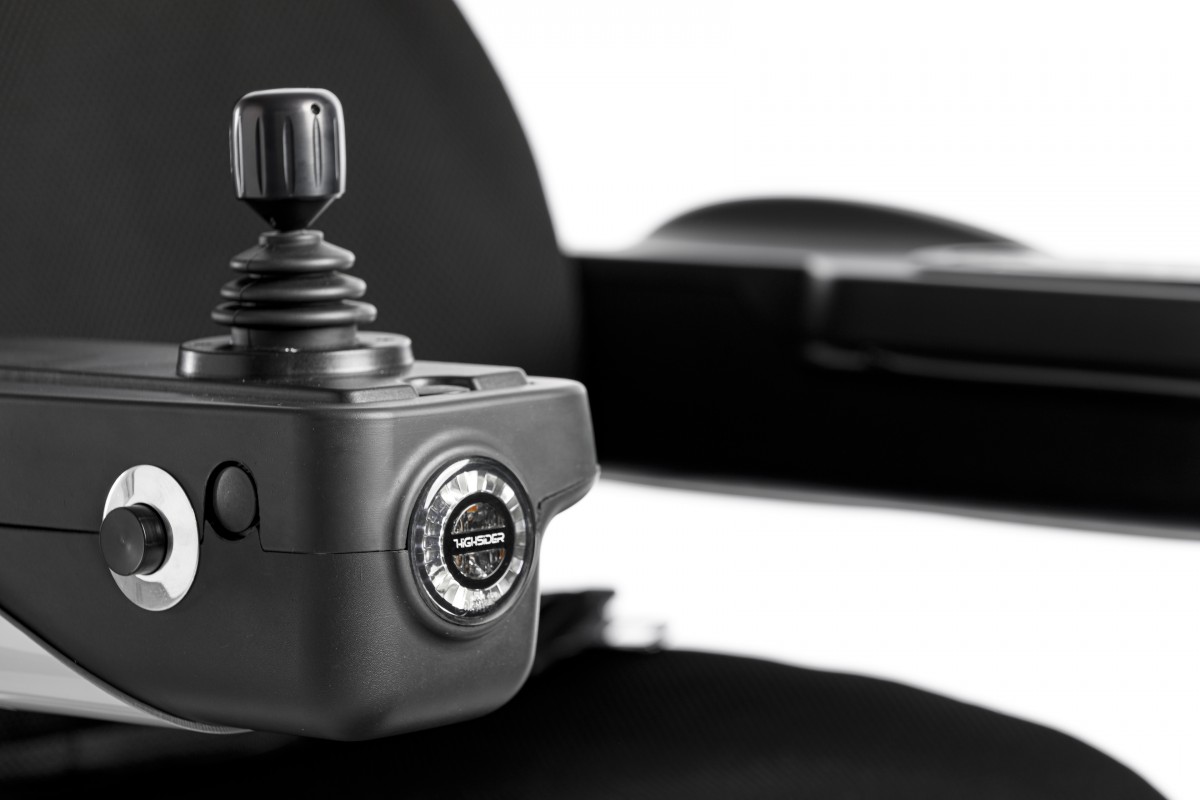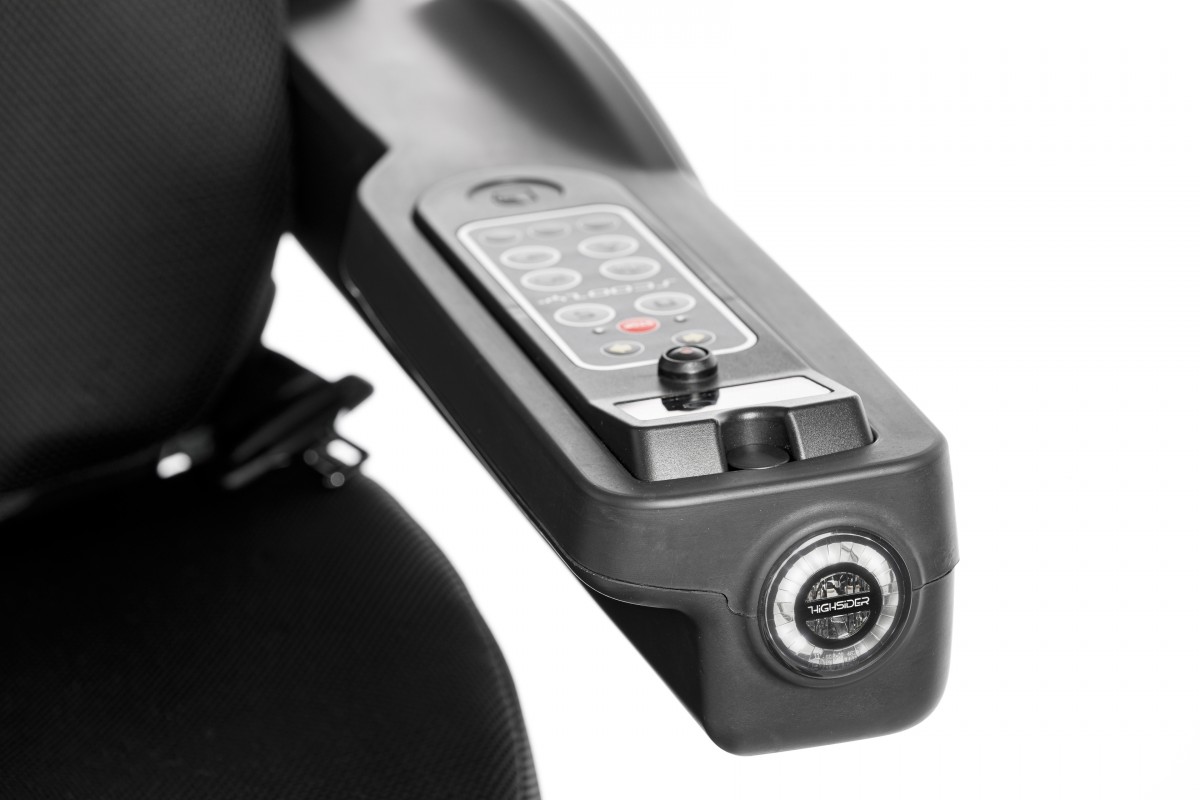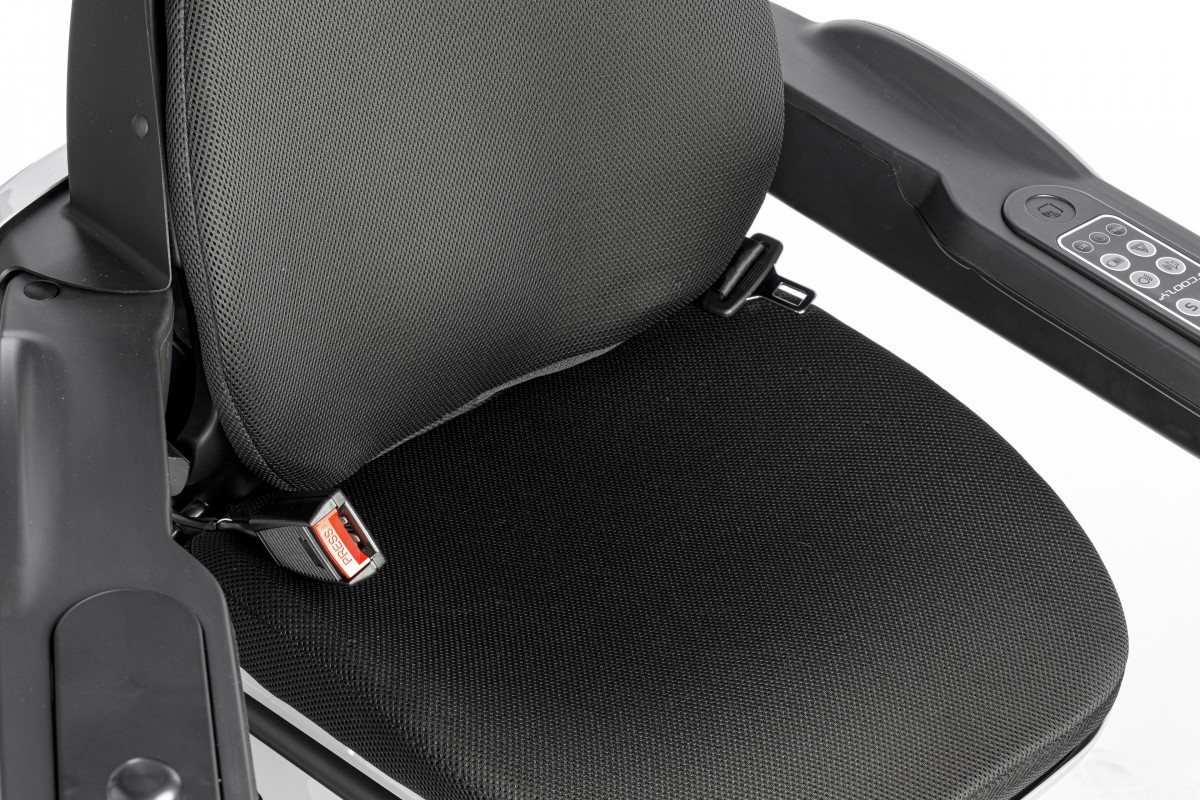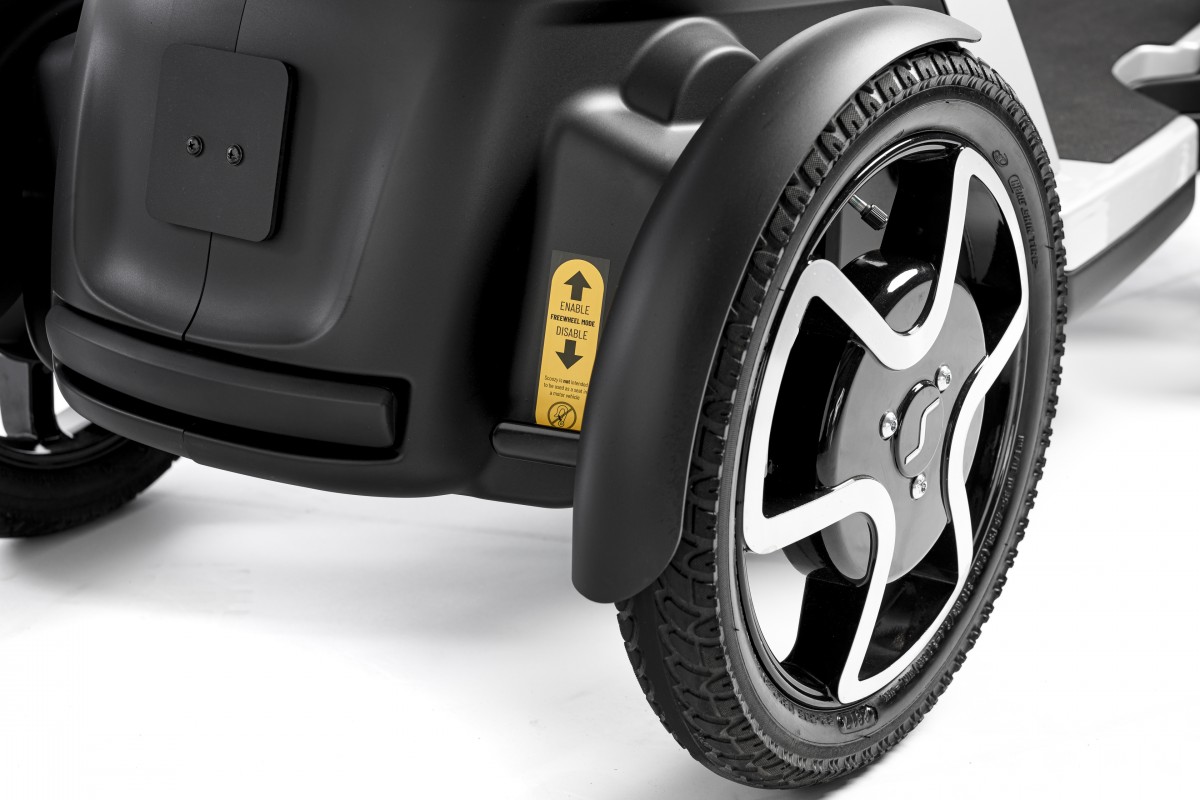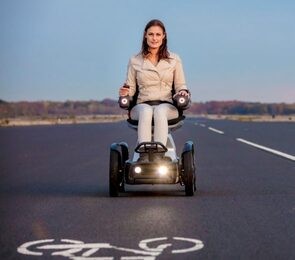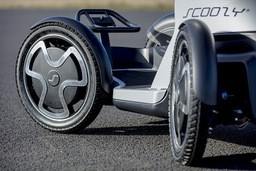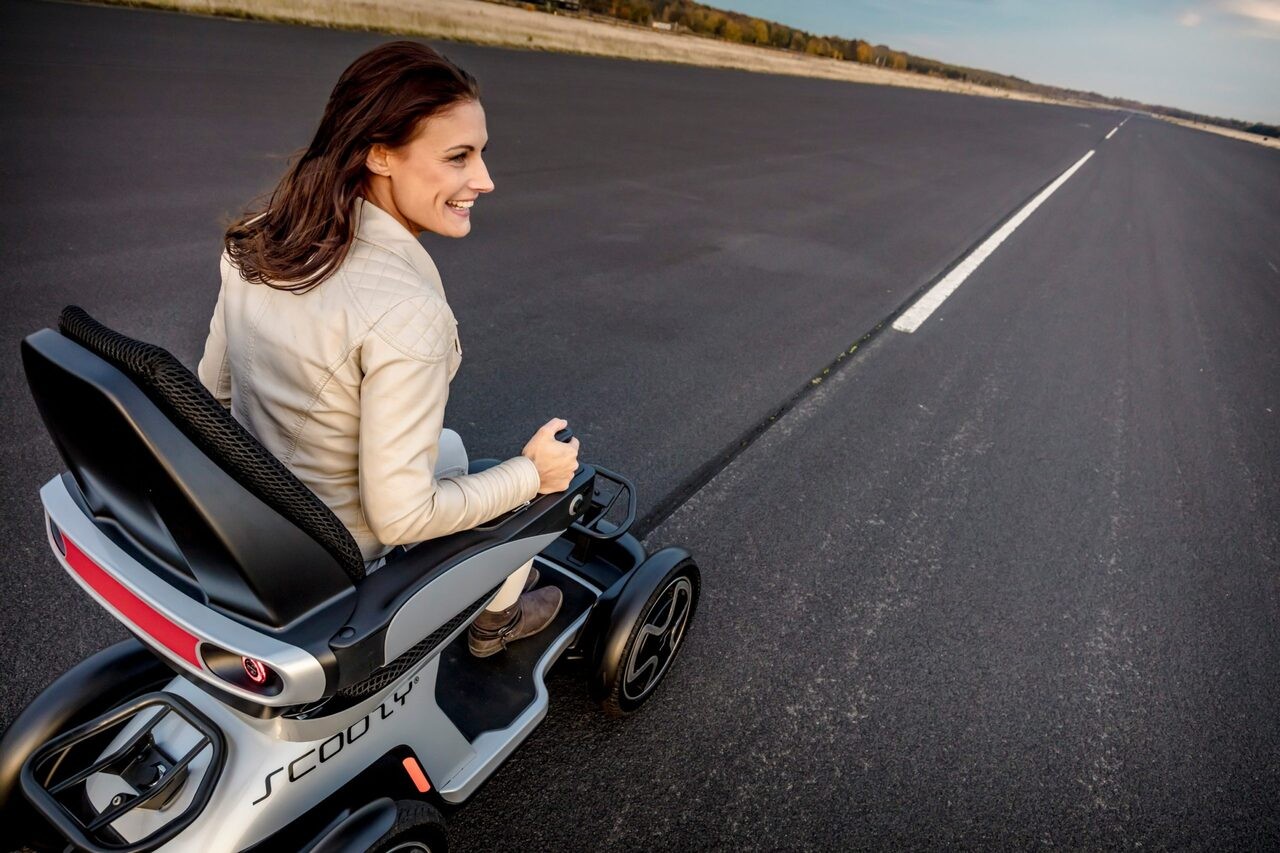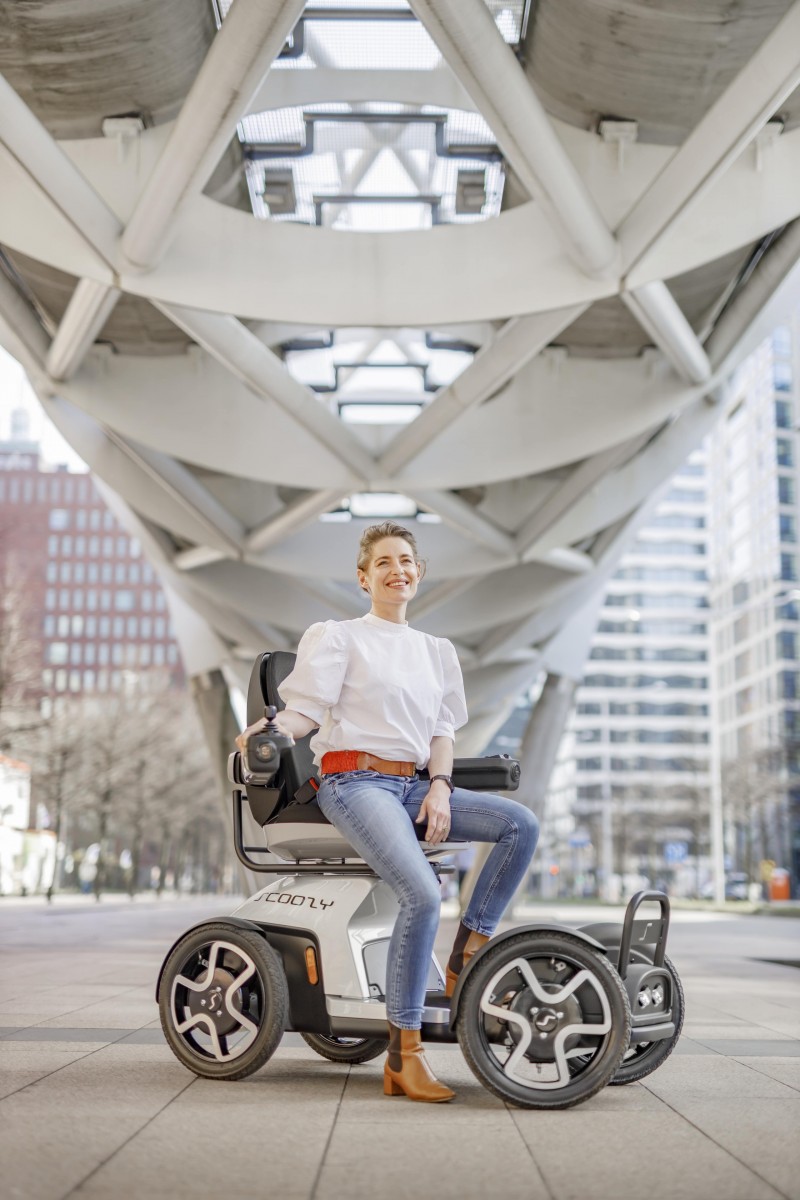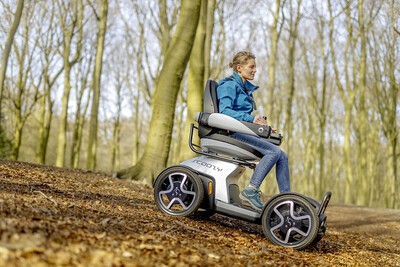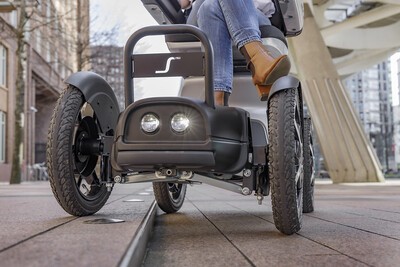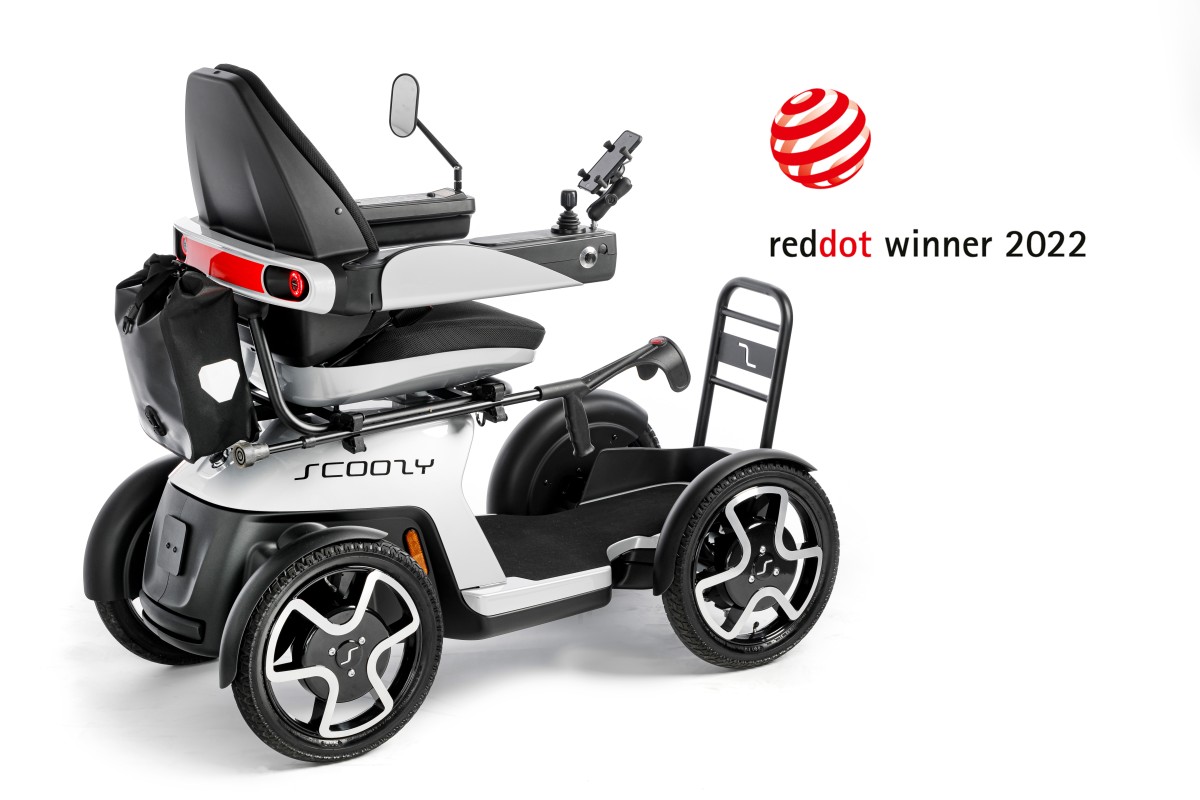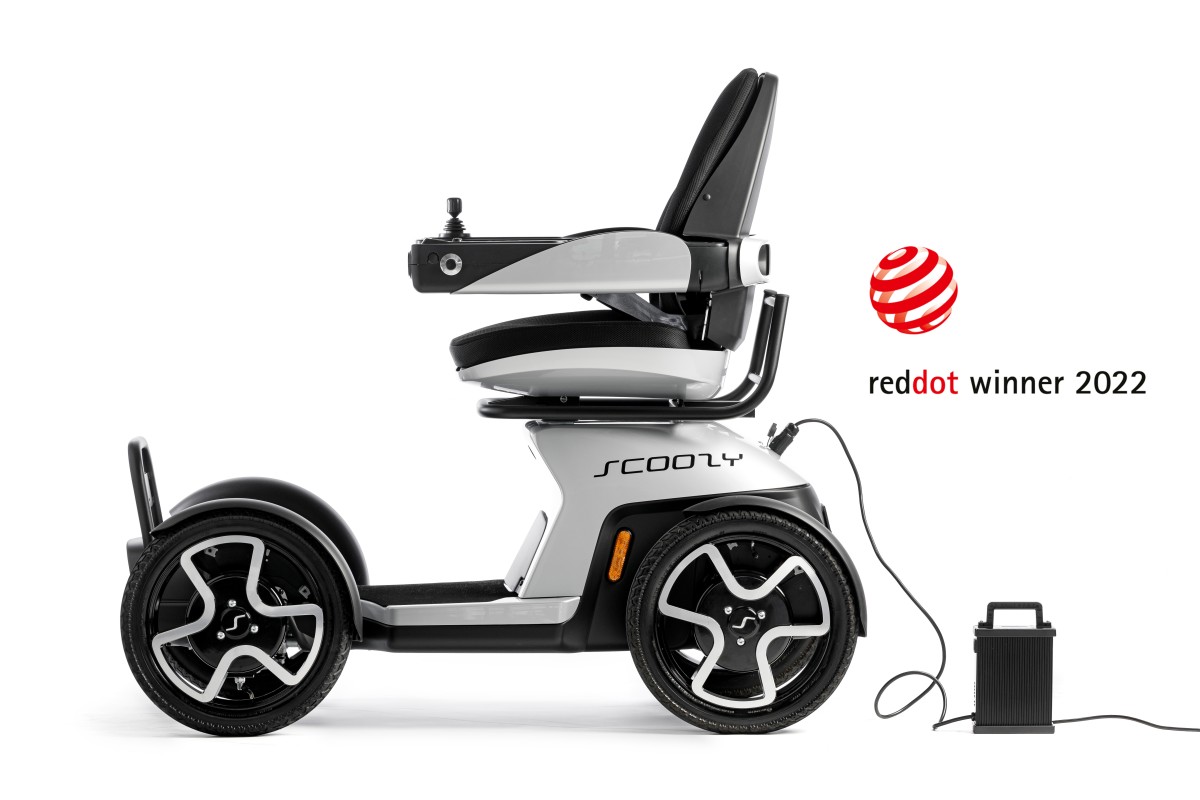 Scoozy C 2WD
Don't let the stigma of a mobility scooter stop you. Scoozy C 2WD is the latest alternative. A 4-wheel personal electric vehicle, with an innovative design and unique features. Experience the freedom and independence of electric mobility, in all circumstances.
Scoozy C 2WD is an electric mobility scooter designed as a means of transportation for a person weighing up to 150 kg. + 30 kg of luggage. With Scoozy C 2WD you can drive up to 100 km. Scoozy is not suitable for towing loads such as trailers.
Scoozy C has been awarded the international design award Red Dot Award 2022. The Red Dot Award is one of the largest and most prestigious design competitions in the world with previous well-known winners including Bose, Philips, Maserati and Sony.
Scoozy C 2WD can be used indoors, but is primarily designed for use outdoors, on paved or uneven terrain, bike paths, and sidewalks. Scoozy has been developed as a means of personal transportation. Thanks to the high-location LED lighting, Scoozy C 2WD can also be driven safely at night or in the dark. Scoozy C 2WD is a heavy duty scooter, with 4 large 16 inch wheels, that cannot be taken apart, folded or made smaller.
Scoozy C 2WD is the alternative to the conventional mobility scooter. Why? Because it's smart, safe, and fun. Conventional designs are not 100% safe and users sometimes feel stigmatized. Its modern look, redesigned suspension, 2-wheel drive and many other features make Scoozy the most advanced mobility scooter.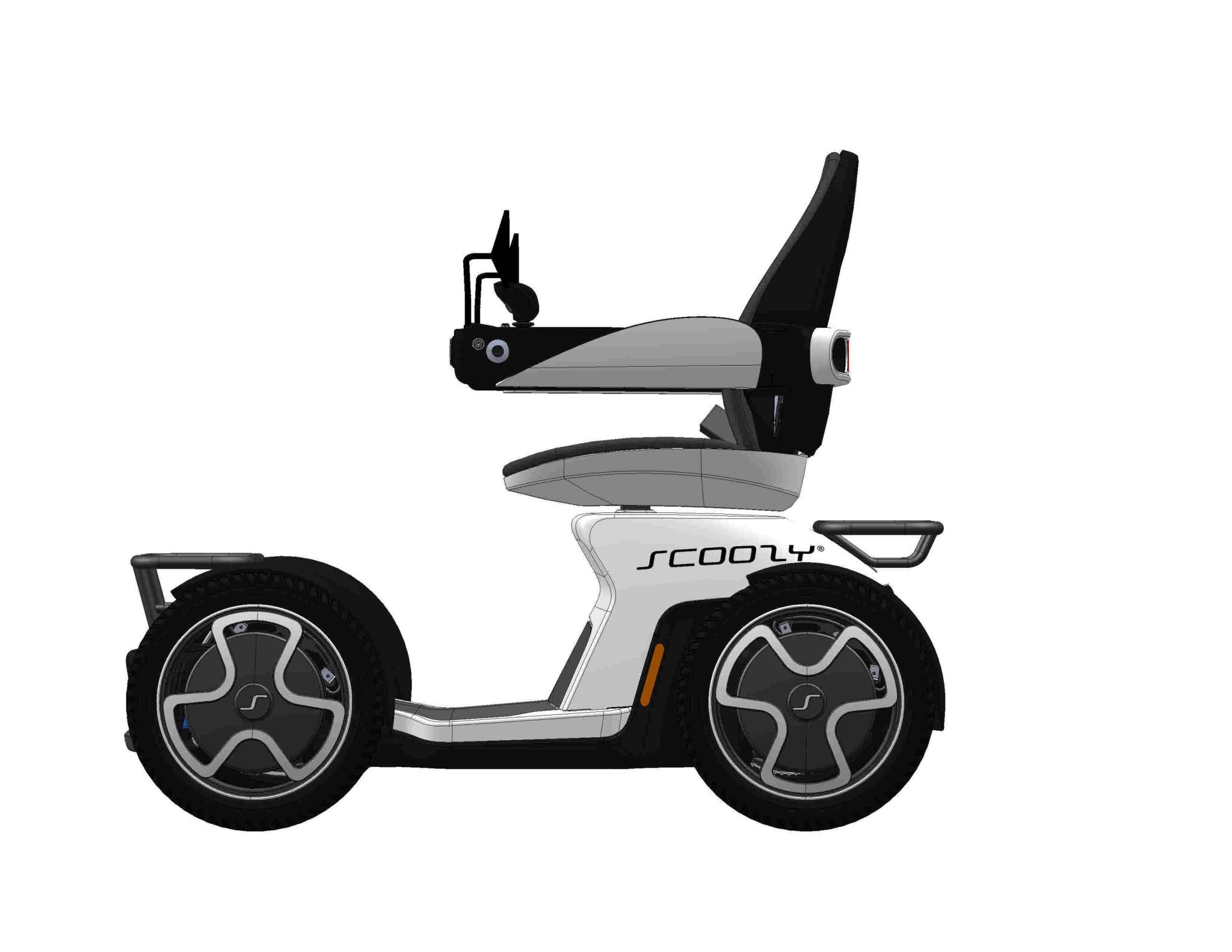 The intuitive wired joystick system allows excellent controllability while being more secure. Steering deviation is limited at higher speeds, avoiding rollovers. In addition, it is possible to make tight turns indoors using the advanced 2-wheel steering system. At Scoozy, giving mobility scooter users the same sense of freedom without fear or stigmatization is a priority.
Unique design
Design and functionality go hand in hand. The first thing you will notice is
the absence of the steering column
. "We don't want anything between you and the world." This is our vision - JAN WILLEM: DESIGNER.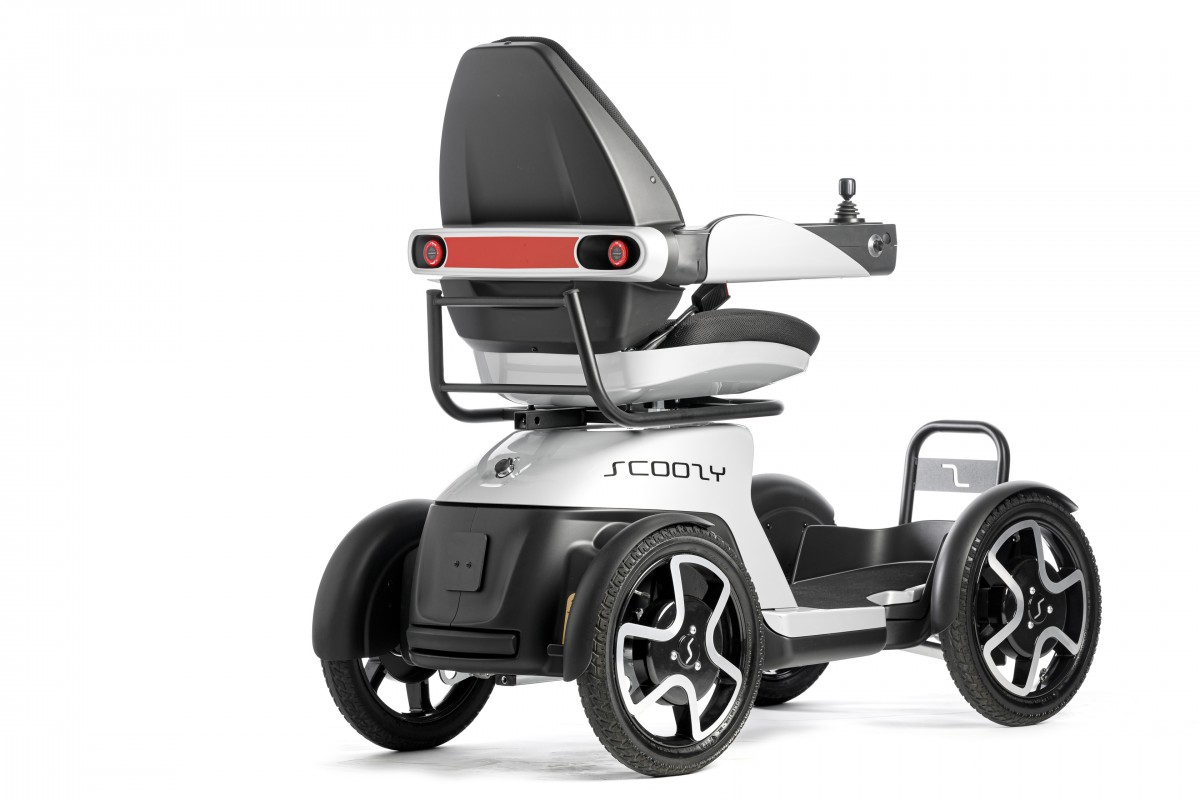 Control using just one hand
Stay in full control
Scoozy is designed in such a way that it is driven intuitively with a joystick. This is simple. Do you want to go forward? Just push the joystick forward. Do you want to go backwards? Pull the joystick back. This is how Scoozy does what you want. And that with minimal effort.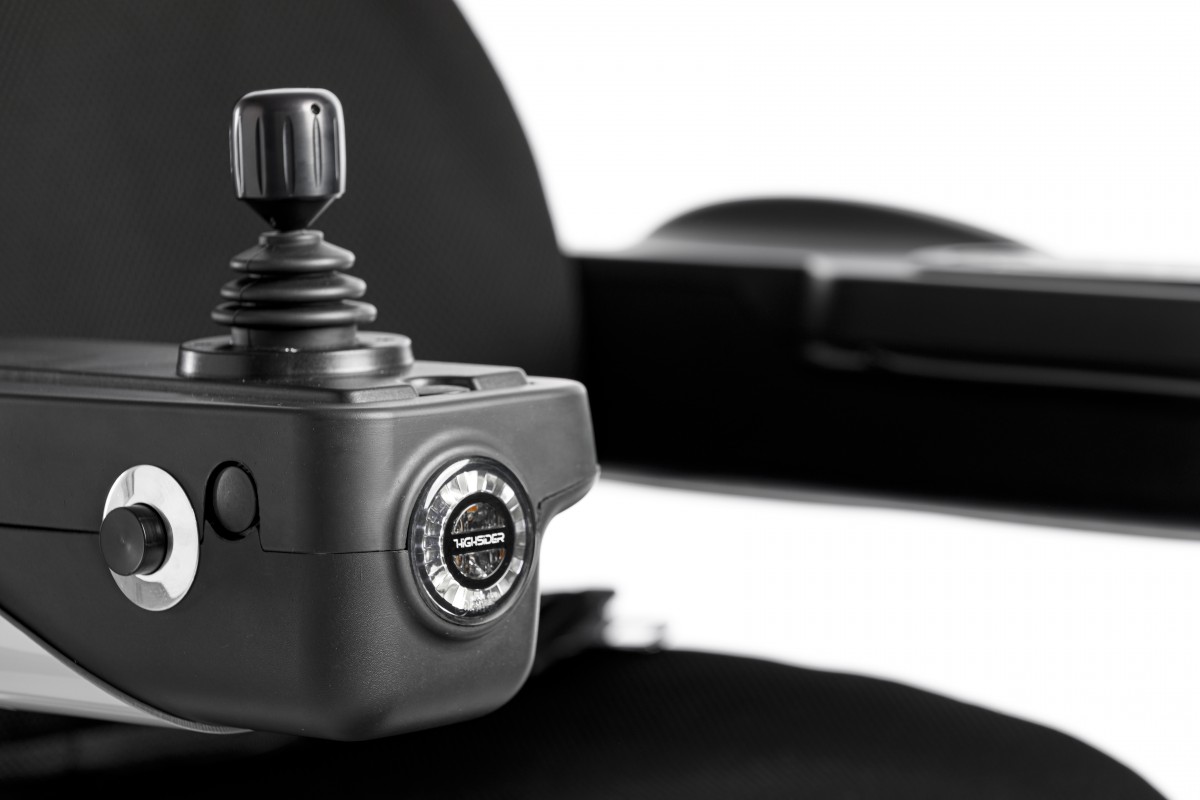 Go further
Unmatched innovation through standard equipment with a 48V, 33.8Ah Li-ion battery with a constant long range. Scoozy C 2wd's range can be doubled up to 100 km with an additional battery. Regenerative braking system makes Scoozy C 2WD energy smart. On the digital display you can see how many kilometers you have left on each trip: you always know where you are.
Drive with confidence
Design and technology are a perfect combination: protection without restricting your freedom. The joystick control system together with the 4 large wheels and the steering angle limiter ensure that you can drive with control and confidence, wherever you go.
Go anywhere
With scoozy you can go wherever you want. Thanks to a combination of independent suspension, a low center of gravity and great 2WD traction, you can ride around town with the same comfort as you can on rough trails in the woods. This open design offers direct contact with your surroundings, allowing you to fully enjoy your tours.
SUV
Scoozy will allow you unlimited freedom and reach places you would never have dreamed of before.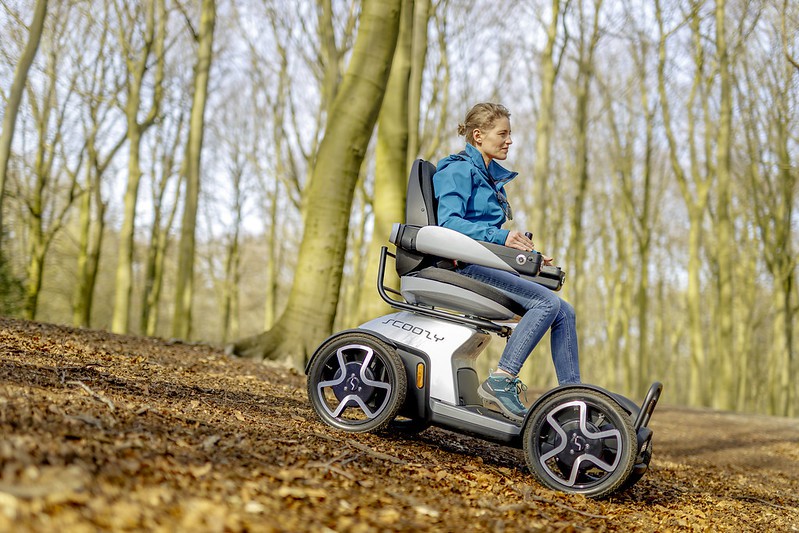 2WD drive
48V BLDC motors on wheels.
Big wheels
Scoozy has four large 16-inch wheels with striking rims. You can easily drive on any type of terrain
Independent suspension
Scoozy has four wheels with independent shock absorbers. Provides the best handling and comfort on any surface and makes your ride smoother than ever.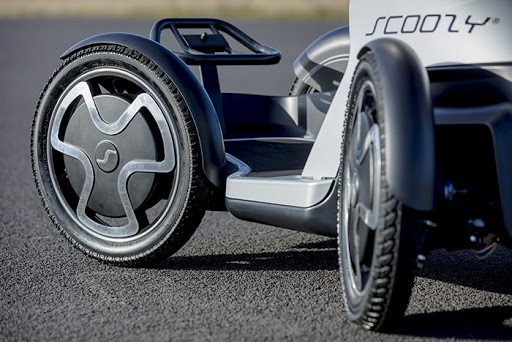 Autonomy
Up to 100 km.
LITHIUM ION ACCU
Scoozy has state-of-the-art lithium-ion batteries with a long service life and a long range of up to 100 km.
RELIABLE RANGE DISPLAY
You will never have the unexpected event of an empty battery because Scoozy displays a reliable driving range prediction on the screen.
REGENERATIVE BRAKING SYSTEM
You can drive even further thanks to the regenerative braking system, whereby the energy released when you brake is returned to the battery.
Safety
Security is freedom
STEERING ANGLE PROTECTION
Speed ​​and turning radius are automatically adjusted so you can never roll over with a sharp change in direction.
ACTIVE BRAKING
Brake safely thanks to the exclusive Active Brake Control. There is a backup braking system for added safety.
EXCELLENT VISIBILITY
With the LED lighting set high, one is well visible. Drive day and night with a clear view of whatever is ahead.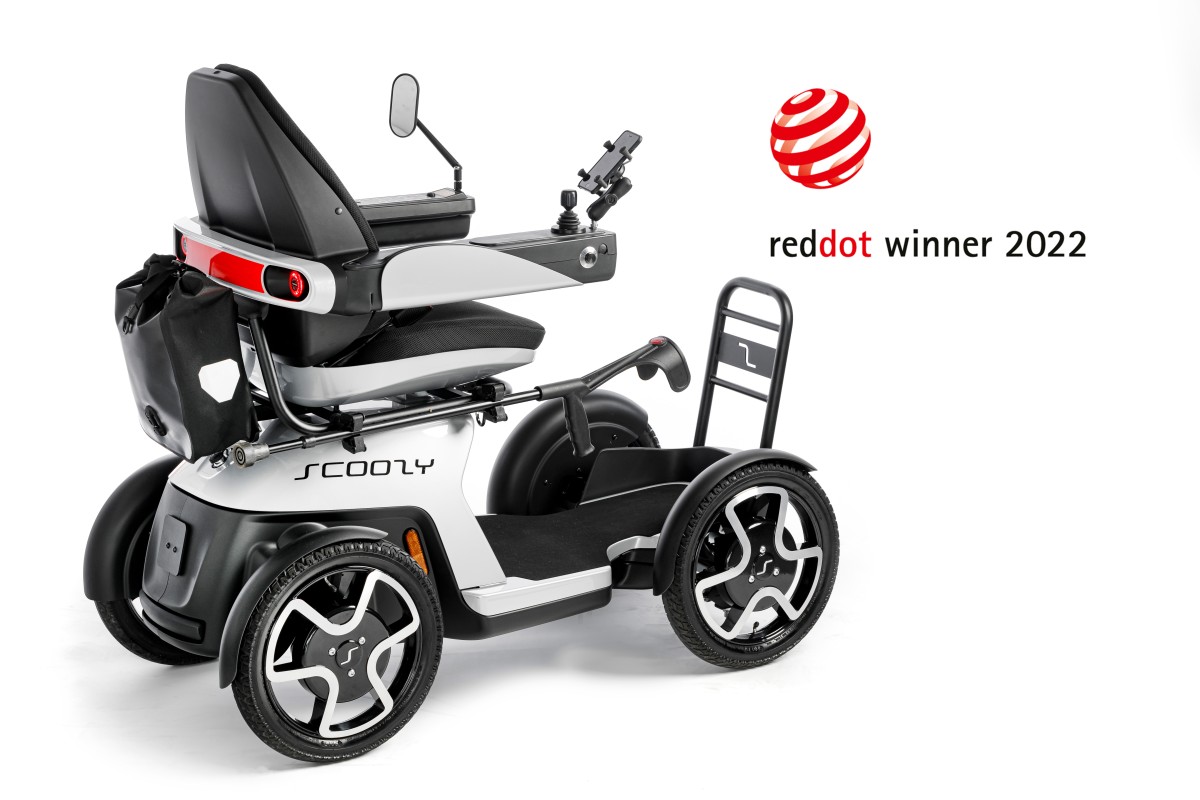 Accessories
Add the accessories you need to your Scoozy.
Certificates
Scoozy C 2 WD meets the following standards:
EN12184: 2014 Electric wheelchairs and scooters, class C.
ISO7176-4: 2008 On the autonomy of Scoozy batteries. The range will depend on the battery pack (single or double).
ISO7176-8 Requirements for resistance to impact, static and fatigue.
ISO7176-14 Requirements and test methods for power wheelchair controller systems.
ISO7176-21: 2009 Requirements and test methods for electromagnetic applications. compatibility of electric wheelchairs and motorized scooters.
EN 1021-2 Burning resistance requirements
11.995,00€
(21% VAT included)
REMEMBER: If you have a disability certificate greater than 33% degree, you are entitled to a VAT reduction on this product.
Free Shipping in Spain (peninsula).
Our physical store is located at Calle Cavanilles 7, 28007 Madrid.
Secure SSL Purchase (+info)
Returns: 15 days.
Need any assistance? Contact us +34 915701682
Financing:

Cetelem
From 3 to 60 months
Calculate your fee
Device type: EN12184, class C
Max. user weight: 150 kg
Max. luggage weight: 30 kg
Length x Width x Height: 1350 x 680 x 1250 mm
Weight 100 kg / 110 kg (2 batteries) / 115 kg (2 batteries + 4WD)
Battery (batteries) / Autonomy: 50/100 km
(single or dual battery pack): Battery capacity (selectable): Li-Ion, 48 V, 33.8 Ah / 67.6 Ah
Max. charging power: 10 A (charger included 5A)
Charging time: autonomy of 7 km per charging hour (RPH)
Operating temperature: -25℃ + 50 ℃ (Relative humidity 0% 98%)
Storage ambient temperature: -40 ℃ + 85 ℃ (relative humidity 0% 98%)
Max. speed (programmable): 15 km/h
Max. lean angle / dynamic stability uphill: 10°
Static Stability Up / Down / Sideways: 15°
Max. height of ascent / descent of obstacles: 100 mm
Turning radius: 1300 mm
Minimum turning radius: 2000 mm
Wheel Size: 16" X 2.5" (62-305)
Tire type: CST
Axle horizontal location: 203mm
Motor: transaxle transmission, 1400 W, gear ratio 1:21
Front motor (optional): 2x BLDC on wheel, 250W
Magnetic brake: 10 Nm, on transaxle
Min. Braking distance at maximum speed: 4.5 m
Water resistance: Scoozy is splash proof
Sound power level: 60 dB
Seat depth: 44 cm
Seat width: 45 cm
Seat height: 41/43 (standard) / 45 cm
Seat angle: 2°
Backrest angle: 15°
Backrest height: 550 mm
Seat armrest height: 220mm
Armrest distance from back to backrest: 500mm
* Data provided by the manufacturer.
Warranty: There is a 2 years warranty on the battery for production errors. The life time of the battery is not guaranteed. However, to give an indication of life time it can be expected that the battery has 70% of its original capacity left after 20,000 km, or 500 charging cycles (whichever comes first) when used carefully.
21% VAT and transportation included
Free shipping for orders shipped to Peninsular Spain. Please contact us for orders shipped to the Spanish islands and to other countries.
Reduced VAT rate (4%) will be applied to customer provided 33% disability certificate (or higher degree)