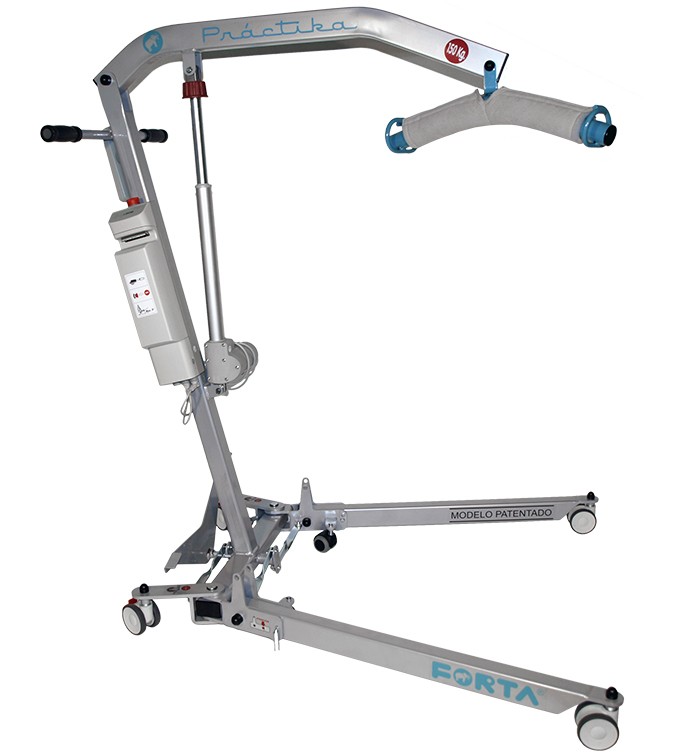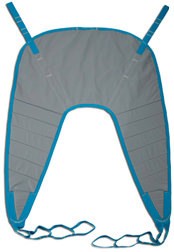 Praktica Electric Hoist
Forta's Practika lifting hoist is unique in the market thanks to several features such as its folding and its patented leg opening system. The folding system of this hoist allows it to be folded and unfolded without problem by a single person, without the need to use any type of tools.
The patented leg opening system is based on the fact that, after unfolding the lift, when we open the front legs, the rear legs, instead of closing or pushing inwards, also open, gaining great stability. The wheels of these legs include a brake, easily operated with the foot.
Forta manufactures various sizes of harness for this crane, to adapt to different people. All the materials in which these slings are made are of the highest quality and are designed not to damage the skin of users, who may have it sensitive and / or weak.
Because the Praktica lifting hosit and our standing lift have the same structure, one can be converted into the other, thanks to our conversion kits. These include the harness, the arm and any necessary parts, going from one of our lifts from standing to lifting, or vice versa.
- Opening in compass of all its legs.
- Great stability.
- Simple total folding of arms and legs
· The boom is lowered first.
· Then the front legs are raised.
- It becomes the smallest in space on the market.
- Easy to store or save.
- Detachable battery box.
- Convertible to standing by simply changing the arm (more information).
- 30-35 cycles for each full charge.
- Sling is included
945,00€
(10% VAT included)
Free Shipping in Spain (peninsula).
Our physical store is located at Calle Cavanilles 7, 28007 Madrid.
Secure SSL Purchase (+info)
Returns: 15 days.
Need any assistance? Contact us +34 915701682
Financing:

Cetelem
From 3 to 60 months
Calculate your fee
HEIGHT MAX: 1830 mm
TOTAL WIDTH: 970 mm
LIFTING CAPACITY: 150 kilograms
MOTOR: 6000 N
FOLDED HEIGHT: 1290 mm
FOLDED WIDTH: 530 mm
TOTAL LENGTH: 1200 mm
CRANE WEIGHT: 39.5 kg
MIN HANGER HEIGHT: 300 mm
* Data provided by the manufacturer.
Warranty: 2 years
10% VAT and transport included
Free shipping for orders sent to mainland Spain. Contact us for orders shipped to the Spanish islands and other countries.