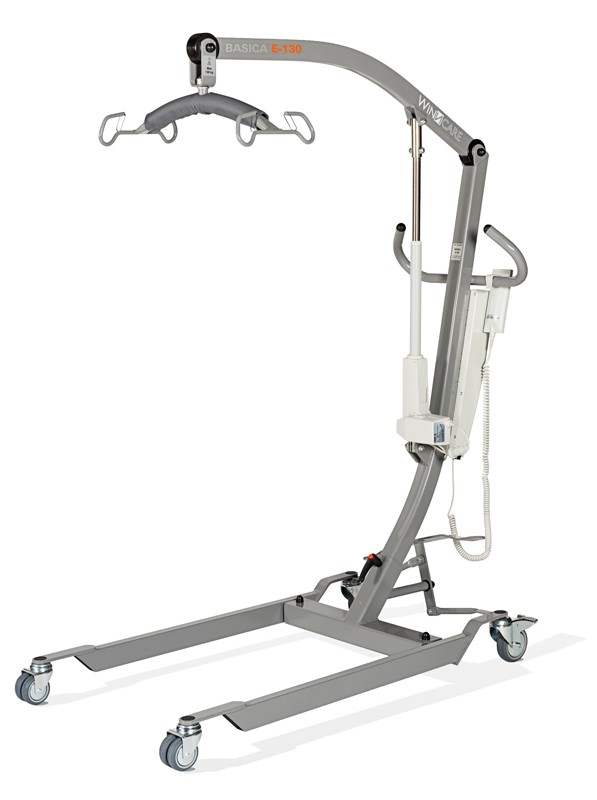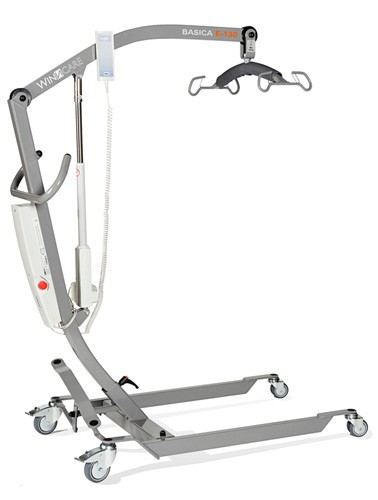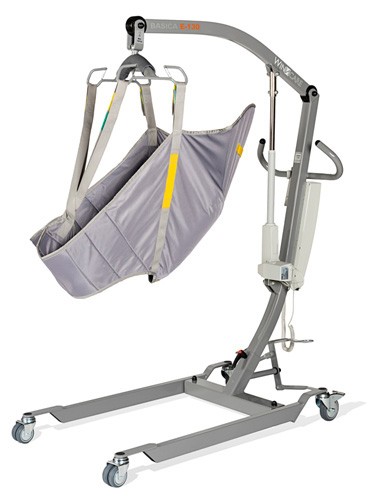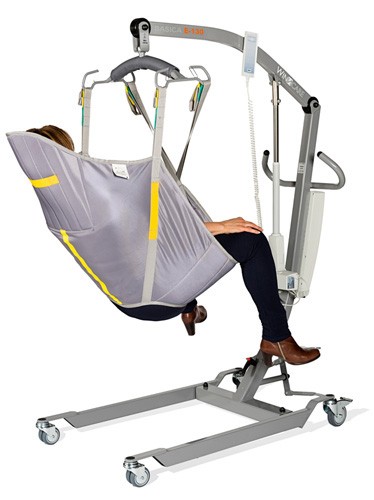 E130 Hoist
E130 Hoist is indicated for transferring or moving people with disabilities or limited mobility. It is secure for the user but also for the carer.
The E130 hoist is a basic hoist that offers great stability and strength. It is easy to maneuver through doors and corners of the house. The E130 hoist is electric and very complete, functional and at the best price. Supports up to 130 kg.
Rechnical details - E130 Hoist
+ Maximum user's weight: 130 Kg
+ Maximum lifting range: 174 cm
+ Minimum lift range: 50 cm
+ Total length: 110 cm
+ Width of closed legs open: 70 CM / 80 cm
+ Hoist height to ground: 12 cm
+ Hoist weight: 35.80 Kg
Key Features - E130 Hoist
+ Transfer from bed to wheelchair
+ Its arm allows a person to be lifted from the floor
+ Light and easy to dismantle in two parts
+ Its pedal opening system allows easy access to wheelchair
+ Rechargeable, large standby batteries and emergency shutdown system
+ Maximum lifting weight: 130 Kg
Features - E130 Hoist
The E-130 is a lifting and transfer hoist for people with basic disabilities but with great benefits. Among its features is the wide travel of its arm, capable of picking up people from the ground with the hanger and with a lifting range of up to 168 cm.
It is Comfortable for the caregiver because its double wheels allow a smooth ride. It is narrow (65 cm) and with a total length of 110 cm. It is also comfortable for the user: the hanger allows a free space in the crane arm so that the user does not hit his legs.
The E130 Hoist is a a Heavy duty hoist thanks to the materials it is made of and its Linak motor. It is very light: it only weighs 36 kg but is capable of supporting a load of up to 130 kg. Light and compact, it is a very practical electric hoist to use both at home and in residences. Stable and strong hoist for patients, will be at the height of your day to day.
Easy-to-assemble and transport - E130 Hoist
+ The E-130 is a 2-part demountable hoist, making it easy to transport and store.
+ Although it is a basic transfer crane, no detail in performance and safety is neglected.
+ Cushioned and secure hanger thanks to the fasteners that include an anti-exit system.
+ Control box with emergency stop and integrated led that indicates the status of the load.
+ Audible alarm that warns of low battery.
+ Electric emergency lowering system.
Winncare hoist sling types - E130 Hoist
- Mesh sling (blue) - standard: made of plasticized PVC, this harness allows the user to bathe and dries quickly.
- 3D padded sling (black) - Optional. It has a more comfortable fabric; ideal for those seeking more comfort.
- Fletty sling (gray) - Optional. Thanks to its polypropylene fabric, the Fletty harness offers the patient greater softness.
You can see all the features of the E130 Hoist watching the following VIDEO
795,00€
(10% VAT included)
Free Shipping in Spain (peninsula).
Our physical store is located at Calle Cavanilles 7, 28007 Madrid.
Secure SSL Purchase (+info)
Returns: 15 days.
Need any assistance? Contact us +34 915701682
Financing:

Cetelem
From 3 to 60 months
Calculate your fee
Minimum height of the hanger: 50 cm
Maximum height of the hanger: 174 cm
Depth: 110 cm
Minimum width: 70 cm
Maximum width: 80 cm
Height from ground to base: 12 cm
Maximum user weight: 130 kg.
Double front wheels diameter: 7.5 cm
Rear wheels diameter with brake: 10 cm
Standard: ISO 10535 EN 12182
Motor: Linak IP54
Weight: 35.8 kg
* Data provided by the manufacturer.
Warranty: 2 years and 6 month on the battery
10% VAT and transportation included
Free shipping for orders shipped to Peninsular Spain. Please contact us for orders shipped to the Spanish islands and to other countries.