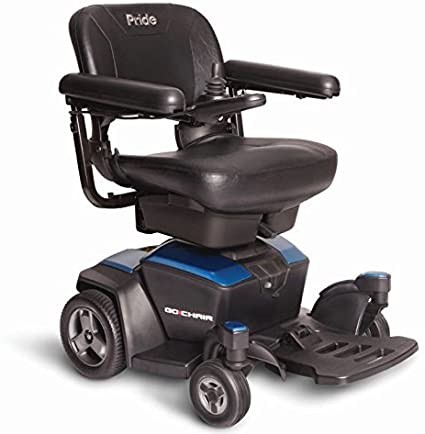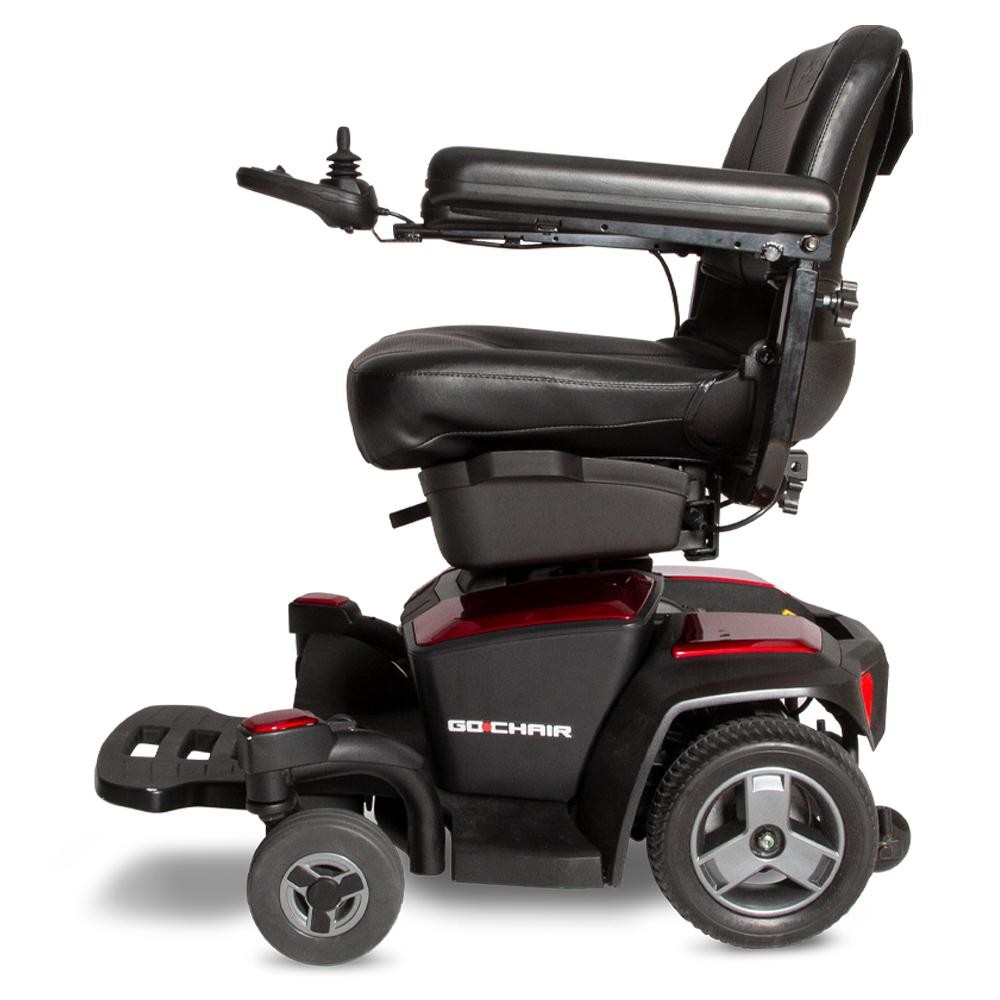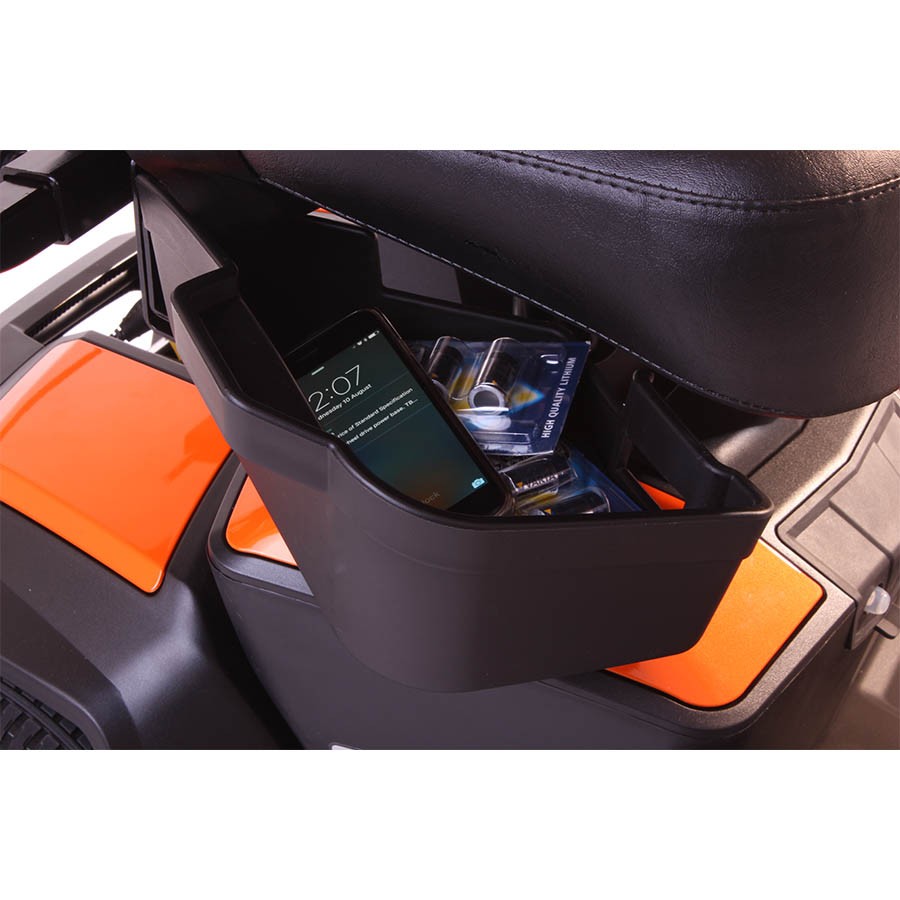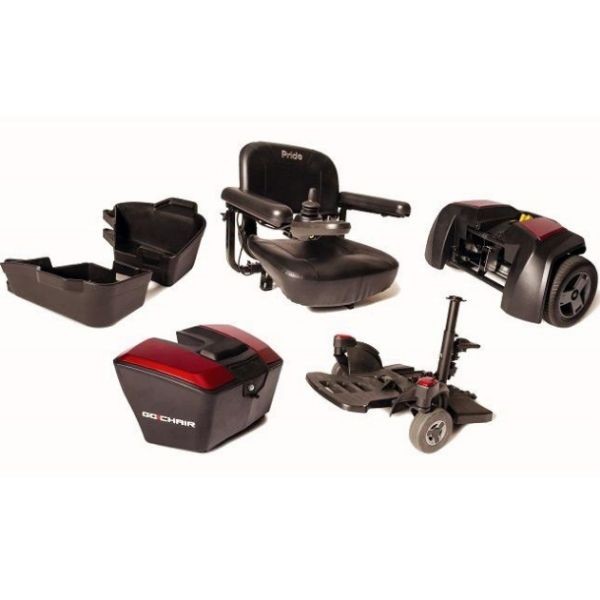 Pride Go Chair
The Pride Go Chair® Electric Wheelchair has been re-designed from the ground up. This new model offers a style available in a range of contemporary colors. Improved performance and comfort, along with easy disassembly into lightweight loose parts, allows for lightweight travel enjoyment and independence on the go.
Pride Go Chair® comes with an increased weight capacity of 136KG. And a sleek, bold look the Go Chair® makes traveling easy.
Description
Pride Go Chair® is number one in portability! With a convenient and quick disassembly. Enjoy two folding storage compartments and a compact turning radius for exceptional maneuverability. Available in a variety of contemporary colors, it's time to go out with the Go Chair®!
Characteristics
Its swivel seat is 5 points and measures 45cm x 43cm.
Maximum speed of up to 5.95 km / h.
Its batteries are 18Ah (standard)
Its agility has been improved thanks to the longer wheelbase. Its compact turning radius is 64.5 cm.
It has 2 storage spaces under the seat (see image).
Its armrest is adjustable. Its footrest is in one piece and is foldable.
It has a 152 cm seat belt.
2.448,00€
(10% VAT included)
REMEMBER: If you have a disability certificate greater than 33% degree, you are entitled to a VAT reduction on this product.
Free Shipping in Spain (peninsula).
Our physical store is located at Calle Cavanilles 7, 28007 Madrid.
Secure SSL Purchase (+info)
Returns: 15 days.
Need any assistance? Contact us +34 915701682
Financing:

Cetelem
From 3 to 60 months
Calculate your fee
Rear wheels: 9" (solid)
Front wheels: 6" (solid)
Anti rollover: 3"
Maximum speed: Up to 5.95 km/h
Ground clearance: 4.2 cm to anti-tip bracket / 4.8 cm to base of frame
Turning radius: 64.5 cm with footrest
Length: 83.82 cm to the forks
Width: 57.4
Seat type: Foldable, compact and lightweight
Height from seat to floor: 100 cm
Batteries: 12V Deep cycle (2) 18 Ah (standard)
Autonomy: 18 Ah: Up to 14.06 km
Charger: 18 Ah: external, 2 amp
Electronics: 40 amp, PG GC3 (not programmable)
Weight capacity: 136 kg
Chair weight: 30 kg (total)
Seat weight: 13.6 kg
Base weight with batteries: 14.06
Suspension: Limited
Heaviest parts once disassembled: 16.3 kg
* Data provided by the manufacturer.
Warranty: 2 years and 6 months on the batteries
Contact us to see different optional accessories for this wheelchair
10% VAT and transportation included
Free shipping for orders shipped to Peninsular Spain. Please contact us for orders shipped to the Spanish islands and to other countries.
Reduced VAT rate (4%) will be applied to customer provided 33% disability certificate 33% (or higher degree)
Related Products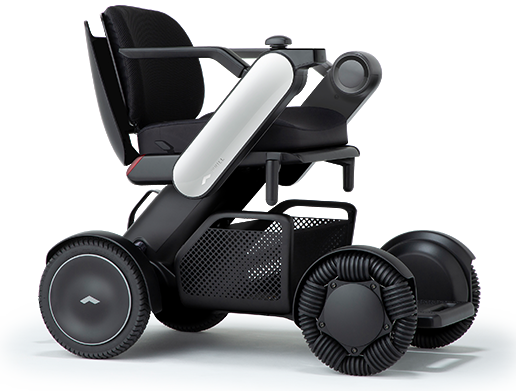 Outdoor versatility, speed, long range, shock absorbers and ability to quickly disassemble to transport in any car.
VAT included - Free Shipping