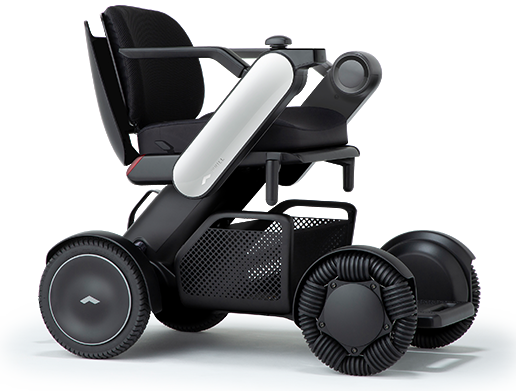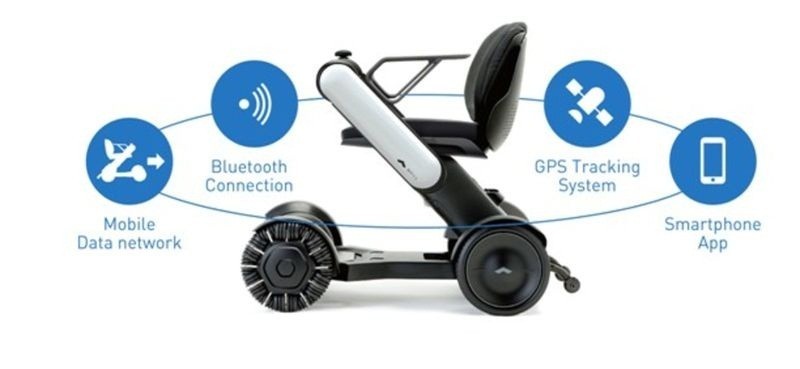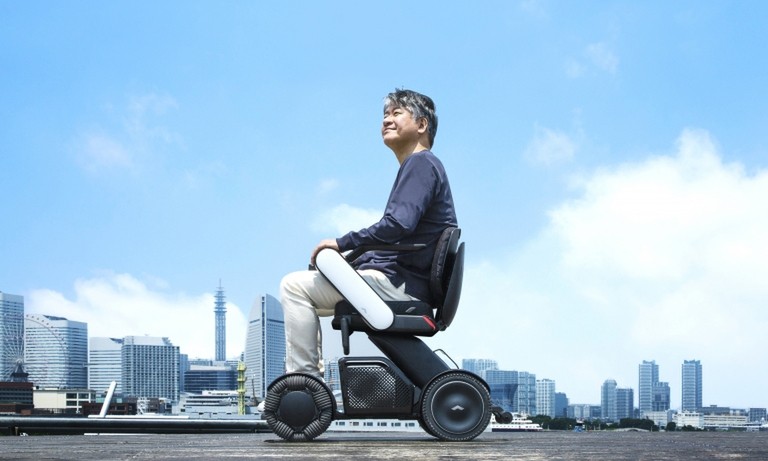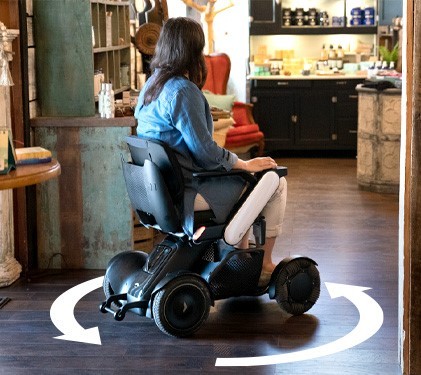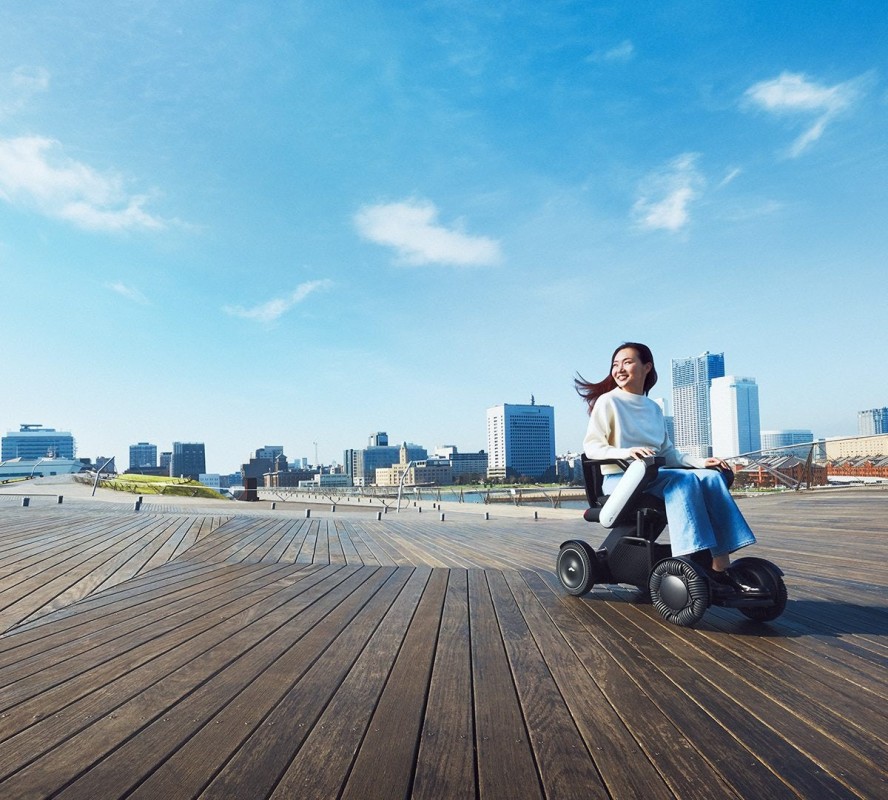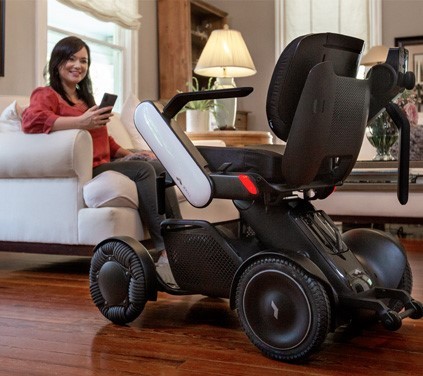 WHILL Model C2
The new WHILL Model C2 will give you a new dimension of freedom and desire to continue exploring and participating in the things you love. You will enjoy many outdoor adventures and indoor activities. WHILL Model C2 will accompany you on all your trips. Impressive power, smart technology and exceptional handling,
WHILL Model C2 now incorporates 4 shock-absorbers. It is easy to disassemble and it is an ultra-light electric wheelchair that can maneuver in the tightest spaces with a significantly smaller footprint. This personal EV device handles perfectly in tight spaces thanks to a 45% shorter turning radius. The anti-roll feature helps keep the device straight on side slopes, while the electromagnetic brakes provide a smooth and safe stop, even on slopes. The WHILL Model C2 wheelchair can use an iPhone and Android application to drive by remote control, lock / unlock the device to keep it safe and choose the most suitable driving mode for you. It also provides access to key device information and battery status to ensure the wheelchair is working properly.
The Model C2 outperforms its predecessor, Whill Ci, in almost every area. It incorporates suspension to the 4 wheels that offers more support when driving over longer distances. It has a longer range (up to 11 mile) on a single charge, thanks to its new 10.6Ah lithium battery. It also supports up to 136 kg of weight of a user. It also incorporates security details and improved visibility. It has been redesigned to make it easier for the user to get in and out of the seat, as the armrests fold down very comfortably and quickly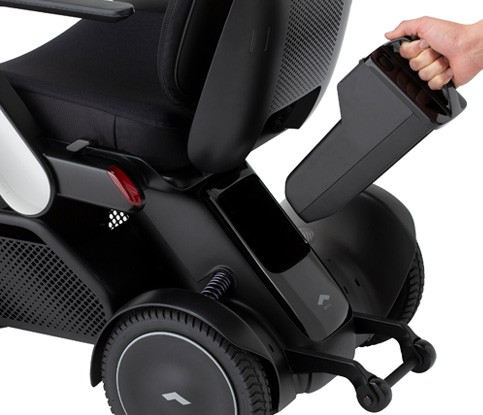 The WHILL Model C2 removable ultralight electric wheelchair can raise / lower obstacles up to 5 cm in height with the help of its two powerful motors and large front omni-wheels. The device's power management, the 4 speed settings, the safety horn and the battery life indicator are easily accessible from the control panel. On the WHILL Model C2 you can easily adjust the depth and height of the seat and the position of the joystick (right or left) to better suit you and create a comfortable driving experience. The armrests fold down easily for easy access (transfers) and barrier-free access to a table. You can receive voice prompts to inform you if the chair has an operational error.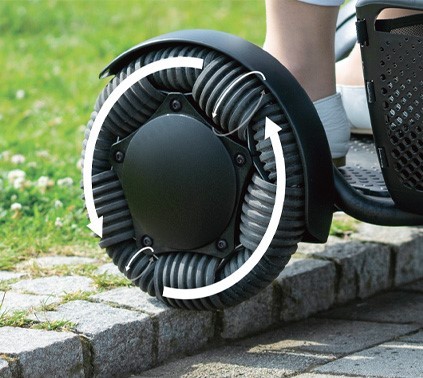 You can choose among the folliwing color options: white, gold, red, navy blue, gray and black
Indoors
Short Wheelbase, Narrow Frame
Responsive Controls
Tight Turns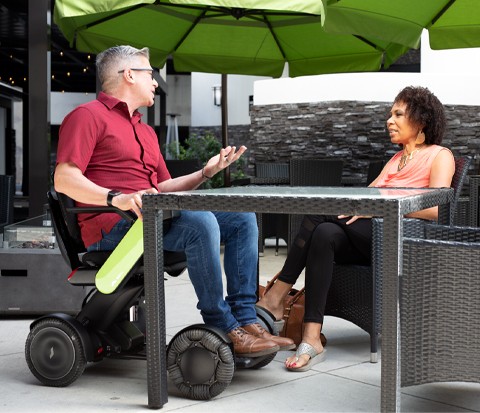 Outdoors
Up to 5 MPH, 11 Mile Range
Superb Stability & Durability
2" Obstacle Clearance
Features
Short turns
Sensitive controls
Clear obstacles up to 5 cm
Up to 5 km / h, a range of 18 km
Excellent stability
Possibility of transporting it in any car.
Short wheelbase, narrow chassis
Lock / Unlock with optional smart key
Ergonomic joystick provides all-day comfort
Armrests fold easily
Seat widths of 40 cm, 45 cm and up to 50 cm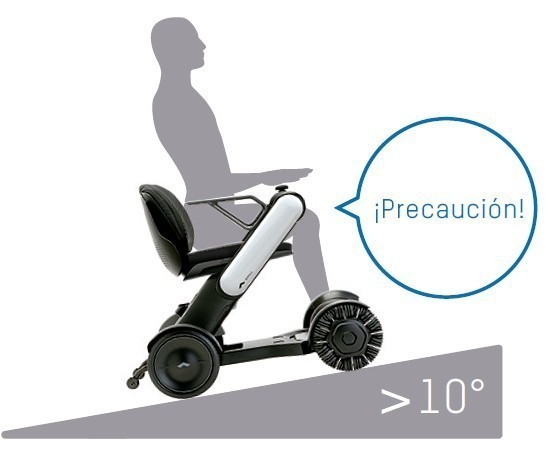 Includes
USB port
Armrests
Built-in horn
Seat cushion
Battery charger
Built-in USB port
Back cushion
Voice activated error messages
Storage under the seat (18 l.)
Lithium ion battery [25.2V 10.6 Ah]
IPhone and Android app * (connects via Bluetooth)
Big Advantages In A Compact Frame
Drive across town and into your local cafe with the greatest confidence knowing Model C2 will easily power over the terrain ahead and comfortably fit into any environment.
1. Maneuver through tighter spaces with a significantly smaller footprint than traditional power mobility devices.
2. Navigate close quarters with a 45% smaller turning radius than tiller controlled mobility devices.
3. Travel unhindered over rough terrain with a 2.25" ground clearance.
4. Effortlessly climb over obstacles up to 2" in height with its two powerful motors and large front omni-wheels.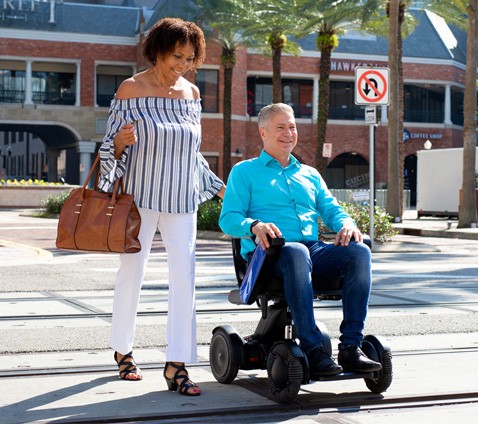 Go Out and Adventure!
Live unpredictably and go where your heart desires with Model Model C2 outdoor versatility, speed, long range and ability to quickly disassemble to transport in any car.
Disassembles in less than 10 seconds!
Just three simple steps and three lightweight components.
Front Drive Base: (33 LB)
Rear Drive Base: (42 LB*)
Seat Assembly: (31 LB**)
*Without battery. Battery weighs 6 LB. **Seat Assembly: 16: seat width = 31 LB / 18? seat width = 33 LB.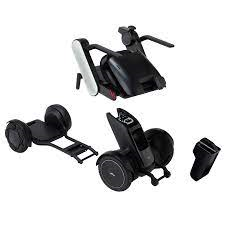 The Latest Technology at Your Fingertips
Enjoy greater peace-of-mind and independence, and receive premium support with the embedded intelligent innovations, such as the very latest in bluetooth controls and 3G connectivity. Use the iPhone and Android* app to remotely drive Model Model C2, lock/unlock to keep it secure, and choose a drive mode that's right for you.Also, access key device information and battery health to ensure your Model C2 is operating at its best.
- Charge your mobile devices with the built-in USB port.
- Lock/Unlock with the optional Smart Key.
Find Your Perfect Style
Choose from six colors and great selection of accesories to match your personal style and to enhance your active lifestyle.

Safe & Secure
A responsive, ergonomic and simple to use controller allows you to navigate your world effortlessly and enjoy all-day comfort. Keep engaged in your activities and embrace your surroundings by knowing Model C2 will provide the necessary response and feedback to keep you riding safe.
Ergonomic controller provides all-day comfort.
+ Device power, 4 speed settings, safety horn and battery life indicator easily in reach.
+ Voice notifications alert you when Model C2 encounters operational errors.
+ Footplate folds up, and arms easily rotate out of the way for easy access and barrier-free use at tables.
+ Electromagnetic brakes provide smooth and safe stopping, even on inclines.
+ Anti-sway feature helps keep the device driving in a straight line on side slopes.
The Right Fit
Model C2 can be easily adjusted from the seat depth and height to the controller position (right or left drive), to fit you and create a comfortable driving experience.
Joystick
The joystick position can be adjusted for left and right handed.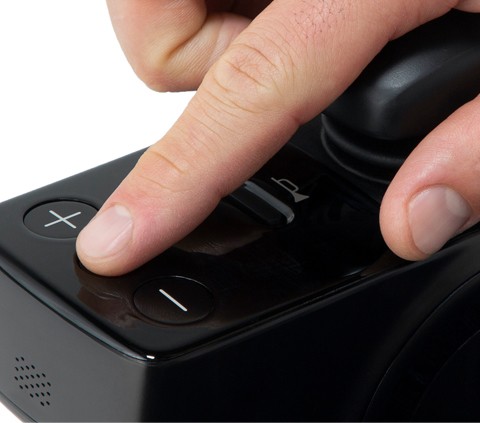 5.417,50€
(10% VAT included)
REMEMBER: If you have a disability certificate greater than 33% degree, you are entitled to a VAT reduction on this product.
Free Shipping in Spain (peninsula).
Our physical store is located at Calle Cavanilles 7, 28007 Madrid.
Secure SSL Purchase (+info)
Returns: 15 days.
Need any assistance? Contact us +34 915701682
Financing:

Cetelem
From 3 to 60 months
Calculate your fee
Maximum user weight: 136Kg.
Total weight of the chair: 52.8 kg.
Seat weight: 16 kg
Weight Front: 15 kg
Weight Front: 20 kg
Seat width: 40 cm | 45 cm | 50 cm
Seat depth: 40 cm | 45 cm
Total width: 55 cm
Total Length: 98.5 cm
Height from floor to base: 57mm
Front Wheel Size: 9.8"
Rear Wheel Size: 10.5"
Tire: anti-puncture
Turning radius: 76 cm
Maximum slope: 10 degrees or 17.6%
Maximum speed: 8 km/h
Autonomy: 18 km
1 X Li-ion Battery (25.3V x 10.6Ah)
Battery charge cycles ~ 1,000
Wh battery: 269 Wh
Full charge time: 5 hours
Fairing Color: 6 Options (White, Gold, Red, Navy, Gray and Black)
Warranty on the chassis: five years
Electronics warranty: one year
Warranty on battery: Six months
* Data provided by the manufacturer
Warranty: 2 years and 6 months on the batteries
10% VAT and transportation included
Free shipping for orders shipped to Peninsular Spain. Please contact us for orders shipped to the Spanish islands and to other countries.
Reduced VAT rate (4%) will be applied to customer provided 33% disability certificate 33% (or higher degree)