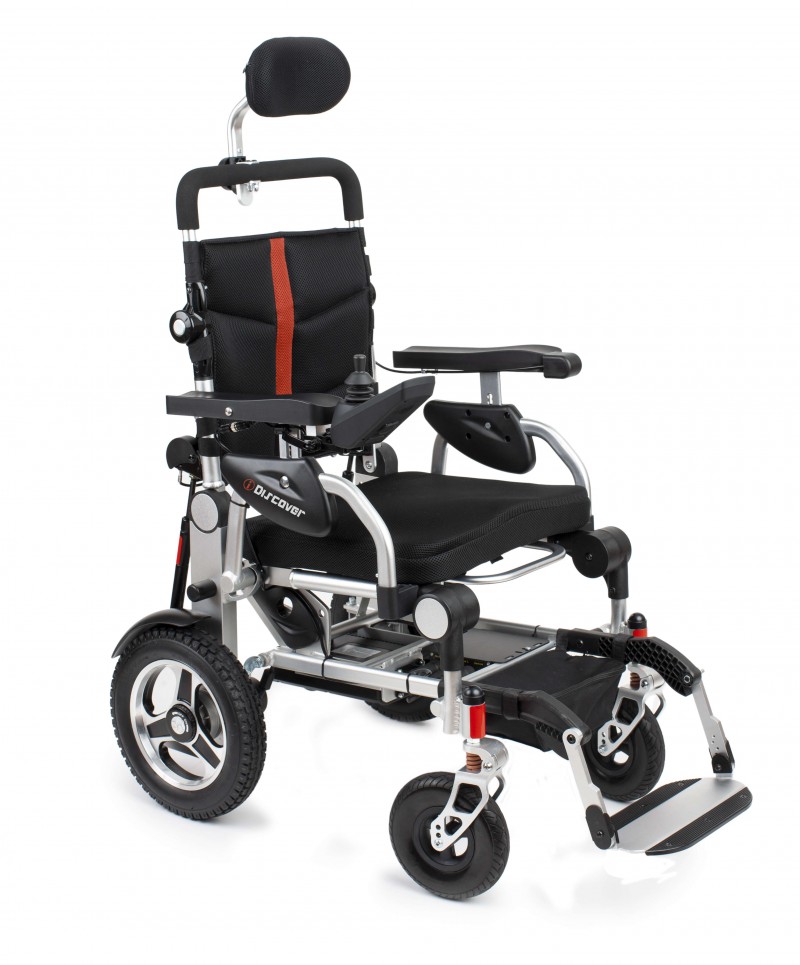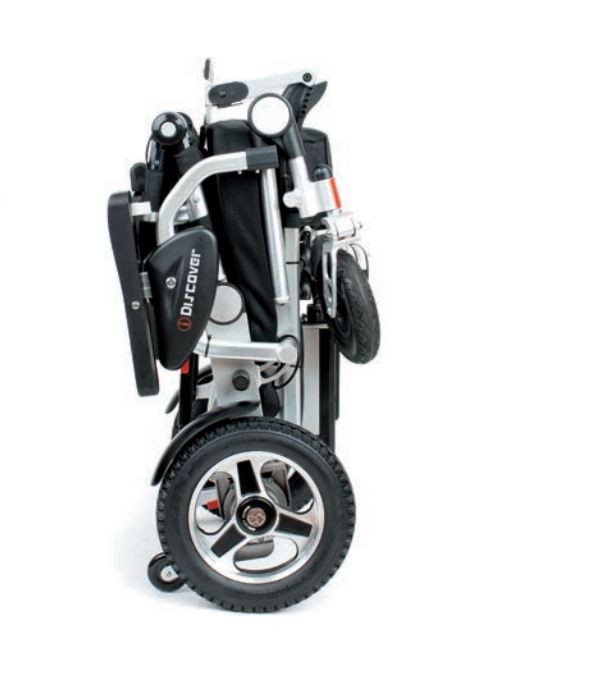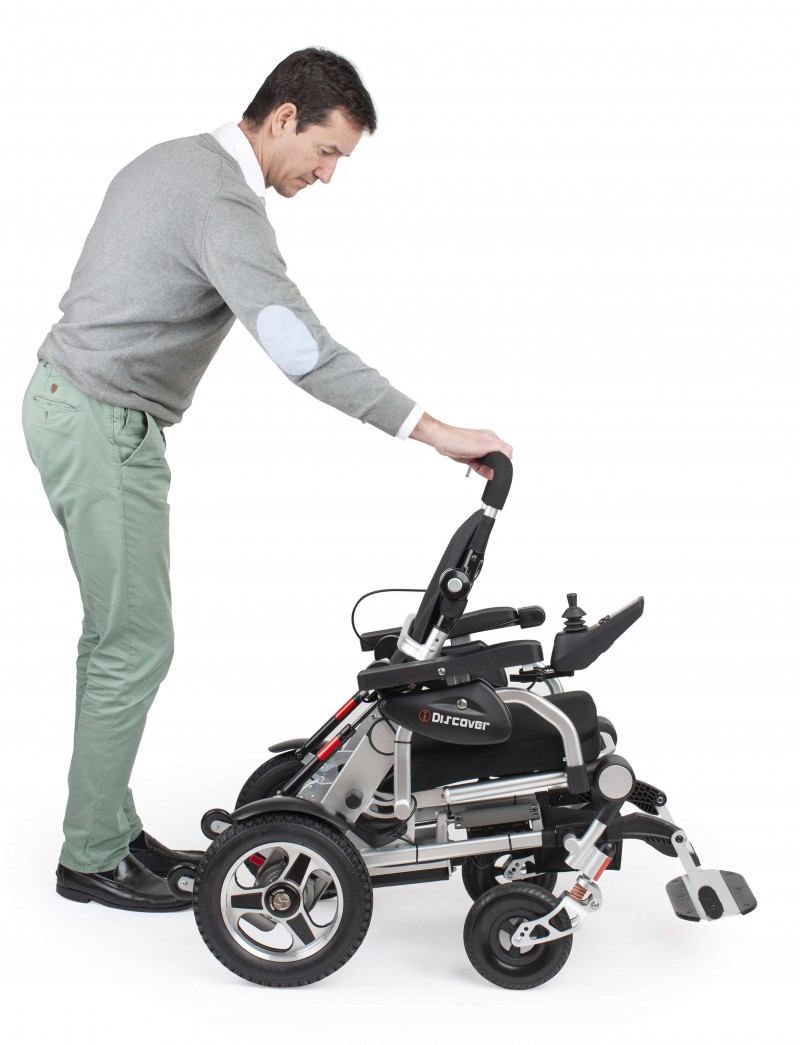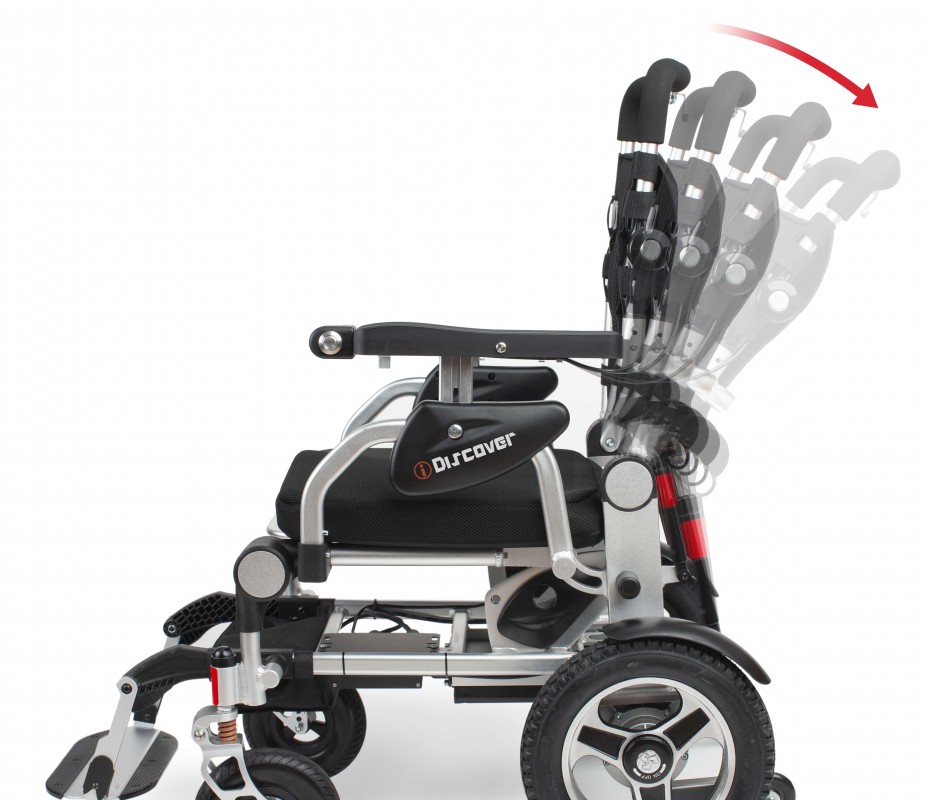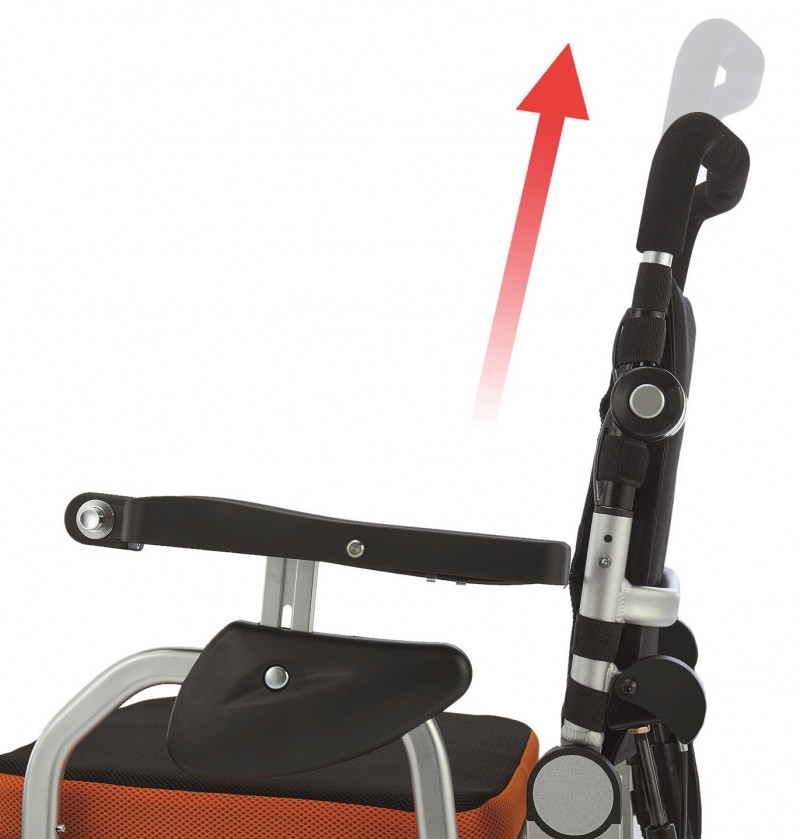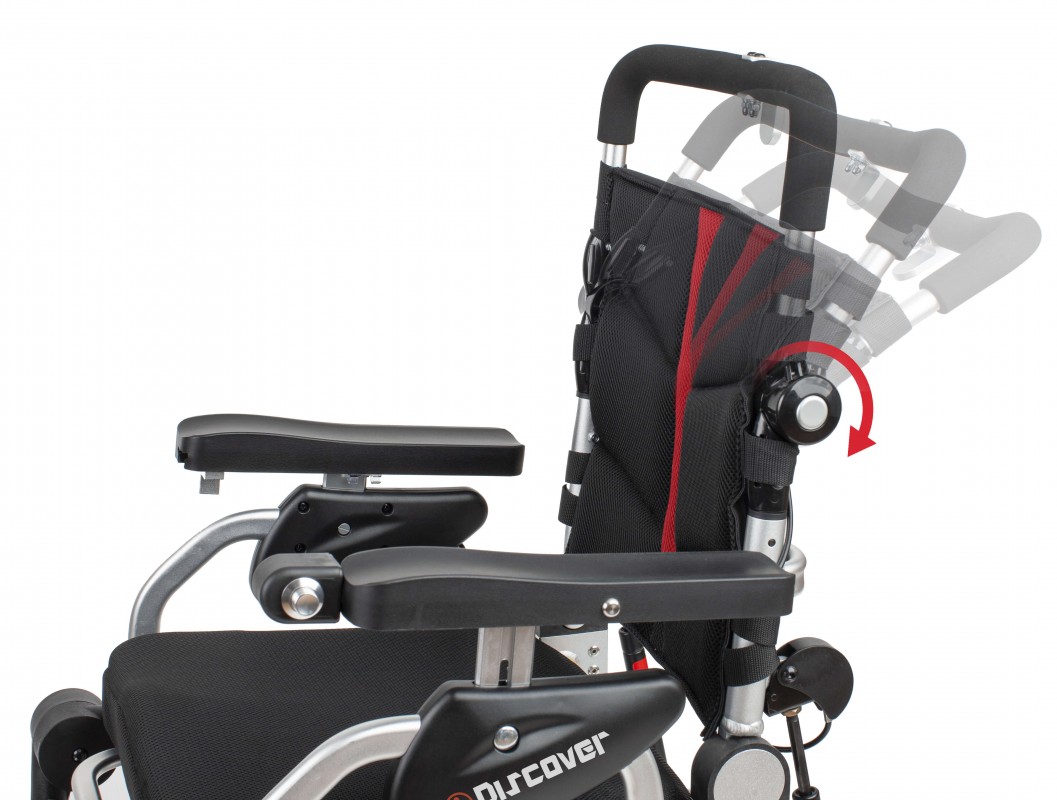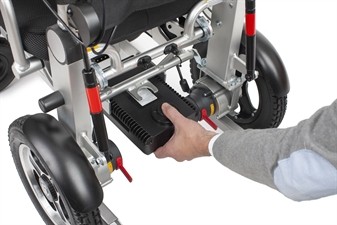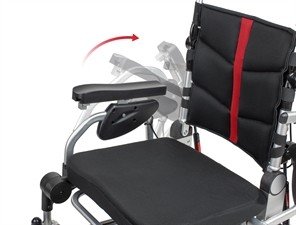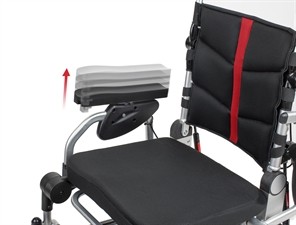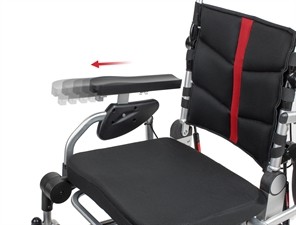 Apex i-Discover
Apex i-Discover is the new ultralight folding electric wheelchair from Apex. Its folding system allows you to close it with one hand to transport it more easily. It is ideal for small spaces and travel with it thanks to its compact dimensions.
Customizable:
Thanks to its functionalities it is able to adapt to the needs of each user. The backrest with hydraulic tilt system allows a 35º recline for postural changes and pressure relief. It is also adjustable in height, thanks to its 3 positions, which allows to adapt to each user. Its footrest is adjustable in height and angle allows the chair to adjust to the height of the user.
The Apex i-Discover has folding armrests that can be adjusted in height and depth. Includes headrest series.
Digital joystick with voice:
Allows you to choose between three different driving modes: ECO the mode that optimizes the driving, NOR normal driving mode and SPT sports driving mode. It has warning system by voice. It shows the percentage of batteries thanks to its smart BMS chip.
Comfortable:
Provides an extra comfort to the user thanks to its Frog Legs suspension, which avoids the vibrations of the pavement. The useful gap between the armrests is 47 cm.
Light and Robust:
Apex offers a 5 year warranty on its aluminum structure. Thanks to its removable lithium battery, Its weight is 31.5 Kg without battery.
Product Features Apex i-Discover:
+ Headrest adjustable in height and angle
+ Backrest reclining in 35º and adjustable in height (3 positions)
+ Digital joystick with voice. 3 driving modes
+ Armrest anatomical adjustable in height and depth
+ Lithium battery 12Ah - 24V. Externally rechargeable .
+ Anatomical viscolastic Cushion
+ 24V x 250W motor (brushless). Anti-roll wheels
+ Basket
+ Rear wheelof 12"
+ Footrest folding, adjustable in angle and height
+ Front wheel of 8". Frog Leg Suspension
+ Clutch buttom and disengagement motor, accessible from the chair
You can learn more about the Apex i-Discover electric wheelchair atching the following VIDEO
3.520,00€
(10% VAT included)
REMEMBER: If you have a disability certificate greater than 33% degree, you are entitled to a VAT reduction on this product.
Free Shipping in Spain (peninsula).
Our physical store is located at Calle Cavanilles 7, 28007 Madrid.
Secure SSL Purchase (+info)
Returns: 15 days.
Need any assistance? Contact us +34 915701682
Financing:

Cetelem
From 3 to 60 months
Calculate your fee
Unfolded dimensions (length x width x height): 103 x 61 x 103 cm
Unfolded dimensions with dented footrest (length x width x height): 93 x 61 x 103 cm
Folded dimensions (length x width x height): 42.5 x 61 x 90 cm
Seat measurements (width x length): 46 x 44 x 6 cm
Height of the floor to the seat: 52 cm
Adjustable footrest: 10 -17 cm
Maximum user"s weight: 150 kg
Weight with batteries: 34 kg
Weight without batteries: 31.5 kg
Maximum speed: 4.5 - 6 km/h (according to driving mode)
Maximum slope: 12º
Turning radius: 83.5 cm
Motor type Motor 24V x 250W (brushless)
Front wheels: 8 "Solid
Rear wheels: 12" Solid
Batteries: 12Ah / 24V Lithium
CE certificates. Manufactured according to ISO7176 and FDA standards
Warranty: Frame 5 years / Batteries 6 months / Electronic components 1 year
*Data provided by the manufacturer
Warranty: 2 years and 6 months on the batteries
10% VAT and transportation included
Free shipping for orders shipped to Peninsular Spain. Please contact us for orders shipped to the Spanish islands and to other countries.
Reduced VAT rate (4%) will be applied to customer provided 33% disability certificate 33% (or higher degree)