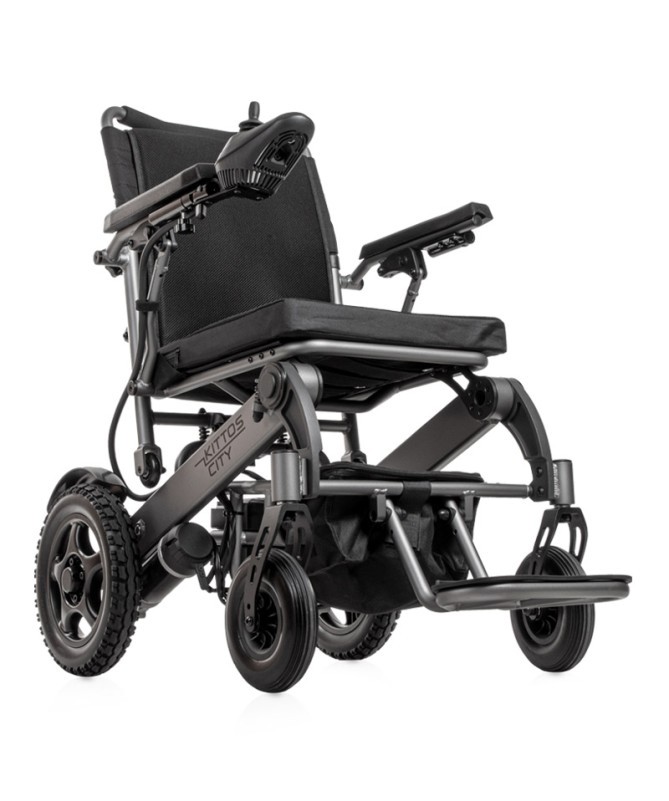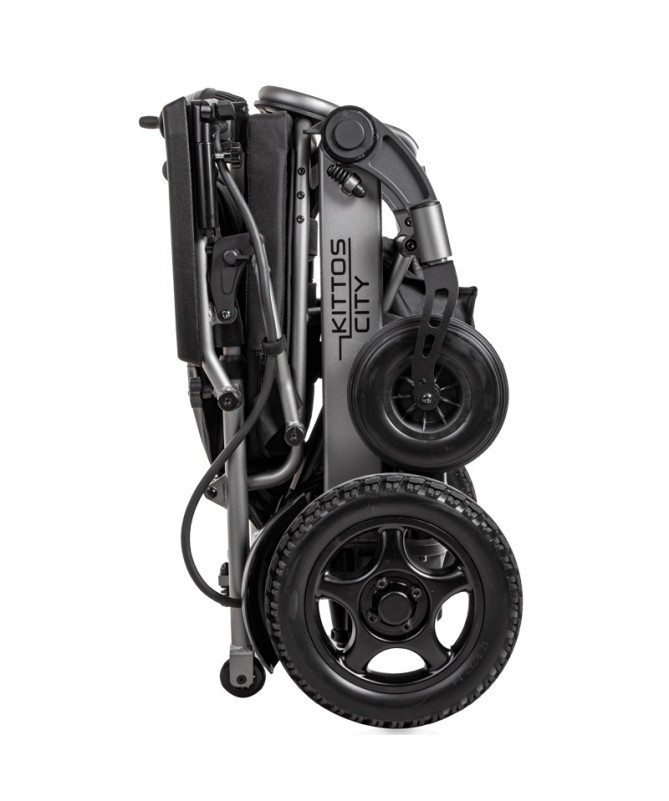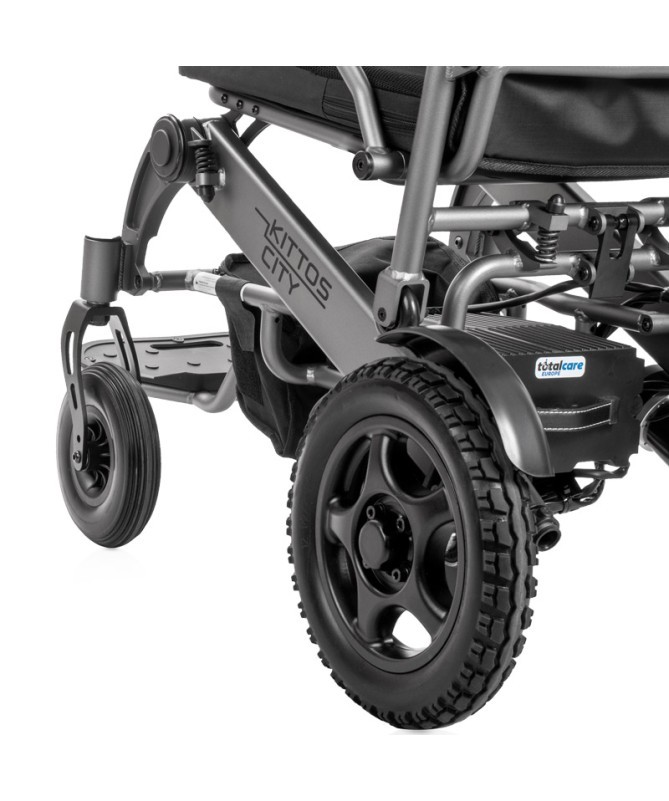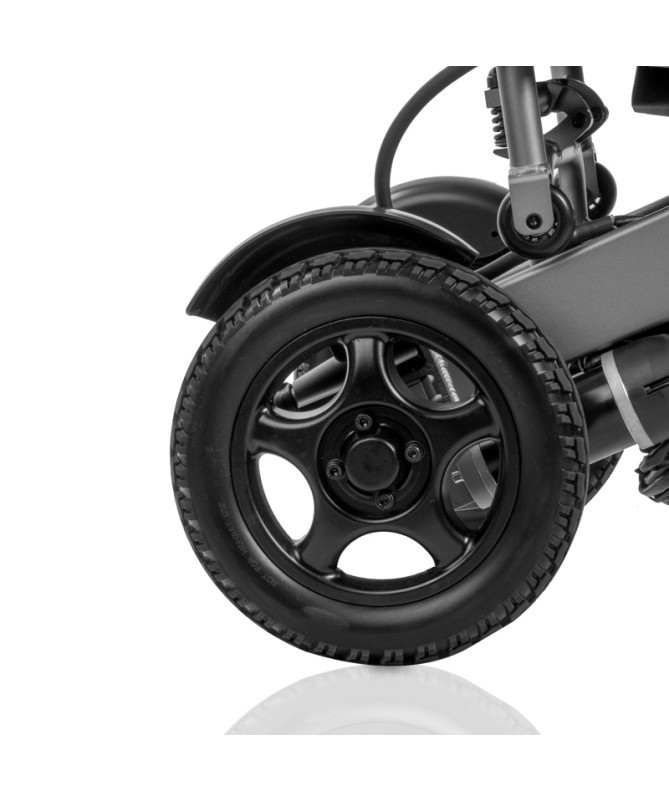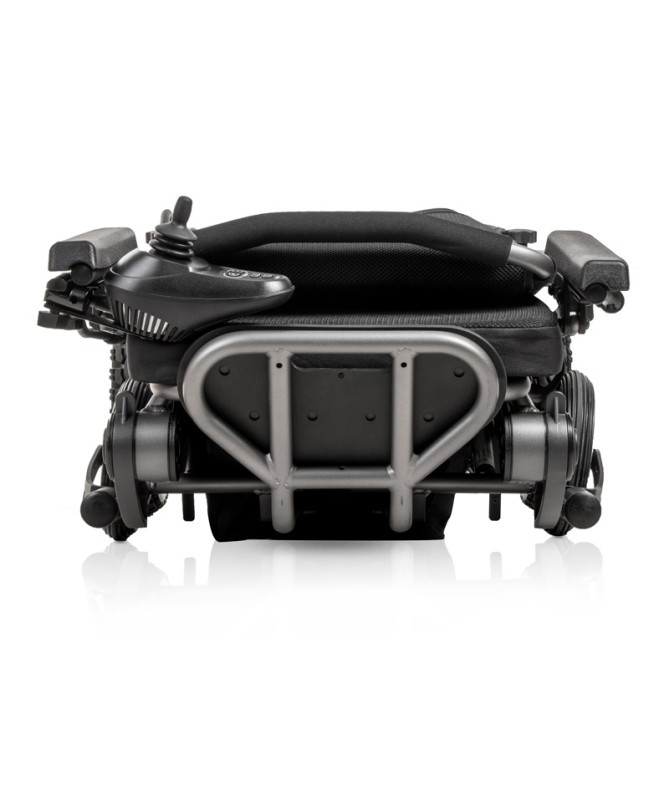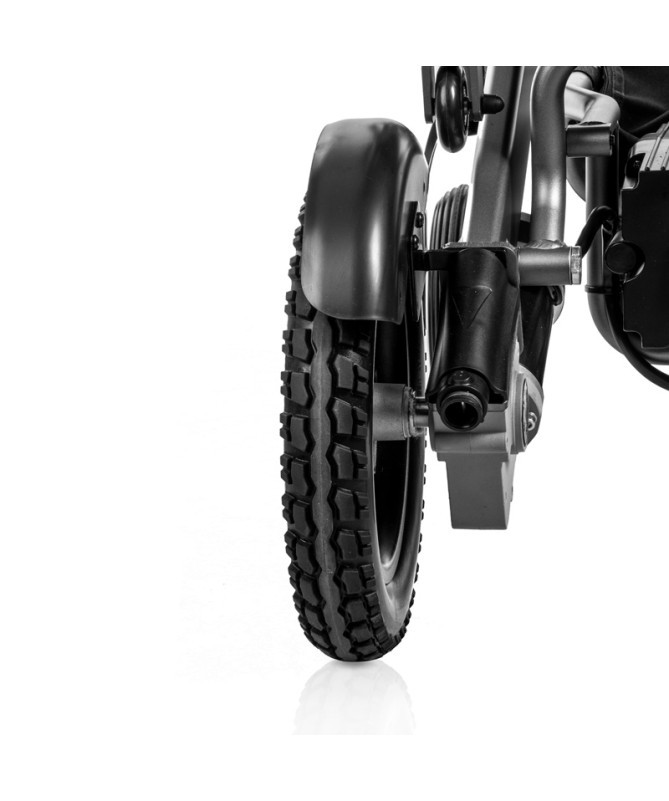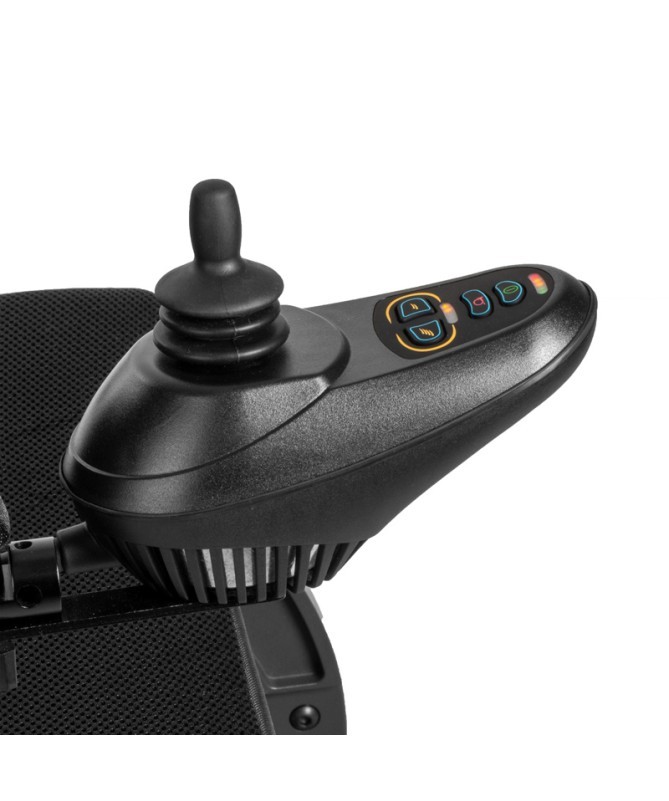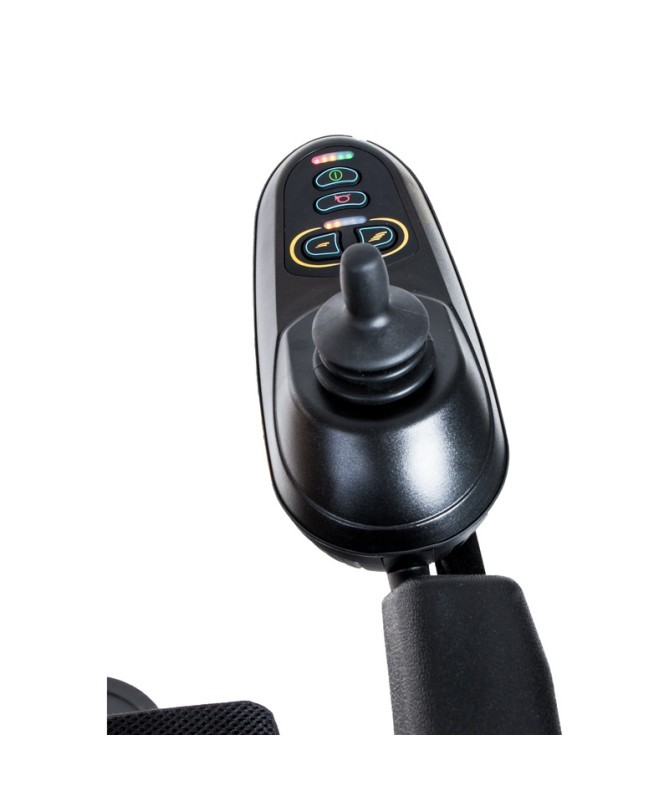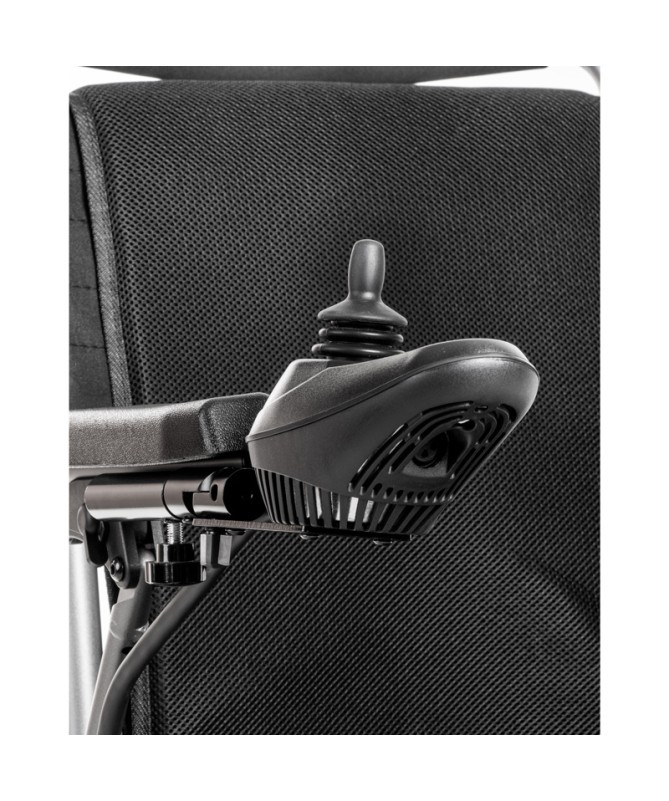 Kittos City
Kittos City, the new folding electric chair of the Kittos family, number one in sales in Spain.
It is the ideal chair to travel and to go around the city, thanks to its power and easy folding, in only 5 seconds, besides it has patented wheels to facilitate the transport when it is folded. It has new improvements such as the battery extraction system and a new system of easy connection and disconnection of the motor. The Kittos City is narrower than its "sister" Kittos Country, with a total width of 59.8 cm which allows you to pass through the door frames without problems.
Kittos City - Narrow. Ergonomic and lightweight electric wheelchair
The Kittos City wheelchair has different battery options, 12Ah (12 to 15 km range), 20Ah (20 to 25 km range) and 30Ah (30 to 35 km range), offering freedom of movement. With this advantage of autonomy the user will be able to travel with comfort and tranquility the usual distances in a city. Thanks to its narrow and compact size, the Kittos City, with a depth of 80 cm, a total width of 59.8 cm and a total height of 99 to 109 cm, can easily fit into small spaces such as doors and elevators. The front wheels are solid with a diameter of 20cm and the rear wheels are also solid with a diameter of 32cm. It comes with the option of being able to modify the Joystick from right to left side. It also adjusts to the backrest, so that the companion of dependent users can direct the Kittos City.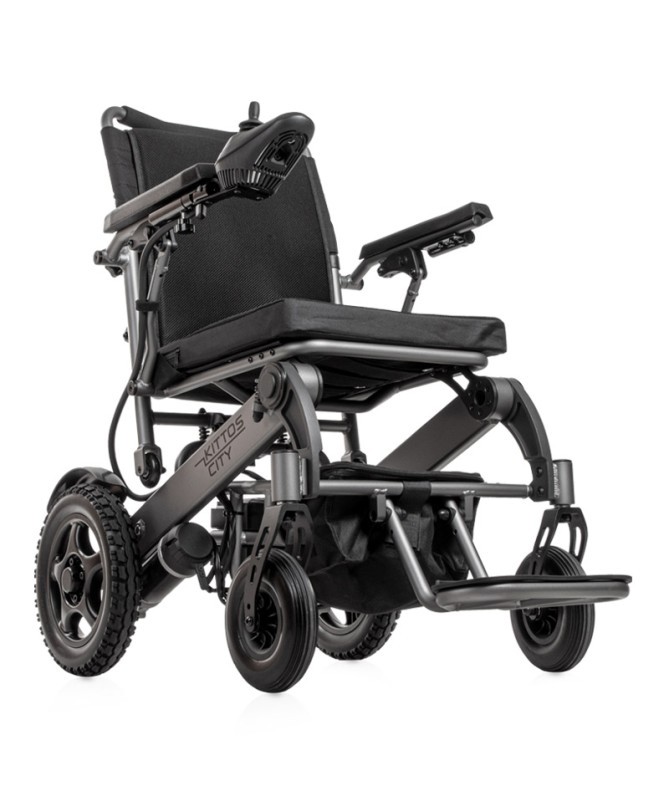 Kittos Travel - Agile and Versatile electric wheelchair
The Kittos City power chair comes with a height-adjustable backrest, from 99 to 109 cm in total height. The seat measures 45 cm wide by 44 cm deep and the distance from the seat to the floor is 48 cm. It has two 180W motors and a 10Ah, 20Ah or 30Ah battery. It has electromechanical brakes and an external 3W charger. With this engine it reaches the maximum speed of 7 km/h. The Kittos City has a modern and ergonomic design, allowing the user to feel comfortable. Available in matte black and blue details.
One of the great advantages of this chair is that it allows a great variety of accessories to adapt it to the user"s needs. It can incorporate the headrest, the NXT backrest, the anatomical cushion, the fixed or bluetooth passenger control, the Lightcare and the individual height-adjustable footrests (also the height-adjustable ones). The NXT backrest comes with thoracic or pelvic shapes that provide support for the back. The full or scapula trim shapes are designed to provide excellent support and comfort to the user. On the other hand, the user can choose from three types of footrests: As standard they are fixed and foldable, Foldable and height adjustable, Individual, height adjustable and removable.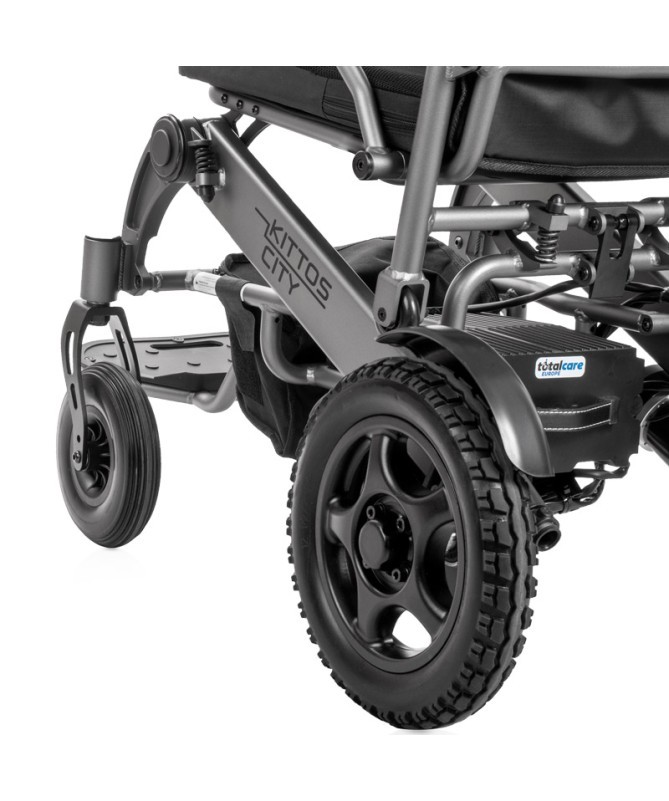 The Kittos City only weighs 29.30 kg (weight without batteries) and can support a weight of 120 kg. Compact, lightweight and foldable, making it more comfortable to transport by car, public transport or plane. Therefore, it is not necessary to have a vehicle with excessive dimensions.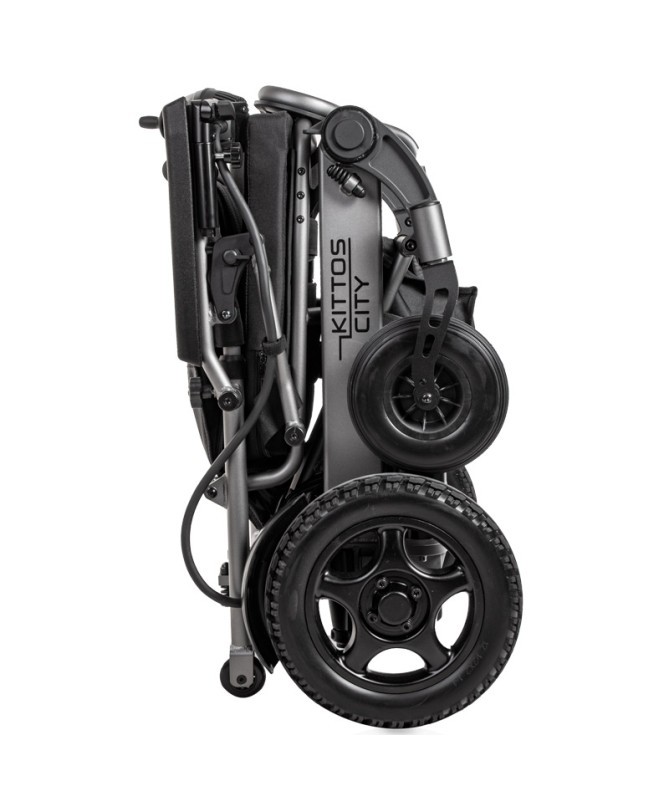 3.418,90€
(10% VAT included)
REMEMBER: If you have a disability certificate greater than 33% degree, you are entitled to a VAT reduction on this product.
Free Shipping in Spain (peninsula).
Our physical store is located at Calle Cavanilles 7, 28007 Madrid.
Secure SSL Purchase (+info)
Returns: 15 days.
Need any assistance? Contact us +34 915701682
Financing:

Cetelem
From 3 to 60 months
Calculate your fee
Color: Gray
Seat Width: 45 cm
Total Width: 59 cm
High Total: 99 - 109 cm
Height From Seat To Floor: 48 cm
Seat Depth: 44cm
Type of Backup: Adjustable in height
Wheel Type: Solid
Autonomy: 12-15 km (12Ah) / 20-25 km (20Ah) / 30-35km(30Ah)
Battery: 1
Maximum speed: 7 km/h
Material: Aluminum
Charger: External (3Ah)
Total Depth: 102 cm
Backrest Width: 39 cm
High Backing: 55 cm
Total Depth With Folded Footrests: 80 cm
Height From Seat To Floor With Cushion: 53 cm
Total Weight Without Batteries: 29.30 kg
Total Weight With 12 Ah Batteries: 31.90 kg
Maximum Weight Supported: 120 kg
Engine Power: 24V 180W
Front Wheel Measurements: Ø20 cm
Rear Wheel Measurements: Ø32 cm
Turning Radius: 360º
Suspension: Yes
Total Weight With 20 Ah Batteries: 32.95 kg
Total Weight With 30 Ah Batteries: 34 kg
Warranty: 2 years and 6 months on the batteries
10% VAT and transportation included
Free shipping for orders shipped to Peninsular Spain. Please contact us for orders shipped to the Spanish islands and to other countries.
Reduced VAT rate (4%) will be applied to customer provided 33% disability certificate 33% (or higher degree)