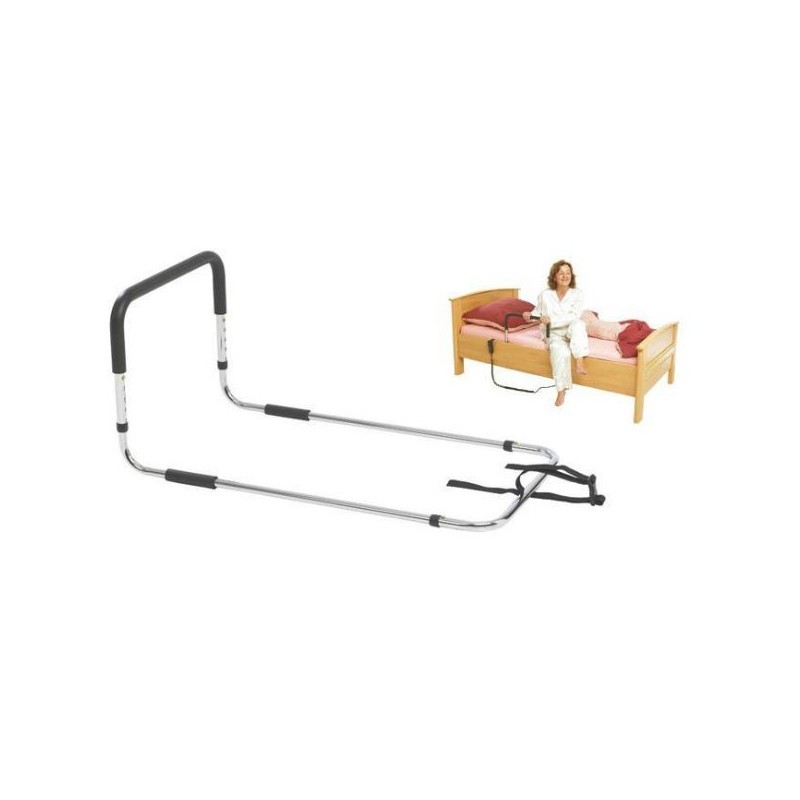 Frida bed handle
Frida bed handle serves as a bed railing and as an aid to incorporation. Frida bed handle is very useful in beds where a traditional railing cannot be installed.
Features - Frida bed handle
+ Bed rail, warm touch that helps maintain balance when next to the bed and gives confidence and stability to get in and out of bed.
+ Its handle is covered with foam.
+ The height can be adjusted at five points by a button system.
+ It is removable and easy to transport and store.
+ The Frida handle is easily secured to the bed base with the included straps, being under the mattress.
Measures - Frida bed handle
+ Base length 91 cm
+ Base width 50 cm
+ Height of the adjustable handle from 42 to 53 cm
+ Maximum recommended weight 100 Kg
Chronic pain, limited mobility, and old age-related ailments lead to a more inactive and challenging life. This loss of independence can be debilitating for your loved one. However, there are tools that can be used to help them regain their autonomy and significantly improve their quality of life. Bed handles lower the risk of injury and reduce the need for caregivers to be present at all times.
A bedside handle is a useful addition if your family member struggles with a chronic health condition, recurrent physical pain or impaired mobility. This type of product can offer them reliable support when getting in and out of bed, as well as a means to move around without assistance. Bed rails also prevent falls during the night and can be a wise choice for patients suffering from dementia.
How to choose the right bed handle
Before making your purchase, you should take into consideration factors like height adjustability, weight capacity, bed size, and mattress thickness, safety mechanism, pricing, ease of use and length. Below you will find a guide on the most efficient and secure rails, as well as how they can assist your relative with transitioning in and out of bed.
65,00€
(21% VAT included)
Free Shipping in Spain (peninsula).
Our physical store is located at Calle Cavanilles 7, 28007 Madrid.
Secure SSL Purchase (+info)
Returns: 15 days.
Need any assistance? Contact us +34 915701682
Financing:

Cetelem
From 3 to 60 months
Calculate your fee
Base length 91 cm
Base width 50 cm
Height of the adjustable handle from 42 to 53 cm
Maximum recommended weight 100 Kg
* Data provided by the manufacturer.
Warranty: 2 years
21% VAT and transportation included
Free shipping for orders shipped to Peninsular Spain. Please contact us for orders shipped to the Spanish islands and to other countries.