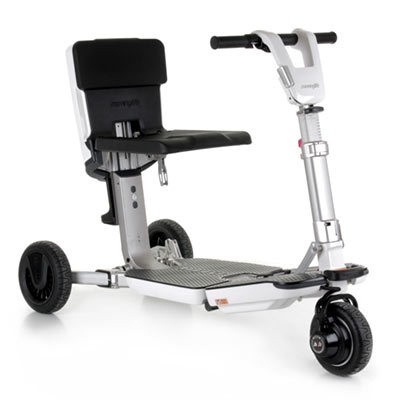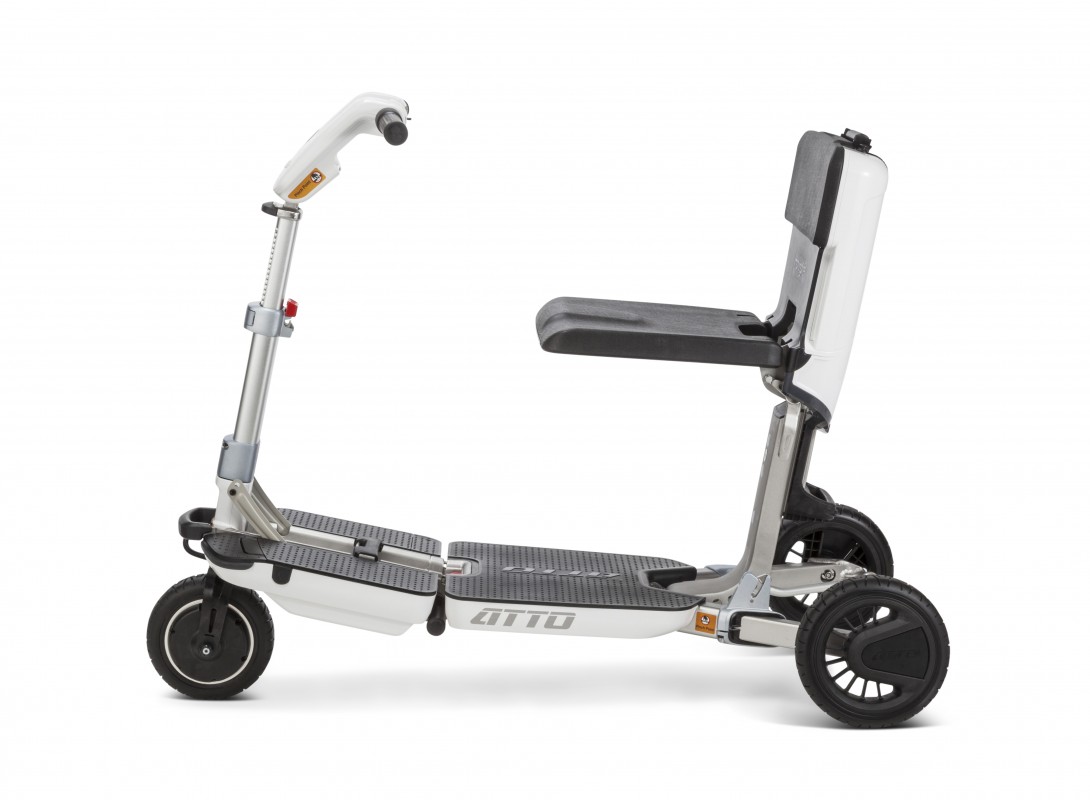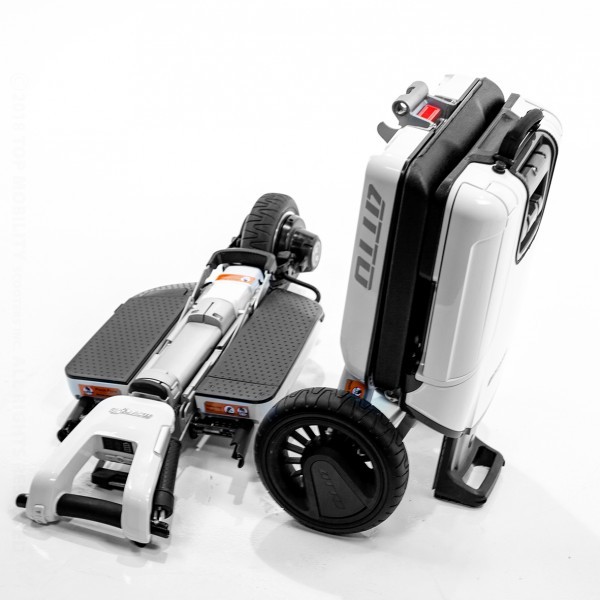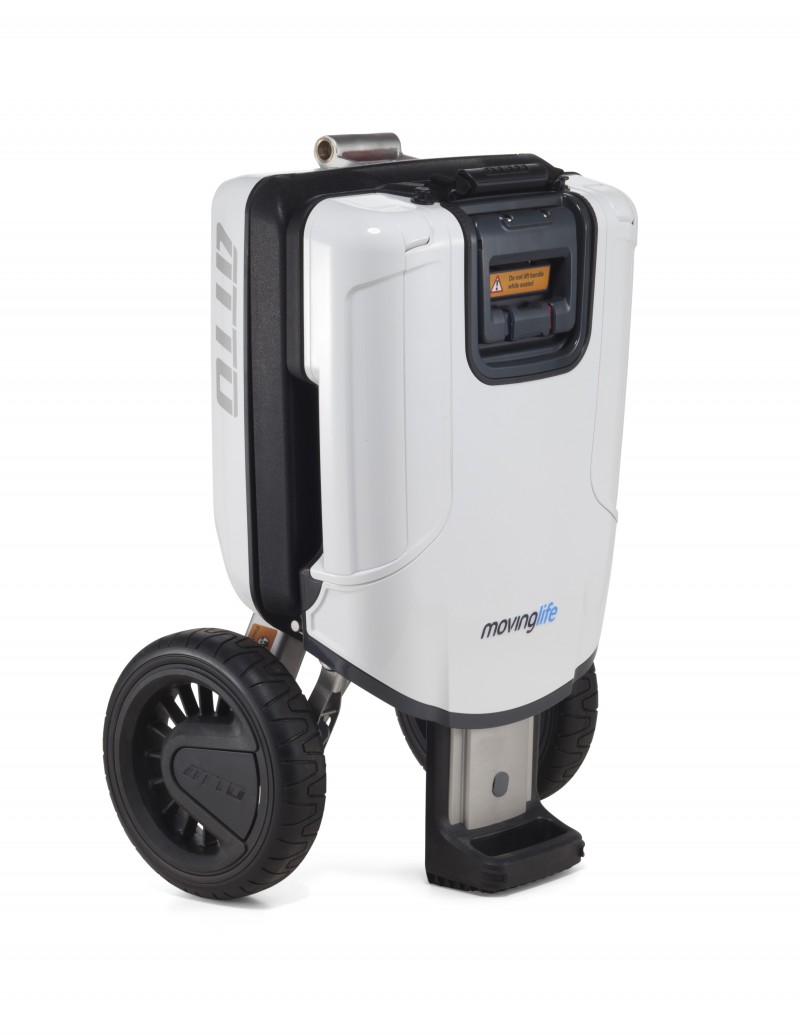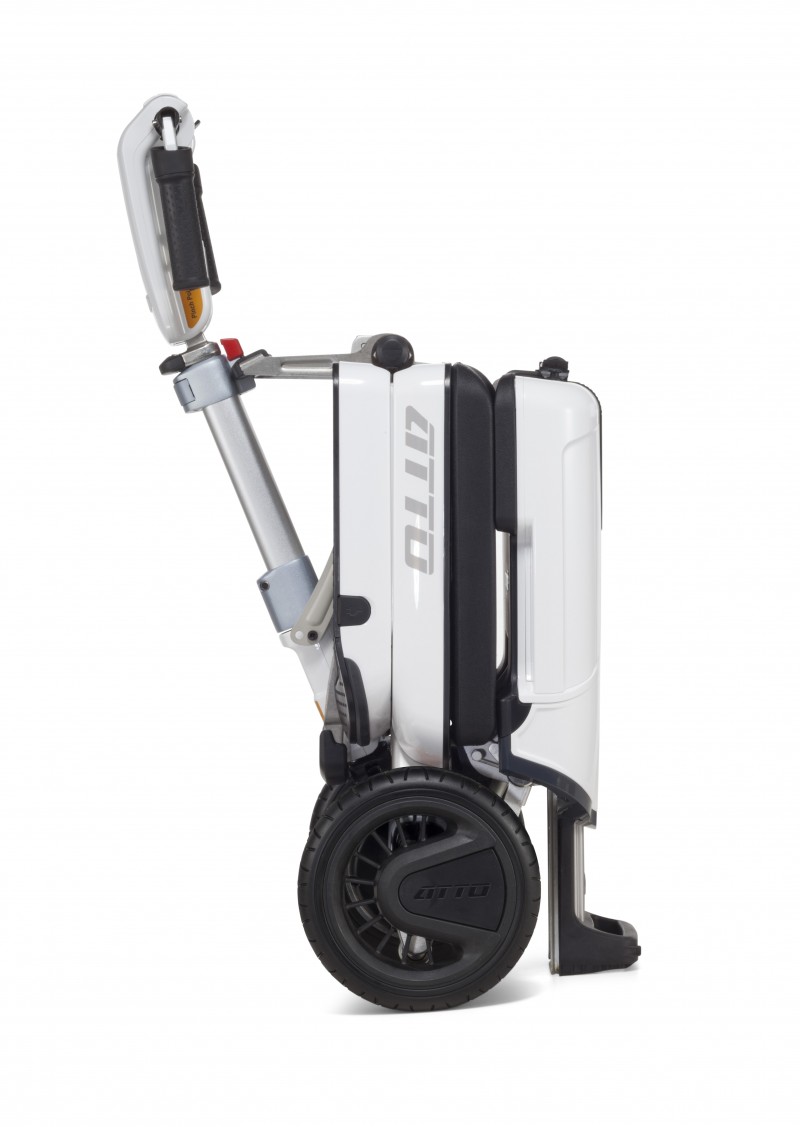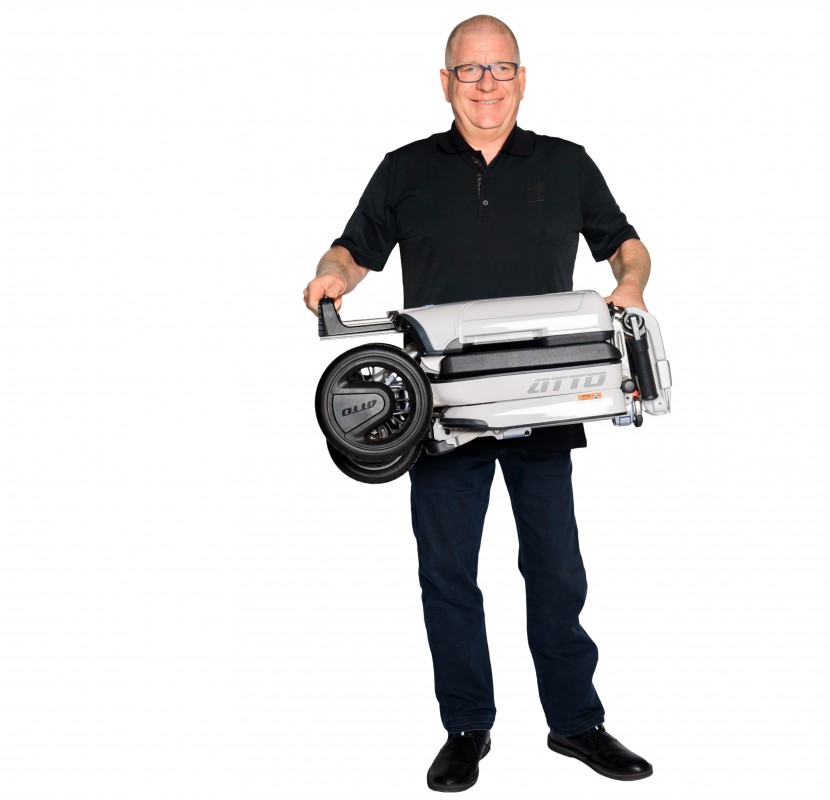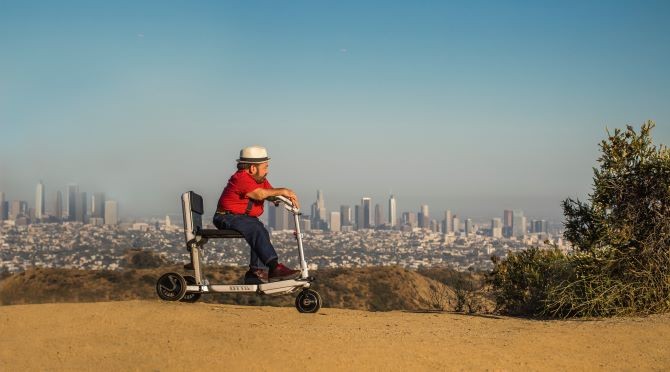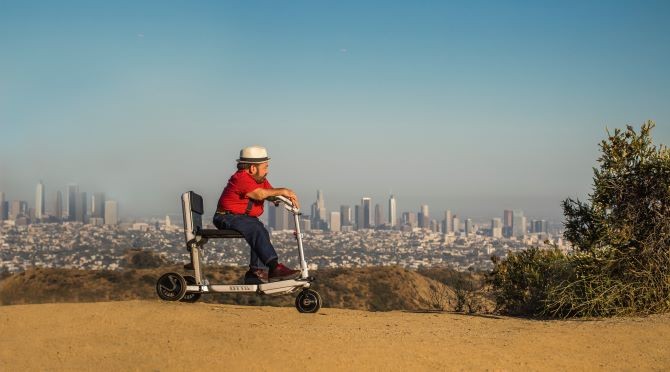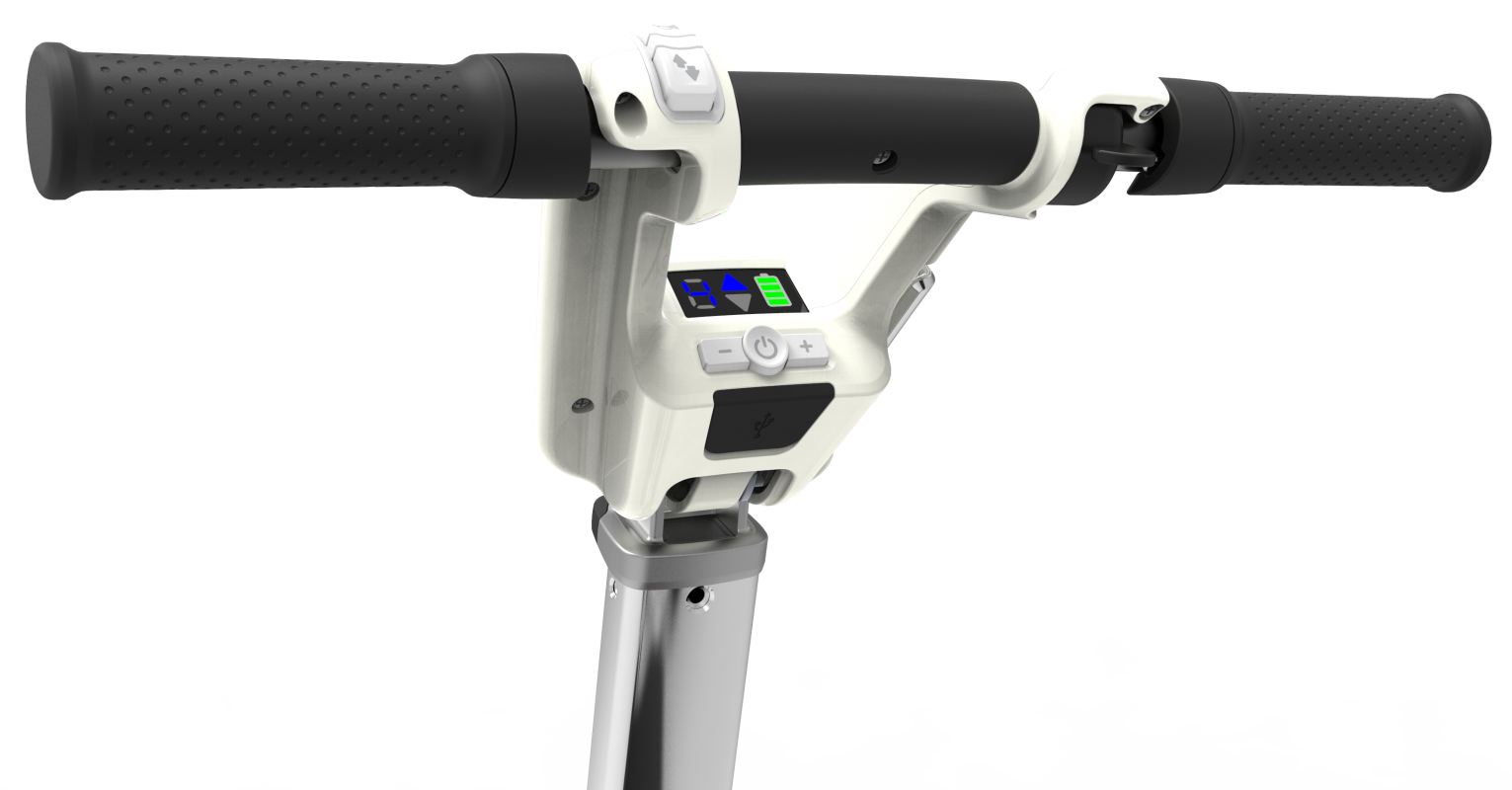 Moving Life ATTO
We are the only registered distributors of MovingLife products (ATTO - ATTO SPORT - ATTO SPORT MAX) in Spain.
When it comes to folding, Moving Life ATTO is the most compact mobility scooter in the world. Nevertheless, when open and ready to drive,
The Moving Life ATTO Travel Mobility Scooter is an innovative and compact folding scooter that is specifically designed for easy transport in your car or on an airplane.
The ATTO's unique "trolley mode" enables the scooter to fold up to the size of a piece of luggage, allowing you to take it on a plane, train, or bus as carry-on. This scooter also has a "split mode" where the device can be separated into two pieces, with the heaviest piece weighing only 35 lbs once disassembled.
Moving Life ATTO is the largest and most comfortable in its category. Moving Life ATTO's revolutionary mechanism allows it to fold to a trolley suitcase and be split into two lightweight parts. ATTO's beauty is in the details, with standard features like a built-in USB charging port, deck storage and adjustable seat heights. It can also be customized with various accessories.
METRIC (cm)
Height Length Width
Trolley mode 72 39 42
Drive mode 90 120 56
WEIGHT
Part Kg Lbs
Front half 12.0 26.4
Rear half 16.2 35.7
Assembled * 28.2 62.2
Battery 1.85 4.1
* Without battery
FOLDING & DESIGN
When folded, Moving Life ATTO is as small as a carry-on trolley you can take with you on flights, it is also very large and comfortable when opened for driving. 10 seconds of simple operation to open and close, and 10 more seconds to split Moving Life ATTO in two lightweight parts.
Moving Life Atto design, look, technology, all modern and updated, fits people with no boarders, no barriers, goes anywhere other go, stops only where you want to stop. ATTO was made for people who believe they have the right to BE LIKE EVERYONE ELSE, travel with no hesitation, no complicated planning and limitations.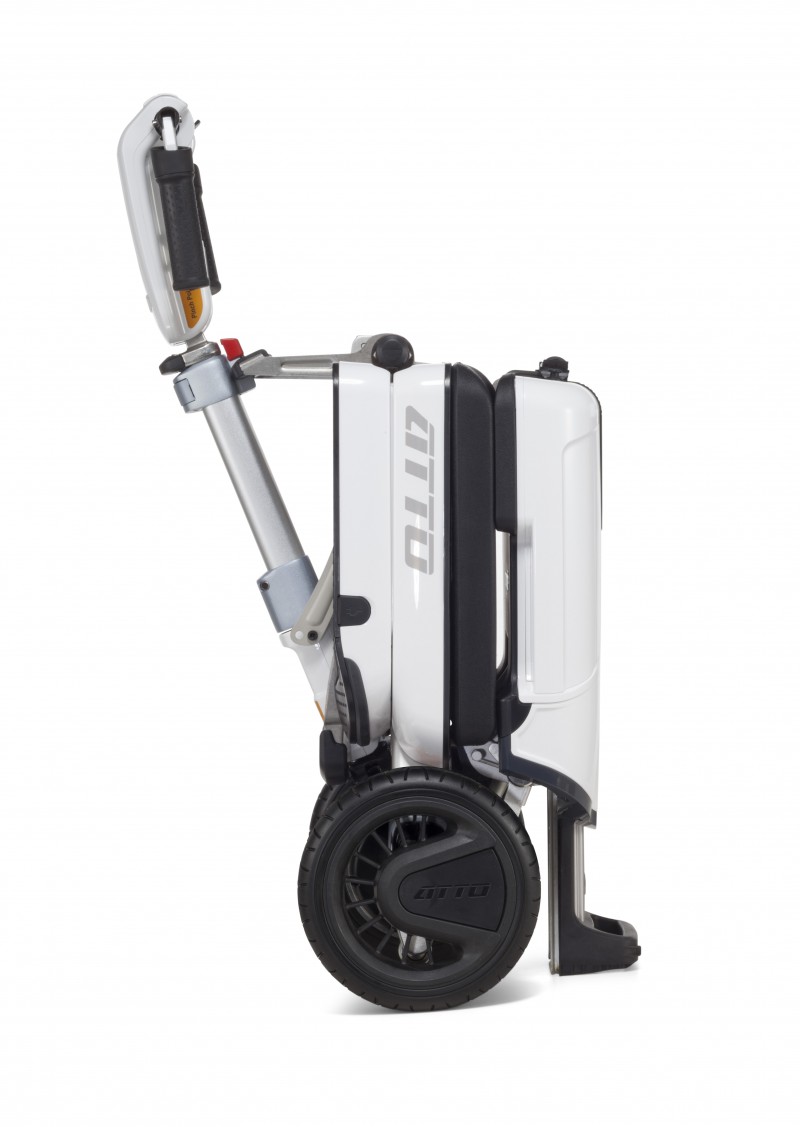 WEIGHT CAPACITY
Maximum user weight:
120 Kg
264.55 Lbs
SEAT
Although ATTO´s seat is thin and stylish, it was designed to provide comfort and safety and can be adjusted according to the user's preferences. The seat mechanism can be locked at one of three fixed heights, ranging from 560 to 610 mm (22 to 24 inches) from the ground.
GROUND CLEARANCE
Atto´s minimum ground clearance is as follows:
Metric 10 cm
Imperial 4
BATTERY
Atto uses a powerful, yet compact advanced-technology lightweight 48 Volts lithium-ion battery. Weighing only 2 kg (4.4 lbs), the battery allows for more than 16 km (10 miles) of continuous driving while requiring only 4 hours (on average) to fully charge. As for charging options, you can charge ATTO on-board and off-board, meaning that you can, but do not have to, take the battery off the vehicle in order to charge it. Removing the battery is as easy as pressing a button. Reinstalling the battery is as easy as putting it back in place.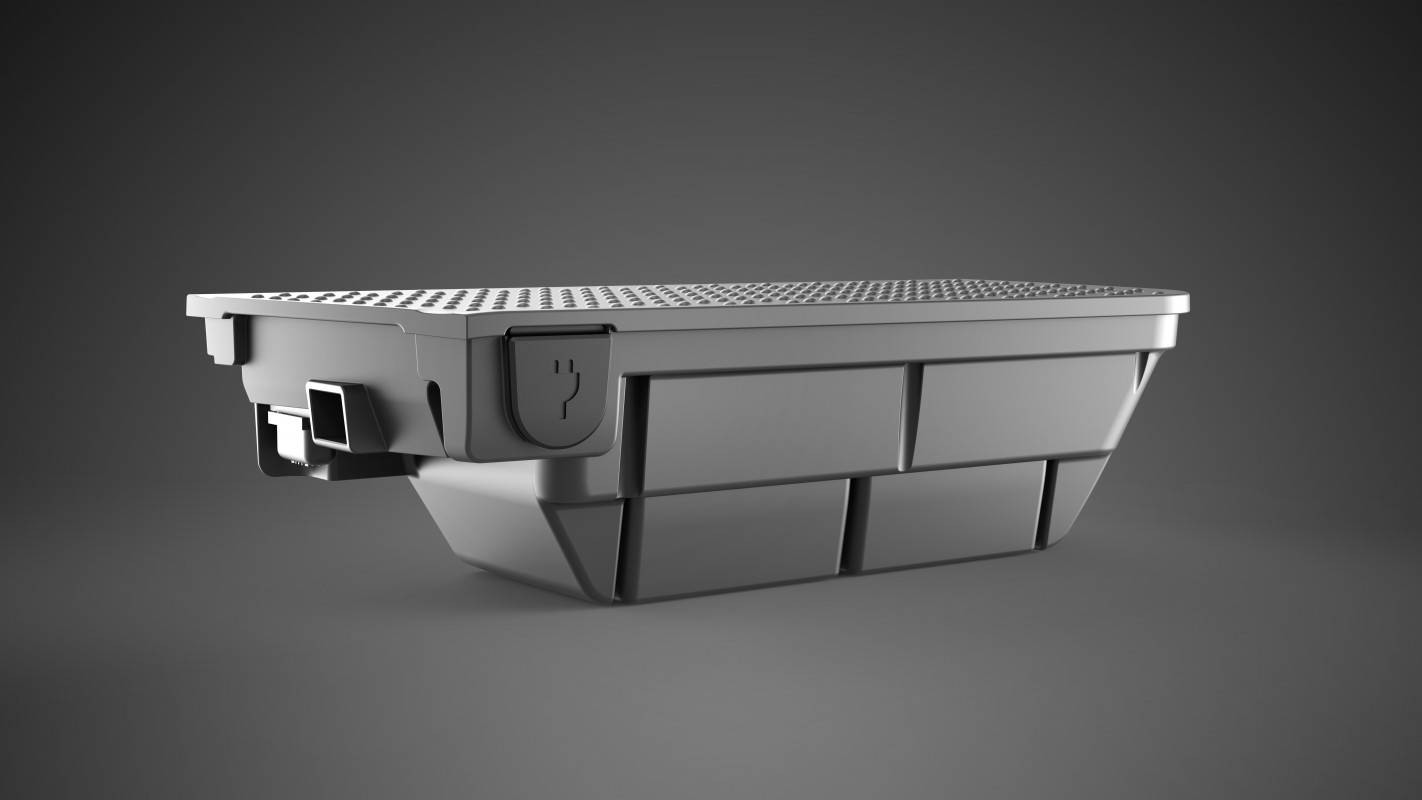 SPEED
While most countries allow a maximum speed of 6-7 km/h (about 4 mph), Atto can go up to 10 km/h (about 6 mph) depending on local regulations. Once the maximum speed has been set by a technician, it is very easy to set your current maximum speed with one of the presets by simply clicking a button and receiving feedback from ATTO's clear view display.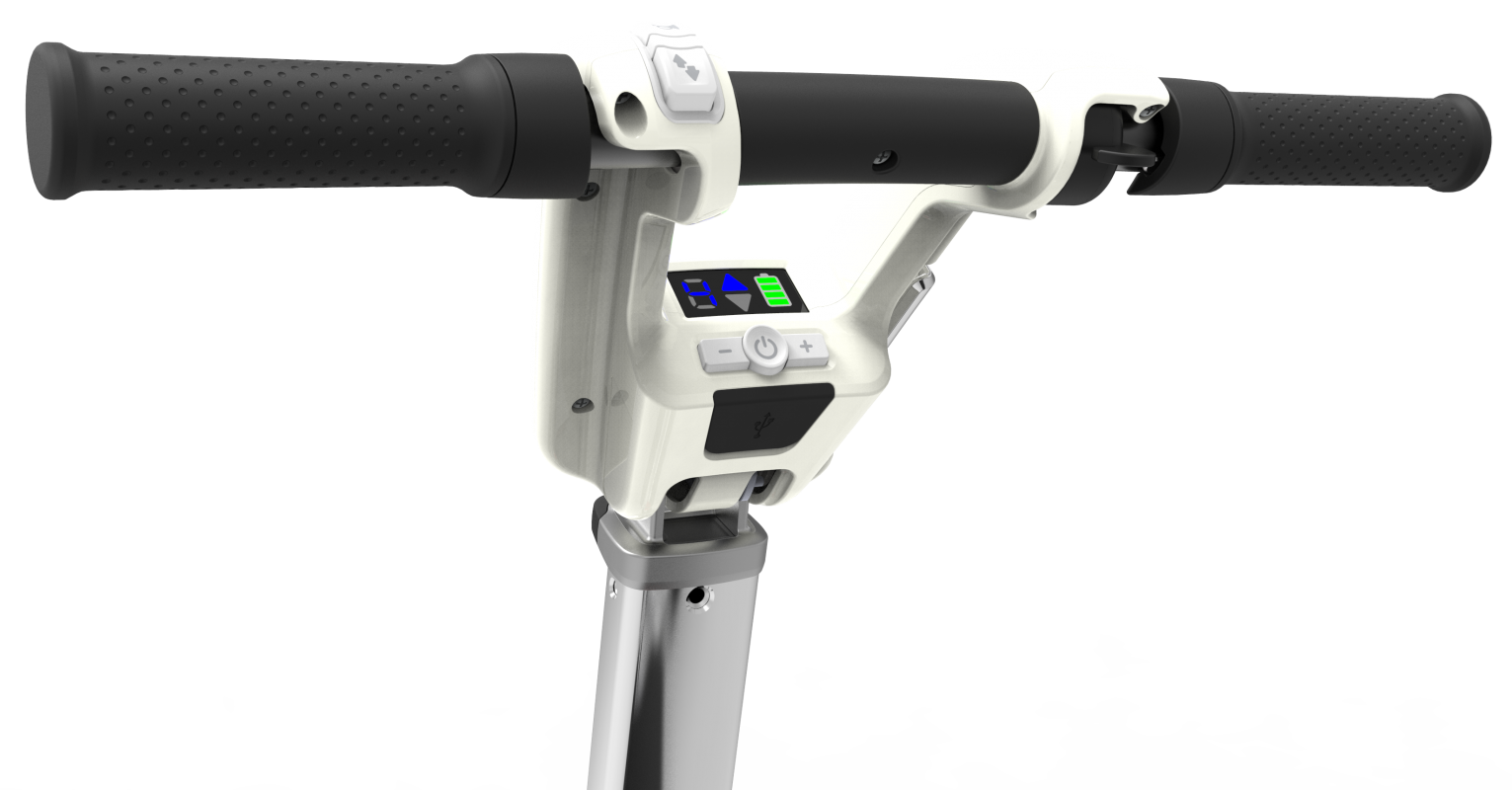 MOTOR
To allow smooth and continues drive over many years and large distances, we developed a unique fully custom brushless permanent magnet DC motor combining solid core and powerful gear along with robust braking mechanism. Via sophisticated software algorithms the motor unitizes modern reverse charging techniques for deceleration and stopping providing smooth driving experience.
CHARGER
Atto´s charger is a small yet smart and powerful charger with the ability to connect to any electrical grid rating 110VAC - 240VAC.
HANDLING
Atto´s front and rear halves can be easily separated in only a few seconds by operating a knob and two handles. The same technique applies to putting the two halves back together. This is very useful when storing ATTO in the trunk or in an airplane´s overhead bins.
FOLDING TIME
One of the most common questions people ask us is how much time it takes to fold and unfold ATTO. We tested this question and got the following results: It takes less time to fold (or unfold) ATTO then it takes to read this paragraph! Only 12 seconds are required.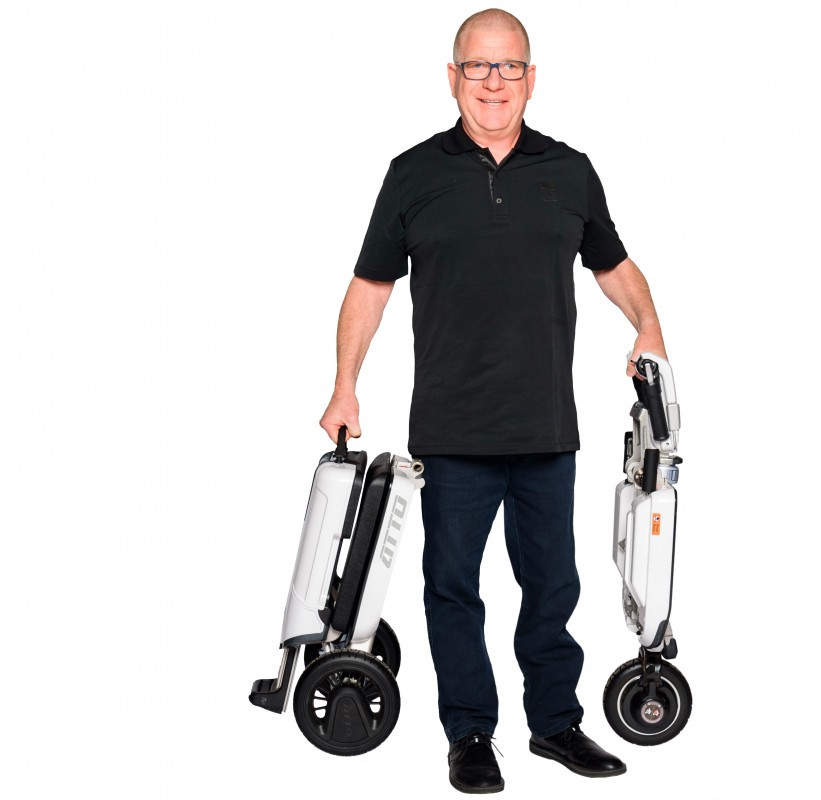 STEERING ROD
There are three mechanisms that can be adjusted to provide maximum customization of the tiller. These include (a) the handlebar height; (b) the steering rod angle; and (c) the handlebar angle. These three adjustments combined ensure the user's comfort and safety.
HEIGHT RESTRICTIONS
Preliminary tests show a minimum height of 150 cm (5 Feet) is required for safe driving. This is NOT a formal recommendation, we have not concluded the tests, and you should check with your medical advisor.
ENVIRONMENT
Moving Life ATTO was designed and tested according to strict water resistance standard IP54 requiring the equipment to be water splashed from multiple angles, for a long period of time and at high pressure. After taking a 50 litters shower Atto continued to work with zero malfunctions which guarantees resistance to normal outdoor conditions. Nevertheless, we recommend storing ATTO indoor to ensure maximal lifetime of high performance and for safety reasons use it only under dry weather conditions.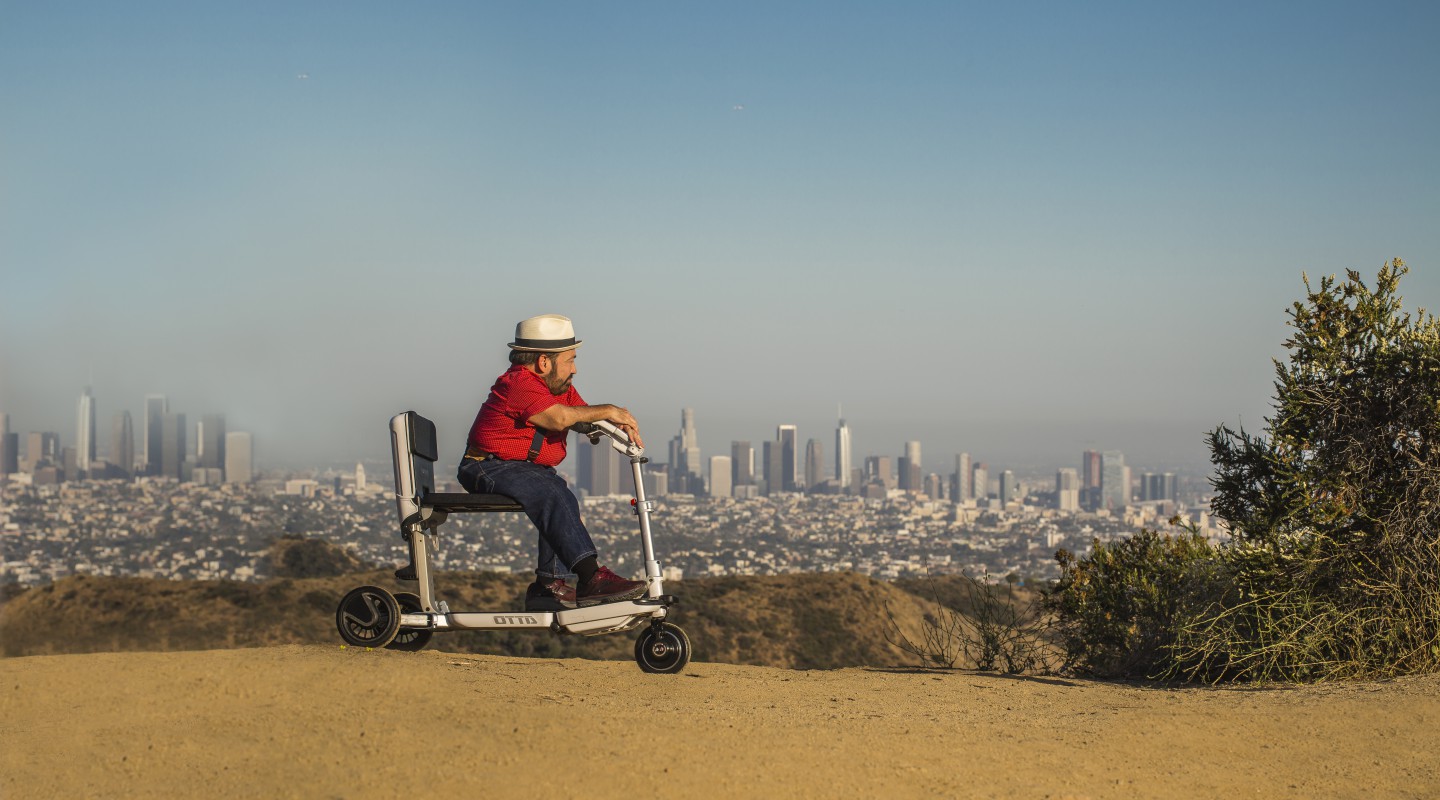 ACCESSORIES
There are some accessories a user can add to Atto:
+ Cane / Crutches Holders
+ Foldable Armrests
+ Seat Cushion
See our accesory section where you will find many more items....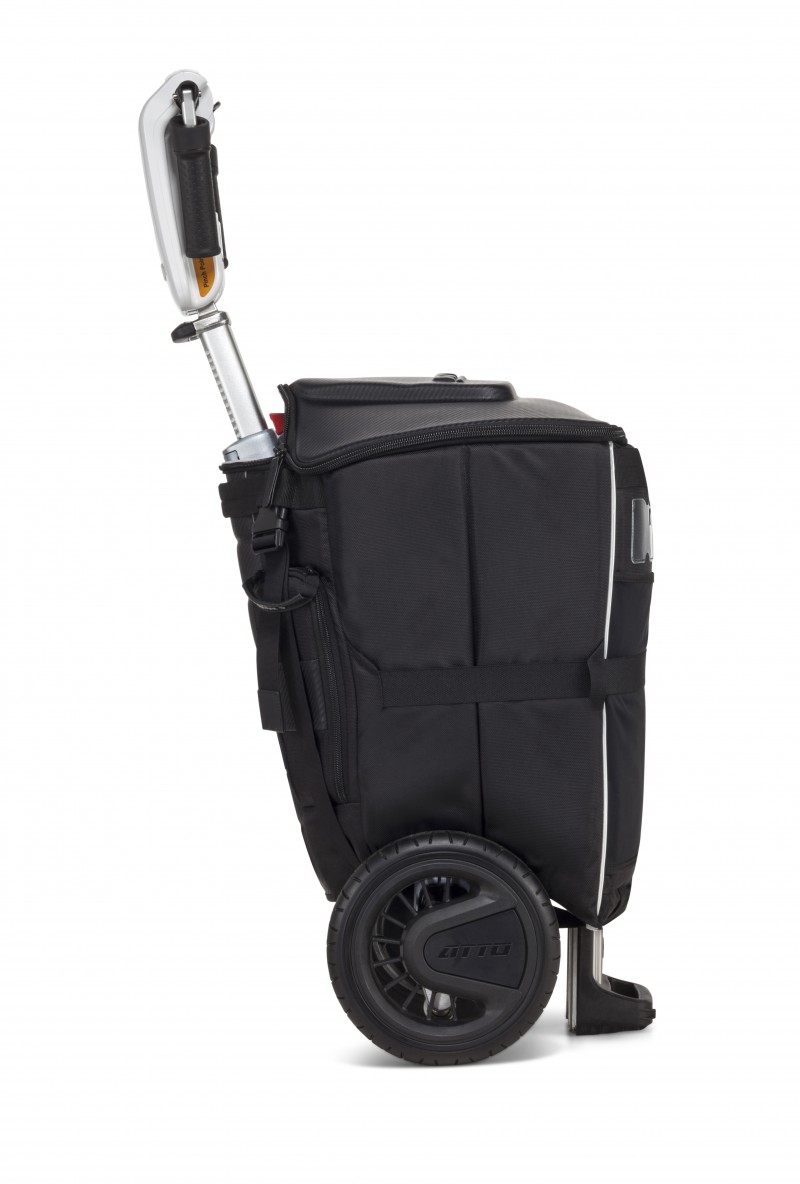 ABOUT FLIGHTS
Thousands of Moving Life ATTO units are currently flying all over the world with their users. In 95 percent of the flights, it flew in the passengers cabin and was stored either in the overhead compartment or in the crew's closet.
Discover all the Moving Life ATTO features in the following VIDEO .
You can also watch in the following VIDEO how to fold and unfold the scooter.
3.623,95€
(21% VAT included)
REMEMBER: If you have a disability certificate greater than 33% degree, you are entitled to a VAT reduction on this product.
Free Shipping in Spain (peninsula).
Our physical store is located at Calle Cavanilles 7, 28007 Madrid.
Secure SSL Purchase (+info)
Returns: 15 days.
Need any assistance? Contact us +34 915701682
Financing:

Cetelem
From 3 to 60 months
Calculate your fee
PART NUMBER: AT01-101-B2-0
WHEELS: 3
LENGTH-WIDTH-HEIGHT (Trolley mode): 39cm-42cm-72cm
LENGTH-WIDTH-HEIGHT (Drive mode): 120cm-56cm-90cm
BATTERIES: 1 X 48 Volts lithium-ion
ENGINE: Custom brushless permanent magnet DC
MAXIMUM SPEED: 10 km/h
TRAVEL RANGE: 16 km
SCOOTER WEIGHT: 28,2 (battery weights only 1,8kg)
WEIGHT MAX. SUPPORTED: 120kg (264.55 lbs)
WHEEL TYPE: solid
GROUND CLEARANCE: 10cm
SUSPENSION: NO
LIGHTS: NO
TWO-YEAR LIMITED WARRANTY (applicable to units purchased as of December 1, 2018): Structural frame components, including: mobility scooter chassis, steering mechanism, seat mechanism, rear wheels extensions, welds on entire products.
TWO-YEAR LIMITED WARRANTY: All electronic parts, including controllers and battery chargers. Servicing to the controller or battery charger must be carried out by an authorized Moving Life dealer. Any attempt to open or dismantle these items renders the guarantee void on that item.
TWO-YEAR LIMITED WARRANTY (applicable to units purchased as of December 1, 2018): Drivetrain, including: motor, front wheel fork and brake.
ONE-YEAR LIMITED WARRANTY: Batteries are covered by a one year warranty from the original manufacturer. Gradual deterioration in battery performance due to not following usage instructions specified in owner's manual or worn out through heavy use is not covered.
WARRANTY EXCLUSIONS:
ABS plastic
Seat upholstery
Tires and tire tubes
Repairs and/or modifications made to any part of the product or accessories without specific and prior written consent from Moving Life
Circumstances beyond the control of Moving Life
Damage caused by: battery malfunction, abuse, misuse, accident, or negligence, improper operation, maintenance, or storage, commercial use or use other than normal.
Labor, service calls, shipping, and other charges incurred for repair of the product If the serial number has been removed or defaced
* Data provided by the manufacturer.
Warranty: 2 years and 6 month on the battery
21% VAT and transportation included
Free shipping for orders shipped to Peninsular Spain. Please contact us for orders shipped to the Spanish islands and to other countries.
Reduced VAT rate (4%) will be applied to customer provided 33% disability certificate (or higher degree)