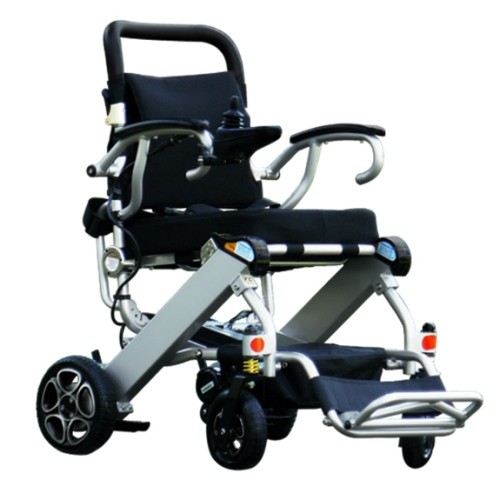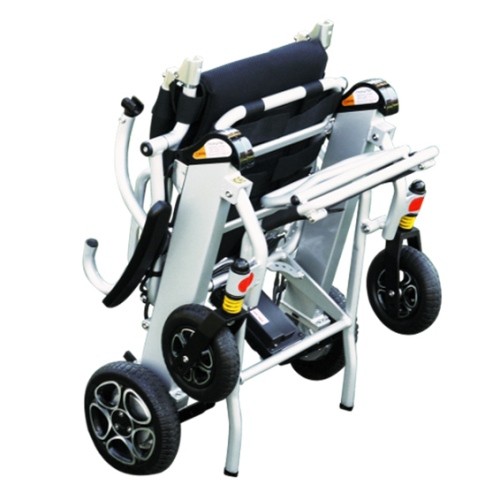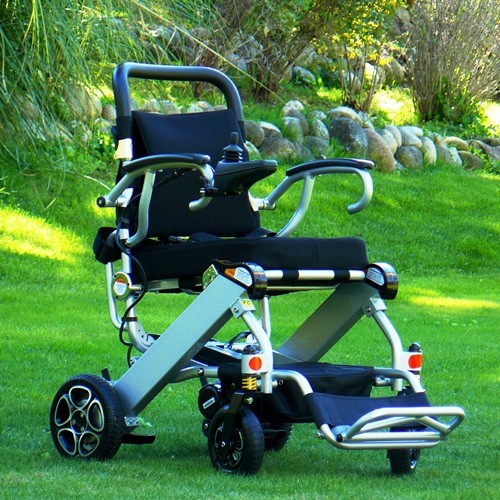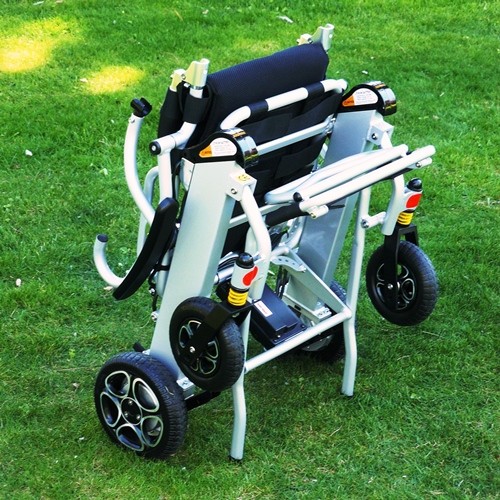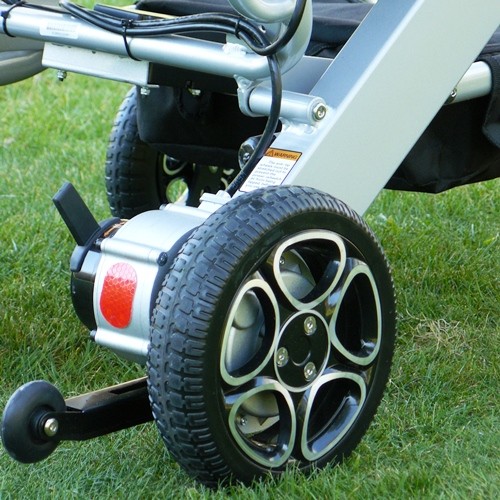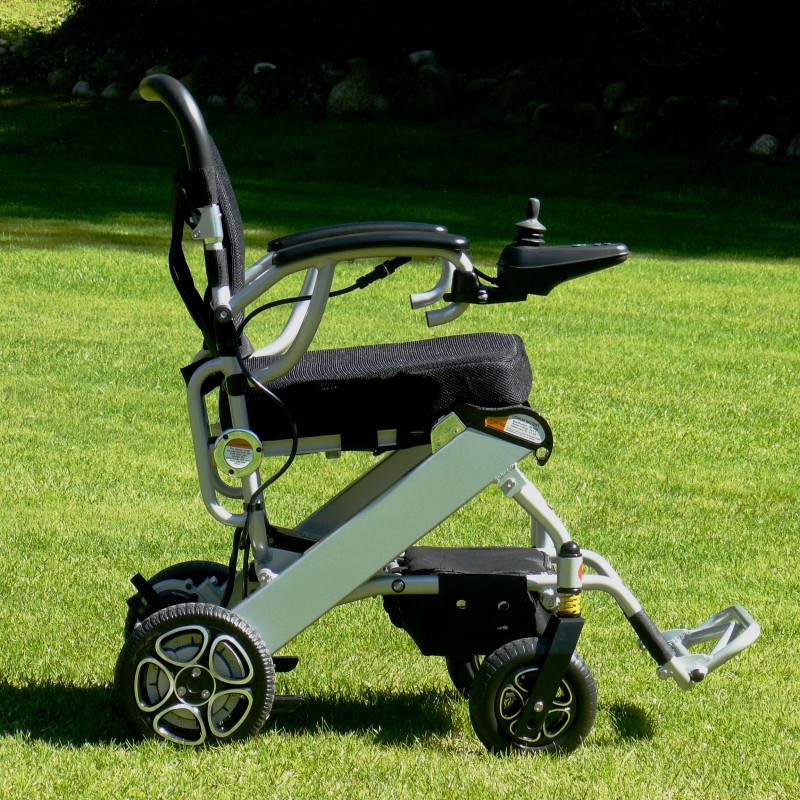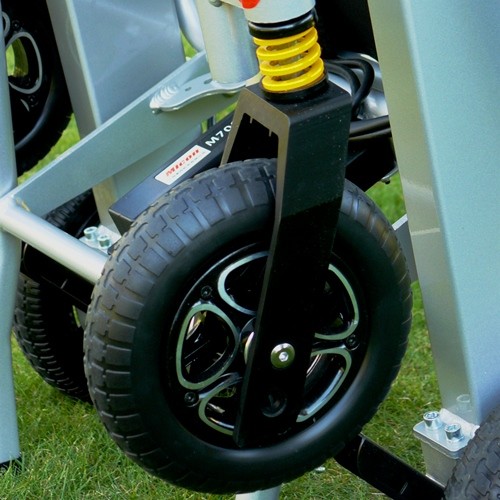 Libercar Mistral 7
Enjoy one of the lightest folding power chair available in the market. Its aluminum chassis and lithium batteries provide ultra-light weight (23,8 kg total weight chair, batteries weight: 1.3kg / each unit) and high performance (speed 6km/h, autonomy 18km). It is very easy to operate. This innovative folding system will provide easy storage and transportation.
This power chair weighs just 23,8kg including its electric motor and rechargeable battery. It even folds flat just like a lawn chair, and while you won"t want to have to carry it on a long walk to the beach, it's easier to toss into the trunk of a car than most non-powered wheelchairs.
With a top speed of about 6 km/h and a range of 18km the Libercar Mistral 7 isn't designed for those with permanent disabilities, but for those with occasional mobility issues.
The Libercar Mistral 7 has Two High Performance Hub Motors (2 x 200w) As Well As Anti Tip Wheels Allowing it to take on Steep Inclines & Hills Safely And Effortlessly. Also The Libercar Mistral 7 Lightweight Power Wheelchair has A Built In Battery Backup So You Will Never Be Caught Out Needing A Charge And Waiting Several Hours Before You Can Continue What Ever It Is You Need To Do.
This is a very useful folding power chair that will help you in your daily duties.
Features
- Folding footrest up:YES
- Front suspension: YES
- Aluminum wheels: YES
- Removable footrests: NO
- Reverse speed 3 km/h
- Solid rear wheel: 22 cm
- Solid front wheel: 19 cm
- Folding armrests: YES
- Telescopic small wheel
- Adaptable right-handed / left-handed: YES
- Progressive joystick intensity: YES
- Seatbelt: YES
- Manual push bar: YES
- Storage compartment basket
- Anti-perspirant support: YES
- Speeds No. 5
- Joystick position companion: optional
USB jack for mobile charging located in the joystick
Learn more about the Libercar Mistral watching the following VIDEO
1.475,48€
(10% VAT included)
REMEMBER: If you have a disability certificate greater than 33% degree, you are entitled to a VAT reduction on this product.
Free Shipping in Spain (peninsula).
Our physical store is located at Calle Cavanilles 7, 28007 Madrid.
Secure SSL Purchase (+info)
Returns: 15 days.
Need any assistance? Contact us +34 915701682
Financing:

Cetelem
From 3 to 60 months
Calculate your fee
Engine 2 x 200W
Batteries LITHIUM 2x6,6Ah
Max speed. 6 km/h
Aluminum chassis: YES
Max. Autonomy: 18 km
Joystick with digital display: YES
Chair normal length: 90 cm (90/80/40)x59 cm)
Chair length folded: 31 cm
Normal width: 59 cm
Length with folding footrest: 80 cm
Chair height: 89 cm
Folded seat height: 74 cm
Wheelbase: 46 cm
Base seat height: 50 cm
Chair Total weight: 21.5 kg
Lithium battery weight (ud) 1.3 kg
Chair structure weight: 21,2kg
Independent battery charging: YES
Seat width between armrests: 51 cm
Seat depth: 43 cm
*Warranty: 2 years and 6 months on the batteries
10% VAT and transportation included
Free shipping for orders shipped to Peninsular Spain. Please contact us for orders shipped to the Spanish islands and to other countries.
Reduced VAT rate (4%) will be applied to customer provided 33% disability certificate 33% (or higher degree)