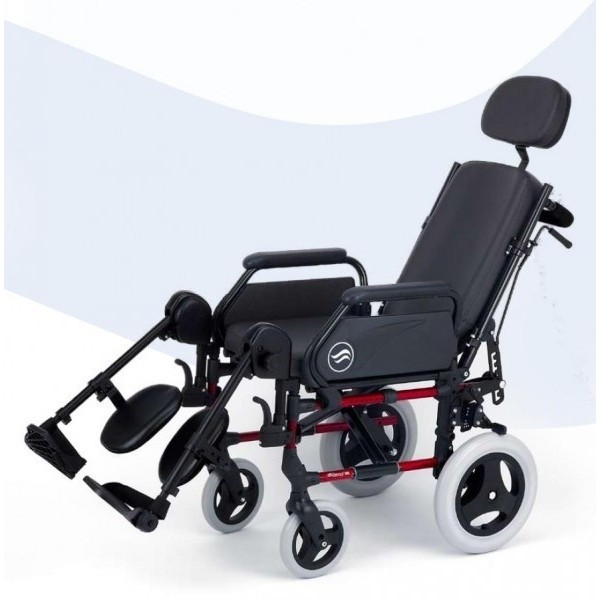 Breezy Style R
The Breezy Style R is an aluminum folding wheelchair with reclinabe seat. This chair is not self-propelled. Removable armrests, footrest adjustable in height and removable outward and inward.
Autopropulsable rear wheel of 315 mm. diameter. The chair must be carried by a companion person. Reclining backrest for comfort and for the user postural changes. OPTIONAL head restraints. Axis of the rear wheels delayed to give more stability.
558,00€
(10% VAT included)
REMEMBER: If you have a disability certificate greater than 33% degree, you are entitled to a VAT reduction on this product.
Free Shipping in Spain (peninsula).
Our physical store is located at Calle Cavanilles 7, 28007 Madrid.
Secure SSL Purchase (+info)
Returns: 15 days.
Need any assistance? Contact us +34 915701682
Financing:

Cetelem
From 3 to 60 months
Calculate your fee
Seat width: 37/40/43/46/49/52 cm
Seat depth: 42 cm
Seat height to floor: 50.5 cm
Seat angle: 3rd
Back height: 44.5 cm ( 82 cm model with reclining headboard )
Total width: Seat width + 21 cm ( with hand- operated wheels 24 ") / Seat width +18 cm ( with wheels not hand- operated 12" )
Total length: 106 cm ( wheels 24 " ) / 114 cm ( reclining model with wheels 24" ) / 95 cm ( 12 "wheels )
Total height: 95 cm ( 131 cm model reclining backrest with headrest )
Folded width: 31.5 cm ( 33 cm wheels 12 " )
Material: Aluminum
Tilting seat: No
Back recline: Optional
Weight: From 13.5 kg (standard configuration, size 40 )
Max user weight: 120 kg
Color: Bright Black, selenium gray, green apple and bright red
*Data provided by the manufacturer
Warranty: 2 years
10% VAT and transportation included
Free shipping for orders shipped to Peninsular Spain. Please contact us for orders shipped to the Spanish islands and to other countries.
Reduced VAT rate (4%) will be applied to customer provided 33% disability certificate or higher degree)