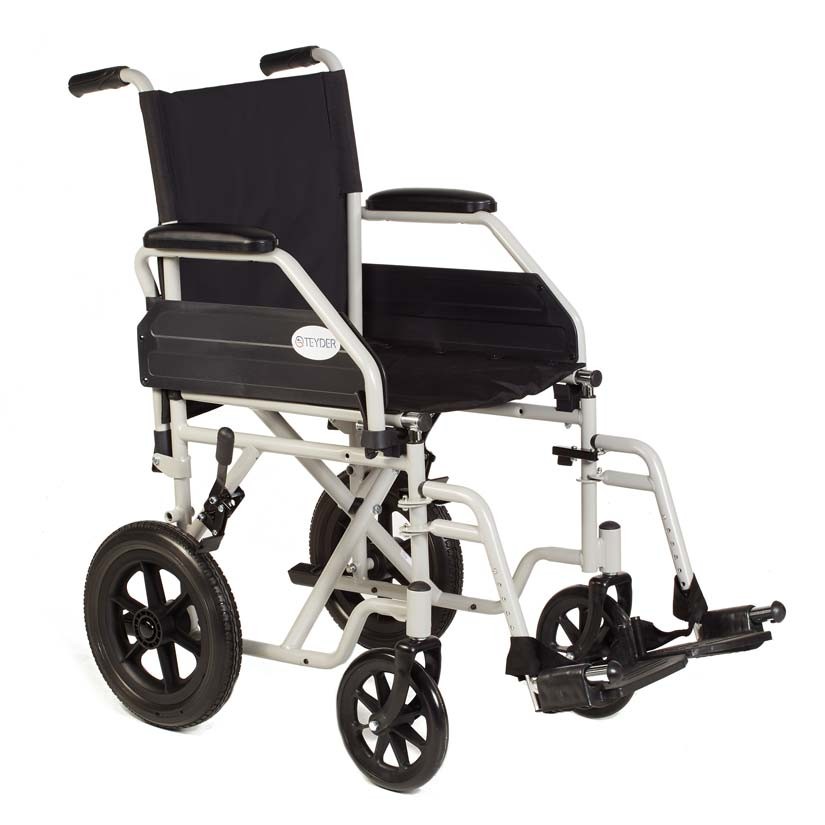 Teyder Rambla 1405SR
The Teyder Rambla 1405SR is a portable, robust and compact wheelchair. It is made of quality steel and it is easy to fold.
Features: Teyder Rambla 1405SR
+ Basic chair with breathable and washable nylon upholstery.
+ Folding structure.
+ Folding armrests
+ Removable and folding footrests to the outside. Adjustable in height.
+ Solid rear wheels with quick release system.
Easy to push wheelchair handle bars are usually ergonomically correct, and have a material such as foam to minimize skin pressure sores or blisters. Most handle bars that are made for easy to push wheelchairs, have the following features:
+ Helps reduce pain and fatigue from pushing a wheelchair.
+ Designed to fit over the handles of a manual wheelchair.
+ Allows you to push a wheelchair with one hand.
The rear wheels on an easy to push wheelchair should be made of a lightweight material to allow the lowest possible energy needed to push the chair. Transport wheelchairs are also convenient easy to push wheelchairs, since they come with small wheels, one of the reasons to buy this type of wheelchair is so that the caregiver can effectively push the user without exerting too much energy with each push.
The main aspects you should take into account before making your purchase is your loved one's physical ability, their medical needs and personal choices. The size and cost of the wheelchair, as well as how portable it is are also essential factors.
There are several elements you need to consider, according to what is the best fit for your relative. These include their body height and weight, mobility level, posture, skin condition and cognitive ability, but also the seat width and depth, leg rigging type, back rest height and armrest height.
Teyder Rambla 1405SR is a very reliable and long-lasting option.
242,00€
(10% VAT included)
REMEMBER: If you have a disability certificate greater than 33% degree, you are entitled to a VAT reduction on this product.
Free Shipping in Spain (peninsula).
Our physical store is located at Calle Cavanilles 7, 28007 Madrid.
Secure SSL Purchase (+info)
Returns: 15 days.
Need any assistance? Contact us +34 915701682
Financing:

Cetelem
From 3 to 60 months
Calculate your fee
Max user's weight: 125 Kg.
Seat width: 41 - 43 - 45 cm
Gross weight: 16 Kg.
Front wheels: 200 mm. Solid
Rear wheels: 300 mm Solid
Armrest type: desk type, folding
Removable footrest: Removable
Backrest: Non-folding backrest
Color: Silver
* Datos proporcionados por el fabricante.
Garantía: 2 años
10% de IVA y transporte incluido
Envío gratuito para pedidos enviados a Peninsular España. Póngase en contacto con nosotros para pedidos enviados a las islas españolas y a otros países.
Se aplicará una tasa reducida de IVA (4%) al certificado de discapacidad del 33% proporcionado por el cliente (o un grado superior)