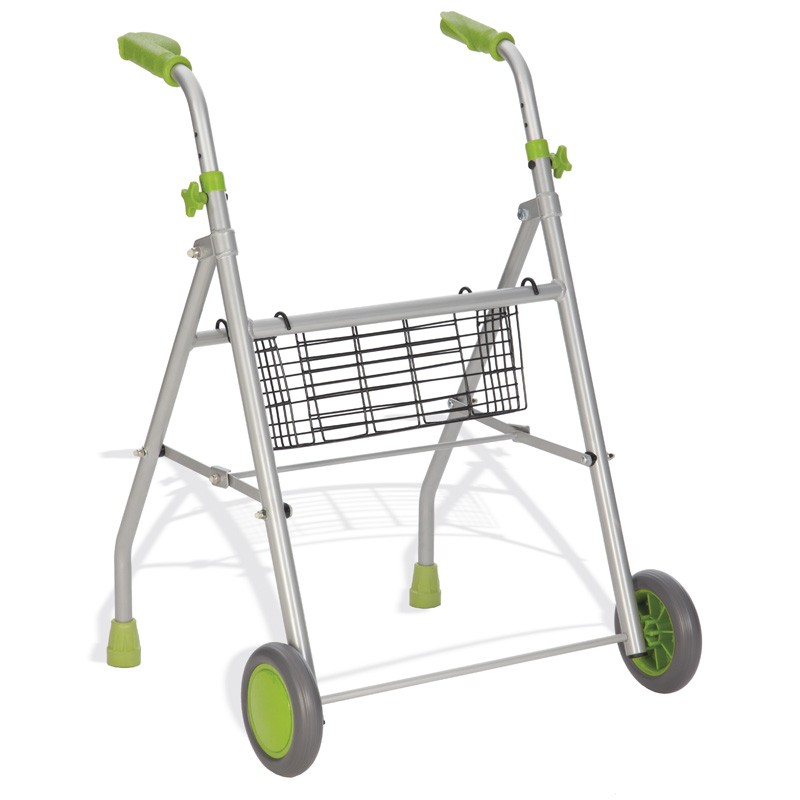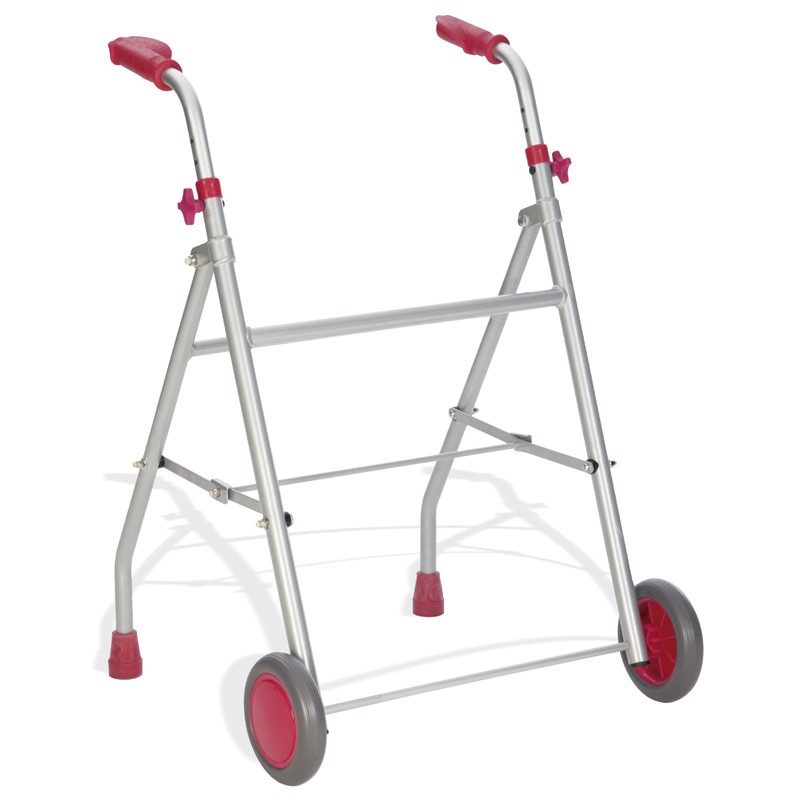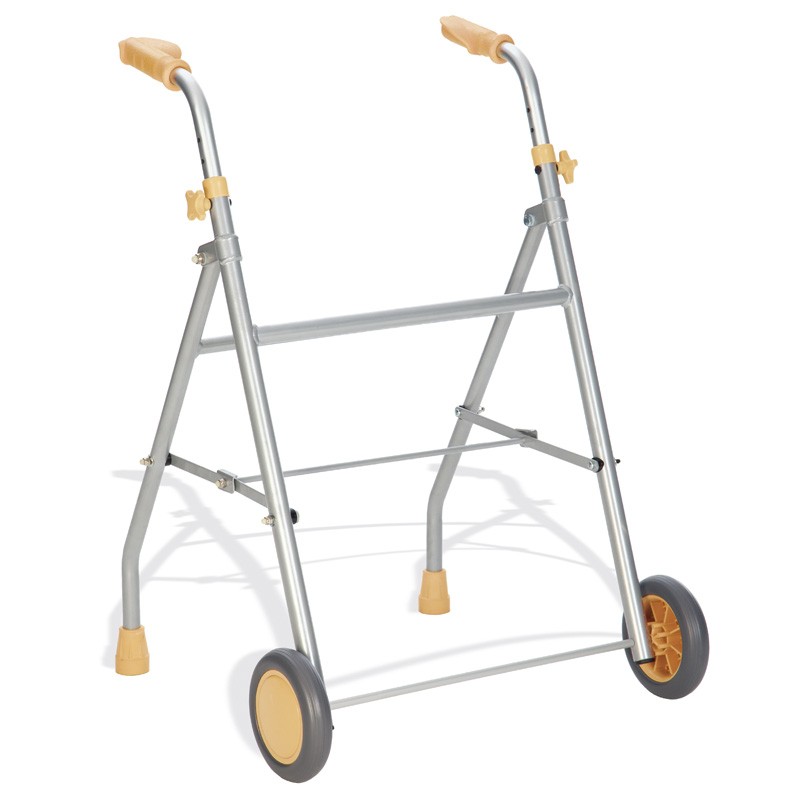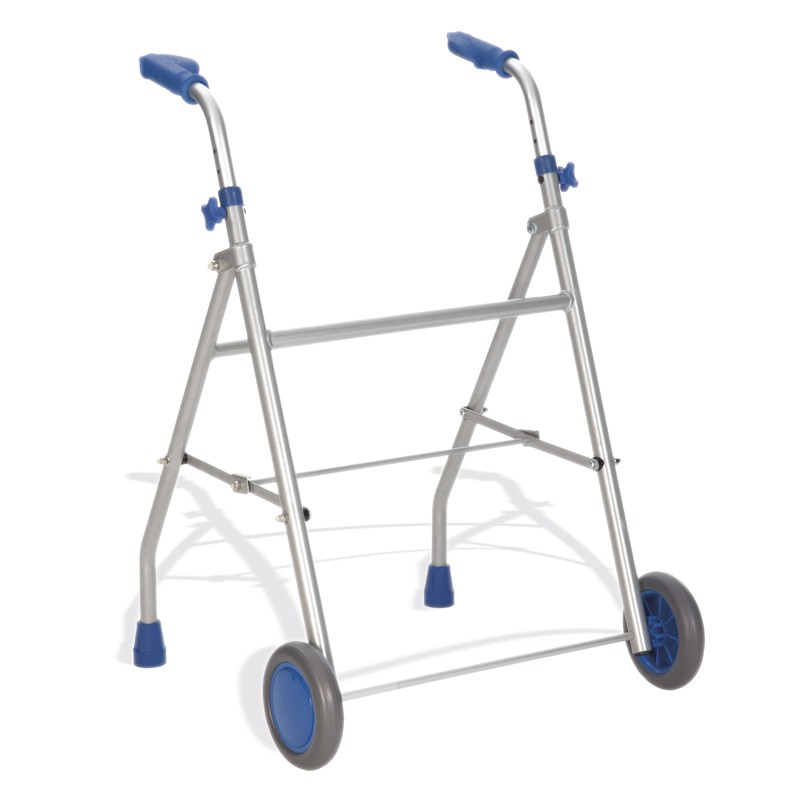 Color Motion walker
Color Motion walker is a very comfortable and lightweight walker.
The Color Motion walker is new lightweight, easy-to-fold aluminum walker. New larger wheels for a stable and secure walker. Soft and anatomical cuffs that adapt well to the hands and are adjustable in height. Optionally equipped with a practical metal storage basket.
Cleaning & Maintenance - Color Motion walker
To clean the Color Motion walker, use a damp soft cloth to clean the dust and dirt. Use soapy water for the toughest dirt. Dry with a soft cloth. Regularly check the condition of the ferrules and replace them when they wear out.
22 mm diameter
Technical specifications - Color Motion walker
Width 58 cm
Depth 56 cm
High cuffs 74 to 88 cm
Weight 2.5 kg
Max weight 100 kg
A walker or walking frame is a tool for disabled people, who need additional support to maintain balance or stability while walking, most commonly due to age-related physical restrictions.
The person walks with the frame surrounding their front and sides and their hands provide additional support by holding on to the top of the sides of the frame. Traditionally, a walker is picked up and placed a short distance ahead of the user. The user then walks to it and repeats the process. With the use of wheels and glides, the user may push the walker ahead as opposed to picking it up. This makes for easier use of the walker, as it does not require the user to use their arms to lift the walker. This is beneficial for those with little arm strength.
A walker is often used by those who are recuperating from leg or back injuries. It is also commonly used by persons having problems with walking or with mild balance problems.
Also related is a hemi-walker, a walker about half the size of a traditional walker which is intended for use by persons whose dexterity is limited or non-existent in one hand or arm. These walkers are more stable than a quad cane (a cane with four points that touch the ground, as opposed to one), but are not recommended as highly as a traditional walker for those who can use it.
For seniors dealing with balance or mobility issues, walkers are a safe, flexible and cost-effective way to help maintain an active lifestyle.
Walkers can be a game-changer for seniors struggling with reduced mobility, but they are not one-size-fits-all. Thinking about your specific needs and how you intend to use your walker will help ensure that you get the most out of your purchase. When selecting the best walker for you, there are several considerations.
95,00€
(10% VAT included)
Free Shipping in Spain (peninsula).
Our physical store is located at Calle Cavanilles 7, 28007 Madrid.
Secure SSL Purchase (+info)
Returns: 15 days.
Need any assistance? Contact us +34 915701682
Financing:

Cetelem
From 3 to 60 months
Calculate your fee
Width 58 cm
Depth 56 cm
High cuffs 74 to 88 cm
Weight 2.5 kg
Max weight 100 kg
* Data provided by the manufacturer.
 Warranty: 2 years
10% VAT and transportation included
Free shipping for orders shipped to Peninsular Spain. Please contact us for orders shipped to the Spanish islands and to other countries.