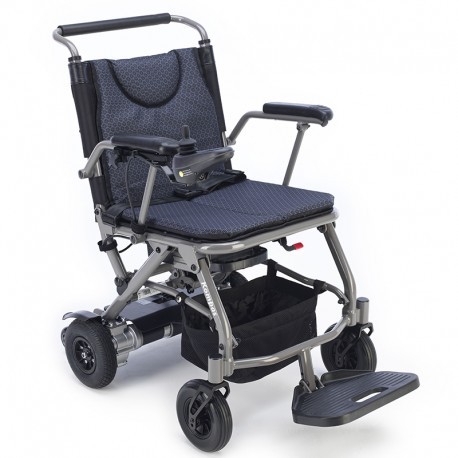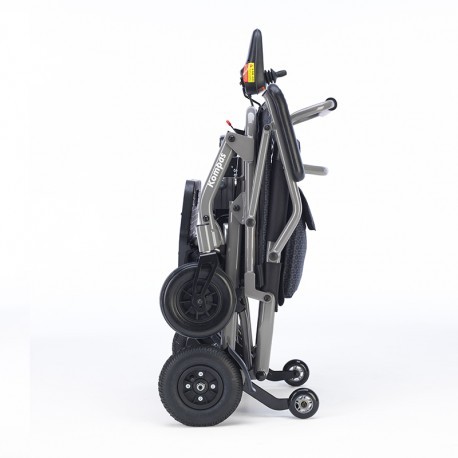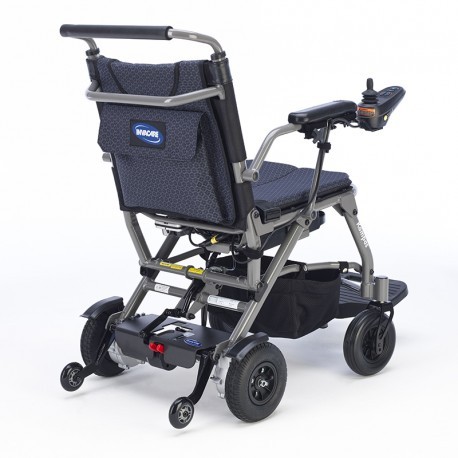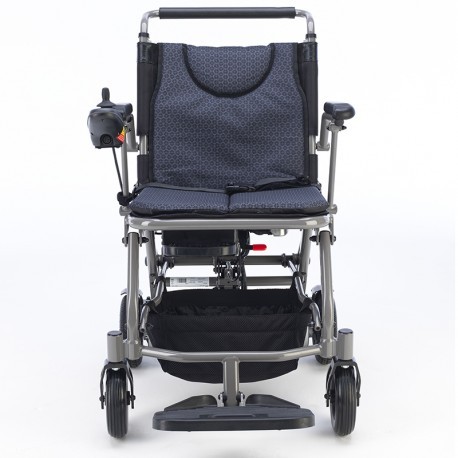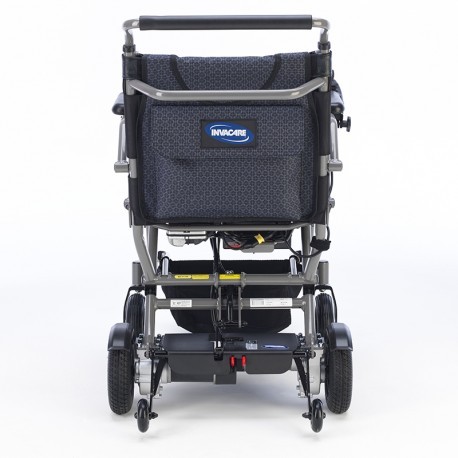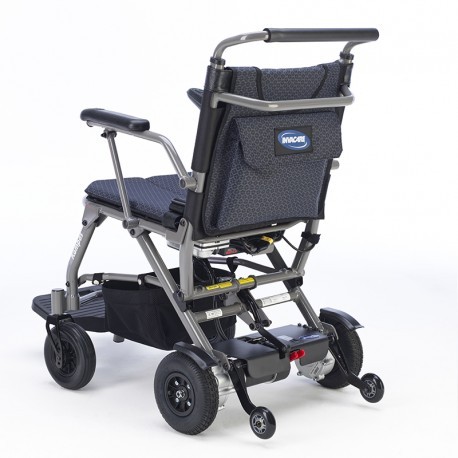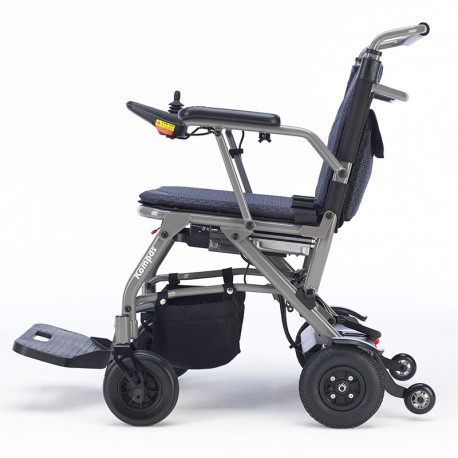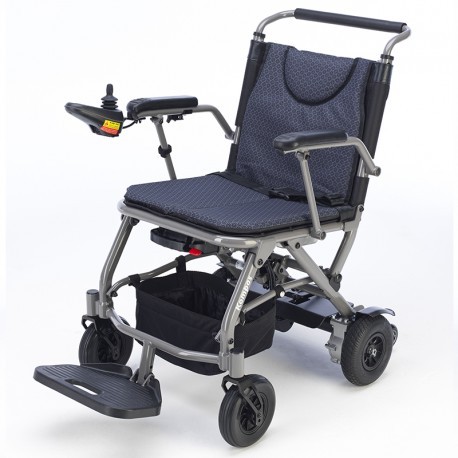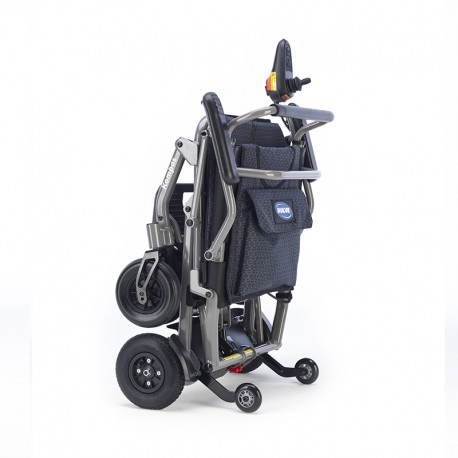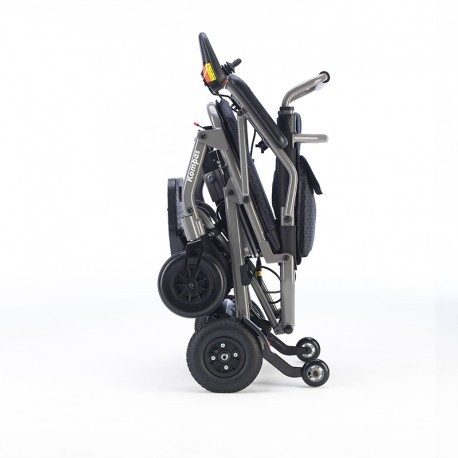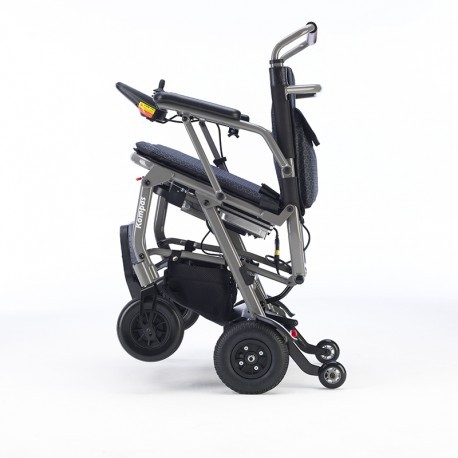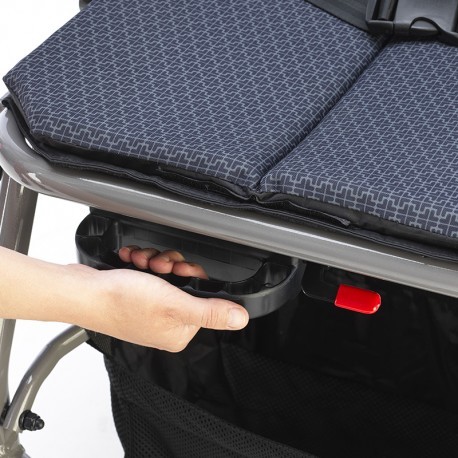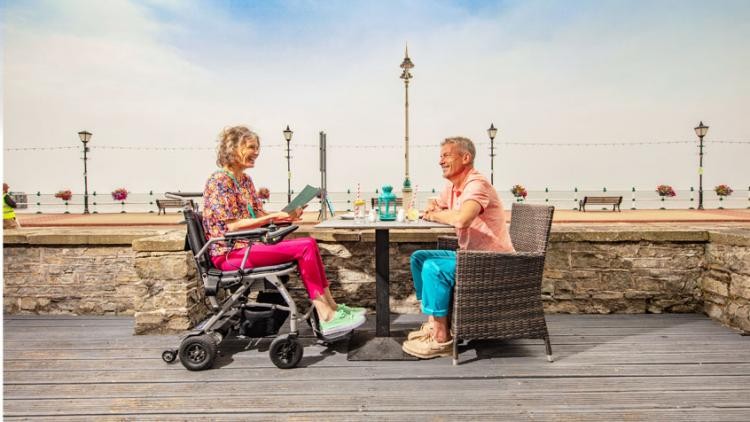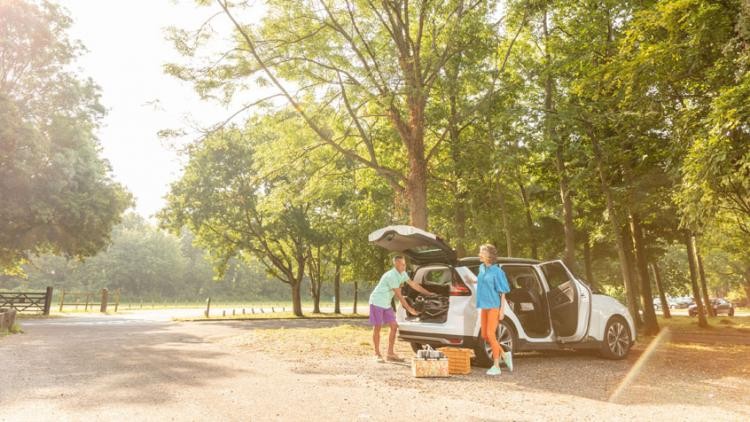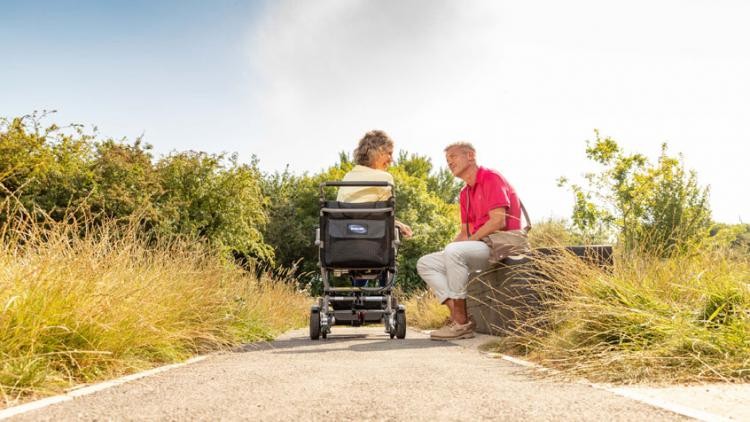 Invacare Kompas
The Invacare Kompas is a compact, lightweight folding power wheelchair that has been smartly designed to enable individuals to maintain active and independent lifestyles. Visually appealing with a refined manual wheelchair chassis combined with neatly placed power chair controls, the Invacare Kompas projects confidence and style on the go.
A sleek and simple one step folding mechanism allows the complete frame to fold effortlessly without having to remove the battery pack. With an impressive frame weight of less than 21kg, the Invacare Kompas is an easy choice when looking for a robust powered mobility solution that is great for storage and transportation.
Equipped with a high-quality controller that indicates the remaining battery charge, facilitates easy speed adjustments and nimble movement control, the Invacare Kompas folding power wheelchair is the perfect solution for those wanting to get the most out of life.
Invacare Kompas - Key Features
+ Height Adjustable: For taller clients, the Invacare Kompas wheelchair equipped with a height-adjustable backrest that provides extra support and comfort. Additionally, the supportive flip-up and anti-skid pedal are equipped with three height adjustments for enhanced comfort.
+ Lightweight Frame: Though it?s equipped with many features the wheelchair only has a frame weight of less than 21kg, making it easy to lift without additional help. Versatile and convenient: Combines the freedom of a powered mobility device with the compact design of a manual wheelchair.
+ Removable Lithium-Ion Battery: Thanks to its convenient design, there is no need to remove the battery pack when folding the wheelchair. The airline-approved removable battery also features an additional charging port and battery indicator for additional user-friendly operation. Removable Lithium-Ion Battery: 11.4Ah Li-On battery can be easily removed for off-board charging. The airline approved battery is also equipped with a useful charge indicator.
+ One step Folding Mechanism: Folding and unfolding this electric power wheelchair is a straightforward process thanks to an easy to locate lever. The one-step folding mechanism makes it quite easy to fold the power wheelchair to a compact size of 590 x 370 x 810mm. One-Step Folding Mechanism: The lightweight Kompas can be easily folded to a compact size of 590 x 370 x 810mm for transportation and storage.
+ Smart Braking System: An intelligent braking system locks the power wheelchair in place to prevent accidental rolling when it's not in motion.
+ Durable UK P&G Controller: High quality controller indicates the remaining battery charge and allows for easy speed adjustments and nimble movement control. Equipped with on-board charging port.
+ Convenient Storage Basket: Easily removable under-seat storage basket enables the transportation of small items during journeys.
+ Accessible Anti-Tippers: Helps to allow easy manoeuvrability for transport and additional stability for storage. Provides additional support for when the chair can be used for manual transportation.
Invacare Kompas - Additional Features
+ P&G remote control: The remote control has a battery charge indicator and allows speed adjustments and movement control. Equipped with charging port
+ Smart Braking System: Automatically prevents involuntary movement while standing still, effectively locking the chair in place.
+ Pneumatic rear wheels: Provides a smoother exterior driving with less impact to the user, without impairing maneuverability.
+ Bag: Removable nylon bag under the seat, allows the transport of small belongings.
+ Clutch: Clutch lever that releases the motors for manual transport.
+ Optional 17.1Ah Lithium battery. Larger battery available as an accessory to increase the range to 18km.
You can see all the features of the Invacare Kompas folding elecrtric wheelchair watching the following VIDEO
1.700,00€
(10% VAT included)
REMEMBER: If you have a disability certificate greater than 33% degree, you are entitled to a VAT reduction on this product.
Free Shipping in Spain (peninsula).
Our physical store is located at Calle Cavanilles 7, 28007 Madrid.
Secure SSL Purchase (+info)
Returns: 15 days.
Need any assistance? Contact us +34 915701682
Financing:

Cetelem
From 3 to 60 months
Calculate your fee
Seat width: 46 cm
Seat height: 52 cm
Total height: 95 - 100 cm
Driving unit width: 59 cm
Total length: 97 cm
Empty weight: 20.9 kg
The heaviest part: 20.9 kg
Max. User weight: 115 kg
Battery capacity: 24V / 11.4 Ah
Max. climbable obstacle height: 5 cm
Ground clearance: 3 cm
Max. safe slope: 6 degrees
Motor capacity: 70 W
Battery type: Lithium Ion
Speed: 6.4 kp/h or 4 mph
Driving range: 11 km / 7.1 miles
Total weight: 23 kg
Frame colour: Black/Grey
Rim colour: Black
Upholstery: Black
*Data provided by the manufacturer
Warranty: 2 years and 6 months on the batteries
10% VAT and transportation included
Free shipping for orders shipped to Peninsular Spain. Please contact us for orders shipped to the Spanish islands and to other countries.
Reduced VAT rate (4%) will be applied to customer provided 33% disability certificate 33% (or higher degree)