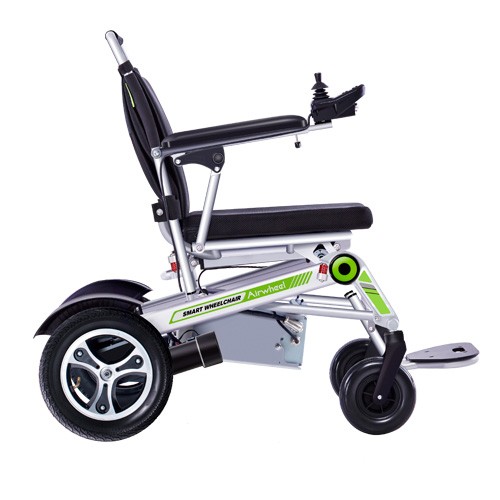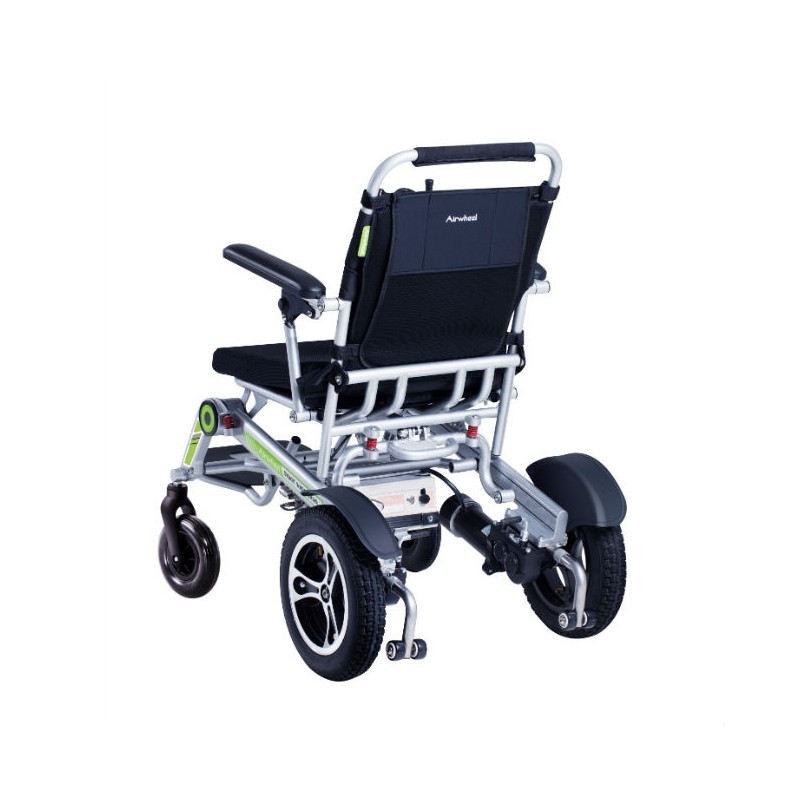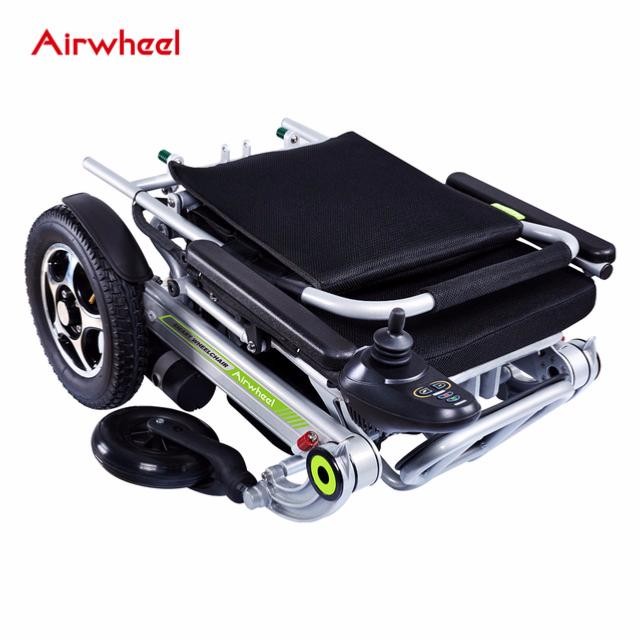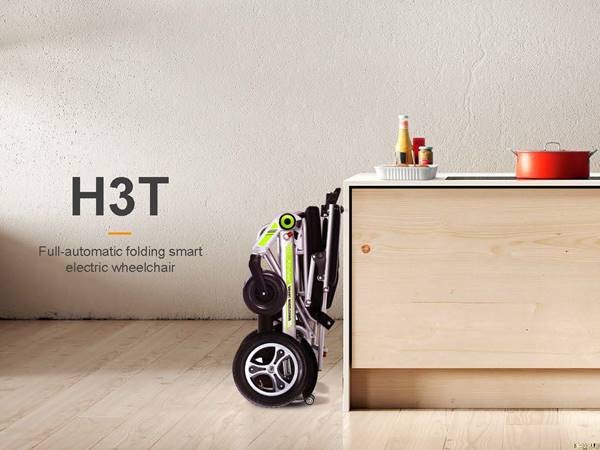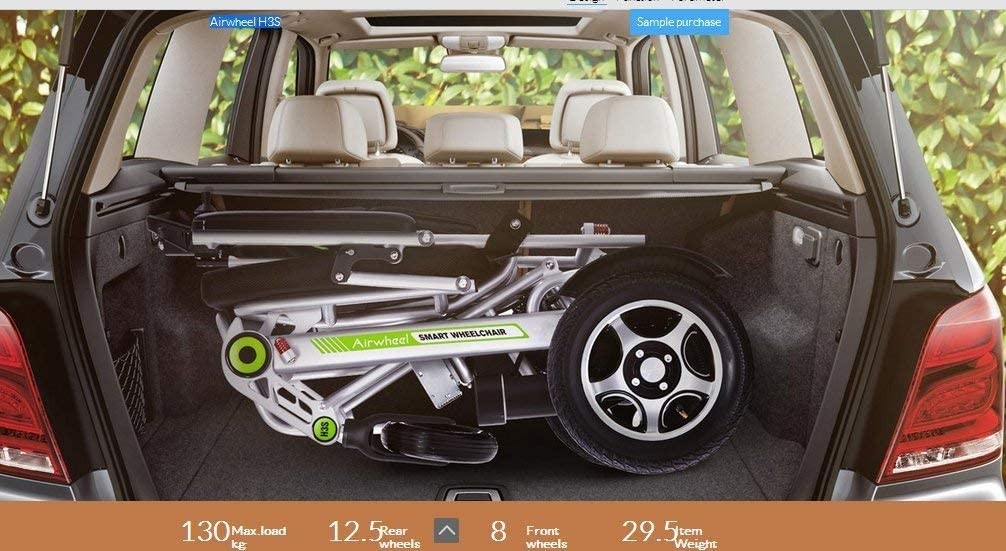 Airwheel H3T
Airwheel H3T is a Fold & Travel Motorized Electric Mobility Wheelchair Scooter with Remote Control. Move the smart wheelchair using your mouse! Produced to stringent quality requirements, the Airwheel H3T power wheelchair fulfills any criteria placed on standard care in terms of ergonomics, comfort, reliability and safety.
Main features - Airwheel H3T
+ 130 Kg Max.load
+ 12.5 Inch Rear wheels
+ 8 Inch Front wheels
+ 29.5 Kg Item Weight without battery
Remote control a motorized wheelchair with a remote - Airwheel H3T
A quick tutorial on how to use the remote control to remotely control an portable wheelchair.
Remote Wheelchair-App with more features - Airwheel H3T
Newly developed intelligent control system. Remote power on/off; fold/unfold with one button; Change the vehicle to your smart toy. Electric wheelchair will come to you by remote control. Three remote controls available. Bluetooth technology. Airwheel H3T is a Power Wheelchair-User-friendly design. Interchangeable left and right joystick controller. To adapt to different riders"habits
Adjustable and antiskid pedals - Airwheel H3T
Full automatic folding electric wheelchair. The pedals are comfortable and antiskid, with three adjustable heights to meet the needs of different users.
Motorized wheelchair-multiple functions - Airwheel H3T
Operable double armrests design. Accord with human body engineering. The retractable armrests make dinning and getting on/off easy and safe.
Considerate design with smart wheelchair
Washable thickened soft cushion. High-grade breathable fabric is easy to clean;the thickened soft cushion is designed for the sedentary to ease fatigue. Equipped with seat belt to safeguard each trip.
Strong and solid -tech wheelchair
Lightweight aluminum frame. Compared with the general selection, such frame is lighter and stronger, load up to 130kg.
Dual ride modes, more choices
Electric mode and manual mode. The electric mode gives riders an effortless ride and allows riders to stop and chat freely. Riders can enjoy the company of friends and families in the manual mode.
High quality accessories are carefully selected
High-capacity storage bag/high-end mini table. Riders can put the daily necessities into the back storage bag. It?s convenient for riders to have a meal, read book or play mobile phones, etc. on the mini table.
We invite you to watch more the following VIDEO about the Airwheel H3T
2.390,00€
(10% VAT included)
REMEMBER: If you have a disability certificate greater than 33% degree, you are entitled to a VAT reduction on this product.
Free Shipping in Spain (peninsula).
Our physical store is located at Calle Cavanilles 7, 28007 Madrid.
Secure SSL Purchase (+info)
Returns: 15 days.
Need any assistance? Contact us +34 915701682
Financing:

Cetelem
From 3 to 60 months
Calculate your fee
Weight (without battery): 29.6 Kg
Dimensions unfolded: 109x62x90cm (83 long folded footrest)
Folded dimensions: 84x62x42cm
Dimensions packed: 44x65x98cm
Rear drive wheels: 32x6cm (Pneumatic wheels)
Front wheels: 20x5cm (solid wheels)
Footrest: 30x18cm
Brake Type: Electromagnetic
Frame Material: 6061 Aluminum Alloy
Seat dimensions: 45x45cm
Maximum speed: 6km / h
Seat height: 54cm
Armrest height: 78cm
Maximum load: 130kg
Maximum angle: 12º
Turning radius: 1.2m
Ground clearance: 11cm
Maximum obstacle height: 40mm
Autonomy / charging time: 25km / 5h
Motor: 2x200W brush motors
Battery: 20Ah, 524Wh (removable)
*Data provided by the manufacturer
Warranty: 2 years and 6 months on the batteries
10% VAT and transportation included
Free shipping for orders shipped to Peninsular Spain. Please contact us for orders shipped to the Spanish islands and to other countries.
Reduced VAT rate (4%) will be applied to customer provided 33% disability certificate 33% (or higher degree)