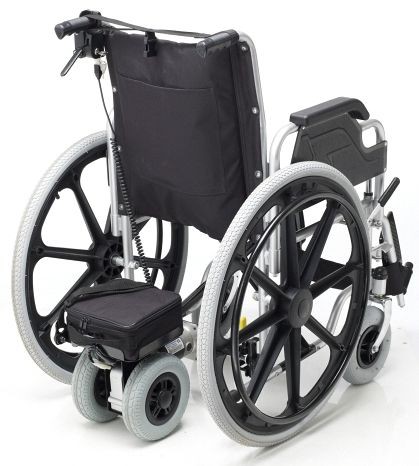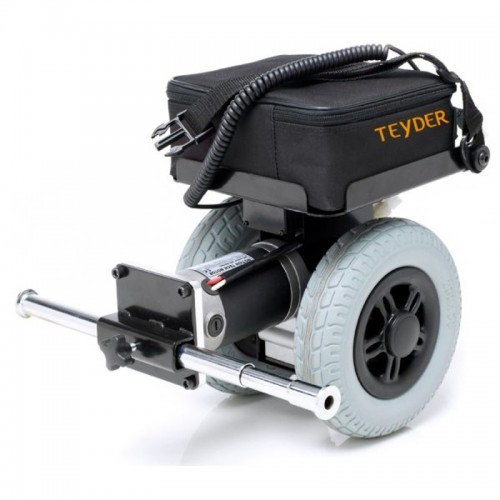 Power Pack Plus 1752CM
The Twin Wheel Power Pack Plus 1752CM attaches to any wheelchair in literally seconds. Once fitted you will never need to push the chair again. Simply walk behind with your thumb on the control and let the Power Pack Plus 1752CM do all the work for you.
No more struggling up hills, ramps or uneven ground; just press the lever and enjoy the effortless transportation the Power Pack Plus 1752CM provides.
With speeds up to 5.5 km/h with up to 159 kg on board and a range of up to 16 km per charge, there is more than enough capacity for most days out. The Power Pack Plus 1752CM is the most technically advanced carer controlled wheelchair power pack on the market.
The Power Pack Plus 1752CM fits 99% of the chairs on the market - and has a power of 300W. This engine allows you to reverse and forward to give you more comfort and also has a double wheel that gives the chair more stability. Its battery charge indicator allows you to track its autonomy and, with speed control, adapt the engine speed to gain more time before the battery runs out.
Thanks to its folding position and protective bag, the Power Pack 1752CM becomes a practical and easy to transport engine. Forget about not being able to fold your electric chair and store it in the trunk. With the Power Pack you will have all the comforts of a manual chair and the benefits of an electric chair.
Light enough to take anywhere the Power Pack Plus 1752CM enables you to have that extra mobility from car boot, coach, train, boat and plane.
Features:
+ Incredibly easy to fit
+ So easy to use and simple to remove
+ Tens of thousands sold world wide
+ Two year parts & labour warranty
+ The fully automatic charger simply plugs in to the sealed and maintenance free battery at the end of the day ready for the next day out.
"Don't Push it... An incredibly simple and reliable alternative to struggling whilst out and about"
*Range can vary according to user weight and conditions (such as terrain)
We invite you to know more about the Power Pack Plus 1752CM in the following VIDEO
968,00€
(21% VAT included)
Free Shipping in Spain (peninsula).
Our physical store is located at Calle Cavanilles 7, 28007 Madrid.
Secure SSL Purchase (+info)
Returns: 15 days.
Need any assistance? Contact us +34 915701682
Financing:

Cetelem
From 3 to 60 months
Calculate your fee
Max User Weight: 159 Kg. (Includes chair weight)
Maximum speed: 5.5 km / h.
Travel range: up to 16 Km. *
DC motor: 12V / 300W
Battery: 1X 12V / 20 Ah.
3A external charger off-board
Gross weight: 13 Kg.
Drive wheels: 200 mm. x 2 pcs.
Dimensions: 300 mm. (length) x 200 mm. (width) x 245 mm. (high)
Weight of the base: 6.4 Kg.
Battery weight: 6.8 Kg.
Total weight: 13.2 Kg.
10º surmountable slope (136 Kg.)
Adaptable to chairs with Seat width: 35 - 50 cm.
*Data provided by the manufacturer.
Warranty: 2 years and 6 month on the battery
21% VAT and transportation included
Free shipping for orders shipped to Peninsular Spain. Please contact us for orders shipped to the Spanish islands and to other countries.