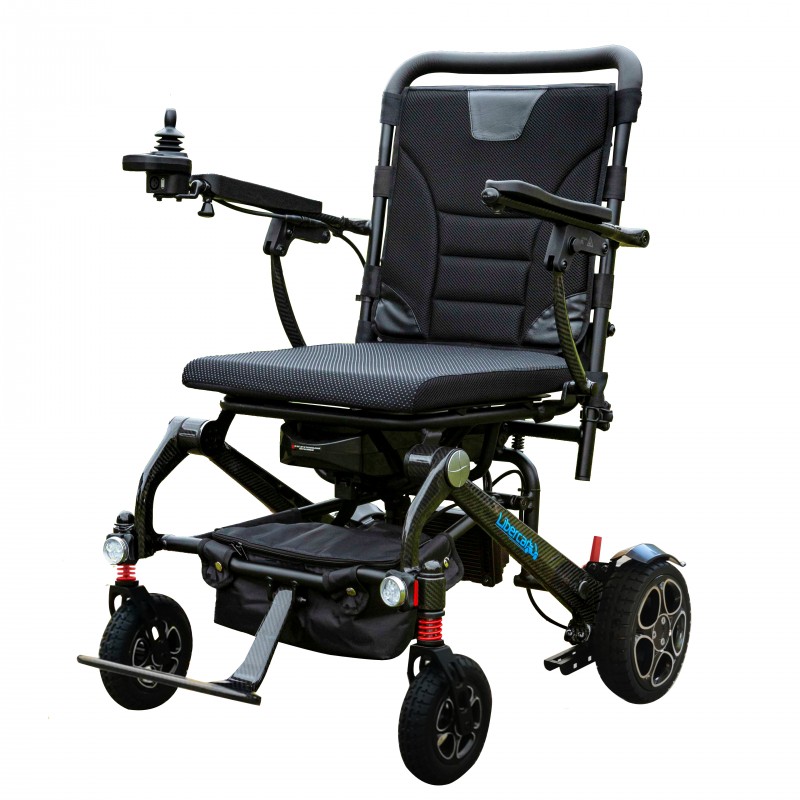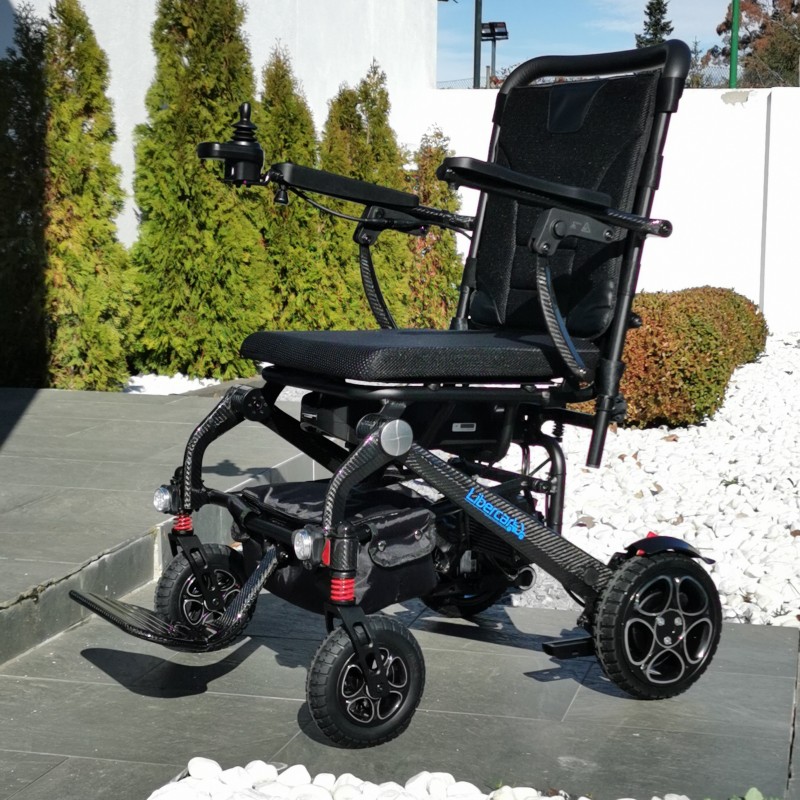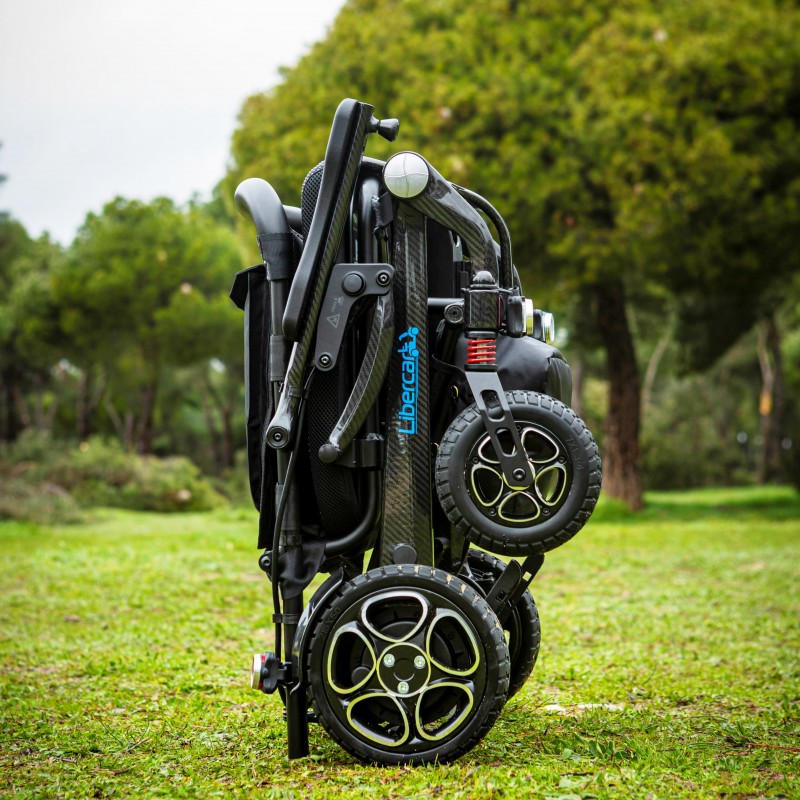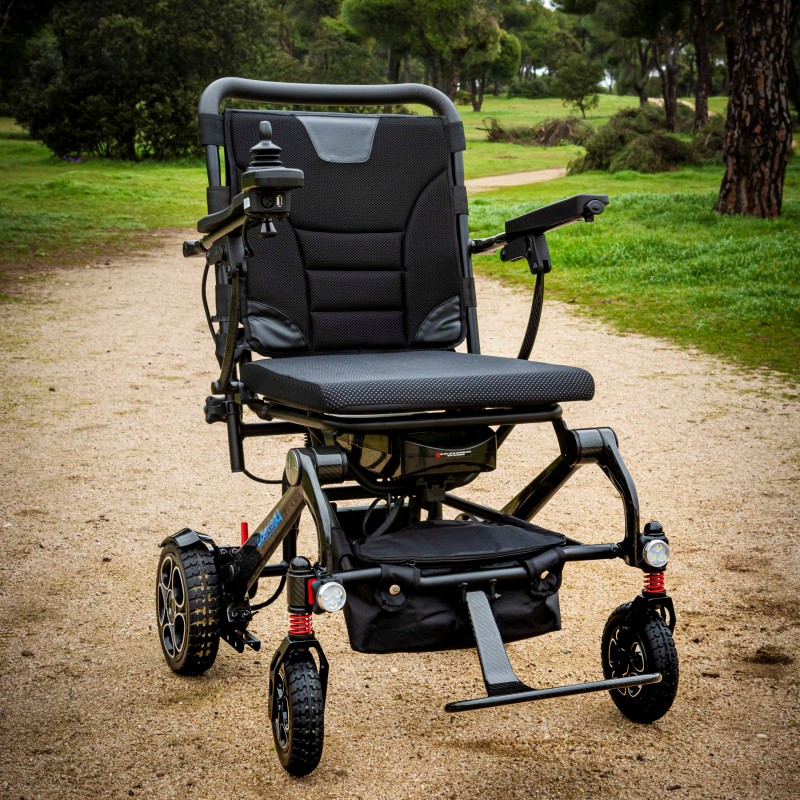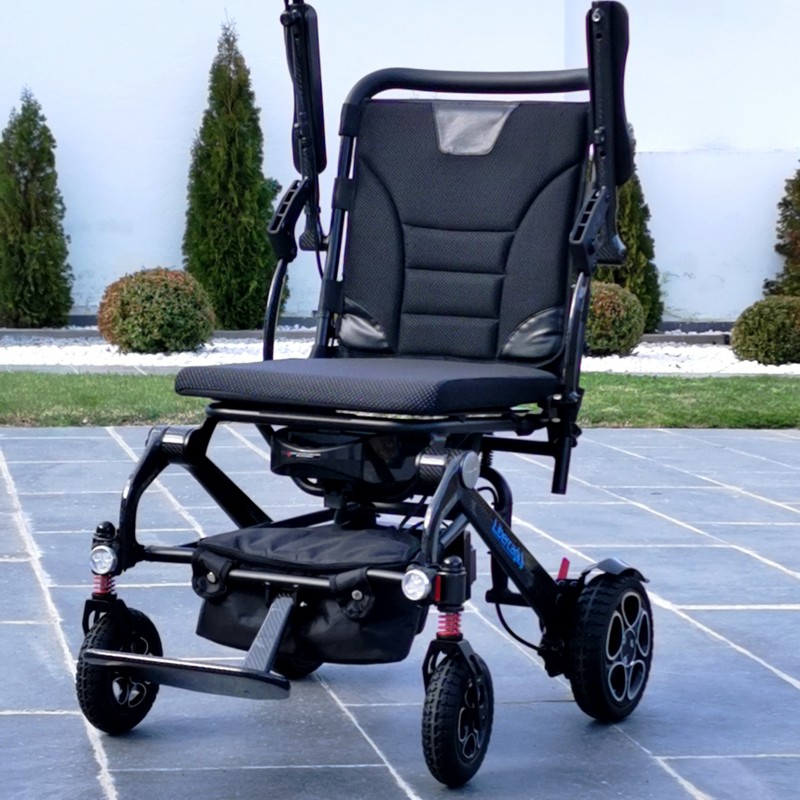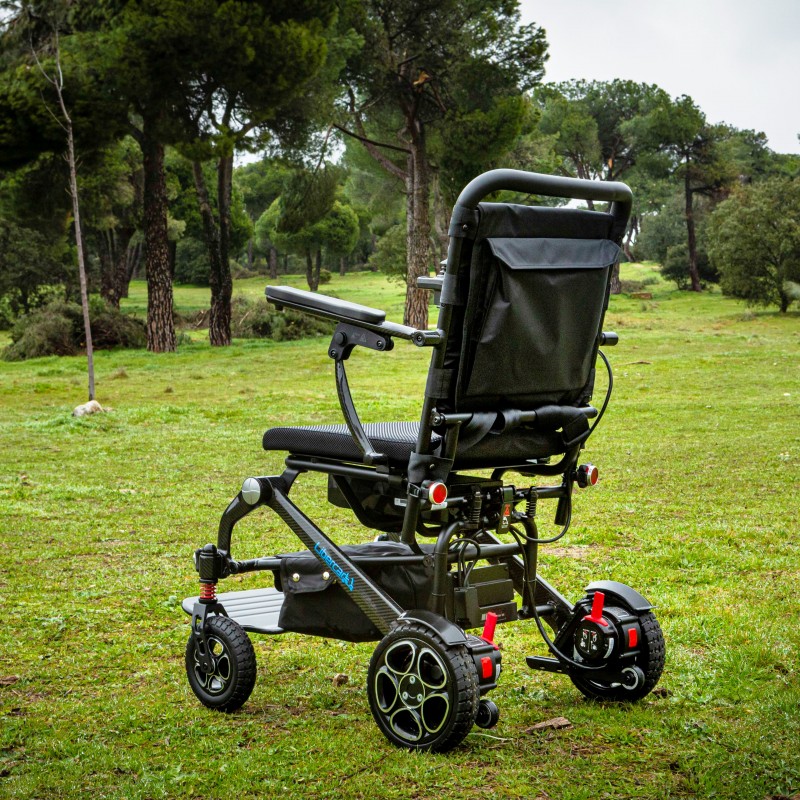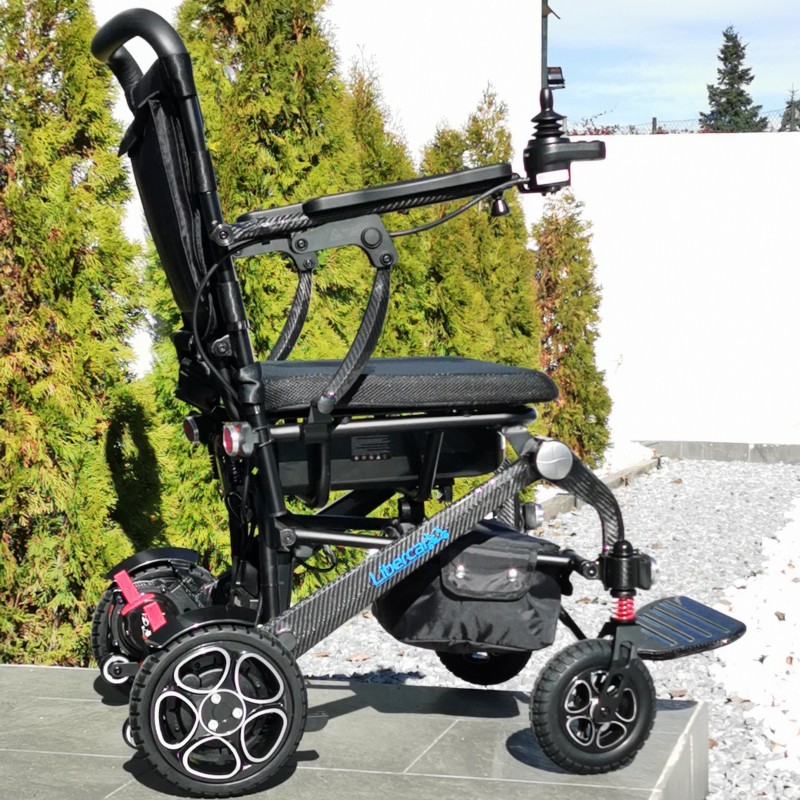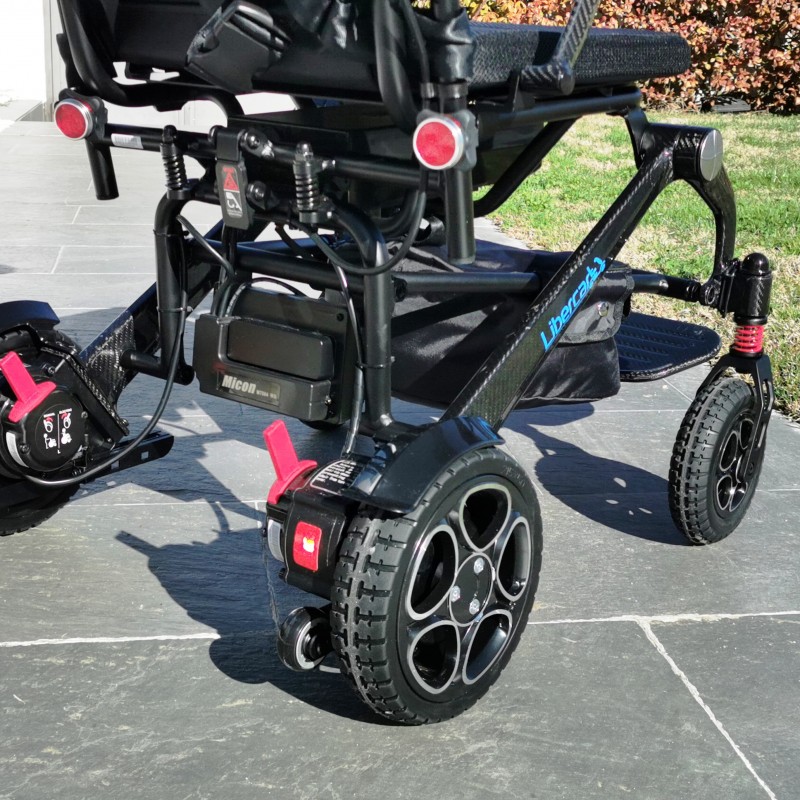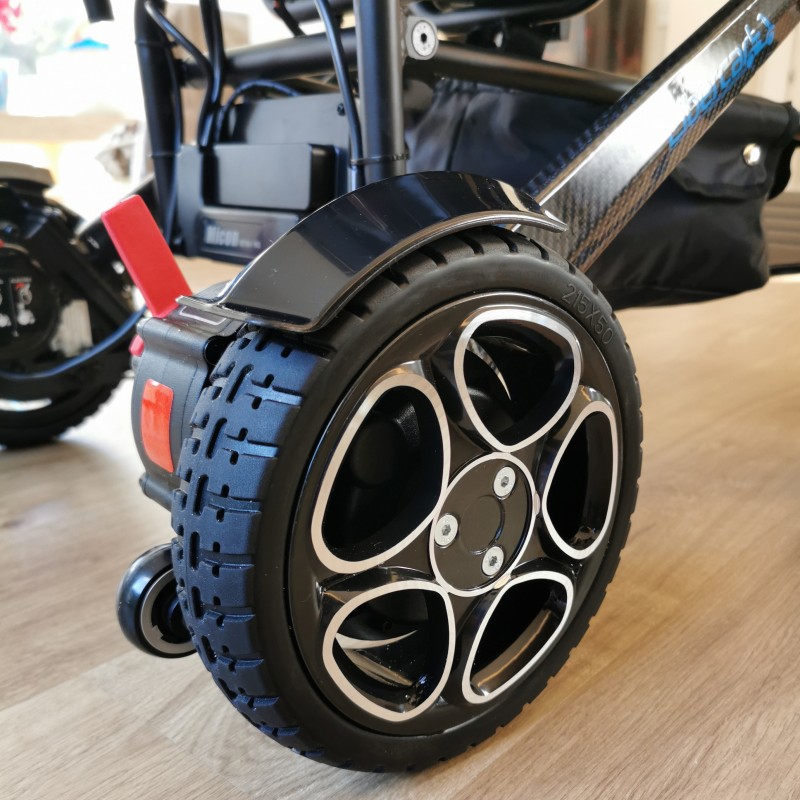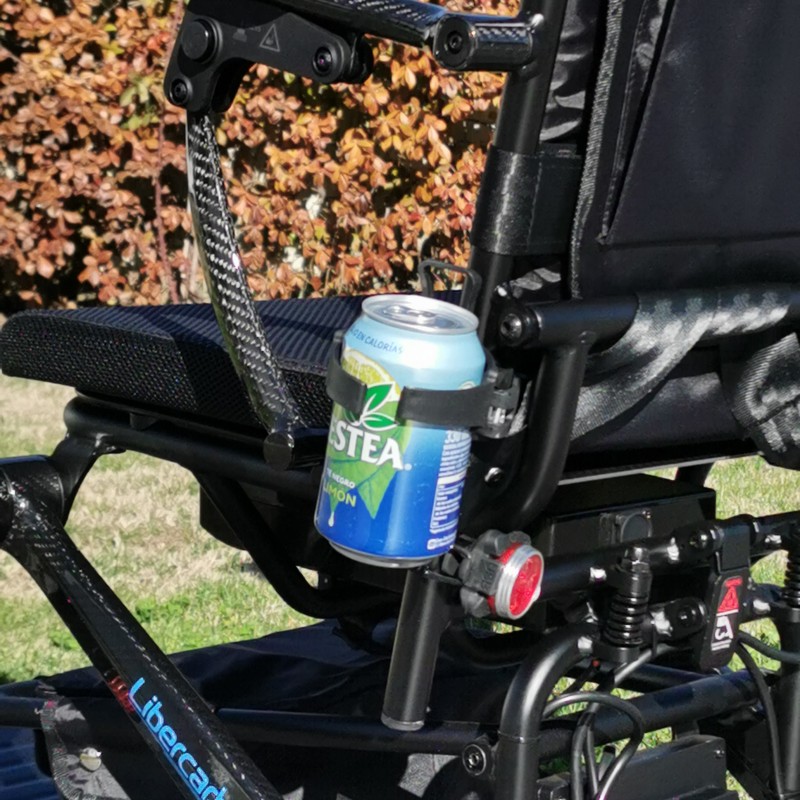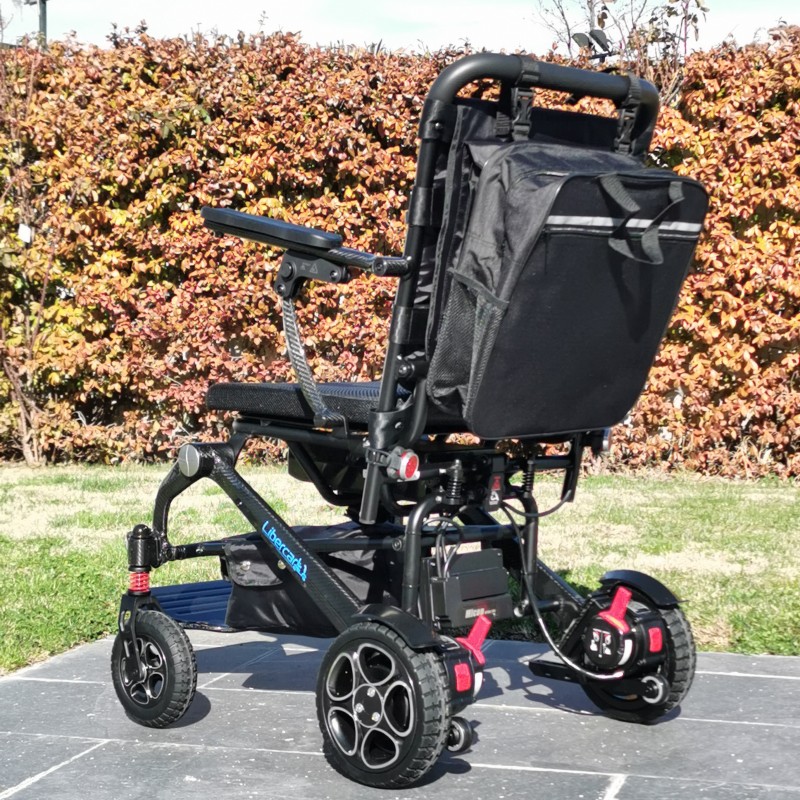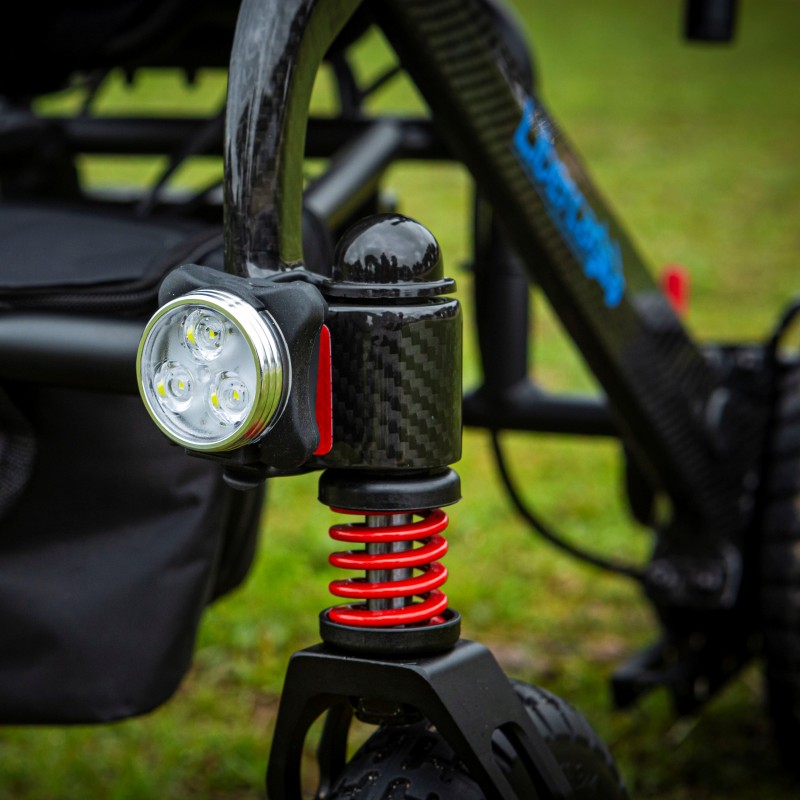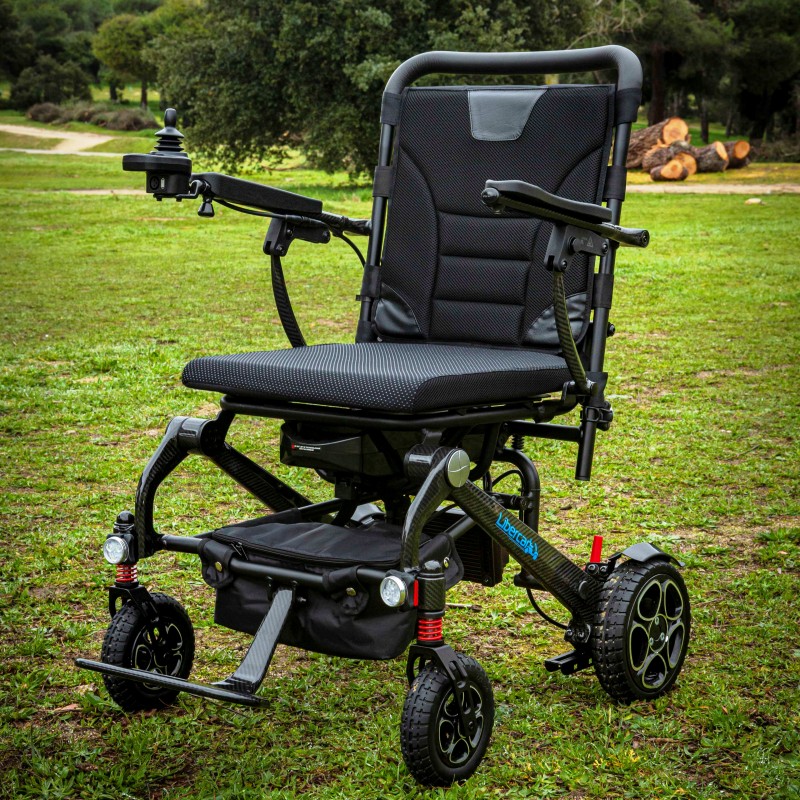 Libercar Alma
Libercar Alma is the first power chair on the market in the segment of ultra-light folding electric wheelchairs with lithium battery, made entirely of carbon fiber.
Carbon fiber is a material highly appreciated for its mechanical properties (lighter than aluminum and harder than steel) and although initially its use was restricted to exclusive applications due to its high price, Libercar has managed to incorporate this new technology at a reasonable price. Thanks to its carbon fiber chassis, the latest generation brushless motors and its lithium batteries, the Libercar Alma has a weight of only 18kg and a mechanical behavior far superior to that of conventional chairs.
ULTRA-LIGHTWEIGHT, COMPACT AND TRANSPORTABLE
Carbon fiber chassis and lithium battery
Chair frame weight: 18kg - Removable battery weight: 1.8kg-2.2kg
HIGH PERFORMANCE
Brushless motors: 2x250W
Lithium battery: 10Ah-20Ah (depending on the model)
Speed ​​max. 8km / h
Autonomy max. 26km
Integral cushioning
Lights
Memory foam seat
Digital joystick - 5 speeds - Progressive intensity
USB jack for mobile charging located in the joystick
MODERN AND COMFORTABLE DESIGN
MAXIMUM ROBUSTNESS AND SAFETY
Maximum recommended weight 135kg
CARBON FIBER
Carbon fiber is a highly valued material in today's industry thanks to its excellent mechanical properties. Initially used exclusively in avant-garde applications for aeronautics and high competition sports, its applications have been extended to different sectors, being Libercar Alma the first electric wheelchair with a carbon fiber chassis. 2 times lighter than aluminum and 5 times harder than steel.
Carbon Fiber Features:
Ultra-light weight and exceptional strength
Greater resistance to impacts and vibrations
Tolerance to temperature variations
High flexibility and resistance to fatigue
Resistance to humidity and corrosion
Great durability and elegant appearance
LITHIUM TECHNOLOGY
Advantages of lithium batteries:
Lower weight
Greater benefits
Longer longevity
Low self-discharge rate
No memory effect problems
HIGH PERFORMANCE LITHIUM BATTERIES
Available with 10Ah and 20Ah lithium batteries. Compact, removable and ultra-light (1.8kg-2.2kg) Great autonomy (13km-26km).
3 charging options:
Via joystick
Via battery on chair
Removable battery socket
2 charge indicators:
On-screen joystick
On screen battery (20Ah)
BRUSHLESS TECHNOLOGY
LAST-GENERATION BRUSHLESS ENGINES
Brushless motors use modern technology where energy transfer switching is done electronically with position sensors, which avoids brush friction problems and provides numerous advantages.
CARBON FIBER CHASSIS + LITHIUM BATTERIES + BRUSHLESS MOTORS = 30% lighter than a conventional chair.
COMPACT AND MANEUVERABLE
Width 59 cm to pass through all doors
Minimum length 66cm to fit all lifts
Progressive intensity joystick for precise driving
Telescopic anti-tip wheels
Possibility of manual push
TRANSPORTABLE AND STORAGE
The Libercar Alma chair is designed to make folding, handling, transport and storage as easy as possible. Thanks to its ultralight weight and its multiple adjustments, you can take your chair wherever you want.
Easy and effortless folding
Very compact folding dimensions: 59x35x71cm
'Stand-up' system: The chair remains standing
Trolley type transportable
MAXIMUM COMFORT
Front and rear cushioning
Memory Foam seat
Backrest with adjustable tension
High quality anti-perspirant fabric
Adaptable for right and left handed
Folding footrest and armrests
Storage case under seat
Back pocket on backrest
FOLDING AND ADJUSTABLE FOOTREST
The special curvature of the chassis and the ergonomic folding of the footrests at 120º allow the platform to be retracted 20cm to the height of the seat, freeing up the access area and making it as easy as possible to approach the chair to get on and off it. Height-adjustable footrest for greater user comfort.
QUICK-RELEASE FOLDING ARMRESTS
The armrests are foldable to facilitate transitions and approaches to tables. With safety lock and quick-release system
TELESCOPIC ANTI-TIP WHEELS
EQUIPMENT AND SAFETY
ROBUST AND SAFE
Carbon fiber chassis. 5 times harder than steel
User weight up to 135kg
Anti-puncture wheels
Alloy wheels
Mudguard
Seat belt
LAST GENERATION JOYSTICK
Digital display
5 speeds
Progressive acceleration intensity
USB socket
Battery indicator
Acoustic alarm Removable and adaptable for right and left-handed
FRONT AND REAR LIGHTS
Energy efficient LED lights. They help to see and to be seen. 4 modes: bright light, save light, flashing and strobe. It also has reflective front and rear.
BROAD OFFER OF ACCESSORIES
For further customization of your chair, Libercar offers you a wide range of accessories and options:
Companion joystick adaptation
Can holder / Bottle holder
Pole holder
Crutch holder
Bag
Protective case
Heated seat
Oilskin
Custom color
CERTIFICATIONS
CE CERTIFICATE DIRECTIVE 93_42
MEDICAL DEVICE
STANDARDS ISO 9001 AND ISO 13485
2.311,06€
(10% VAT included)
REMEMBER: If you have a disability certificate greater than 33% degree, you are entitled to a VAT reduction on this product.
Free Shipping in Spain (peninsula).
Our physical store is located at Calle Cavanilles 7, 28007 Madrid.
Secure SSL Purchase (+info)
Returns: 15 days.
Need any assistance? Contact us +34 915701682
Financing:

Cetelem
From 3 to 60 months
Calculate your fee
MOTOR: 2X250 brushless
MAX SPEED: 8 Km/h
MAX AUTONOMY (According to battery type): 13 km / h - 26 km / h
CHAIR STRUCTURE WEIGHT: 18 kg
FRONT CUSHION: Yes
MEMORY FOAM SEAT: Yes
CHARGING BATTERIES BY JOYSTICK: Yes
FRONT AND REAR LIGHTS: Yes
TELESCOPIC WHEEL LENGTH: 86 cm-94 cm
WIDTH: 59cm
HEIGHT: 95cm
SEAT WIDTH BETWEEN ARMRESTS: 47 cm
SEAT BASE HEIGHT: 52 cm
MAXIMUM SLOPE: 18%
FOOTREST FOLDING UP: Yes
REMOVABLE FOOTREST (WITH SCREW): Yes
REAR WHEEL ANTI-TIRE: 22 cm
FOLDING ARMRESTS: Yes
PROGRESSIVE JOYSTICK INTENSITY: Yes
SEAT BELT: Yes
STORAGE CASE: Yes
FOLDABLE: Yes
NO. GEARS: 5
CE CERTIFICATE SANITARY PRODUCT: CE 93_42
BATTERY: LITHIUM 1x10Ah / 1x20Ah
CHASSIS: CARBON FIBER
JOYSTICK WITH DIGITAL DISPLAY: Yes
LITHIUM BATTERY WEIGHT (ud): 1.8kg / 2.2kg
REAR CUSHION: Yes
ANTI-TRANSPIRANT BACKREST: Yes
INDEPENDENT CHARGING BY BATTERY: Yes
RECOMMENDED MAXIMUM WEIGHT: 135 kg
LENGTH WITH FOLDED FOOTREST: 66 cm
FOLDED CHAIR LENGTH: 35 cm
FOLDED CHAIR HEIGHT: 71 cm
SEAT DEPTH: 42 cm
ADAPTABLE RIGHT / LEFT HANDS: Yes
SAFETY SLOPE: 12%
ALUMINUM RIMS: Yes
REVERSE SPEED: 3 km / h
ANTI-TIRE FRONT WHEEL: 19 cm
MUDGUARD: Yes
JOYSTICK REMOVABLE QUICK RELEASE: Yes
BAR FOR MANUAL PUSH; Yes
BACK POCKET: Yes
GOAT FOOT AND STAND-UP SYSTEM: Yes
JOYSTICK ACCOMPANYING POSITION: Yes (Optional)
ISO9001 and ISO13485 STANDARDS: Yes
* Data provided by the manufacturer
Warranty: 2 years and 6 months on the batteries
10% VAT and transportation included
Free shipping for orders shipped to Peninsular Spain. Please contact us for orders shipped to the Spanish islands and to other countries.
Reduced VAT rate (4%) will be applied to customer provided 33% disability certificate 33% (or higher degree)