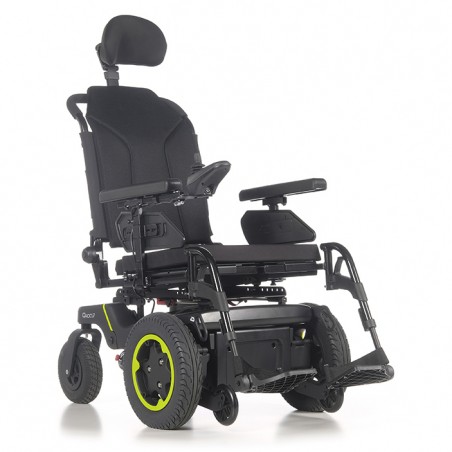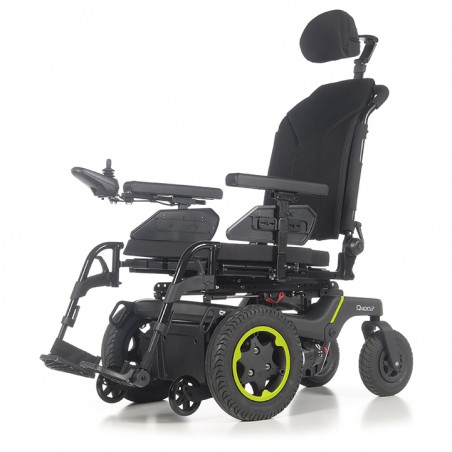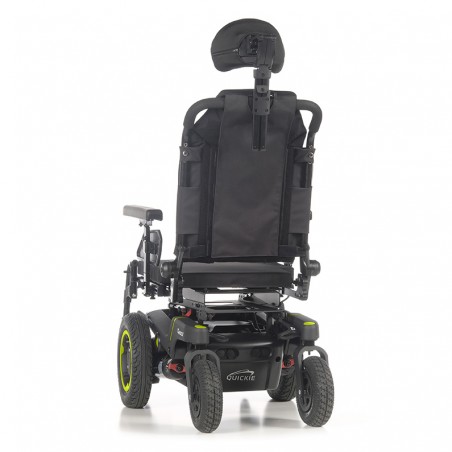 Q400 F Sedeo Lite
The Q400 F Sedeo Lite with front-wheel drive offers perfect performance both indoors and outdoors, without sacrificing style. All combined with the benefits of the SEDEO® LITE multi-adjustable seat system and the most advanced controls, it provides the perfect electric wheelchair for a safe driving experience. The base of the Q400 F Sedeo Lite is ideal for more experienced users. It offers a very low seat height to the floor from only 41.5 cm, which facilitates transfers of the chair and access to adapted vehicles or tables, among others.
Do not give up style
With a chassis finish in sleek matte black and the choice of 4 contemporary color accents to perfectly complement its striking matt black base, the Q400 F will captivate you with its design. You can achieve an expressive and really unique look. Are you looking for an even more personal style? Our Built-4-Me will provide you with an electric wheelchair that reflects your identity completely. Customizing your chair has never been so simple!
Front-wheel drive
The front-wheel drive offers more experienced users a great performance outdoors and great maneuverability in interiors, as well as the best stability when descending slopes.
Outside and inside the house
The design with inward curvature of the arms of the rear wheelsseras significantly reduces the back width of the chair, which translates into intuitive driving and ideal for indoor use.
Superior performance outdoors
Suspension with rubber shock absorbers (elastomers) to absorb the impacts and that you can move with total ease.
The power to take you wherever you want
Enjoy power and speed at your fingertips with the 4-pole high torque motors. Choose from 6 or 10 kph (low torque) for the ultimate performance. Plus, with a choice of 50 Ah, 60 Ah or 80 Ah batteries, you can maximise your range of up to 40 km and experience outdoor performance like never before!
Move around always with confidence
With ultra-reliable high torque 4-pole motors powering speeds of 6, or 10 kph and a choice of 60 or 80 Ah batteries to maximise your range, you can always travel in confidence with the Q400 F SEDEO LITE.
Sedeo Lite adjustable seat
Reinforce your independence and comfort with the SEDEO LITE seating system. Its adjustable frame is also provided with a lateral system of rails that allows to easily adapt postural accessories or any other type of solution that is needed to accommodate mild or moderate clinical needs.
Personalise your Q400 F Sedeo Lite with a selection of 4 striking colours for an expressive, individual look. Looking for a style that"s a little more unique. Our Built-4-Me customisations team can provide a powered wheelchair to reflect your individuality.
Superb indoor agility
Turning on its own axis, enjoy intuitive driving and excellent manoeuvrability in tight compact spaces with its narrow (640 mm) base and a 735 mm turning radius. Also, easily sit under tables and access Wheelchair Adaptive Vehicles (WAVs) with a low seat height from just 415 mm.
The control in your hand
The control in your hand
Control your environment with the Q400 F Sedeo Lite and its advanced electronic technology. Choose from a wide range of control commands, from the reliable VR2 to the advanced R-net with large, easy-to-read HD display.
Control your environment with the Q400 F SEDEO LITE and its advanced controller technology. Available with the reliable VR2 control and the superior R-Net advanced joystick, the large, easy-to-read HD display and simple to control paddle switches allow for intuitive operation.
Connect
Seamlessly take control of your environment using the integrated Infra Red functionality. Control your TV, docking stations and other home entertainment systems easily via your joystick.
Bluetooth & IDrive
Control your phone, computer, tablet and any other Bluetooth and i-devices with this useful optional extra. Connect and control up to four devices.
Quickie patented assignable buttons
Change the function on any button on your joystick to any command you desire, thanks to QUICKIE's patented assignable buttons. You can also assign a second (long press) function to buttons, for quicker, simpler and smoother access to commonly used functions without having to use your joystick.
Switch-it controls
If driving with a traditional joystick is not the best option, alternative drive controls allow you to fully experience your Q400 F Sedeo Lite powered wheelchair's driving capabilities and benefits.
Contact us for price information
Free Shipping in Spain (peninsula).
Our physical store is located at Calle Cavanilles 7, 28007 Madrid.
Secure SSL Purchase (+info)
Returns: 15 days.
Need any assistance? Contact us +34 915701682
Financing:

Cetelem
From 3 to 60 months
Calculate your fee
Seat Width: 385 - 510 mm
Seat Height: 415 - 490 mm
Seat Depth: 410 - 560 mm
Backrest Height: 460 - 510 mm
Overall Width: 640 mm
Overall Length: Max. 1190 mm
Speed: 6/10 kph
Battery Size: 50 Ah, 60 Ah, 80 Ah
Max. Range: Max. 40 km (with 80 Ah batteries)
Back Recline: 85° to 120°
Turning Diameter: 735 mm
Max. Safe Slope: 8°
Max Kerb Climb: 70 mm
Electronics: VR2, R-Net
Min. Wheelchair Weight: 130 kg
Max. User Weight: 136 kg
Colours: 4 colours: green, orange, black, silver
* Data provided by the manufacturer.
Warranty: 2 years and 6 month on the battery
10% VAT and transportation included
Free shipping for orders shipped to Peninsular Spain. Please contact us for orders shipped to the Spanish islands and to other countries.
Reduced VAT rate (4%) will be applied to customer provided 33% disability certificate 33% (or higher degree)