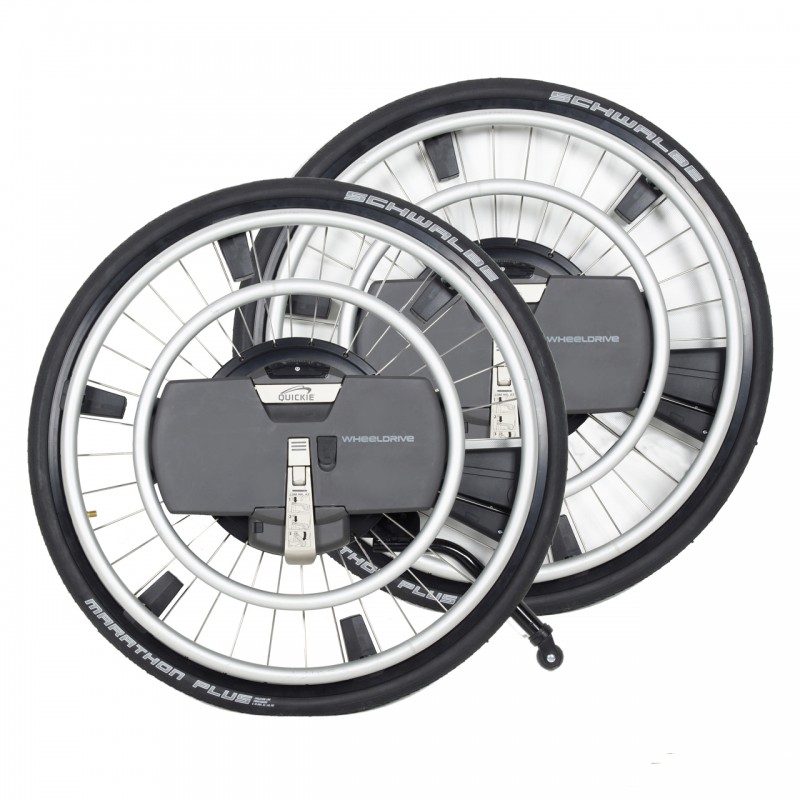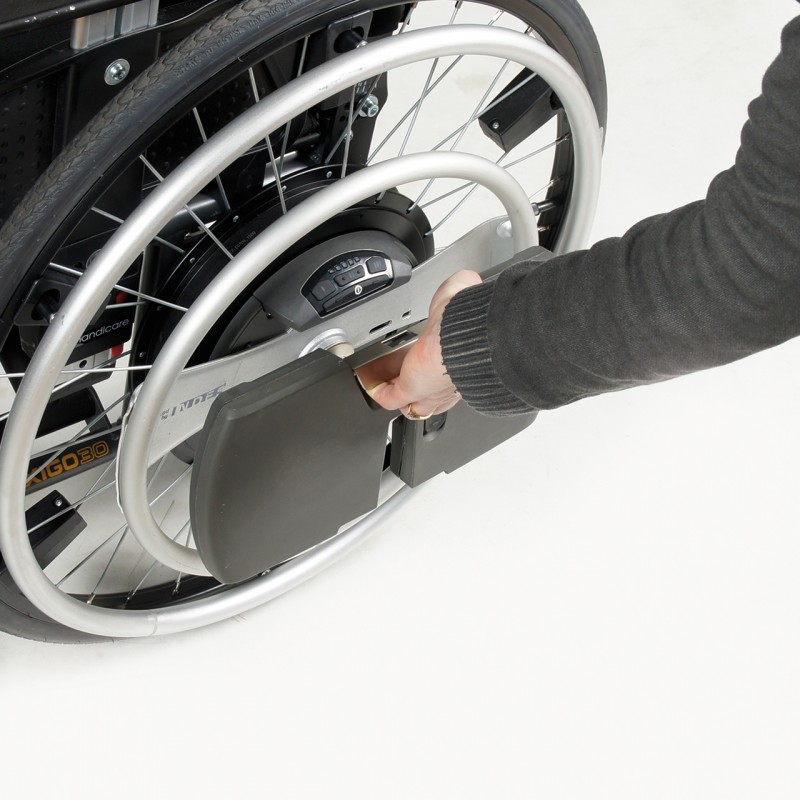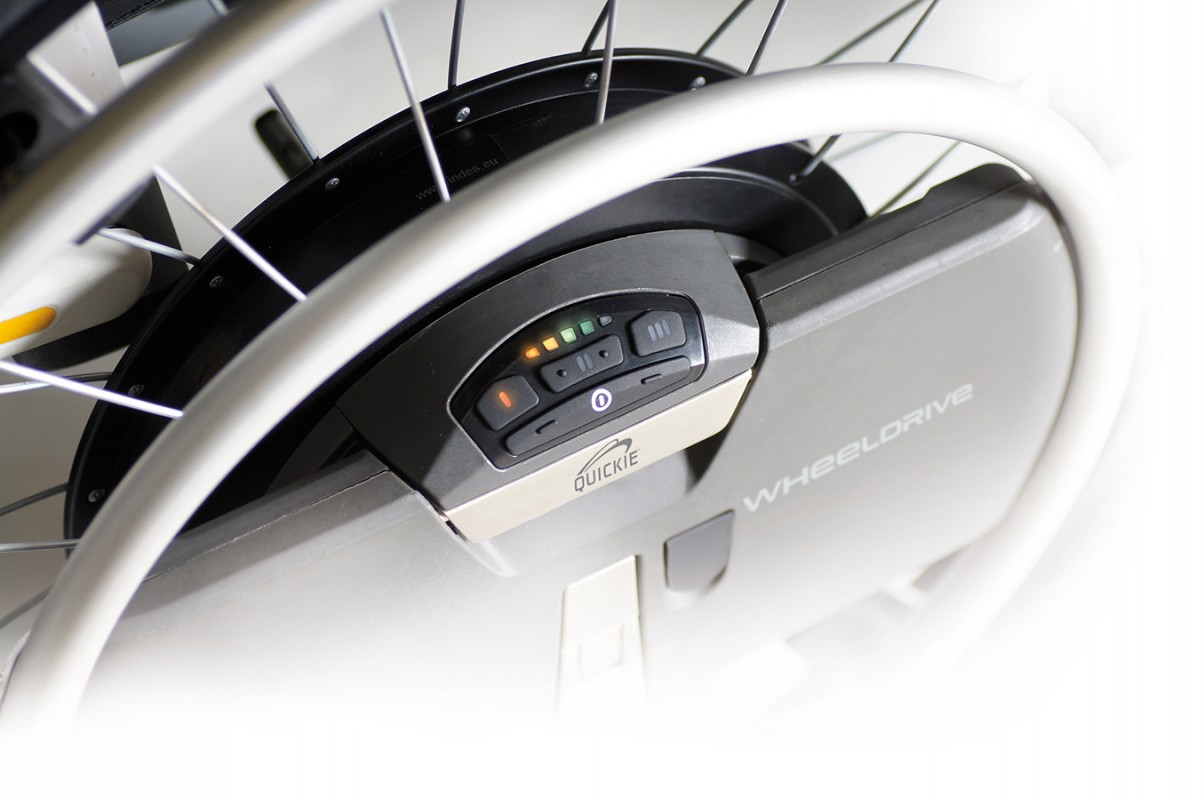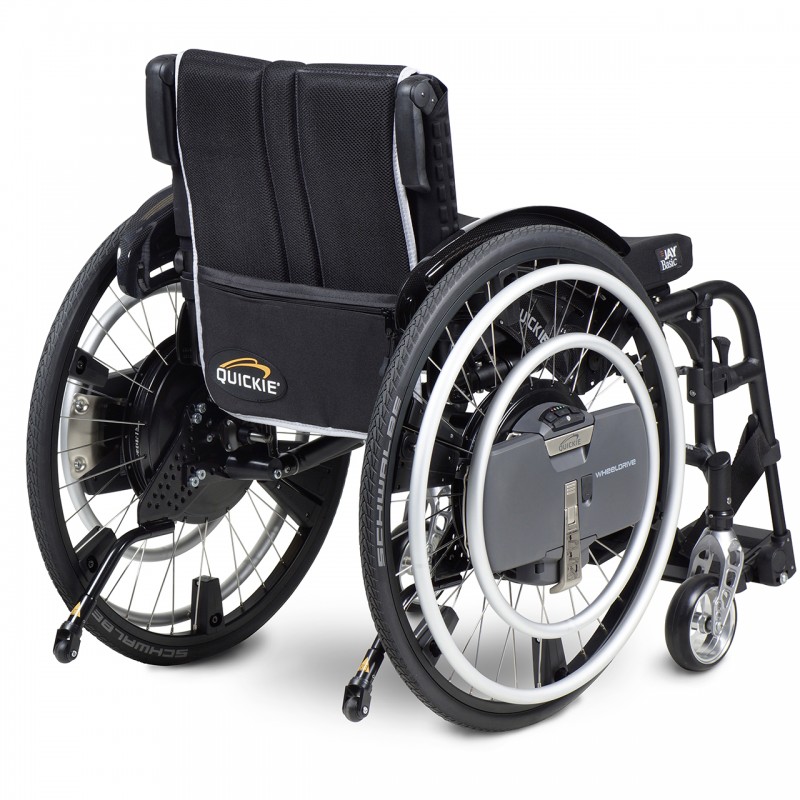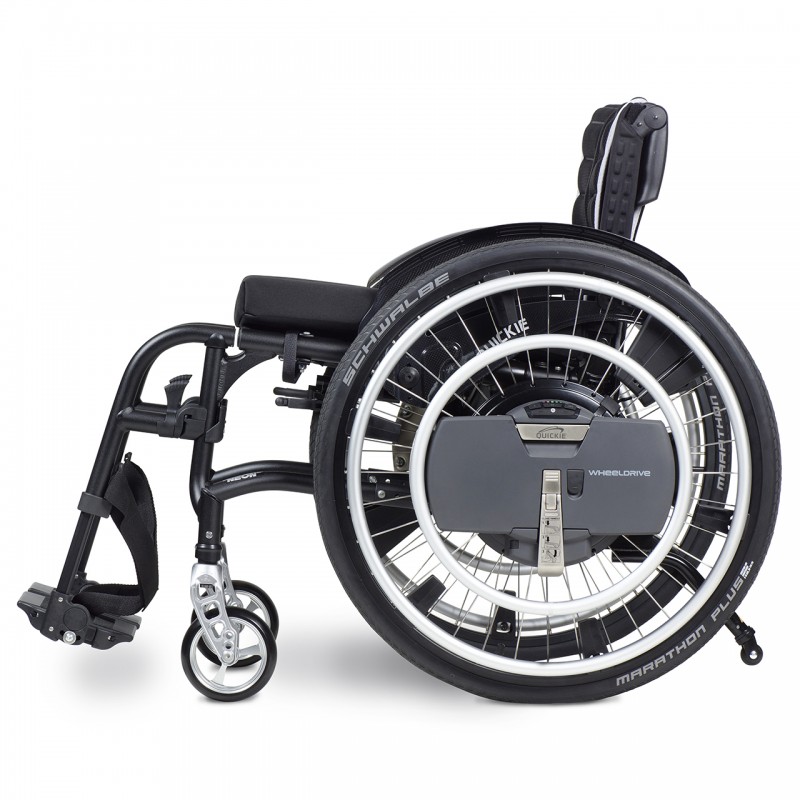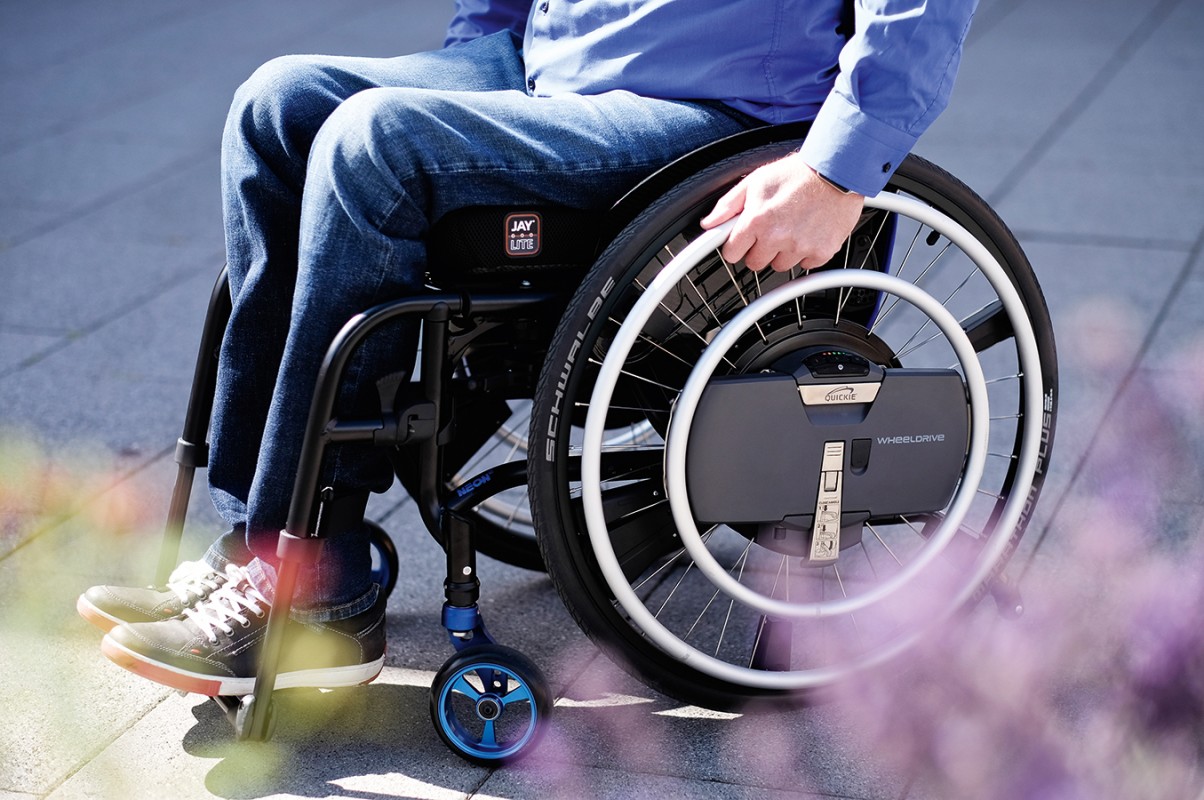 Quickie WheelDrive
The innovative WheelDrive power assist is designed to make driving your wheelchair easier - in every situation. And it offers therapeutic benefits at the same time. Due to its unique dual rim concept, WheelDrive not only gives power assistance while self-propelling, it also allows for continues drive. Simply choose the support you need and enjoy more freedom and stay active – in your own manual wheelchair!
Power assistance and continuous drive
WheelDrive features a unique dual rim concept. The large 'assist rim' provides extra power assistance while self-propelling. Choose from three support levels, each with their own specific driving characteristics. The small 'drive rim' gives you continuous drive at three speed levels - like a 'joystick on the wheel', no effort required. Naturally, you can easily switch between both rims. So you always get exactly the support you need!
Intuitive use - maximum freedom and independence
Using your wheelchair with WheelDrive power assist feels very natural – it's very much like regular self-propelling. Going further or driving on challenging surfaces and slopes? It'll simply require much less effort. This also goes for manoeuvring in tight spaces. And when you're travelling by car, the wheels can be quickly removed from your chair for easy transport. With WheelDrive you'll experience enhanced mobility and have more energy to enjoy an active life.
Staying active with less complaints of pain
After prolonged manual wheelchair use, you can experience arm pain and shoulder pain or a decrease in strength. WheelDrive power add-on reduces the strain on muscles and joints, and helps to prevent these problems. At the same time, active mobility or exercise is stimulated, allowing you to stay active and independent.
Easy fit on almost any wheelchair
The WheelDrive wheels can be easily mounted on virtually any lightweight or standard wheelchair, without any additional parts or changes to the chair. So you can continue to use your own manual chair, customized to fit your specific needs. Of course, you can swap back to the original manual wheels as an alternative at any time - no tools required.
Who can benefit from the WheelDrive power assist?
Do you experience arm or shoulder pain, or a decrease in strength? Does your energy level fluctuate a lot during the day? Or is it just too demanding to propel your wheelchair all the time? Then you can benefit greatly from the WheelDrive power assist for wheelchairs. However, WheelDrive is also a great solution if you are physically fit and simply want to go further.
Are you travelling by airplane. It is not a no problem anymore! WheelDrive meets IATA requirements so it can be transported as checked baggage. (Remove batteries before shipping)
Please note that single-hand operation and foot-propelling are not compatible with WheelDrive. In case of decreasing cognitive capacities or spasms the use of WheelDrive is not recommended.
WheelDrive is an innovative power assist designed to make your wheelchair driving easier
Know more about the WheelDrive power assist in the following VIDEO
Contact us for price information
Free Shipping in Spain (peninsula).
Our physical store is located at Calle Cavanilles 7, 28007 Madrid.
Secure SSL Purchase (+info)
Returns: 15 days.
Need any assistance? Contact us +34 915701682
Financing:

Cetelem
From 3 to 60 months
Calculate your fee
Max. User weight: 130 kg
Additional total width 43 mm (21.5 mm per side)
Weight of the batteries (pair) 3.6 kg
Total weight with battery (each wheel) 11.5 kg
Shipping weight, without battery (each wheel) 9.7 kg
Max. User weight: 130 kg
Additional total width: 43 mm (21.5 mm per side)
Weight of the batteries: (pair) 3.6 kg
Total weight with battery: (each wheel) 11.5 kg
Shipping weight: without battery (each wheel) 9.7 kg
Wheel Diameter:24"
Max speed: (forward) 10 km/h (support ring) 6 km/h (continuous driving ring)
Maximum curb height: reverse 50 mm
Charging time: (full charge) Approx 2 hours
Indicated use: Persons with reduced mobility or limited capacity for propulsion. Ideal for indoor or outdoor use
* Data provided by the manufacturer.
Warranty: 2 years and 6 month on the battery
21% VAT and transportation included
Free shipping for orders shipped to Peninsular Spain. Please contact us for orders shipped to the Spanish islands and to other countries.