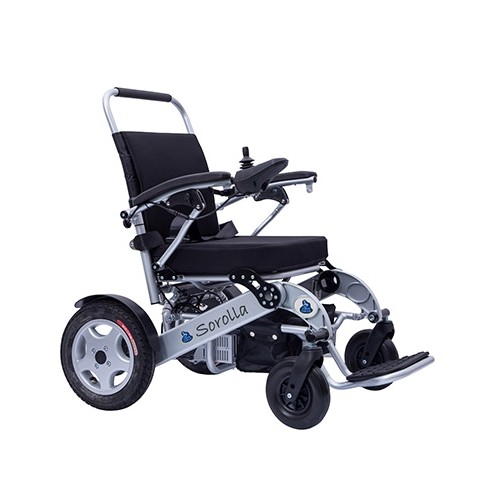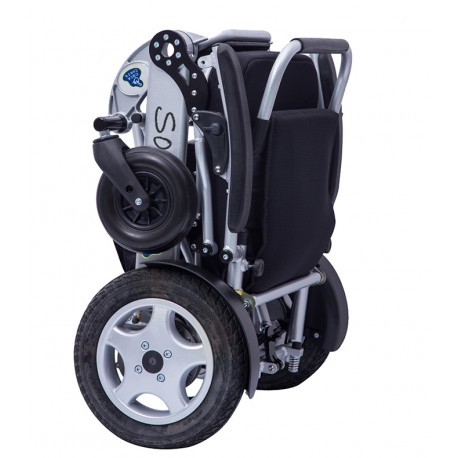 Sorolla 315
The Sorolla 315 ultralight folding electric wheelchair, is the most advanced lightweight power wheelchair you can find in the market. The Sorolla 315 ultralight folding electric wheelchair is a heavy duty lightweight power wheelchair also suitable for bigger users. It is powerful, comfortable, faster and easier to open/fold.
The Sorolla 315 has larger rear wheels than her sister "Sorolla", thus adding more comfort to the user when using this chair on any kind of surface. In addition, this wheelchair for people with reduced mobility has been designed in aluminum for facilitate its transport and storage in vehicles, it has very small dimensions so that the user can maneuver comfortably both indoors and outdoors.
This chair is configurable with several batteries, thus changing the autonomy that the chair can perform:
-With 1 10Ah lithium battery: 10 km of maximum autonomy (included with the purchase of the wheelchair)
-With 2 10Ah lithium batteries: 20 km maximum autonomy (optional)
-With 3 10Ah lithium batteries: 30 km maximum autonomy (optional)
Features:
Length: 87 cm (102 cm with footrest)
Width: 63 cm
Folded dimensions: 35x63x75 cm
Maximum speed: 8 km/h
Maximum autonomy: 10 km (20 km or 30 km optional)
Maximum user weight: 160 kg
Total weight: 28 Kg
Weight per battery: 1.8 Kg
Maximum slope: 12º-14º
The Sorolla weighs only 28kg and it takes just 3 seconds to open/fold.
The Sorolla 315 ultralight wheelchair is one of the lightest power wheelchair in the world. Over the years this wheelchair has been upgraded and improved in order to meet the highest standard within this lightweight category. This model has helped to improve the quality of life of many users with limited mobility. Please find the features of the Sorolla folding wheelchair below:
- 2X 250W motors
- Maximum slope 14º
- Maximum user load 160 Kg
- Folding armrests to facilitate the transfer and even to be able to use at any given time the command by the companion.
- Joystick (to the right or to the left)
- Adjustable seat and backrest in tension.
- Back in back
- Adjustable height backrest.
- Bag under the seat.
- Seat belt.
- Running wheels.
- Adjustable footrest in two heights, with platform, folding and folding.
-Two shock absorbers forward and two behind.
- Joystick programmable through key combination.
- Block command
- Joystick with USB port.
- 5A external charger and independent charging cable to charge loose batteries.
It is supplied with a battery. Possibility of two more (optional)
2.179,00€
(10% VAT included)
REMEMBER: If you have a disability certificate greater than 33% degree, you are entitled to a VAT reduction on this product.
Free Shipping in Spain (peninsula).
Our physical store is located at Calle Cavanilles 7, 28007 Madrid.
Secure SSL Purchase (+info)
Returns: 15 days.
Need any assistance? Contact us +34 915701682
Financing:

Cetelem
From 3 to 60 months
Calculate your fee
Total weight with 1 battery: 29 Kg
Weight of 1 battery: 1.8 Kg
Maximum speed: 8 Km/h
Maximum user load: 160 Kg
Maximum slope: 14º
Depth: 107 cm
Bottom with folded footrest 89cm
Width 63 cm
Heigth: 90-110 cm
Folded:
Background 44 cm
Width: 63 cm
Heigth: 75 cm
Seat:
background 44 cm
Width: 45 cm
Heigth: 53 cm above the ground
Back:
Width: 44 cm
Heigth: 43 cm extendable by 20 cm more
Front wheels: Solid 200 × 50 mm
Rear wheels: 315mm pneumatic
Motor: 2 x 250W with electromagnetic brakes
Battery: 1 of 24Vx10Ah of Lithium;
2 more can be installed in parallel, tripling the autonomy.
Autonomy: 1 battery: 10Km approx.
Charger: 24Vx5Ah and independent charging cable to charge loose batteries.
Charging time for 1 battery: less than 4h
*Data provided by the manufacturer
Warranty: 2 years and 6 months on the batteries
10% VAT and transportation included
Free shipping for orders shipped to Peninsular Spain. Please contact us for orders shipped to the Spanish islands and to other countries.
Reduced VAT rate (4%) will be applied to customer provided 33% disability certificate 33% (or higher degree)