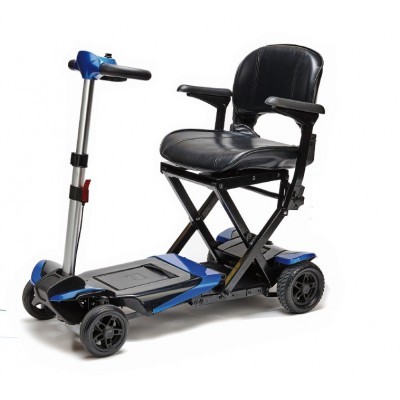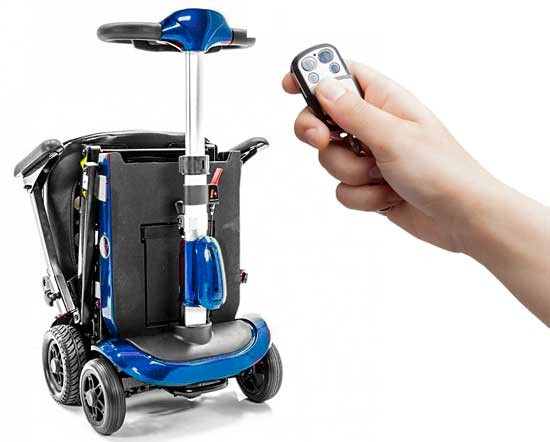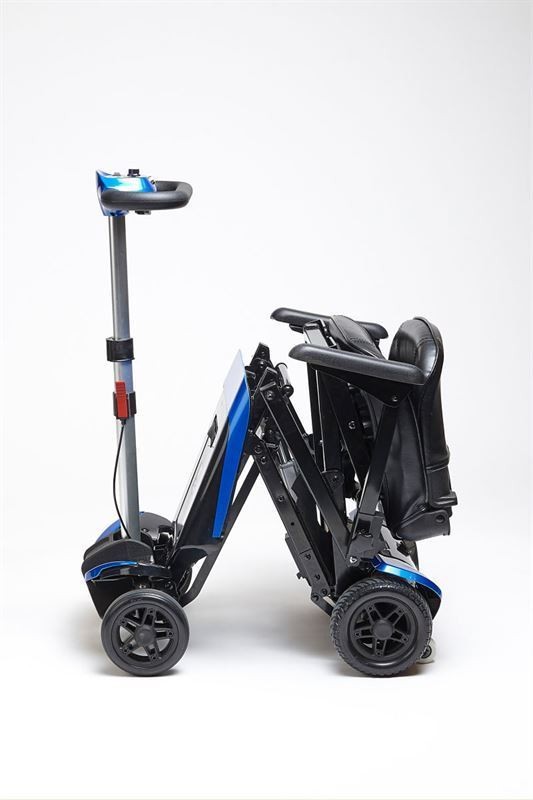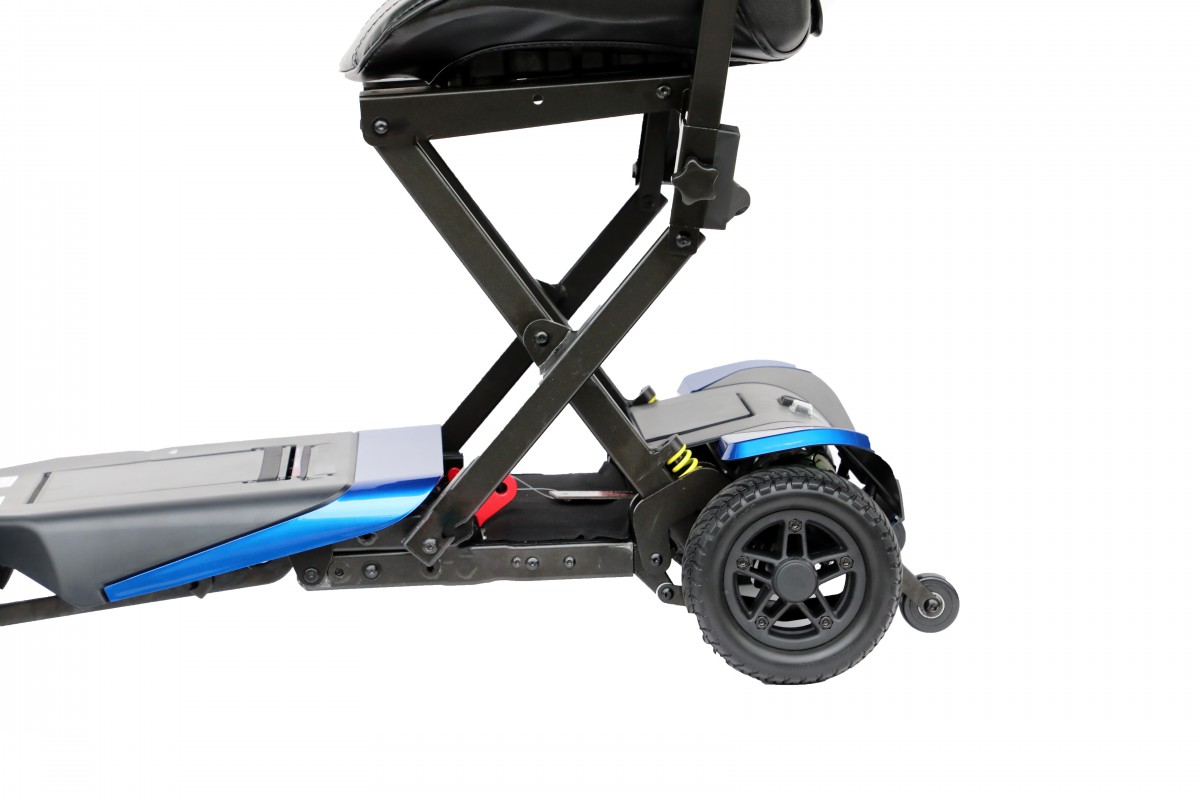 Apex-Wellell Transformer
Apex-Wellell Transformer is an ultralight folding scooter with small rear shock absorption and ideal for daily use indoors and outdoors in the city or on your trips.
Apex-Wellell Transformer is a scooter that can be transported very easily in the trunk of a car. It has a great autonomy (15kms) thanks to its 10Ah lithium battery.
Weight
We are facing one of the lightest and most versatile scooters on the market.
Automatic folding with remote control
The Apex-Wellell Transformer can be folded and unfolded up to 3 different ways (manual, with the control and with the button).
Lithium Battery
This scooter is designed to work with a 10Ah Lithium-polymer battery. This battery is maintenance-free and has a long life and long service life. The 29.4V / 2AR charger makes it easy to use the battery.
The Apex-Wellell Transformer is the only scooter on the market that folds electrically using a remote control. This greatly facilitates its use for people with reduced mobility. Its rear wheels allow it to be transported like a trolley once folded.
A folding scooter like the Apex-Wellell Transformer will allow you, thanks to its light weight, small dimensions and easy folding, to travel by car and load it in the trunk of the vehicle without difficulty.This scooter is also the perfect companion to take it on trips by train, coach, on cruise ships or plane.
Characteristics
1. Lightweight, strong and durable aluminum alloy frame.
2. It can be folded and unfolded without using any tools. Simple operation.
3. The seat and the front and rear frame can be folded to facilitate the transport of the scooter.
4. It can be stored in the trunk of the car or carried with you when using public transport thanks to its light weight and small size.
5. The battery is easy to charge and convenient for the user to carry.
6. Comfortable - The ergonomic seat and support tube can be adjusted to a comfortable height.
7. 6-inch solid front wheels and 7-inch solid rear wheels.
8. Soft start and flexible and stable brake
9. Elegant design and smooth, shiny surface; the scooter is environmentally friendly.
10, This scooter incorporates shock absorvers system at the rear to make driving more comfortable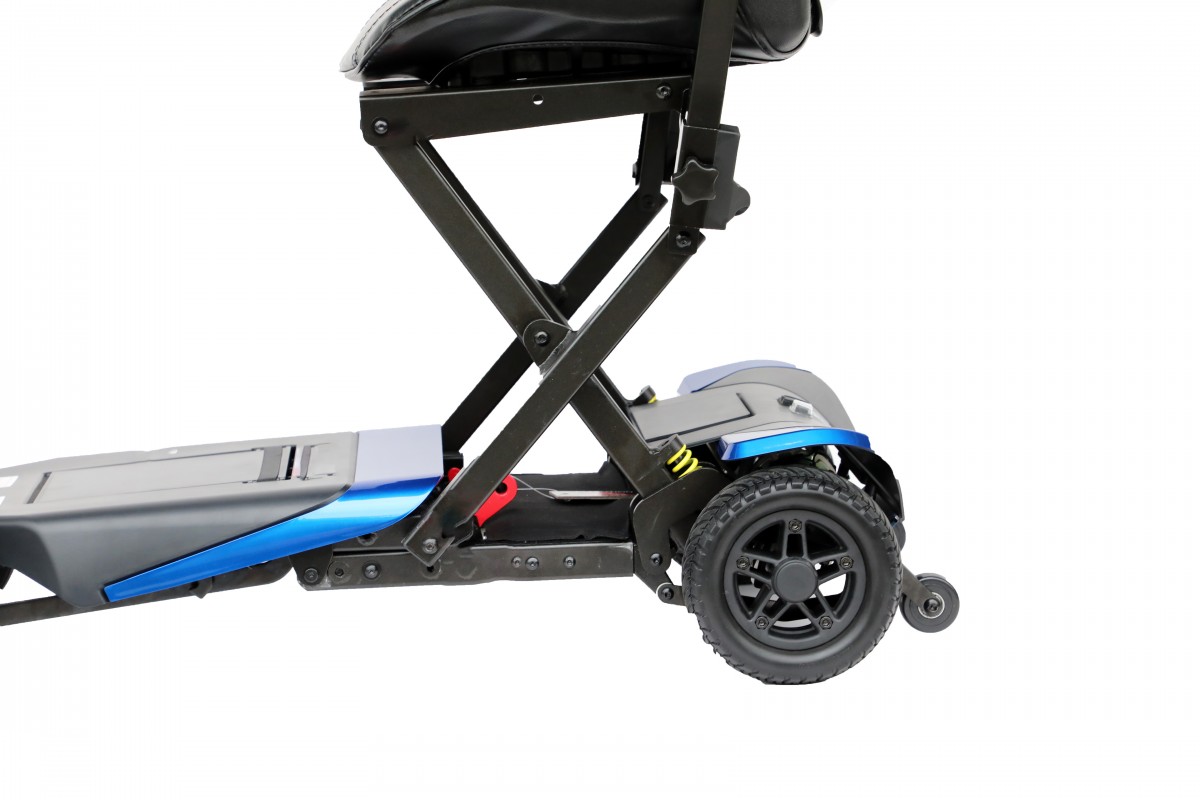 In conclusion, the Apex-Wellell Transformer scooter is unique for the elderly, people with disabilities, people with reduced mobility. The scooter is a trustworthy product. It can also be used in theme parks, amusement parks, zoos, museums, etc. It is ideal as an alternative to walking, for older people to go shopping, etc.
We invite you to watch this interesting video about the operation of the Apex-Wellell Transformer folding scooter.
3.057,67€
(21% VAT included)
REMEMBER: If you have a disability certificate greater than 33% degree, you are entitled to a VAT reduction on this product.
Free Shipping in Spain (peninsula).
Our physical store is located at Calle Cavanilles 7, 28007 Madrid.
Secure SSL Purchase (+info)
Returns: 15 days.
Need any assistance? Contact us +34 915701682
Financing:

Cetelem
From 3 to 60 months
Calculate your fee
4 wheels
Overall Length: 93cm (36.9in)
Overall Width: 45cm (18.1in)
Tires: (solid wheels)-tire size front 6"x1.5"; Rear: 7"x2.36"
Maximum speed: 6km (3.7mph)
Safe gradient/maximum: 0-15º
Range: up to 15 km (9.3 miles)
Turning circle: 1,4m (55in)
Weight: without battery pack: 24kg (53lbs)
Brake: inteligent, regenerative, electromagnetic
Maximum weight capacity: 136 kg (300lbs)
Seat width: 43cm (17in)
Seat Height (from the ground): 56cm
Battery type: Lithium 10Ah
Motor: 24V 120W
Lights: No
* Data provided by the manufacturer.
Warranty: 2 years and 6 month on the battery
21% VAT and transportation included
Free shipping for orders shipped to Peninsular Spain. Please contact us for orders shipped to the Spanish islands and to other countries.
Reduced VAT rate (4%) will be applied to customer provided 33% disability certificate (or higher degree)