Moving Life Atto
It is hard to believe how a mobility scooter can turn into an encapsulated trolley, the size you would take with you on an airplane. The Atto is a scooter that not only folds but one which magically transform into a trolley. The designers and engineers had to practically invent the wheel in order to make this dream come true. Please click here to watch an amazing video about the ATTO foldable scooter.
You can also see the post we have written about the Atto Sport and the Atto Sport Max or see the Atto Sport and Atto Sport Max purchase form.
No compromise in Comfort and Safety
Atto is a scooter designed especially for physically challenged people. When unfolded, Atto's wide footprint (56cm/22" between rear wheels) gives the driver a comfortable and safe driving experience. Moving Life does this without compromising the small size achieved when folded. Users can effortlessly set any of the smart mechanisms for a perfect fit, including the adjustable user interface tilt, adjustable seat height and folding arm rests. Foot rest surface is flat for easy mounting, angled for comfort driving and covered with a special material to prevent slipping, all to create an obstacle-free environment.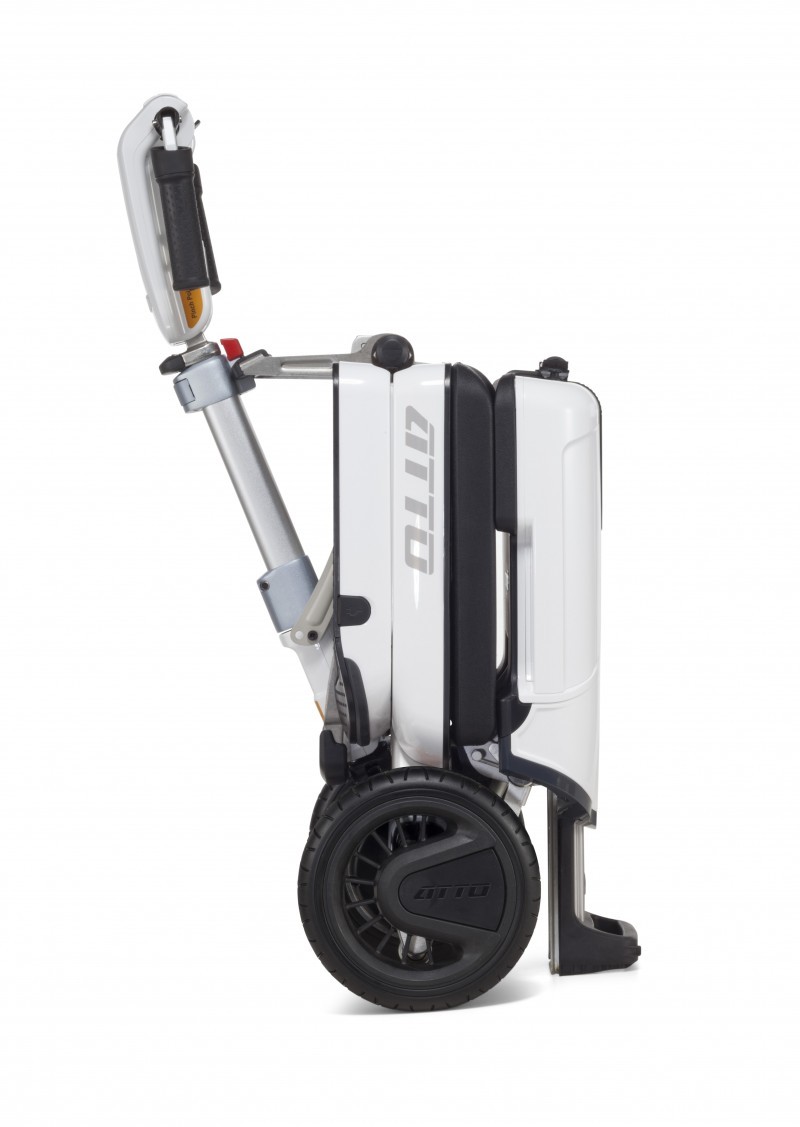 Invisible? Well, almost!
Where did that scooter disappear to? When folded, the scooter becomes an innocent piece of luggage that no one imagines can turn in seconds into a full sized, stable, safe, and comfortable mobility scooter. This is a unique attribute Transfolding as it folds like magic while at the same time transforms into something else. You choose whether to ride it or roll it effortlessly along with you!
Superb Engineering
Atto was built from over 200 uniquely designed parts, implementing multiple disciplines and best of breed technologies. What makes this product so special and attractive is the fact that each of its parts and mechanisms, visible or hidden, was designed to provide functionality that never existed in other products. This kind of approach is only possible to implement when a company sets the highest standards as its goal.
Go shopping? or anywhere
Atto introduces a large space under the seat for carrying shopping bags, or whatever you need to move from one point to another. It was designed focusing on users' daily life needs. The trick was to implement these needs into a modern Transfolding vehicle that can go with you anywhere you want.
Specifications:
DIMENSIONS
When it comes to folding, Atto is the most compact mobility scooter in the world. Nevertheless, when open and ready to drive, Atto is the largest and most comfortable in its category.
METRIC (cm) Height Length Width
Trolley mode 72 39 42
Drive mode 90 120 56
IMPERIAL (inches) Height Length Width
Trolley mode 28 15.3 16.5
Drive mode 35 47 22
WEIGHT
Part Kg Lbs
Front half 12.0 26.4
Rear half 16.2 35.7
Assembled *28.2 62.2
Battery 1.85 4.1
*Without battery
WEIGHT CAPACITY
Maximum user weight:
120 Kg
264.55Lbs
SEAT
Although Atto's seat is thin and stylish, it was designed to provide comfort and safety and can be adjusted according to the user's preferences. The seat mechanism can be locked at one of three fixed heights, ranging from 560 to 610 mm (22 to 24 inches) from the ground.
GROUND CLEARANCE
Atto's minimum ground clearance is as follows:
Metric 10 cm
Imperial 4"
BATTERY
Atto uses a powerful, yet compact advanced-technology lightweight 48 Volts lithium-ion battery. Weighing only 2 kg (4.4 lbs), the battery allows for more than 16 km (10 miles) of continuous driving while requiring only 4 hours (on average) to fully charge. As for charging options, you can charge Atto on-board and off-board, meaning that you can, but do not have to, take the battery off the vehicle in order to charge it. Removing the battery is as easy as pressing a button. Reinstalling the battery is as easy as putting it back in place.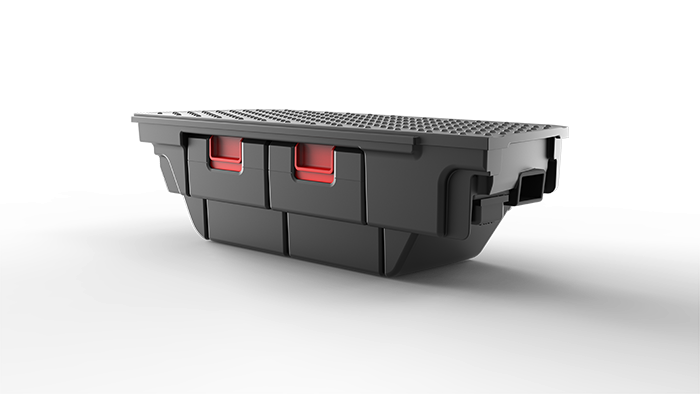 SPEED
While most countries allow a maximum speed of 6-7 km/h (about 4 mph), Atto can go up to 10 km/h (about 6 mph) depending on local regulations. Once the maximum speed has been set by a technician, it is very easy to set your current maximum speed with one of the presets by simply clicking a button and receiving feedback from Atto's clear view display.
MOTOR
To allow smooth and continues drive over many years and large distances, Moving Life has developed a unique fully custom brushless permanent magnet DC motor combining solid core and powerful gear along with robust braking mechanism. Via sophisticated software algorithms the motor unitizes modern reverse charging techniques for deceleration and stopping providing smooth driving experience.
CHARGER
Atto's charger is a small yet smart and powerful charger with the ability to connect to any electrical grid rating 110VAC 240VAC.
HANDLING
Atto's front and rear halves can be easily separated in only a few seconds by operating a knob and two handles. The same technique applies to putting the two halves back together. This is very useful when storing Atto in the trunk or in an airplane's overhead bins.
FOLDING TIME
One of the most common questions people ask is how much time it takes to fold and unfold Atto. Moving Life tested this question and got the following results: It takes less time to fold (or unfold) Atto then it takes to read this paragraph! Only 12 seconds are required as shown in the following
video
.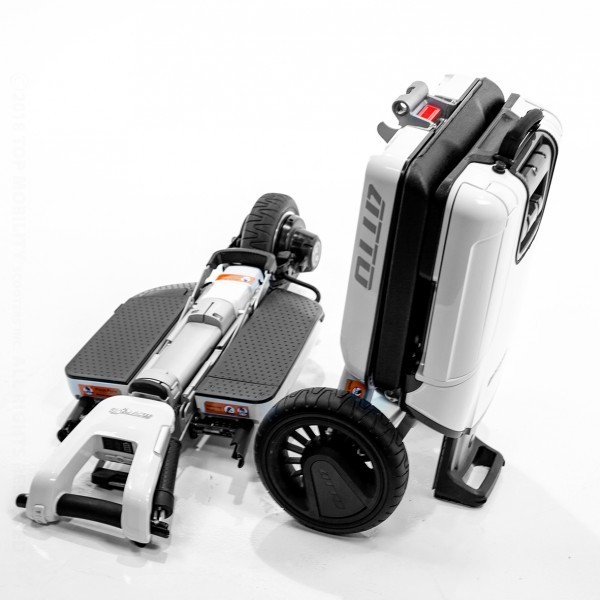 STEERING ROD
There are three mechanisms that can be adjusted to provide maximum customization of the tiller. These include (a) the handlebar height; (b) the steering rod angle; and (c) the handlebar angle. These three adjustments combined ensure the user's comfort and safety.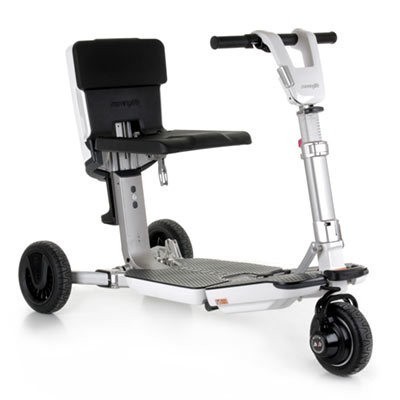 HEIGHT RESTRICTIONS
Preliminary tests show a minimum height of 150 cm (5 Feet) is required for safe driving. This is NOT a formal recommendation, we have not concluded the tests, and you should check with your medical advisor.
ENVIRONMENT
Atto was designed and tested according to strict water resistance standard IP54 requiring the equipment to be water splashed from multiple angles, for a long period of time and at high pressure. After taking a 50 litters shower Atto continued to work with zero malfunctions which guarantees resistance to normal outdoor conditions. Nevertheless, we recommend storing Atto indoor to ensure maximal lifetime of high performance and for safety reasons use it only under dry weather conditions.
ACCESSORIES
There are many accessories a user can add to Atto.
IATA APPROVED BATTERY
ATTO comes with a battery that allows you to take the scooter on any plane.
+ Battery: 48 volt lithium ion
+ 16 km of continuous driving, only 4 hours on average for full charge
+ Charging on board and off board
+ Charger: 110-240V international AC charger

WHERE CAN I BUY THE SCOOTER MOVING LIFE ATTO?
If you want to know how and where to buy the Scooter
Moving Life ATTO
, you can do it through our website or sending an email to
info@accessiblemadrid.com
or dialing
+34915701682.
Please
ask for an appointment to test a
Moving Life Atto
at the facilities of
Accessible Madrid (Calle Cavanilles, 7 - MADRID)
. We are official distributors of Moving Life in Spain and we have a specific display for the ATTO and ATTO Sport models (including all their accessories).