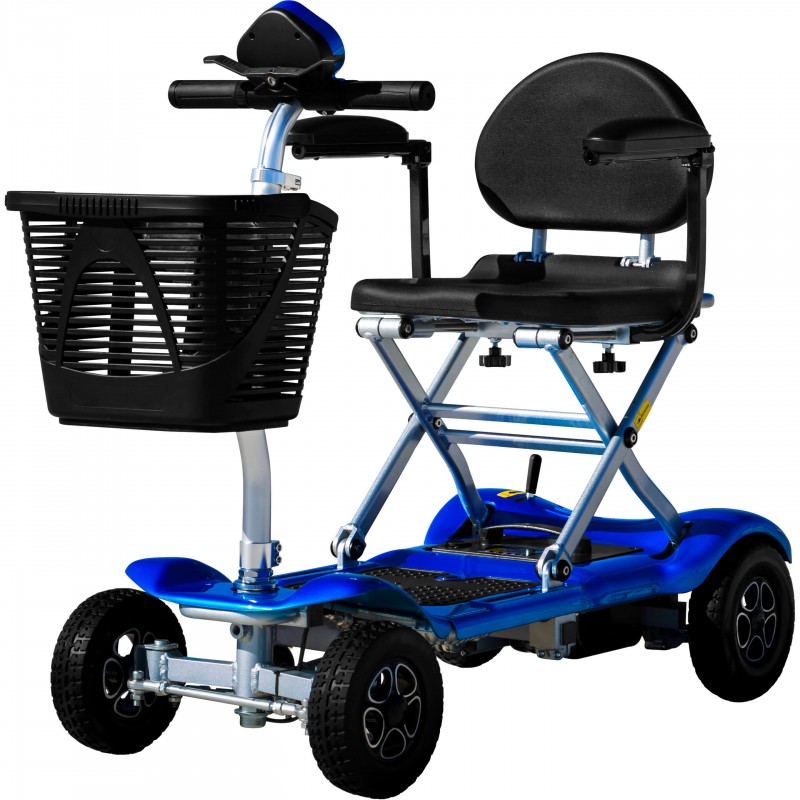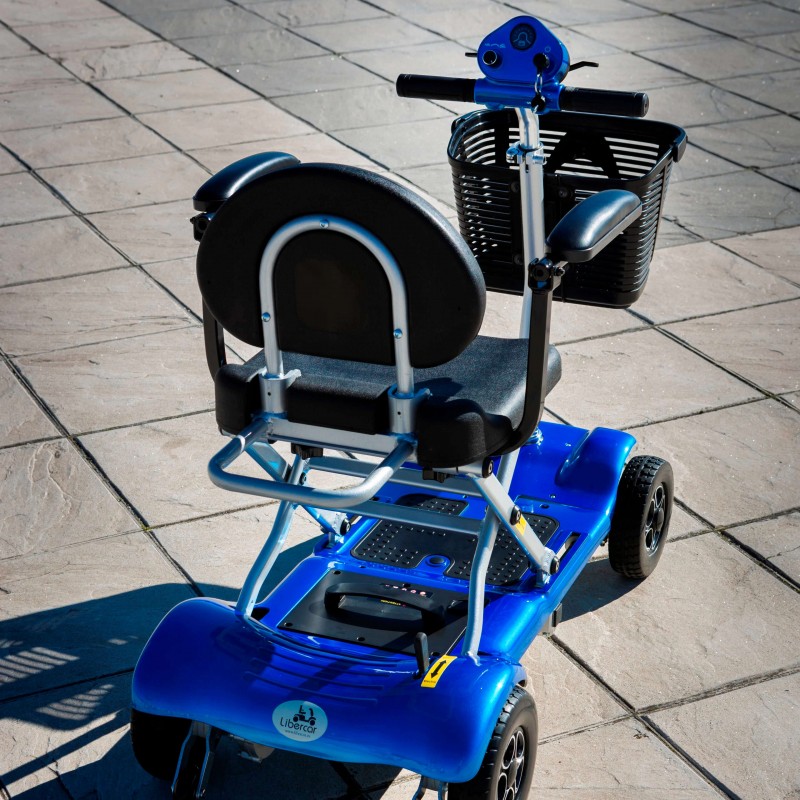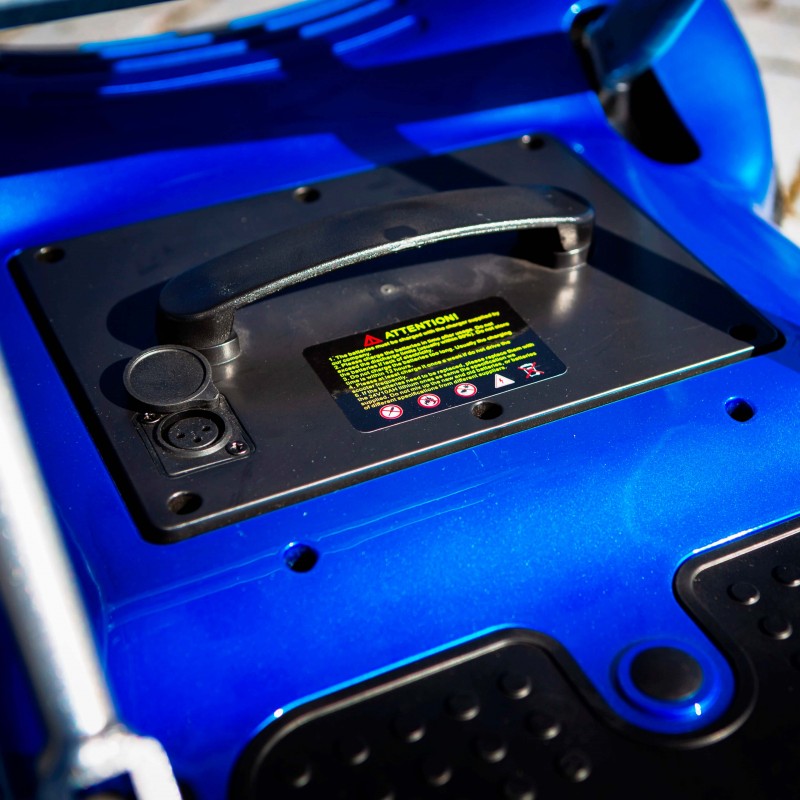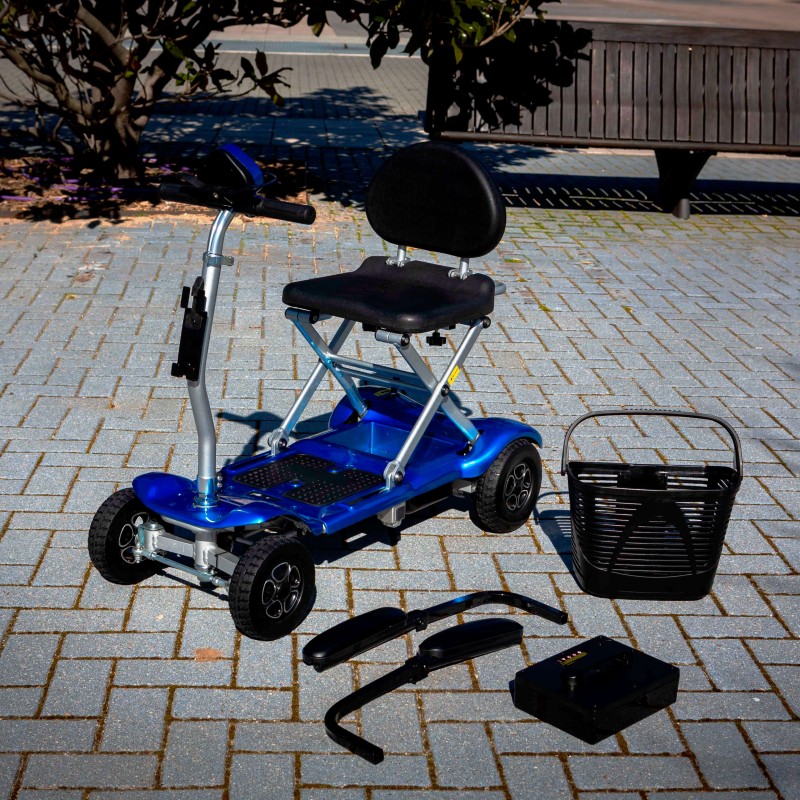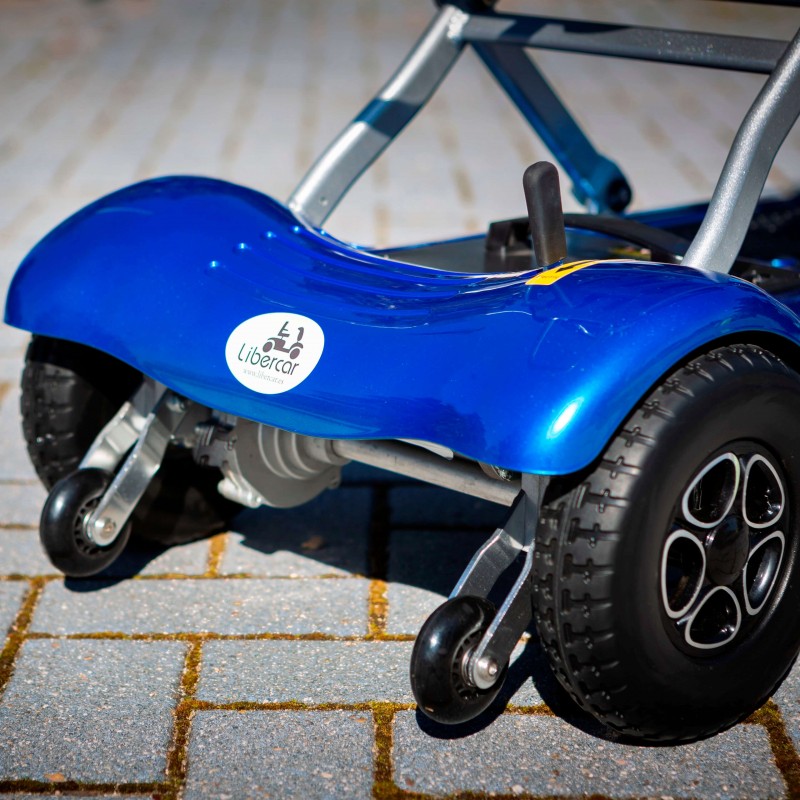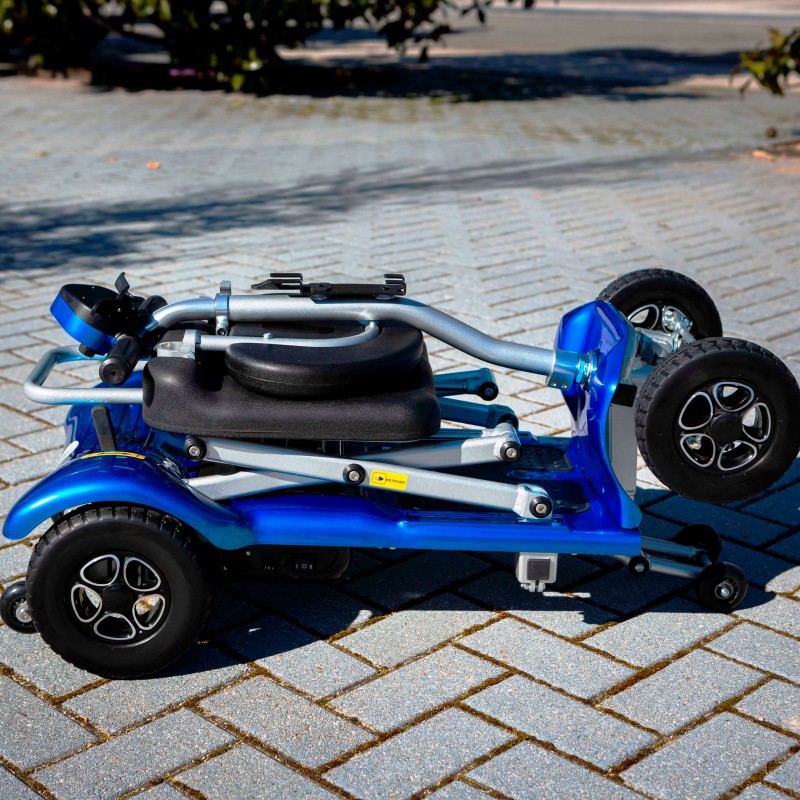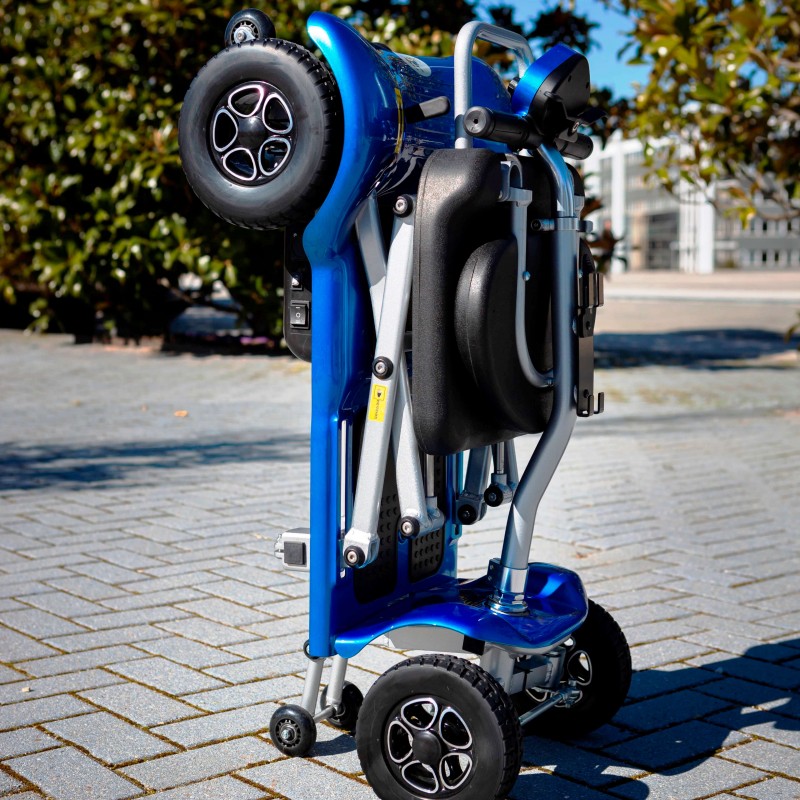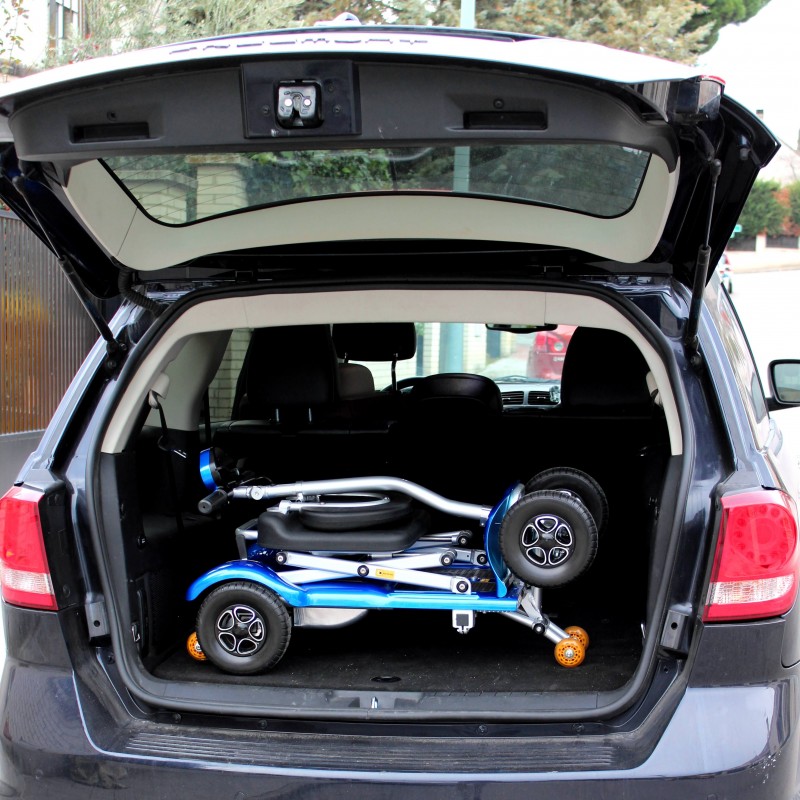 Libercar Bravo
The Libercar Bravo is one the lightest scooter on the market thanks to its aluminum chassis and its 10ah lithium battery. The Libercar Bravo automatic folding scooter has automatic folding and unfolding which is handled with a remote control.
- Weight without battery: 22.9 kg
- Weight of the removable battery box: 1.7 kg
- Total weight scooter: 24.6 kg
The Libercar Bravo has been specially designed to lift it and stand it up with total ease. Very comfortable for people with mobility problems.
The "ELECTRIC FOLDING WITH REMOTE CONTROL" folding system: allows folding the scooter by pressing a single button, effortlessly and in a few seconds. Very comfortable for people with reduced mobility"
Dimensions scooter (unfolded):
Length: 95cm - Width: 46cm - Height: 85cm
Dimensions scooter folded and standing:
Length: 39cm - Width: 46cm - Height: 87cm - Turning radius: 100cm
The Libercar Bravo mobility scooter is very compact and maneuverable. It will allow access to reduced and narrow spaces (stores, elevators, museums, etc.). Enjoy your favorite activities with your family and Friends.
Conceived to be transported without effort like a trolley suitcase:
+ Automatic folding and unfolding which is handled with a remote control
+ 4 rollers high quality rollator
+ Support on 4 wheels for a greater stability
+ Address lock for easy one-hand operation
+ Ergonomic grip handle
+ Detachable lithium battery
The design of the Libercar Bravo is compact and allows to easily access small elevators. Very easy to put it in the trunk of the car.
Features:
MOTOR 150W
LITHIUM 10Ah BATTERY
SPEED 6 km/h
AUTONOMY 18 km
LARGE WHEELS of 20cm
FREE HEIGHT 140mm
Comfort & Benefits
+ Adjustable handlebar height
+ Amrrests
+ Digital battery charging indicator
+ Speed control regulator
+ Electric blue metallic paint
+ Lightweight aluminum chassis
+ High quality components
+ Front basket
Robustness and Security
Regenerative intelligent brake
Involuntary closure prevention system
Anti-tilt wheels
Robust seat crosspieces
Telescopic steering column
Large 20cm free wheels maintenance and punctures
Free height to the ground of 140 mm higher ability to overcome obstacles
DIRECTIVE CE CERTIFICATE 93_42
MEDICAL DEVICE
STANDARDS ISO 9001 AND ISO 13485
1.739,38€
(21% VAT included)
REMEMBER: If you have a disability certificate greater than 33% degree, you are entitled to a VAT reduction on this product.
Free Shipping in Spain (peninsula).
Our physical store is located at Calle Cavanilles 7, 28007 Madrid.
Secure SSL Purchase (+info)
Returns: 15 days.
Need any assistance? Contact us +34 915701682
Financing:

Cetelem
From 3 to 60 months
Calculate your fee
WHEELS: 4 (Solid)
LENGTH (unfolded): 95cm
LENGTH (folded): Length: 39cm
WIDTH: 46 cm
HEIGHT (unfolded): 85 cm
HEIGHT (folded): 87 cm
BATTERIES: 1X10AH (Li-ion)
ENGINE: 150 W
MAXIMUM SPEED: 6 km/h
TRAVEL RANGE: 18 km
MAX. SLOPE: 8%
SCOOTER WEIGHT: 24,6 kg
MAX. LOADING CAPACITY: 110 kg
TURNING RADIUS: 100 cm
GROUND CLEARANCE: 140mm
LED LIGHTS: NO
* Data provided by the manufacturer.
Warranty: 2 years and 6 month on the battery
21% VAT and transportation included
Free shipping for orders shipped to Peninsular Spain. Please contact us for orders shipped to the Spanish islands and to other countries.
Reduced VAT rate (4%) will be applied to customer provided 33% disability certificate (or higher degree)