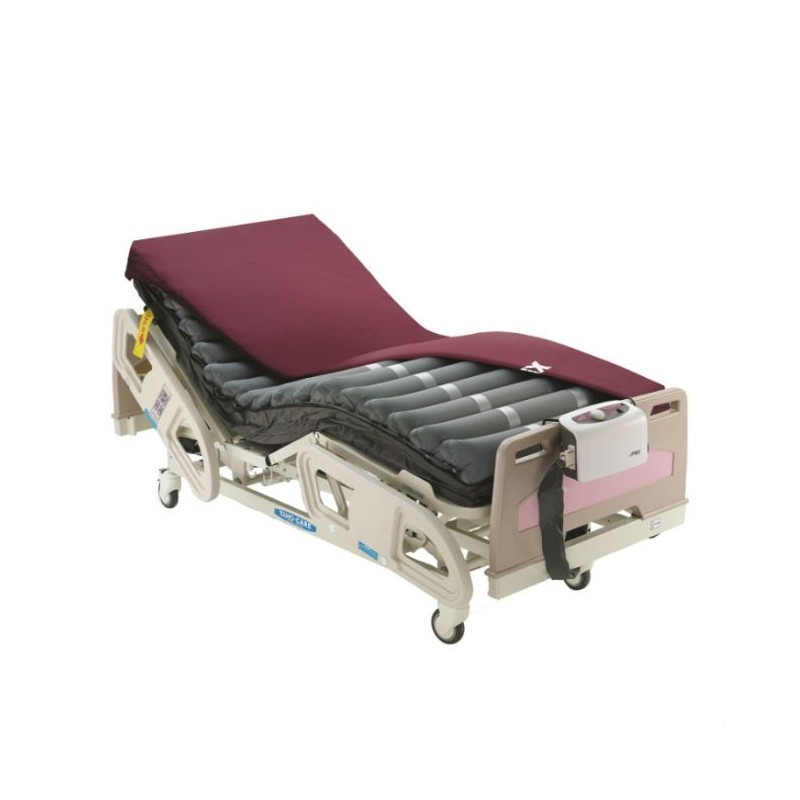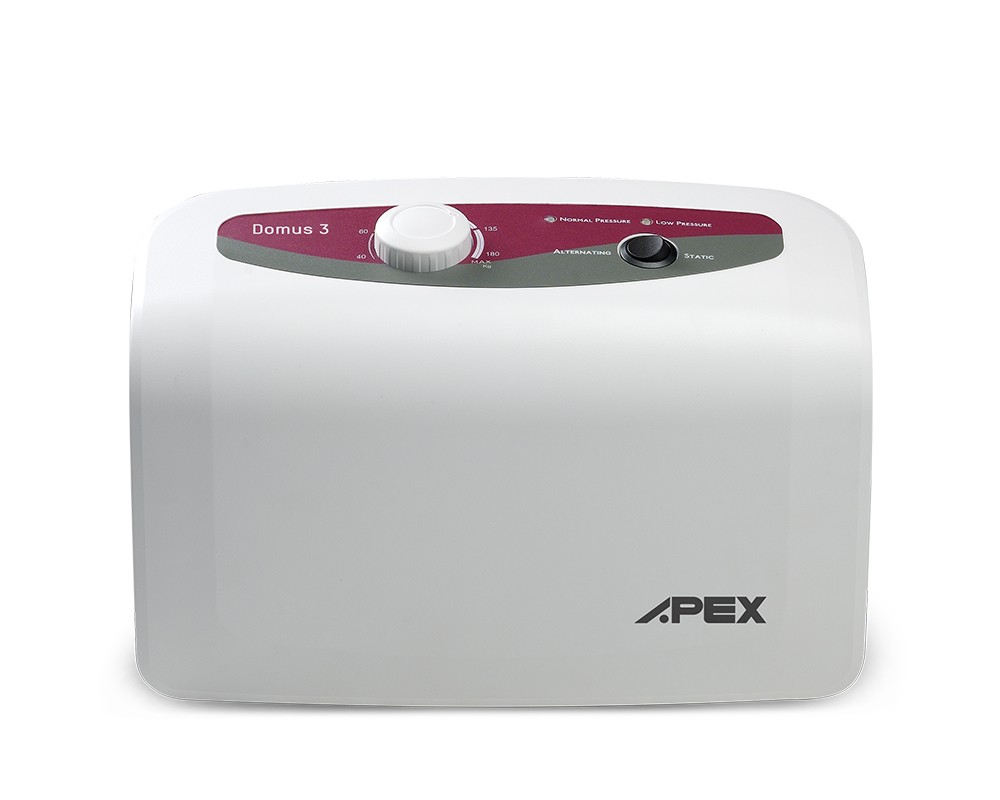 Domus 4
Domus 4 is one of the advanced systems in Domus series. The digital multi-mode pump is not only offering alternating pressure redistribution, but also has a static mode with constant low pressure reduction. In alternating mode, the pressure is periodically redistributed by inflating and deflating cells in order to mimic natural sleep movement patterns and avoidlong term pressurization of tissue.
In constant static mode, the pressures is about 2/3 lowered when compared to the same pressure level from alternating mode by the means of immersion and envelopment. The system also offers advanced features such as seat inflation and max firm features. With both audible and visual alarms to notify the caregiver of unusual situation, the system is an ideal to reduce the risk of human error and suitable for the prevention and treatment of all stages of pressure ulcers.
+ Quiet and vibration free with a range of treatment modes.
+ Easy to use digital settings providing pressure relief and comfort.
+ Visual and audible alarm enhances patients safety and security
A. Antimicrobial Silver+ Nylon/PU Cover Vapor permeable and water resistant cover with a level of low fire retardancy and anti-MRSA effect.
B. Fire Retardant Two-directional Stretch Cover (Optional) Vapor permeable and water resistant 2-directional stretch cover with flame retardant up to CRIB-7 level.
Ventilated Low-AirLoss Cells Wicks moisture away to keep the patient comfortable.
CPR Valves Quickly deflate the mattress for emergencies.
Zipper-All-Around Cover Reduce ingress of unwanted fluid and can be completely removed for laundry
Cell-on-cell Bladder Design The bottom cells acts as basic pressure support in case of power failure for the system without extra foam base. (available on H8" mattress)
Cell-on-Cell Bladder: The bottom cells acts as basic pressure support to avoid bottoming out in case of power failure
Five Modes to Fulfill Individual Needs
+ Max Firm
+ Alternating
+ Seat Inflation w/ Alternating
+ Seat Inflation w/ CLP
+ Continuous Low Pressure (CLP)
Silver+ Nylon/PU
Antimicrobial
Vapour permeable
Water resistant
Basic flame retardant level
Quick Connector
Once with cap on, instantly switch to static air mattress for transportation need.
CPR Valve
Quickly deflate the mattress during emergencies
Alarm System increase patient safety
Low Pressure
Power Failure
Tech Support
Established in 1990, Apex Medical Corporation, the most famous support surfaces product manufacturer in Asia and a leading company in the medical care industry of Taiwan. APEX provides a range of healthcare solutions, manufacturing and delivering products from support surfaces, continuous positive airway pressure devices (CPAP) to medical equipment for providing full line products. APEX now markets its products in 60 countries around the world. With our total devotion to healthcare, APEX has earned global recognition and praise from European and US medical organizations and authorities.
You can see all details about the Domus 4 aircell mattress watching the following VIDEO
1.625,00€
(21% VAT included)
Free Shipping in Spain (peninsula).
Our physical store is located at Calle Cavanilles 7, 28007 Madrid.
Secure SSL Purchase (+info)
Returns: 15 days.
Need any assistance? Contact us +34 915701682
Financing:

Cetelem
From 3 to 60 months
Calculate your fee
+ Pump
Dimensions: 29 x 18.5 x 12.6 cm
Weight: 2.2 Kg
Case Material: Flame retardant ABS
Supply Voltage: AC 220 - 240V, 50Hz ;
AC 100 - 120V, 60Hz
Operating Cycle: 10 mins
+ Mattress:
Mattress type: 8" Replacement
Dimensions: 200 x 90 x 20.3 cm
Alternating: 1 - in - 2
Cell Height 20 x 8"
Weight: 6.9 kg
Cover Material: Silver+ Nylon/PU
Cell Material: Nylon / TPU
Maximum Patient: 200 kg
Mattress Mattress type: 5"+3" Overlay
Dimensions: 200 x 90 x 12.7 cm w/ 3" high foam pocket
Alternating:1 - in - 2
Cell Height: 17 x 5"
Weight: 5.6 kg
* Data provided by the manufacturer.
Warranty: 2 years
21% VAT and transportation included
Free shipping for orders shipped to Peninsular Spain. Please contact us for orders shipped to the Spanish islands and to other countries.