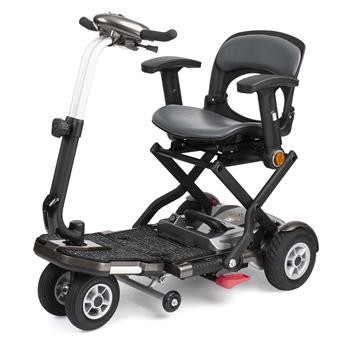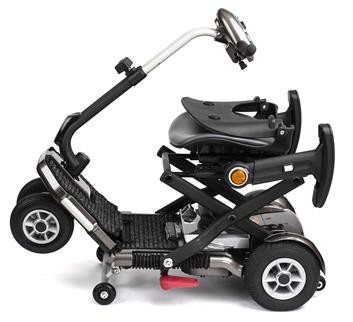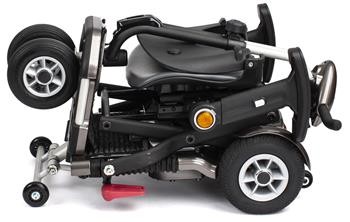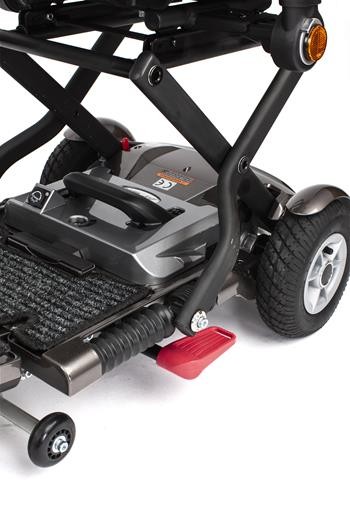 The Apex I-Brio Plus
The Apex I-Brio Plus is the new lightweight and folding mobility from Apex Medical. This is a a strong and compact scooter able to travel at maximum speed 6,5 km/h (3.8mph). The compact design makes it ideal for using indoors, such as in shopping malls, as well as outdoors.
The Apex I-Brio Plus is a unique scooter that can be fold automatically by pressing a pedal with your foot. No need to bend down. It can be folded in one step only.
The apex Apex i-Brio Plus uses top of the edge technology: ion-Lithium battery. The lithium batteries take off 15 pounds of the scooter total wight and can be carry in almost all public transportation such as airplane, public buses and subway those batterie offer a life cycle 2 to 3 times longer than acid or gel batteries. The scooter include armrests, front light and large pneumatic wheels. These type of wheels makes it very comfortable.
Enjoy its aluminium alloy body and can be easily folded to fit in the car for transportation. It also has easy to use controls and adjustable tiller positioning.
The Apex I-Brio Plus is wider than the regular i-Brio (Brio S19) and the bigger and pneumatic tires bring much more stability to the user.
Thanks to its small dimensions: 96 x 53 x 87-100 cm (without armrest), you can take it wherever you want.
Comfortable:
-The armrests are adjustable in height and width and can be folded down to facilitate access to the user. It has pneumatic wheels (20x5 cm for the front and 23x6.5 cm for the rear) that provide greater driving experience and comfort and allow easier climb curbs.
-Compact: The Apex I-Brio Plus only measures 96 cm deployed and 50 cm folded. It has a very smal turning radius (turns in only 104 cm.)
-Big Wheels: The Apex I-Brio Plus includes anti-tip wheels (side and rear) that guarantee the safety of the user and with safety key in the battery. It incorporates a frontal LED light that allows to see and to be seen.
-Easy to Transport: The Apex I-Brio Plus includes a removable seat for easy transport. Its 4 wheels allow to move it like a trolley once folded.
-Lightweight: Thanks to its lithium battery, The total weight of the Apex I-Brio Plus is only 27.3 kg.
-Automatic folding by pressing a pedal with your foot.
If you?re looking for a compact, transportable mobility scooter to fit in the boot of your car, The Apex I-Brio Plus is a great option. This electric mobility scooter will give you the flexibility to go anywhere.
See more deatils on the Apex I-Brio Plus in the following VIDEO .
3.057,67€
(21% VAT included)
REMEMBER: If you have a disability certificate greater than 33% degree, you are entitled to a VAT reduction on this product.
Free Shipping in Spain (peninsula).
Our physical store is located at Calle Cavanilles 7, 28007 Madrid.
Secure SSL Purchase (+info)
Returns: 15 days.
Need any assistance? Contact us +34 915701682
Financing:

Cetelem
From 3 to 60 months
Calculate your fee
LENGTH & WIDTH & HEIGHT: 96 x 53 x 87-100 cm
TRAVEL RANGE: 15 km
LENGTH & WIDTH & HEIGHT (including armrests): 96 x 55,5-58 x 87-100 cm
MAX. LOADING CAPACITY: 115 kg
WEIGHT: 27,3 kg (including batteries)
WEIGHT: 24 kg (without batteries)
MAX. SPEED: 6,5 km/h
MAX SLOPE: <100 kg up to 5 degrees and >100 kg up to 3 degrees
TURNING RADIUS: 104 cm
ENGINE: 270 W
WHEELS: 4
FRONT WHEELS: 20 x 5 cm. Pneumatic
REAR WHEELS: 23 x 6,5 cm. Pneumatic
BATTERY: Lithium 24V 11,5 Ah x 1 unit
BATTERY CHARGER: 2,5 Amp, ext, 110/240 Volt.
LIGHTS: YES
REMOVABLE PARTS: 1
* Data provided by the manufacturer.
Warranty: 2 years and 6 month on the battery
21% VAT and transportation included
Free shipping for orders shipped to Peninsular Spain. Please contact us for orders shipped to the Spanish islands and to other countries.
Reduced VAT rate (4%) will be applied to customer provided 33% disability certificate (or higher degree)