Atto Sport Max, the folding mobility scooter for people up to 136 kg /300 lbs
Atto Sport Max, the folding mobility scooter for people up to 136 kg /300 lbs
Are you looking for a folding scooter for heavy users? Introducing the new Movinglife Atto Sport Max. The same design as its brother Atto Sport but with a reinforced chassis that allows it to be a folding scooter for people weighing up to 136 kg or 300lbs
Atto Sport Max folding scooter. Let's remove barriers!
Do not keep thinking that, because you are a big person, you need a special folding scooter, uglier, too robust or with dimensions and weights that are unaffordable for your lifestyle. Many heavy customers weighing more than 100 kg, arrive at our store resigned, asking us for something they can use to move around or travel with.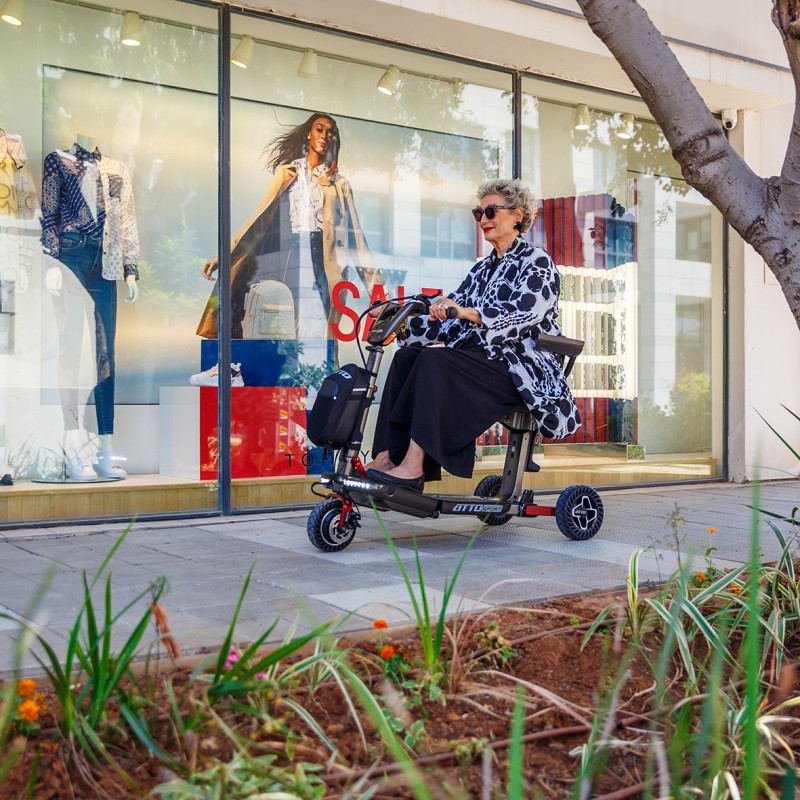 With the new Movinglife Atto Sport Max, they leave delighted because they can't believe they can get around on a folding scooter that is made for people weighing up to... 300lbs! and with an unbeatable design that matches its brother Atto Sport.
With the new Movinglife Atto Sport Max you can travel wherever you want since it is a folding scooter that can be devided into two bodies, leaving a maximum weight of 17.5 kg in its heaviest part. As with its brothers, the MovingLife Atto (see the post we wrote for the Atto here) and the Atto Sport, (see the Atto Sport post here) this new Atto Sport Max has a lithium battery that will allow you to travel by plane, train or in a cruise. Many companies, more and more, will also let you safely store it in the airplane cabin, which makes your plane trip much more convenient and comfortable and the scooter won't get damage in the hold of the aircraft. Let's see the characteristics of the new Atto Sport Max. You will be surprised:
Features of the Atto Sport Max folding scooter for users up to 300 lbs or 136 kgs
Enhanced weight capacity: up to 300 lbs. or 136 kg
Elegant and sporty design and details
Easy to fold in the cart and easy to unfold
Splits into 2 lightweight segments for easy transport and compact storage
Trolley mode makes it convenient to walk with and steer when folded
Ergonomic design with ample room for legs and arms.
Flight-approved lithium battery and charger
Extensive information, programmable LCD display
recessed headlights
Anti-Theft Wireless Lock FOB Key
Shock absorbing airless NPT tires
PU leather seat and cuffs
Taillight lifting handle
Cruise control option for long journeys
Adjustable seat with 4 different heights
Automatic speed reduction on the steepest slopes
Easily adjust the height and angle of the rudder
Lightweight aluminum chassis
Brushless DC motor improves durability and power
On/off button
6 travel speeds
3 Wheels allow a radius of 52 degrees
Built-in USB charging port
Warning sound alert (horn)
One click to go from front to back
Automatic reverse trip alert sound
Left hand compatible
Easy battery access when folded
Patented contractible rear wheels
An extra storage space under the seat...
TUV and CE certification
12 cm of ground clearance on various terrains
ERB (Electric Release Brake) for safer braking
ABS (Automatic Braking System) to brake in an emergency
Front disc brake for added safety
Freewheel (neutral mode) allows turning when battery is depleted
ECO mode: limit speed / increase autonomy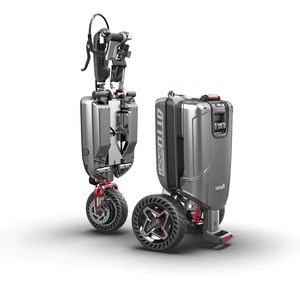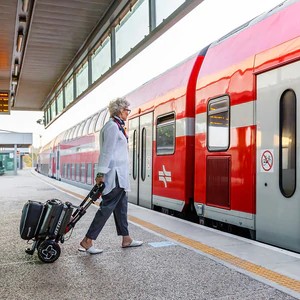 Atto Sport Max Dimensions
As its other brothers, the Atto Sport Max has three storage modes: Folded, divided in two or in trolley mode. Now let's see its dimensions:
Car mode
Height 28" / 71 cm Length 15.3" / 38.9 cm Width 16.5" / 41.9 cm
Weight
Front Half 27.5 lbs / 12.5 kg Rear Half 38.5 lbs / 17.5 kg Assembled 66 lbs / 30 kg Battery 1.85 kg / 4.1 lbs
Weight capacity
Maximum user weight 300 lbs / 136 kg
Driving mode
Height 35" / 89 cm Length 47" / 120 cm Width 22" / 56 cm
Shipping Dimensions
Height 19.68" / 50 cm Length 31.49" / 31.49" / 80 cm Width 16.53" / 42 cm Weight: 81.57 lbs / 37 kg
Do you like to feel free on a folding scooter where you don't have to worry about design, space or your own weight? We are waiting for you in Madrid Accessible. We are sole distributors in Spain of the MovingLife brand. You can contact us by phone +34915701682 or by email at tienda@accessiblemadrid.com.
Looking forward to meeting you soon!